Back To School Backpack Survival Kit
Have you thought about how to make a survival kit for your kid's backpacks? Now that school has started for the children or grandchildren in our lives, I highly recommend something like this for the special children in our families.
I realize a lot of people homeschool their children, but a survival kit could be placed in your car, and if you needed then each child would have their own kit. You never know when a car accident could happen and you are stranded on the freeway or even some local streets in the city.
Specifically For Kids
I made these specifically for children to have available in their backpacks if an emergency happened at the school. I have heard and read about lockdowns at school. I want every child in the world to have a short-term survival kit for kids. Just start gathering items for your kid's backpacks now.
Short-term Survival Kit
Here's the deal, this is all about a short-term survival kit that a child can carry with very little weight, but will have a snack with water if needed in an emergency type situation. Of course, we would love to add more items, but it's all about the weight and it's for a short period of time only.
I call it peace of mind knowing they have a drink and a snack if they are not allowed to leave the building or whatever circumstance may occur. They may even have to load a school bus to be removed from the school and transported to another area. You know what the kids will eat, just trade out the snacks and keep it light in weight. Let's get started.
Survival Kit:
1. Laminated card with child's name, address, and emergency phone numbers/contact information.
2. Write a short note telling your child you love them and add some words of encouragement in case you are separated for an extended time period.
3. Water, I added three emergency drinking water packets that last for five years. They are approved by the US Coast Guard. Each one has 4.2227 FL Oz. Easy to open even for a small child.
They have a small tear area Datrex Emergency Water Packet or SOS Emergency Water Packets
4. Crackers with cheese-yes it is junk food, but it would be something to help fill a small tummy in an emergency.
5. Lightsticks-remember it could become dark at the school or in the car depending on how you use this emergency kit and what time of day or season.
These are non-toxic, cool to the touch, have no heat, and no dangerous flame. You can add a flashlight, but then you would have to rotate the batteries and hope they do not leak. LIGHT STICKS
Be Careful With Peanut Allergies
6. Peanuts-who wouldn't love some peanuts? Unless of course, you are allergic, then you would put some other snack in the kit.
7. Jerky-most kids love jerky, and it is filling.
8. Nature Valley snack bar-its crunchy and will take some time to eat it.
9. All Natural Fruit Strip-most kids love fruit leather.
10. Emergency blanket, this would be great if the power goes out and it gets cold at the school. They can wrap themselves up in the thin life-saving warm heat sheet. EMERGENCY BLANKET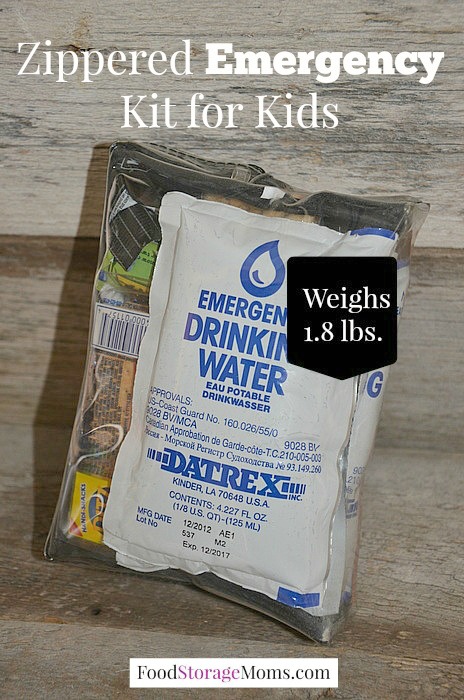 These are just a few ideas of what you might want to put in your child's emergency kit. You never know what might happen at school. We have all seen on the TV or read in the newspaper about school lockdowns.
We have heard about roads shut down and closed because of fires, floods, car accidents, etc. Let's be prepared for the unexpected. I put all the above items in a small zippered clear make-up bag about 5-1/2 inches by 7 inches by 2 inches. 3-Pack Clear Vinyl Cosmetic Bag – Black
Weigh The Bag
I weighed the bag totally full with all the items above and it weighed about 1.8 pounds. If I had placed cartons of water the bag would have been too small to hold it all. I also worried about leakage in those boxed drinks. I realize most schools will not allow medications to be put in backpacks, so I didn't add those items.
I wanted to make a compact bag that is fairly inexpensive and sturdy at the same time. This kit could be a real blessing to all our school children and teachers. You might consider suggesting this kit for all the kids in your child's class so the whole class is prepared. Please consider kids' backpacks ASAP with a few survival items.
72-Hour Kids Backpacks:
Final Word
It's really hard for all of us to see the news talking about our children's and grandchildren's schools that are involved in unthinkable shootings and bombings. Who would have ever guessed that we would have to deal with such issues?
Do they have mental health issues, were the criminals bullied? Who knows, but I sure hope we as a country can work through these terrible times and rise above it. Please be kind to one another.
We need to set an example to others that being rude doesn't get you anywhere. Please catch your children doing something right, they will have more confidence and learn to love and accept others. May God bless this world, Linda