How To Recharge Batteries With Solar For Survival
I have been wanting to know how to recharge batteries with solar for survival for many years! I will tell you this, here in Southern Utah, our regular non-rechargeable batteries seem to go bad within six months. Some may make it to a year, but only if we are lucky. I have been looking at this unit from Goal Zero for some time. Goal Zero contacted me to see if I would do a review on this awesome Guide 10 PLUS Solar Recharging Kit!! I have purchased so many Goal Zero items over the years and this was truly a gift to me. These opinions are mine and I can't wait to tell you how great this item would be for everyday use, but especially after a disaster or unforeseen emergency.
I knew I was going to write a review on this Goal Zero solar recharging kit, so I asked my Food Storage Moms Facebook readers what they use AA and AAA batteries for to power their family friendly items I could share on my website. This is so exciting for me because you would never have to buy batteries again if you recharge these rechargeable batteries in this Guide 10 Kit. Here's the deal, you can charge this Guide 10 PLUS Solar Recharging Kit in your car (12V), with solar, and with a USB cord that's included. This statement is from Goal Zero and I quote, "Go-anywhere, rechargeable battery pack keeps handheld gear going strong. Pair with this durable solar panel for endless power."
Here are my fabulous reader comments:
Tami:
some flashlights use AA and some radios,
Molly:
My stove timer uses double AA batteries.
Nancie:
Some older cameras use AA's. Most clocks use them. Little hand-held fans that people take to sports events probably use them.
Phyliss:
Portable radio in my "Hurricane Box"
Samantha:
Toys! Nothing like Christmas morning and finding out that you have no batteries!
Molly:
Face scrubber, Cordless phones, clocks, Spinning toothbrushes, Remote-control cars , my coffee bean grinder, my travel alarm clock,
Tonya:
We go through a ton of AA batteries for the Wii remotes (burned out the rechargeables after awhile) – I think the only other thing in our house that we use them for is all the darn clocks (I like clocks, we have a lot of them…)
Maureen:
Computer mouse, computer keyboard, camping lanterns, radios. This one probably doesn't count because it took 2 AAA — thermostat.
Elizabeth:
My son's leap pad, kid's nightlight, our weather radio, flashlights
Chris:
Hand-held GPS units use them
Chris:
My walkie-talkies can use them
Chris:
We sold can openers powered by AA
Robert:
The hose end timer we use in the garden runs on AA. Handheld ham radio uses them for backup. Rechargeable AA in solar yard lights.
Elaine:
Blood pressure meters(the cuff ones)
Patricia:
Caller ID on my landline phone, electronic tuner (for tuning musical instruments), metronome, all sorts of remotes (AA and AAA), emergency weather radio.
Patricia:
Those little gadgets for charging a cell phone in an emergency.
Patricia:
My carbon monoxide detectors. Some smoke alarms.
Recharge Batteries:
I quote from Goal Zero: "With the Guide 10 Plus Recharger and Nomad 7 Solar Panel you have a portable, rugged charging kit as adventurous as you are. Charge AAs from the sun or any USB port, then power your phone, MP3, GPS, or perk up your tablet in a pinch.
Q: What batteries can be used in the Guide 10 Plus?
A: Any AA or AAA* NiMH batteries can be used and recharged. We do not recommend other types of batteries. 4 same-sized batteries MUST be charged at once, but not all batteries need to be empty.
*AAA cells are sold separately and come with an adapter to use with the Guide 10 Plus.
Q: How do I charge the Guide 10 Plus?
A:

From Solar: Use Goal Zero Nomad 3.5 or Nomad 7 with solar charge cable for fast charging. From USB: Use any USB power source, such as a computer or any Goal Zero power pack.

Q: Is the Guide 10 Plus waterproof?
A:

No, but it is weather-resistant. Care should be taken to shield if from direct sunlight and the elements. Unexpected rain storms probably won't harm it.

Q: How is the Guide 10 Plus protected?
A:

Usage is plug-and-play. The built-in battery management system prevents overcharging and over-discharging of batteries. The USB output will only supply the amount of power needed."
You can see the solar panels above, the batteries in the case (the kit only comes with four AA batteries). But it also comes with an AAA battery charger container that can be used as well. I purchased some extra AA and AAA batteries so I could be ready for anything!!!
I hope you can see the plugs below for USB, 12V, Guide 10, and a place to chain other solar panels that are compatible: Compatible Solar Panels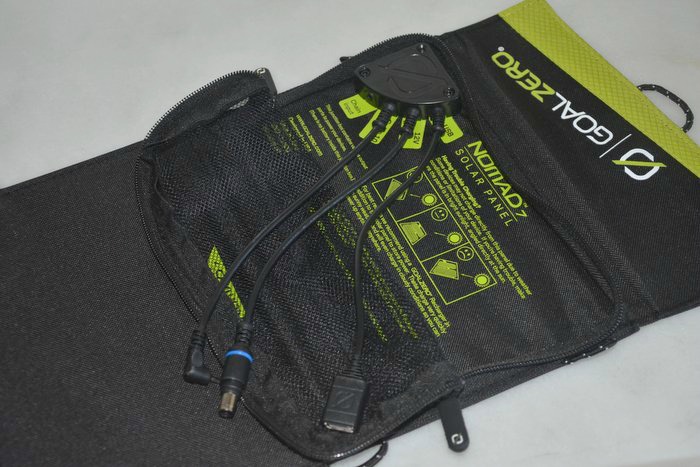 The batteries below are the ones I bought so I can have a few extra batteries to recharge as needed. You can see the left side are AA's and the AAA's are on the right. Keep in mind you can only recharge ones that are NiMH batteries that can be used and recharged. Please note you cannot charge regular type batteries.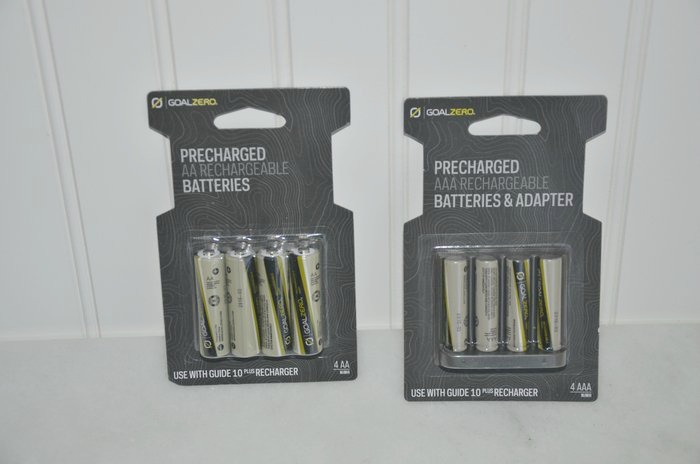 I hope you think about all the items you use AA and AAA batteries for and save your money to buy a way to recharge batteries instead of buying new ones. If the stores are closed after a disaster, we will need batteries, lots of batteries! May God bless your family for being prepared for the unexpected.
My favorite things:
Goal Zero 41022 Guide 10 Plus Solar Recharging Kit
Goal Zero 11407 AAA NiMH Rechargeable Battery 4 Pack with AAA Insert for Guide 10 Plus
Goal Zero 32002 Light-A-Life Mini LED Light
Goal Zero 90109 Solo V2 Solar Flashlight