How To Prepare Your House Against Looters
We are seeing a lot of looting in our cities presently. Once the stores are out of food and supplies, it is almost inevitable that looting will start happening in homes. Keep in mind that this could be out of necessity or it could just be out of pure anger and rebellion. No matter the reason, it is important to know how to prepare your house against looters.
Related: Non-Lethal Ways to Defend Your Home When SHTF
What Do Looters Want?
You may find yourself wondering why looters loot or what they may want? Why would they want to loot your home? These are questions that really don't have an easy answer. Sometimes looting happens out of necessity because there is a lack of resources. However, sometimes it happens because there are just bad people in the world.
Looting is also referred to as sacking, ransacking, plundering, despoiling, despoliation, and pillaging. It is the theft of goods by force either by the military, political victory, or during a catastrophe such as war or uprising. Looters want whatever they can get their hands on: food, water, things they can sell, resources, and any supplies you have. 
Related: Sneaky Places to Hide Your Valuables
Will Showing the World You Will Fight Put You in More Danger?
This is another question that is really hard to answer. But, the bottom line is, you are going to be able to more successfully defend your home if you have been prepared to do so. In some circumstances knowing how to defend your home can draw attention and make an attack more likely if you are too showy about it.
If people know you're defending something of value, that may prompt them to be attracted to your home and try to get what it is you're trying to defend.
If you live out in the boonies, you can turn your home into a fortress and nobody will know. And, anyone that happens to stumble upon it could be in for a nasty surprise.
But, if you live in a very populated area, you have to be a little more careful. Giving your house a Stalingrad look will both annoy your neighbors and draw attention to looters. So you need to prepare your home for looters without too many visible changes.
How to Prepare Your House Against Looters
I want to educate you on how to prepare your home against looters, but I also DO NOT want to generate a political stance on this. The bottom line is that at any time or any point in our lives this kind of thing can and does happen. I want you to know what to do and how to prevent it and protect your home.
Secure the Area Around Your Home
If it looks easy to get into, your home is going to be a target. You can't protect yourself or your home if you can't secure the area around it. The trick is to secure the area around your home without it being obvious to your neighbors or to looters.
Get an Alarm System
I know a lot of people are getting devices that "film" people coming to the front door. Well, that's fine but what about the sides of your yard and people jumping a fence to get to your backyard where they would not be seen by your neighbors? You may want to put in a REAL Security System with a battery backup if the looters cut the wires to your wired security system. The doorbell device may slow down looters but may not protect your property.
Lighting
Nothing scares off people more than a LOT of lighting around a home. Keep your front porch and back porch lights on whenever possible every night.
Your Windows
The first thing you want to do is work out the dead ground around your home. So, anywhere you can't see from at least one of your windows is a vulnerable spot. These are the locations looters can try their assault. So, you need to shore up these areas.
Let the areas between windows grow up with brambles. Place a low wire entanglement with short stakes and barbed wire where you let the grass grow to conceal it.
You can also buy a window covering that's actually pretty inexpensive to "help" prevent your windows from being broken with say a chair or large object. It's called a window security film. Now, let's be clear here, it's not an armored car set up, so to speak.
I did hear from a reader who uses it on all of her windows because it helped during an earthquake, whereas, less of the glass shattered everywhere. It still broke but it was easier to clean up. In other words, it may stop the glass from becoming projectiles. I highly recommend getting the higher 8-12 mil thick safety film.
Keep in mind, it is a security safety film and not a window as you see at your local bank drive-through. Most of those are bullet-proof. This security safety film is not bullet-proof, BUT it may discourage a looter from trying to get into your home because it may take longer to break through your windows.
Time is critical if we are trying to slow the looters down. They may move on to another home down the street that is easier to access if your home is too difficult to get into. Here is the 8 mil: BDF S8MC Window Film Security and Safety Clear 8 Mil
An Alert
The next thing you want to do is be alerted when there is an intruder. These things may not be obvious but can deter looters and make sure you know when you need to be on the defense. You need a noisemaker, whether it's a flock of geese, a dog, or just some old cans strung on a wire.
You need something that tells you someone is there. Keep it normal and don't draw attention to it.
Related: Camera Security Alert System
Fences
Many people have privacy fences, too, so this won't be anything too obvious. Fences can deter people from trying to enter because it makes it more difficult. Obviously, it will not stop them, but it will be another obstacle and a perfect place to hide your alert.
If you can fence your property, this is another way to hide what you have, what you are doing, and any other preparations you don't want your neighbors to see.
Prepare for a Fire
Here are some interesting facts about regular fire extinguishers we have at home, in the garage, or the car. All fire extinguishers are labeled with special labels to identify the classification of fuel the extinguisher will be effective:
1. Class A Fires: Ordinary combustibles like paper, cloth, wood, rubber, and many plastics.
2. Class B Fires: Flammable liquids like oil, and gasoline, charcoal lighter, kerosene.
3. Class C Fires: Energized electrical equipment like wiring or motors. Once the electricity to those is turned off the becomes a Class A.
4. Class D Fires: Combustible metals like aluminum, magnesium or titanium.
So when you purchase a fire extinguisher it is extremely important to identify the type of fuel to defend against so you select the correct extinguisher you think may be best for your personal situation to do the job correctly.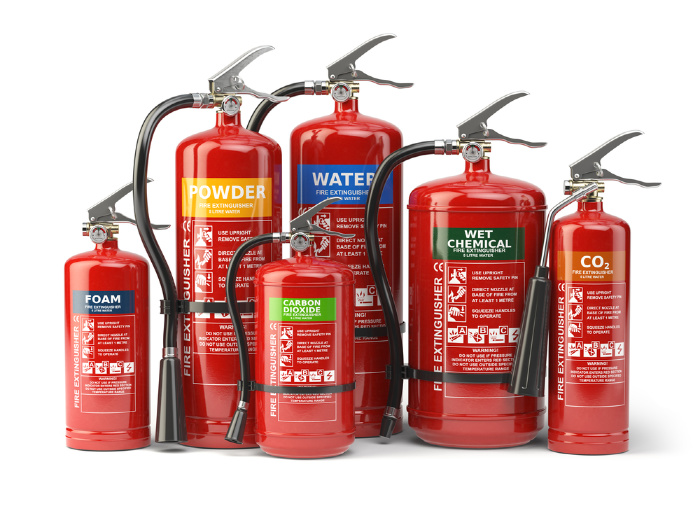 Many preppers will screen their windows with chicken wire to reduce the risk of someone burning their house down with a Molotov cocktail, but this approach is going to be obvious. So, to keep things discreet, you may want to accept the risk of fires. This means being ready to put them out! Here is what you need to stock:
Related: CERT to Help Your Community
Prepare Your Home for a Seige
A siege is where either looters or even military personnel surround your home for an extended period of time. At this time, you can't leave the four walls of your home to get supplies without the possibility of getting shot at.
Historically, sieges end with a fortress being surrendered or successfully stormed. With looters, this doesn't apply. Anyone attacking you when SHTF is after your supplies or control of your home.
So, if you make it a tough target, the looters will eventually move on to look for easier pickings, but it could last several days. During these days, you need supplies in your home NOT in your garage or outside your home.
The key to holding out during a siege is to be able to hold out for that vital couple of days. You need to add up your supplies and figure out what counts inside your defense perimeter.
This is what you will have to rely on while you wait out the siege. So, it doesn't matter if you have a well in your yard with unlimited clean water; if you can't reach it without getting shot at, you have lost your fortress.
Water is your main priority. You can live a number of days without food, but you need water. Here are the most important things to have as close to you as possible:
Fire prevention supplies
Weapons and Protection
Related: How to Store Water for Drinking and Cooking
Related: Canned Foods I Highly recommend You Store
Weapons and Protection
I know preppers who are all for guns and weapons, and I know others who are completely against it. This is not something I have ever talked about on my blog, but I feel like it is a necessary topic at this crazy time.
We all know good people who have weapons, it's a fact of life. The truth of the matter is that the bad people will have weapons of some kind as well. So, in many cases, you will also need weapons to defend yourself. If there is any chance of your home becoming a target, you are going to want to have the inside of your home protected.
This preparation doesn't only include having the weapons, but knowing how to use them. This includes knowing what windows you would use as firing positions if using a gun, and where non-combatant family members should go for protection and safety.
Sandbags are good protection for windows, but you can also use heavy furniture and stacks of books to give protection from looters shooting into your home.
If you want to protect your home with guns, be sure you know how to shoot. Take gun classes, go to a shooting range, and have someone teach you gun safety. Teach everyone in your home gun safety.
Weapons you can have available include:
Shotguns
Handguns
Extra bullets( ammo)
Swords
Final Thoughts:How to Prepare Your House Against Looters
Sometimes, desperate times call for desperate measures. You can prepare your home physically all you want, but at the end of the day, you may have to use weapons to protect yourself and your supplies. Be prepared. Be vigilant. Be ready. Know How to Prepare Your House Against Looters.
The best thing you can do is prepare for the worst and hope for the best! Do you know How to Prepare Your House Against Looters? What other ways have you prepared your house for this situation? Let us know in the comments below! Please keep prepping, we must. May God bless this world, Linda
Copyright Images: Looters AdobeStock_226202181 by AnimaFlora PicStock, Fire Extinguishers Deposit photos_165158282_s-2019