Sneaky Places to Hide Your Valuables
Check out some of these sneaky places to hide your valuables. For those of you who have had your homes broken into before, you can attest to the terrible feeling of an invasion of privacy and a breach in your own family's safety. There's also a sense of anger and deep loss when the precious heirlooms that were passed down to you along with other valuables in your home are stolen. Unfortunately, this happens far too often, where it's estimated that around 2.5 million homes are burglarized in the United States every year.
In case you missed this post, 12 Places to Hide Important Items in Your Home.
Sneaky Places to Hide Your Valuables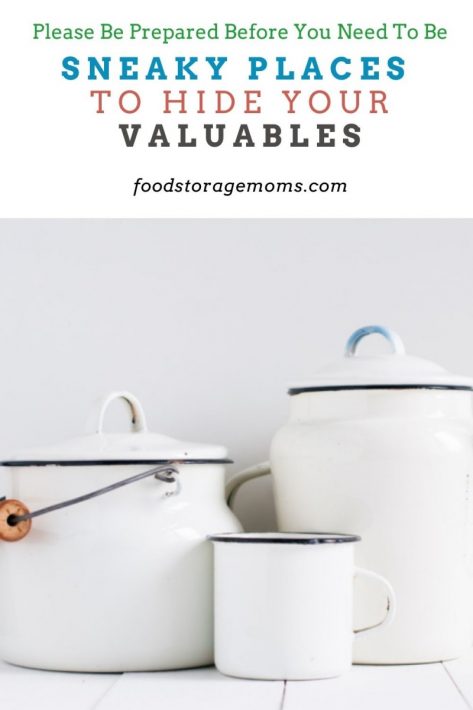 Home invaders want to spend as little time as possible in a home, so they'll spend those moments rummaging through the most obvious places homeowners hide their treasures. These places include the master bedroom. Don't make the mistake of being one of those people who hides your valuables in some of the most apparent places. You might as well just gift wrap them and place them by your front door to be easily hauled away. 
As it turns out, some of the best places to hide your valuables are in inconspicuous objects that are left out in the open. Not only will time be working against them, but your slyness will force them to leave empty-handed, or at least with very little. Here are several sneaky places to hide your valuables, along with your most treasured possessions, where thieves won't look for them.
Places You Shouldn't Hide Your Treasures
Let's start off by talking about the places where you shouldn't hide your valuables. The obvious spots are just setting you up for failure and heartache. You may even discover that you've been doing it wrong all this time.
Avoid putting anything that you hold dear in your master bedroom because that's the first place they'll hit.
Your underwear drawer, jewelry box, cookie jar, a wall safe, or any type of lockbox are also generally the first places a burglar will look.
Don't put anything in video game cases, along with CD or DVD cases, because thieves will be able to pawn those items.
Keep your treasures out of desk and dresser drawers, unless you've created a false shelf.
Hiding your small fortune in an electrical appliance or an HVAC duct also isn't a good idea, because it can lead to a house fire, or at the least, your valuables going up in smoke.
Old Vacuum Cleaner
Hiding your valuables right under a thief's nose is like a slap in their face and an insult to their intelligence. The bag of an old vacuum cleaner is the perfect place to hide an envelope of money or any of your important documents. Just be sure to clean it out, or at least put them in a small sealable Ziploc bag or an envelope first.    
False Air Vent
Some people use their air vents as a good hiding place, but I'd encourage you not to do this. That way you're not blocking any of the airflows of your home. Instead, cut out a small opening in your wall and install a false air vent.
False Bottom Drawer
If it's done properly, a false bottom drawer could fool just about anyone. They're also not that hard to build.  Here's how to create your own false bottom drawer where you can hide your belongings. Whether it's in one of your kitchen drawers or a dresser drawer in one of your bedrooms, they both could work well. 
Electrical Outlet
While we're still discussing false in-your-face locations, how about installing a false electrical outlet in your wall? Honestly, who would ever discover this great hiding spot? Money, credit cards, and jewelry are all small enough to fit within an outlet box.
Coffee Can
Unless the burglar that's invading your home is interested in making himself a cup of coffee, stashing your treasures in an old coffee can and storing it in your kitchen's pantry will be an excellent spot. You can also use a soup can or a mayonnaise jar that's been cleaned out if you'd prefer that your valuables don't smell like coffee.
Wall Clock
Even a wall clock can be a fabulous spot to hide some of your wealth. This wall clock is exactly what you've been looking for and is about the same price as what you would pay for an ordinary one.
Paint Can
Who would think to look for precious treasures in an old paint can that's placed next to other paint cans that are stored in your garage? Just make sure that you don't forget about this awesome hiding spot.
Potted Plant
I love this potted plant hiding place idea. You can rest assured that most burglars aren't interested in sprucing up their homes with any "potted plants" that you have placed around your house.
Behind a Pullout Drawer
I can promise you that there's a lot of wasted place behind your pullout drawers in your kitchen cabinets and bedroom dressers. Hide an envelope of money and tape it to the back of one of your pullout drawers in whatever room you decide.    
Children's Bedroom
Unless your burglar's names are Harry and Marv, they won't be interested in even setting foot in your children's room. Find a place in your room for hiding your secret stash that not even your kids would mess with.
Fake Plumbing
You don't have to be a plumber for this one. All you need is a PVC pipe and an end piece that you can install somewhere in your basement. Burglars won't even think to look there.
Final Word
Coming up with sneaky hiding places for your valuables can be fun. Just make sure that you don't hide all your treasures in one location no matter how good a hiding spot it is. That's because many thieves are smart and have also done their research regarding where clever places are to hide valuable belongings. I would suggest you keep a record of where you placed things so you won't forget.
Where are some sneaky places to hide your valuables that you've used? Wait, maybe you don't want to tell me. May God Bless this world, Linda.   
Copyright Images: Vintage Kitchenware Deposit photos_46632161_s-2019