How to Make Prepping Affordable
Most people don't think that prepping is affordable, because they believe it requires stocking up on supplies that are going to cost them a small fortune. It is true, being prepared for emergencies does require a good chunk of money, but if you have the right mindset, along with the right way of going about it, prepping doesn't have to put your family in the hole financially. With a little bit of budgeting and planning, you'll be able to gather what you need, even if your finances are stretched thin. Here are a few ways of making prepping more affordable.
How to Make Prepping Affordable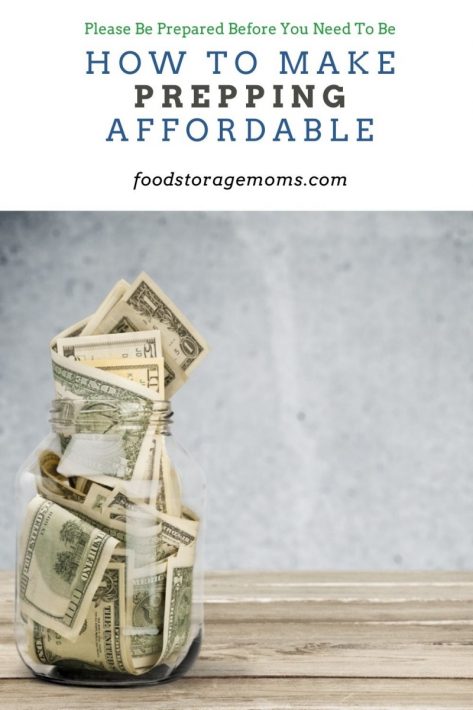 Make the Necessary Cuts in Your Budget
I want you to stop and consider for a moment everything that you own by taking a quick inventory. From an outside perspective, would it look like you're trying to keep up with the Joneses? Or what kind of story would your banking transactions reveal when it pertains to your eating, entertainment, and other spending habits?
It wouldn't surprise me at all if you're guilty of getting your morning caffeine each day from a Starbucks drive-thru window. You could try to limit the number of visits by getting up a little earlier and making your own coffee. Instead of going on two family vacations each year, you may want to consider only taking one trip for a few years. You'll be able to save thousands of dollars that you could put towards a larger prepping inventory.
Maybe you have cable, internet, and phone bills that are robbing your bank account each and every month? It may be time to part ways with your cable provider and go with a TV streaming service that will save you hundreds of dollars. You could also call up your internet and cell phone provider(s) and ask them to get you set up on a cheaper plan or find another provider that will be more than happy to save you money.
Make Every Dollar Count
When you're wanting to make every dollar count, consider getting a chunk of your emergency supplies at the dollar store. Yes, you read that right. Whether you have a Dollar Tree or a Dollar General in your town, they're sure to have several prepping items that will help you cross off "supplies needed" from your list. Some of them are even cheaper than a dollar at times.
I can't guarantee that your dollar store will have every last one of these, but most of them will have small emergency kits, rubbing alcohol, duct tape, batteries, flashlights, matches, lighters, Ziploc plastic bags, paper plates, plastic eating utensils, can openers, bungee cords, rain ponchos, toothpaste, and toothbrushes, along with soap and baby wipes.
You can sometimes find socks that would be good to stock up on to keep your feet healthy, along with sunscreen and hats that can provide protection if you're spending a lot of time out in the sun.
You may also want to consider joining with your prepping friends to buy things in larger / cheaper quantities. Some places will provide significant price reductions if you ask for quantity prices. It never hurts to ask. You may want to collect the funds from others before you place the order, just in case.
Wait For Good Deals
Nobody likes to be told to wait, but as a prepper, that's something you're just going to have to get used to. I totally understand and commend you on your sense of urgency to be prepared for whatever disaster may come your way. But you don't have to break the bank all in one day to get there. I'd encourage you to treat prepping just like you do your weekly grocery shopping experience. Shop for good deals and avoid putting things in your cart that are full retail.
If you choose to ignore this bit of advice when it comes to purchasing your prepping supplies, you'll wind up wasting hundreds, if not thousands of dollars. Prepping requires patience and numerous visits to some of the same places, sometimes, many times. The following are some of the best places that you can track down great deals on the bulk of your prepping needs:
Here is My Series on Monthly Good Buys:
Garage Sales and Thrift Stores
It may surprise you, but you can find some really great (and cheap) prepping stuff at garage sales and thrift shops. Most of the time they're items that are gently used, and in some cases are still brand new in their original casing. When you think about it, your emergency prepping supplies may only be used once or twice in your lifetime, so why does everything have to be brand new? It's simple, they don't!
You'll come across everything from camping tents, tarps, tools, weather radios, mini cooking stoves, cooking ware, fishing rods, blankets, sleeping bags, clothing, rain gear, winter gear, boots, and more. You may not find everything that you need at these places, but I can guarantee you'll have a great start for any emergency.
You may also want to consider visiting some Estate Sales that are advertised. We had some friends who made a habit of spending their Saturdays visiting these sales. I was amazed to see the great products they found at true "clearance" prices.
Shop Craigslist
Another budget-friendly place that you may want to look into is Craigslist. It's easy to do a quick search on their website for prepping items that you're still in need of. As you're browsing, you may even come across another item that you weren't necessarily thinking of, but would be extremely useful to have. Items on Craigslist come and go fairly quickly, so one week you may not find what you're looking for, but the following week you may strike gold. You just have to teach yourself to be patient.
Create a Saving Strategy
Don't get me wrong, paying less on emergency supplies is an excellent way to go, but there are certain instances where buying cheaper is not always better. When an emergency situation leaves you without power, and that old generator that you found at a garage sale isn't working properly, you'll probably be wishing that you had spent a little extra to purchase a newer one.
In order to afford some of those other prepping items that are going to cost you more money, you'll need to come up with a savings strategy on top of what you are currently doing. Again, this will require a little extra patience instead of impulse buying on your part. Maybe you're already saving a portion of your weekly paycheck? You could consider taking a small fraction of your weekly savings and put it into another account that's specifically for prepping.
Earlier, I also mentioned cutting back in certain areas of your spending. Over time, those cuts that you made will add up and you'll be able to afford those more expensive prepping supplies, while using cash to do it.
Related: Best Prepper Gear Big Items to Save For
Final Word
These are just a few examples of how to make prepping affordable when you're on a tight budget. What are some other ways that you've discovered where you can save money while gathering your emergency supplies? I'd love to hear what you've learned! Let me know tips on how to make prepping affordable in your life. May God Bless this world, Linda.
Copyright Images: Glass Jar of money and coins Deposit photos_114712124_s-2019