What To Stock Up On In February
Today's the day, the topic of what to stock up on in February is here! If you missed my What To Stock Up On In January article, here it is. This is a series I started in January some years ago in hopes my readers can be helped in one way or another to stock up on needed items throughout the year. We're all about saving money, right? One of the best ways to save money is to purchase those items you need or want when they are at their lowest price.
If you're like me these days, it's frustrating to see empty grocery shelves. I understand there are many reasons behind the shortages. But, either way, stock up when you can. Only purchase what your family will eat. Please stock up on water as a storage item as well, water is critical, my friends.
I love the idea of rock bottom prices, but sometimes even 30-40% off is awesome. If I can get 50% off the original price, I smile from ear to ear! Of course, we LOVE getting even more off, but I also want to be able to choose the exact thing I need or want. I don't want to purchase something just because it's on sale and may not have the features or quality I want.
Please don't put items you buy on sale on a credit card just because the price is discounted. If you have to use a credit card you may not be able to afford it. Let's be real here. If you are one of those lucky ones who can pay off the credit card each month and only use it to earn "points" for rewards later, I think that's great, more power to you.
February is a short month but has some great potential to save 40-50% off food items you may eat every day during the month.
Please stock up on garden seeds, we must grow our own food. If you have a Farmer's Market nearby, that's awesome. I know many of you are freezing and dehydrating whatever you can. If you have learned the skill of canning food, that's super!
This is where I buy my garden seeds: SeedsNow If you need a way to store those seeds, this is what I use. Plastic Photo Container and Label Maker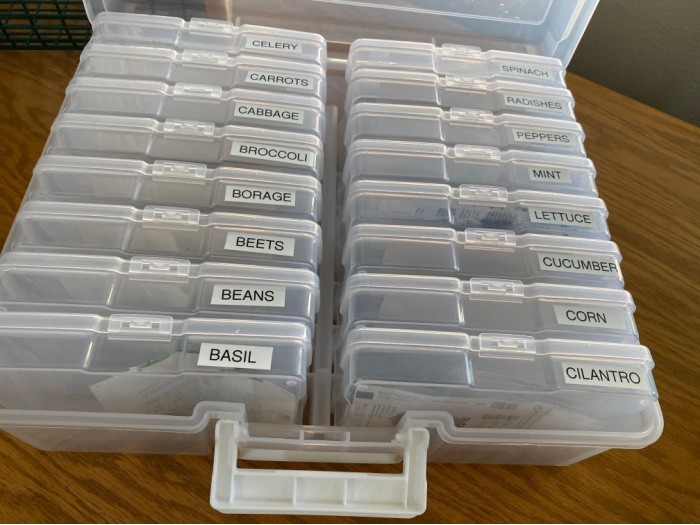 What To Stock Up On In February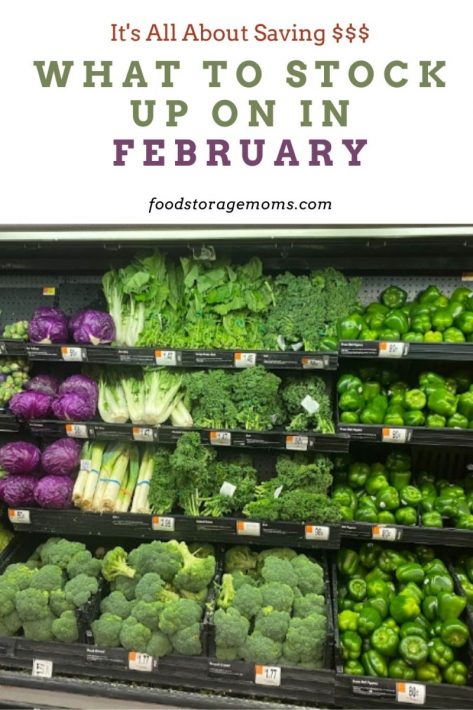 Seasonal Food
Do you love buying fruits and vegetables in season as much as I do? They taste so good! I've been using these Lettuce Keepers so my produce stays fresher longer.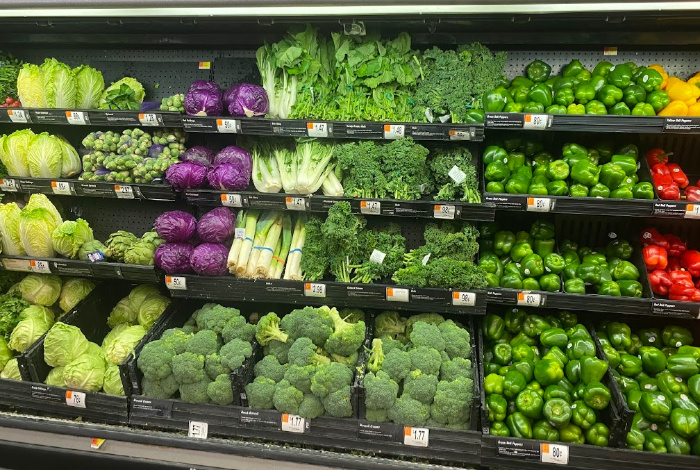 February has some great buys on fruits and vegetables.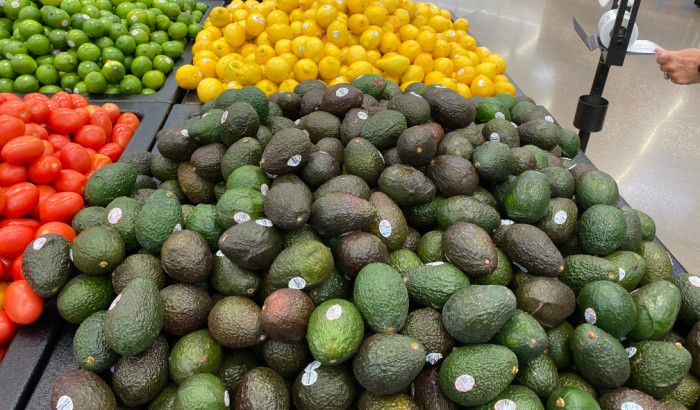 You'll want to look for avocados, bananas, carrots, cauliflower, kale, kiwi, celery, oranges, grapefruit, bok choy, green onions, lemons, potatoes, tomatoes, and papaya. Did you know you can freeze avocados? Yes, I do it all the time. Make sure the avocados are ripe, peeled, cut into chunks, pureed, or mashed. Place them in freezer bags, or better yet, use your FoodSaver. They will be good for 4-6 months in your freezer. Then you're ready to make guacamole anytime you want some!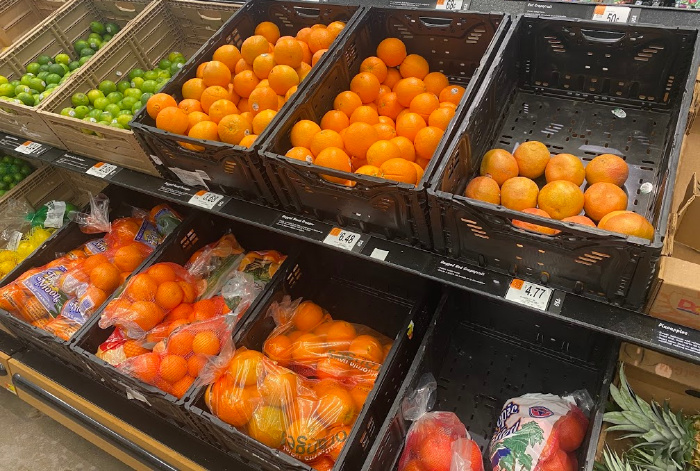 Breakfast Foods
Sometimes the convenience of ready-made food works for a family on a busy schedule. Why not stock your freezer when they're at the lowest price possible? I don't like to eat processed foods, but there are times we need something easy and quick. Some stores will put their pancake mix on sale since they know families are hunkering down in the cold weather, and breakfast foods are always a favorite!
February is National Hot Breakfast Month, so the sales will be awesome for all kinds of breakfast items. Watch for frozen items like waffles, pancakes, and breakfast sandwiches offered at really good prices. You may also find sausage on sale at this time of year.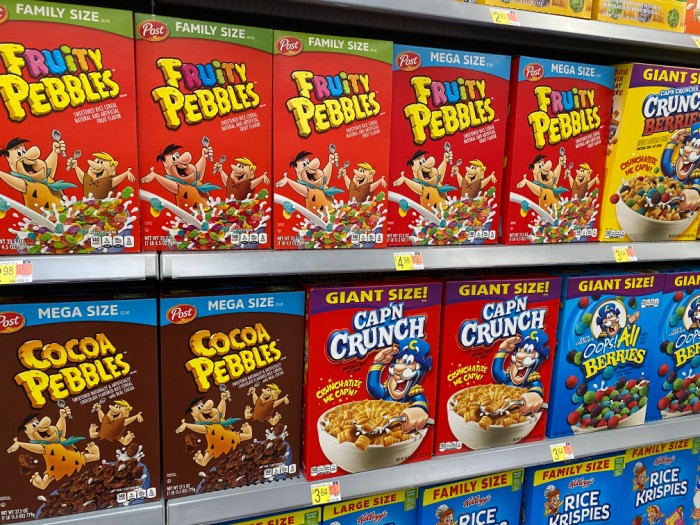 It's also a great time to stock up on cold cereal or your favorite hot cereal varieties. This month's purchases may save you enough money (by stocking up) to get you through next February.
Furniture
This is a great month to watch for sales because it's Presidents' Day month! You will see savings on furniture and possible tax savings since some stores will pay the sales taxes on your purchase!
Keep in mind, new "styles and colors" may be presented in the spring, so stores want to unload last year's furniture inventory. They may have limited items because they are gearing up for new deliveries of furniture for the springtime sales.
This is the month to look for the lowest prices on that couch you may have had your eye on. If you can save several hundred dollars, I call it a "score" purchase!
Chocolate After Valentine's Day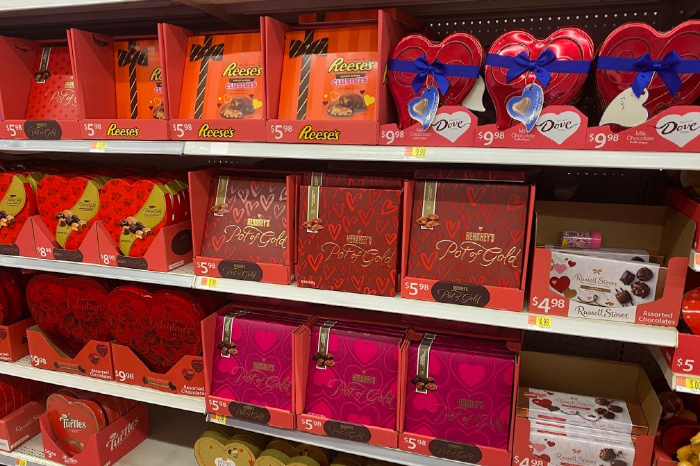 Well, because it's Valentine's month, we will see chocolate varieties everywhere at the stores. I remember when my girls were little, I would stock up on Valentine's Day cards after the holiday for the following year as part of the stores holding a Valentine's Day clearance.
Do you have great memories of making those Valentine's boxes for your kids?
I confess, sometimes they were a nightmare of sorts because one of my daughters wanted something way out of the ordinary to make and decorate.
It's so funny because now I see boxes you can buy for the kids to take to the school party. I'm too frugal, I would still make them, that's how I roll.
Once February 15th hits, the prices are slashed big time on anything with a Valentine's Day theme. You will see grocery carts up in the front of the store packed with leftover chocolate treats, decorations, cards, candy, clothes, heart necklaces, charm bracelets, and more. Stores like Walmart, Walgreens, and even online sales from Amazon will feature after-holiday sales just like they did at the end of the year for Christmas gifts.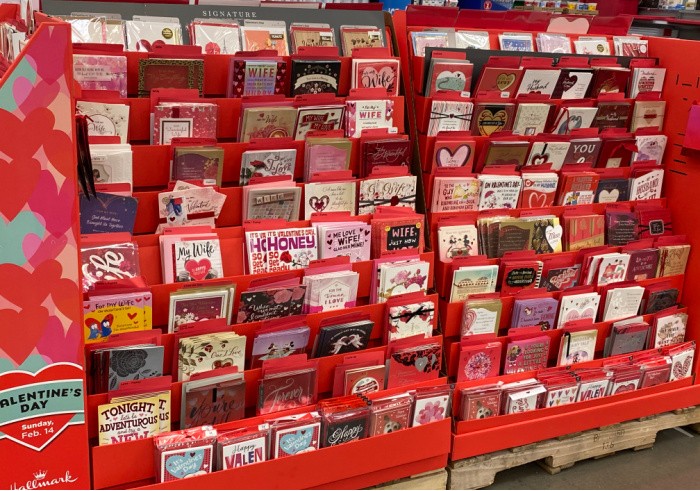 If you want to store chocolate in your food storage stash, this is one of the months to do it. If the chocolate has nuts, please freeze it to protect it from going rancid.
Perfume & Cologne
One of the upscale stores in my little town had a buy one get one bottle 1/2 price off men's cologne deal. Great buy, right?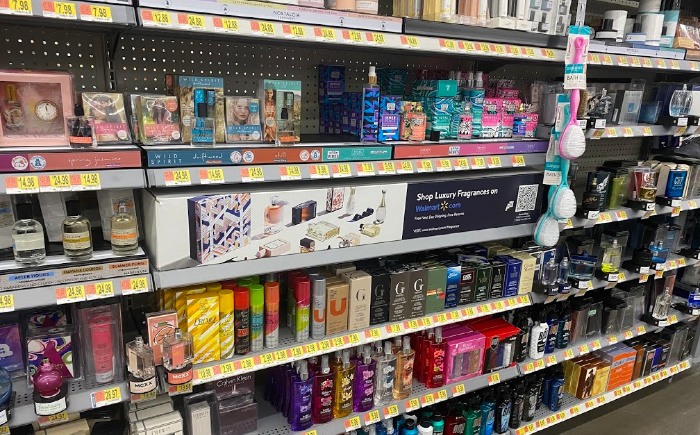 Because this is the month to give perfume and cologne to your loved ones, check for savings and possible "surprise bags" that you will get for free if you buy certain brands.
Yogurt
Isn't it amazing all the yogurt flavors you can buy?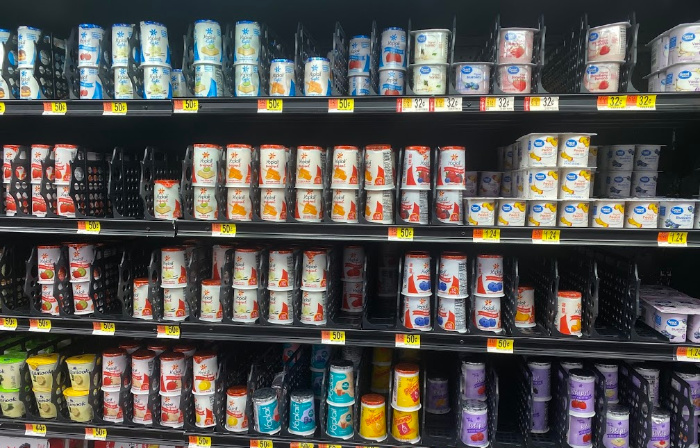 February 6th is National Frozen Yogurt Day, so look for sales on your favorite yogurt brand. Just check the expiration dates and buy what your budget allows. Mark loves yogurt, so I'll buy two cases this month.
Snack Food
Bring on the chips and dips for the playoffs and Super Bowl! The March Madness college basketball season is just weeks away, so buy now and save for later.
This is Super Bowl month, so the stores are going to have many sales on potato chips, kettle chips (my favorite), soda, dips, Chex Mix, pretzels, cheese snacks, and just about anything you want to munch on while watching the game, and for the rest of the month.
Do you love watching the Super Bowl commercials, oh my gosh, I love them!!
Winter Clothing
I checked out the local sporting goods stores in our little town and there are so many winter clothing items on sale.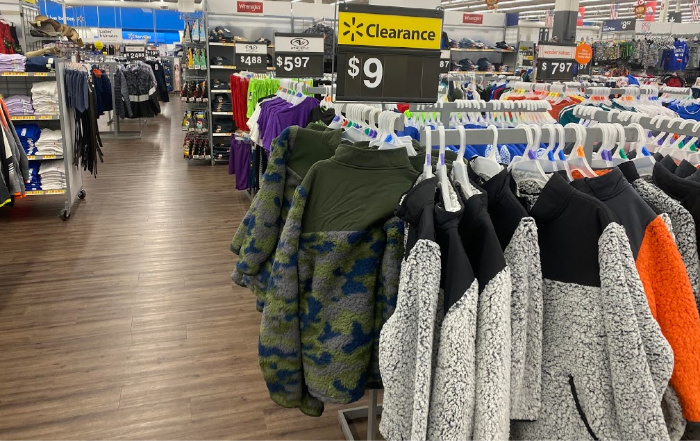 This is a great month to stock up on winter clothing. You may find items marked down 75-80% because the stores need to clean out the stock because spring items will be shipped in very soon.
Be sure and look for boots, scarves, winter gloves, mittens, hats, parkas, jackets, sweaters, and sweatshirts.
Here's the deal, if you find something at the store you want but they are out of the size you need, be sure and check the online option because the store needs to clear out their warehouses too!
Humidifiers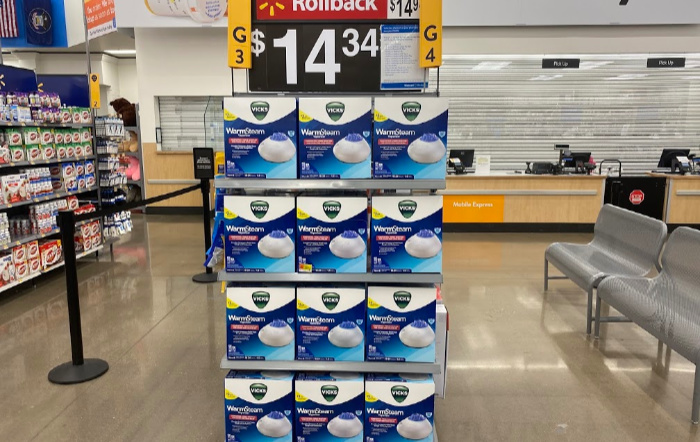 In the month of February, the store managers realize people are still sick from colds and the flu. So, they have humidifiers on sale in several areas of their stores.
They are usually by the pharmacy section, but nowadays they may also be on display in the front of the store so you see them as you walk in the store, near the checkout stand, or down one of the main isles on your way to the pharmacy or other high traffic spots.
Whether you need a warm vaporizer or a cool-mist humidifier, this is the month to watch for a great sale. I have to remind people to use them. When I deliver chicken soup to people I always ask, "do you have a humidifier?"
Nine times out of ten they say, "Oh yeah, I need to get it out of the closet." I run mine 365 days a year because I live in the desert where the air is extremely dry.
Canned Food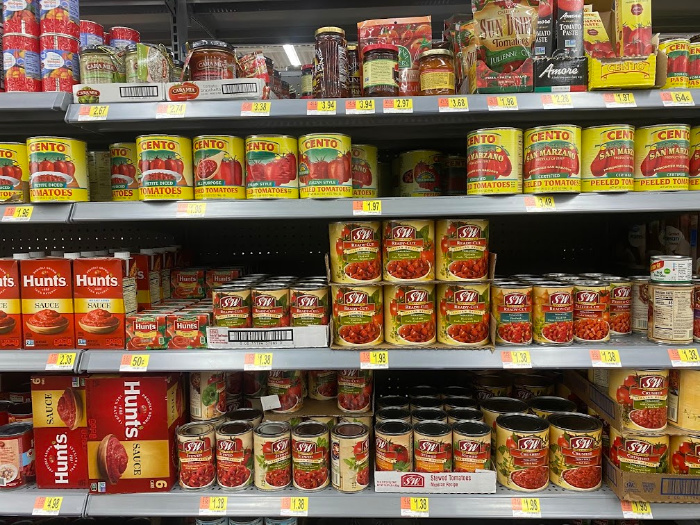 February is National Canned Food Month. They call it the "Souper" Bowl Sunday for canned food. Please watch your mailbox for those ad inserts because this is a great time to stock up on canned foods.
You may see things like cream of chicken soup, tomato soup, chili beans, many other soups, canned pumpkin, fruit cocktail, canned pineapple, baked beans, refried beans, and more.
Please note, canned foods typically last 1-2 years. Now, remember tomato products last only about 18 months because of their high acid content. Please discard any cans that have a dent or are bulging. My motto is "when in doubt, throw it out."
Please be careful where you store your canned items. Please don't store them in a hot garage, on the floor, or in a room that tends to get too much heat or too cold. Under a sink is not good because of the moisture that may accumulate there and possibly cause rust on the cans.
Asian Ingredients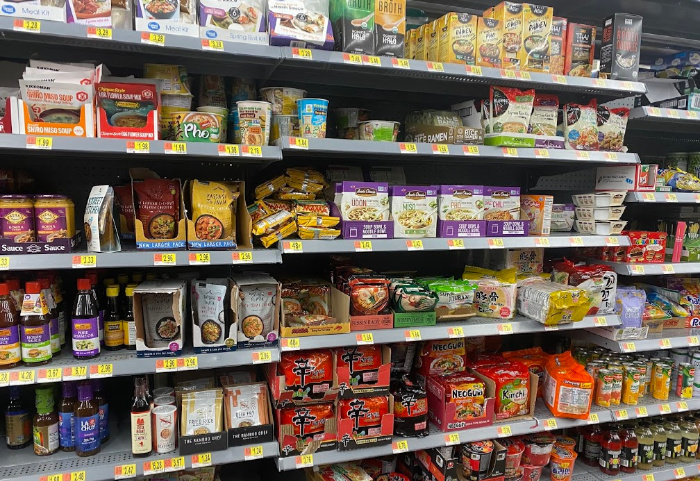 The Chinese New Year starts every February and lasts for several days, or some celebrate the entire month. So, this is a perfect time to stock up on soy sauce, rice vinegar, rice, ramen, canned chestnuts, bamboo shoots, Chinese sauces, and teriyaki sauce. Thanks to Sharona: Lunar New Year (not just for Chinese folks). It is based on the lunar calendar and starts on a different day each year. Most Asian & Buddhist communities will celebrate the first few days, while others celebrate an entire month.
Mattresses
Here's the deal, every President's Day you will see sales in most retail furniture stores on furniture, appliances, and mattresses. I realize mattresses are a big purchase. This is one purchase I always dread because of the price. Remember that they will last a long time if you care for them properly and have purchased good quality to start with.
The retailers know it's a three-day weekend for some people, so shoppers have more time in the store to check out those high-priced mattresses.
You know the drill, you walk into the store and you want a mattress when the time has come to replace the one you have. You walk into the mattress area and you want to lay on the mattresses to make sure they are comfortable, right?
I get the giggles just thinking about laying on a mattress in front of dozens of people and the salesperson. And I don't have my pillow with me, but we have to lay on it in order to see if the darn thing is comfortable.
Then you hop (not literally) from one mattress to another and go back to the "one" that we think is just right.
Then it's the price, how much do we want to pay for a mattress? This one is tough because I know I'm going to have that mattress for years, yes, years.
Snowblowers
This is the month that many retailers slash the price of their snowblowers because they need to unload snowblowers and snow shovels to get ready for barbecues and lawn furniture.
So, if you're tired of shoveling all that snow, this may the month to check out the discounted snowblowers in the stores near you.
Tax Software
Watch for sales on software if you use it to do your taxes. April 15th is right around the corner, so you may as well save money on the tax software if you plan to use it.
High Tech and Entertainment
I just read an article that indicated the sales of desktop PCs and laptops is down from previous years. The computer chip market is still behind due to manufacturing and supply chain issues. You may be able to find some discounts on products from Apple, Microsoft, and others.
It could be the draw for fancy new TVs to watch the Super Bowl or other sports broadcasts this time of year, or people wanting to stay in out of the cold, but you can get some super deals on all sizes and types of televisions. I'm amazed at how low the prices are on those 55″ through 85″ models. If you're in the market for the latest technology, check out places like Costco, Best Buy, Sam's Club, and other big-box stores, you'll be pleasantly surprised.
Jewelry
Besides sales at Christmas, Valentine's Day is probably one of the biggest sales days for jewelry. If you are in the market for a nice item for that special person in your life, look into jewelry that may be on sale now that Valentine's Day is past. Many stores will want to hold a Valentine's Day clearance to reduce some inventory now that the holiday is past.
Over-The-Counter Medications
Even though we are seeing an uptick in flu this time of year, it won't be long before those wintertime sicknesses are past history in most households. Many drugstores and other stores need to consider how much space to make for their medication inventory. Be aware, this year there is a shortage of Tynanol products for children, so if you see any on the shelf at your local store and have kids at home, consider buying them now.
What To Stock Up On Monthly:
Unique February Holidays
February 1: National Dark Chocolate Day
February 2: Groundhog Day
February 3: National Carrot Cake Day
February 5: National Chocolate Fondue Day
February 5: World Nutella Day
February 6: National Frozen Yogurt Day
February 7: National Bubble Gum Day
February 8: National Kite Flying Day
February 9: National Pizza Day
February 10: National Umbrella Day
February 12: National Plum Pudding Day
February 13: National Tortellini Day
February 13: Super Bowl Sunday
February 14: Valentine's Day
February 16: National Almond Day
February 17: Random Acts of Kindness Day
February 20: National Love Your Pet Day
February 21: Presidents' Day
February 21: National Sticky Bun Day
February 24: National Tortilla Chip Day
February 25: National Pancake Day
February 26: National Pistachio Day
February 27: National Chili Day
February 28: National Chocolate Souffle Day
In February, we also celebrate Black History Month and American Heart Month.
What To Stock Up On In February
Final Word
I hope you enjoy my monthly series like today, what to stock up on in February. Stayed tuned for March 1st for more good buys.
If we buy things we need when they are priced at the lowest price possible, we can purchase preps we need to use after a disaster or unforeseen emergency. What other things have you found to be discounted during February each year? Please stay safe and stay well. May God bless this world, Linda