What To Stock Up On In March
I love sharing what to stock up on in March! Here's the deal, let's save money where we can when we purchase the things we need or use most often this time of year.
I call it my stock-up on savings this month! I have a post for every month during the year to help us remember the best time to buy certain things each and every month. I just picked up some really good-looking vegetables, I love buying in-season produce. They taste so much better with a natural flavor when they are fresh from the field and garden!
Be aware that you may be paying more this year than last for the same items. We've been hearing a lot about inflation in food prices, and I think we've all seen it no matter where we live and the stores we frequently visit. There have been some wild storms and cold weather starting in the fall in both Florida and California, two states we rely on for early-season food items. We may be seeing some food shortages for a while as farmers try to get back on track with planting and harvesting schedules.
March is also a time for some holiday gatherings for St. Patrick's Day and March Madness basketball viewing. Whether it's full meals with pizza, pasta, rice side dishes, and fish offerings like salmon, or snacks and treats like chips and dip, yogurt, and plenty of soda, we need to be ready.
What To Stock Up On In March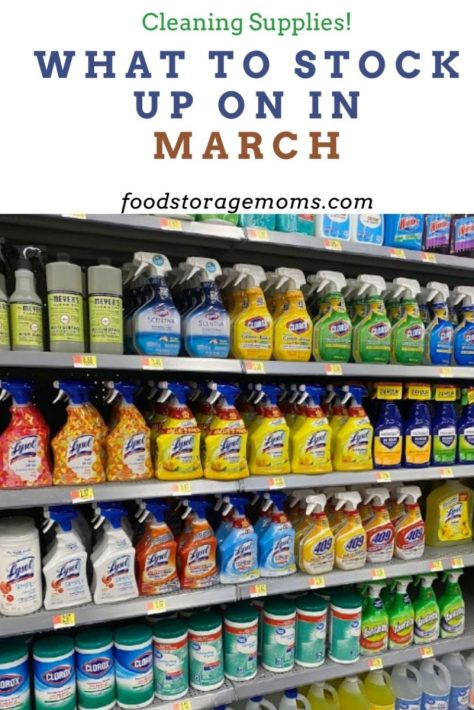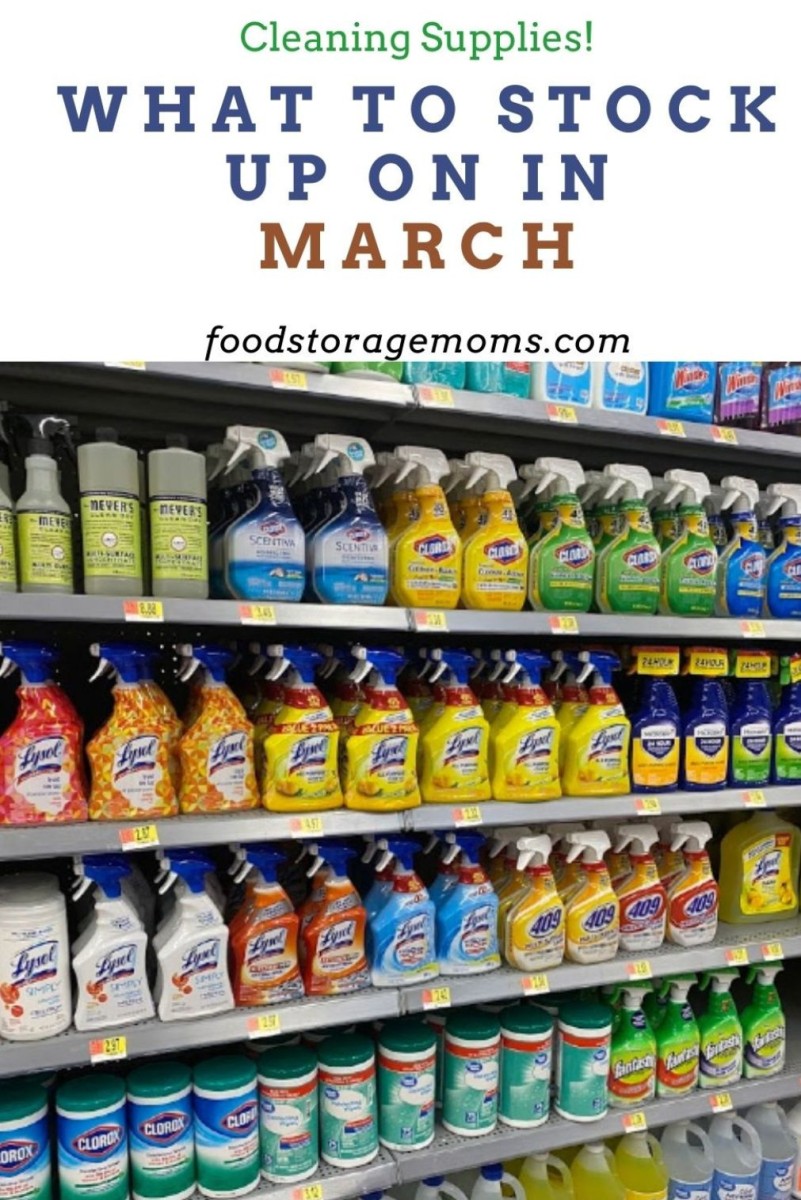 Seasonal Fruit and Vegetables
I love oranges, and they are on sale! Tupperware Orange Peeler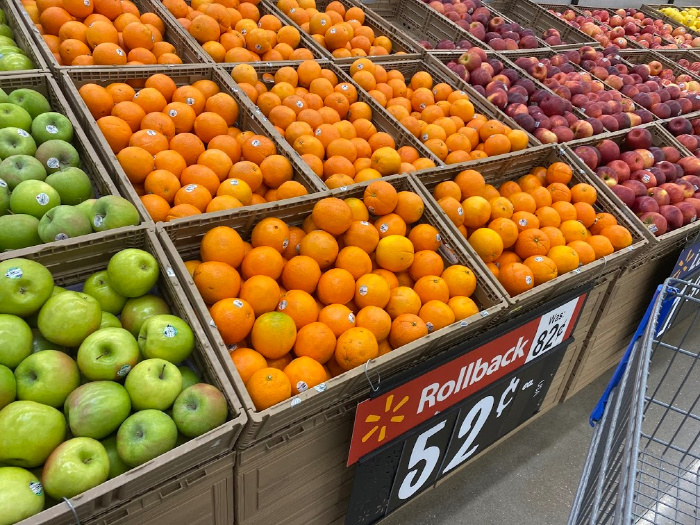 I love all of these veggies lined up on the shelves.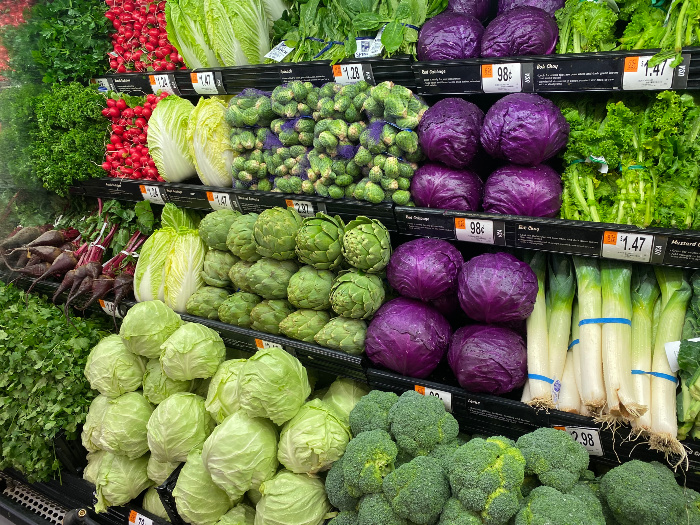 In March, look for the following fruits and vegetables at their best freshness and lowest prices:
Broccoli
Cabbage
Lettuce
Radishes
Leeks
Lemons
Limes
Oranges
Grapefruit
Artichokes
Avocados
Peas
Frozen Food
I was so glad to finally have the frozen onions back in stock and on sale! Here's the deal, I stock my freezer with frozen onions. I can toss them into omelets, Sloppy Joe's, tacos, etc. I don't have to wash, slice or chop them! No waste ever!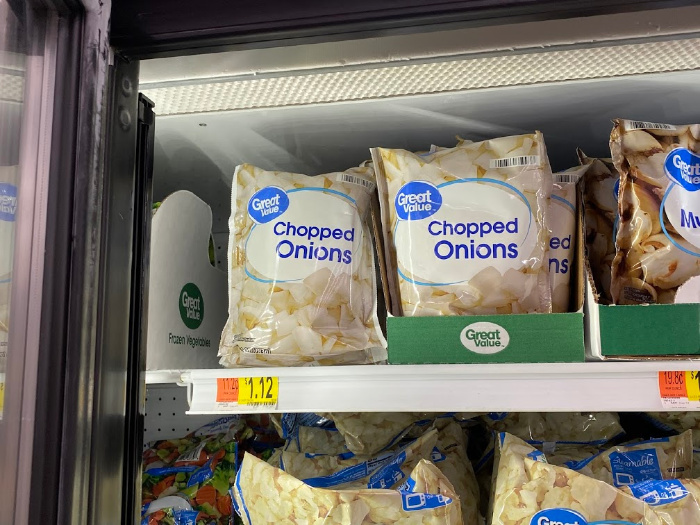 Watch for coupons galore to stock up on frozen goods and save a few bucks. I love to buy frozen peas, corn, peppers, and chopped onions. It not only saves me money, but they save me a lot of time when I cook from scratch.
With it being National Frozen Food Month, who knows what kind of saving you're likely to find at your local store? With all the parties going on, you might find some great deals on your favorite ice cream flavor. Don't be shy about trying some store labels too. We've fallen in love with Kroger's "Death By Chocolate" ice cream, give it a try.
Garden Seeds
Please stock up on garden seeds. If you haven't ever had a garden before, this is the year to start growing your own food. The price of food is likely to continue to go up, so save some money by growing some of your own food. The weather has been erratic, the cans and jars manufacturers and packagers use are in short supply, and the challenges go on and on. It is critical we grow some of our food. This is where I buy my garden seeds: SeedsNow
Consider trying some different garden produce this year. Consider beets, cauliflower, green beans, garlic, and other herbs and spices that you can use for regular meal preparation and when you want salads and side condiments available.
Related Topic: Best Vegetables to Grow in Pots
How I store my garden seeds: Plastic Photo Container and Label Maker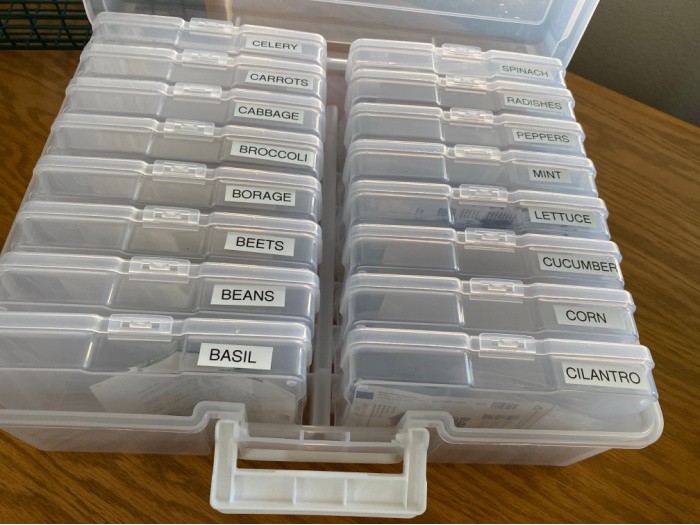 Candy
Candy aisles always make me smile. I like chocolate the best of all, but check out these cuties!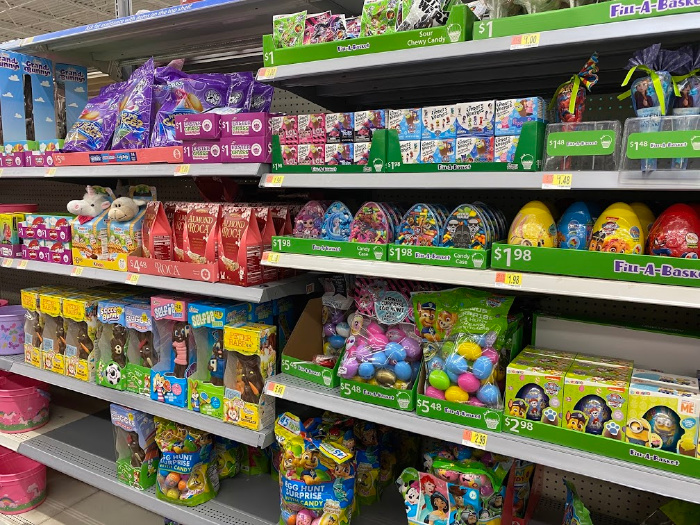 A lot of stores put bags of candy on sale to get buyers to come through the door to purchase other items. It's not just grocery stores, but pharmacy-type stores that have a lot of candy on sale right now.
Some of the candy products are good old bags of chocolate, but they are also gearing up for Easter.
If you wait until it's closer to Easter, the prices will go down but you may not be able to find the perfect candy you like for those Easter baskets. If you can be patient you'll save a lot of money on candy the day after Easter as well.
I use my FoodSaver to stock up on M & M's. I sometimes find the candy 70% off, and that's when I stock up. I call it my sweet food storage emergency stash.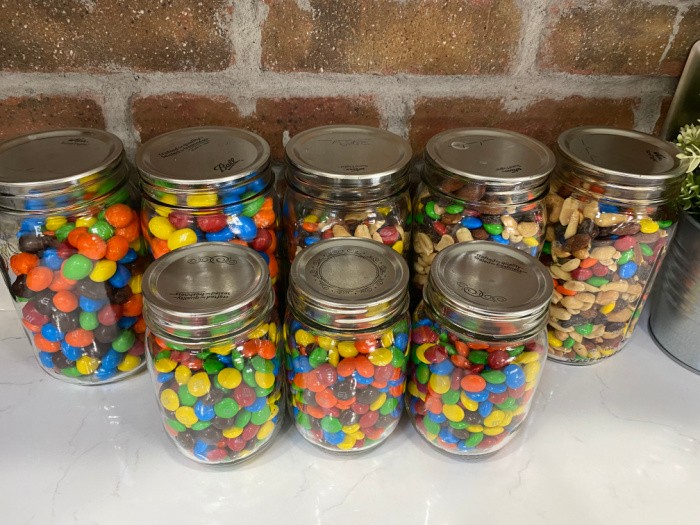 Be on the lookout for boxed chocolates if you like to munch on a piece or two of chocolate every day. Since March is between Valentine's Day and Easter, the stores want to be ready for spring treats so you'll see some great markdowns.
Easter Supplies
I love holidays, and Easter is no different for me. I enjoy coloring eggs with the kids and grandkids if they come to visit. If I have some baskets stashed in the closet, I'm ready for an Easter egg hunt!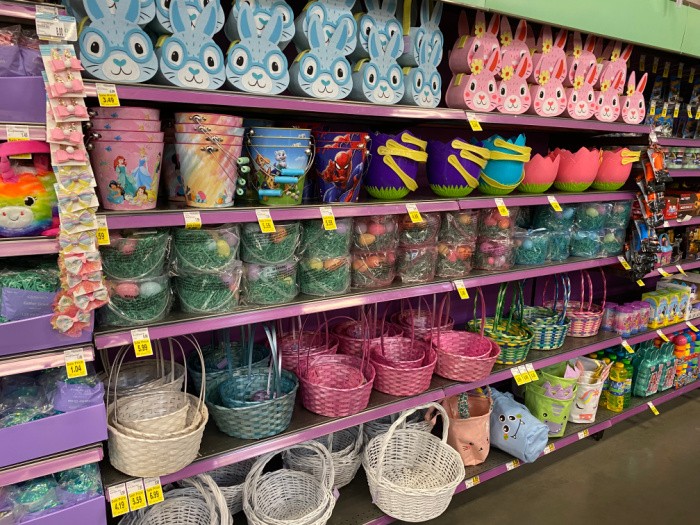 Countertops
If you're remodeling your home, this is the month to look for countertops you may need for the kitchen, laundry room, or bathrooms. It may be a cosmetic update or you feel your house is too dated due to its age.
If you have countertops that need to be replaced check out your local big box stores or specialty stores.
In March, many communities just finished having Home Shows at the convention center near them, or a Parade of Homes where open houses display the latest in home design. There have been some awesome updates to countertop colors and styles, including granite and quartz. Check them out before you make
Therefore, the stores that specialize in countertops want to be ready with huge discounts for those who went through the model homes they designed.
Flooring
This is another item after a home show type event that retailers have discounts for: their carpeting, tile, and hardwood floors are promoted to those who visited their model homes.
You may want to check with the stores for big markdowns. It doesn't hurt to mention you saw their work at the Home Show.
Space Heaters
I like keeping one of these in my emergency preps to thaw frozen pipes if that happens to me or one of my neighbors. Honeywell Ceramic Space Heater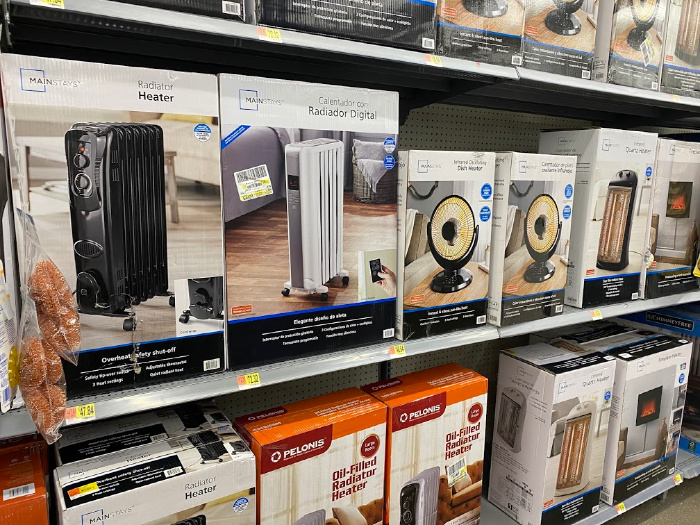 This is a great month to check your local stores for markdowns on space heaters. The stores need to make room for the air conditioners and fans that are headed their way.
Watch for huge discounts on the space heater you may need for your desk or to thaw your frozen pipes.
Exercise Equipment
I would really like to be a bit stronger, I just need to do it. BalanceFrom GoFit All-Purpose Dumbbells in Pair, or Set with Rack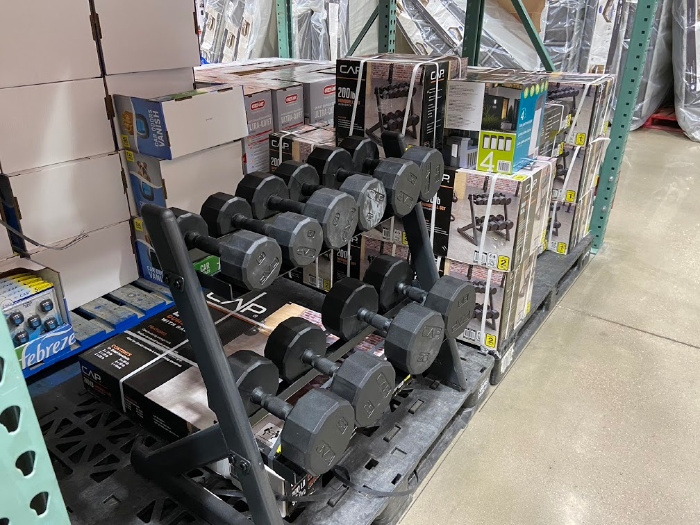 You may have thought again about your exercise regime, and this month is one of the best times to purchase inside exercise equipment. When the weather changes people want to go outside to get exercise.
The weather is getting warmer and people want to go outside and enjoy the beautiful landscapes and weather.
This is a great month for winter exercise apparel as well. Watch for the clearance racks to find the outfit you want drastically reduced. The stores want to clear out the old and bring in the new.
Just think, you'll be ready for that next cold spell, and these clothes items seldom change much from year to year.
Golf Clubs
The sports stores want to unload last year's models to make way for the new brands showing up in the next month. Don't forget to look for rain gear, golf shoes, golf gloves, and everything left on the clearance racks.
This is the time to stock up for your golf season just around the corner. It could be a great time to get the golf clubs you have been dreaming about.
Winter Clothes & Equipment
The stores want to unload winter coats, parkas, winter gloves, and scarves. Just think about anything warm you may need and it just may be on sale. Check the clearance shelves and racks. Stock up for next winter.
Ski or Snowboard Equipment
If you are looking for some new skis or snowboards, check out the sports stores for big markdowns. You may want to check out ski resort shops and ski rentals for used equipment.
They want to get new equipment for next year so they need to clear out their inventory to make room.
You know how fast kids grow out of their winter gear, you may be able to sell it for what you paid for it and apply the funds to buy new equipment. If you buy right you can sell it for the best price in the newspaper or on Facebook.
When my girls were young we handed down equipment, but then sometimes we couldn't hand them down. We always looked for gently used equipment. It's all about saving money.
Running Shoes
Who can't use a good pair of running shoes to get in shape after winter, right?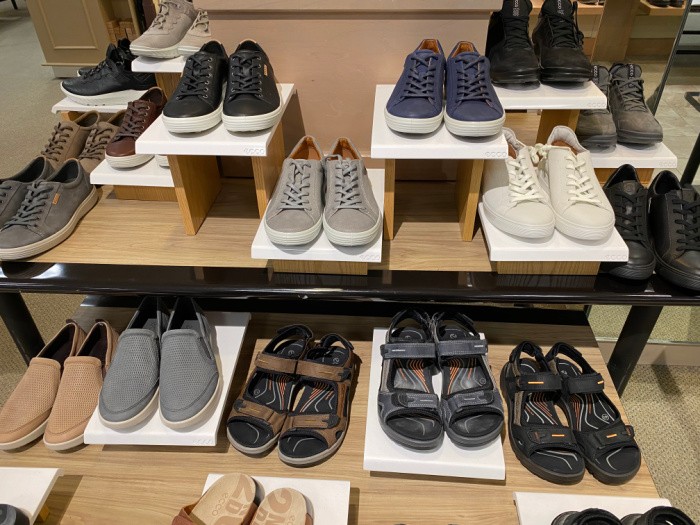 This is the month to purchase those overpriced running shoes at a discount. The weather has been crazy cold for months, and now people want to get out and walk or run for exercise.
The sports stores typically have springtime sales, so this is the time they want to let go of last year's models and be ready for this year's newer ones.
Sandals
The stores know you are looking for something sassy for the summer, so they put a few sandals on sale to get you excited for spring and summer. So get ready for summer my friends! This is a great time to stock up on your favorite sandals for next year as well.
Luggage
Whether you take road trips or fly, sometimes the suitcases fall apart! After awhile the duct tape doesn't hold it together anymore!
If you think about it, the stores stocked up with the latest and greatest luggage for the holidays. Well, they may be collecting dust, so the stores want to unload last year's models.
This makes for great savings if you plan on traveling. A new suitcase or luggage items will start showing up for the warmer months. You can save a lot of money by buying last year's luggage.
Garden and Yard Supplies
I love working in my garden!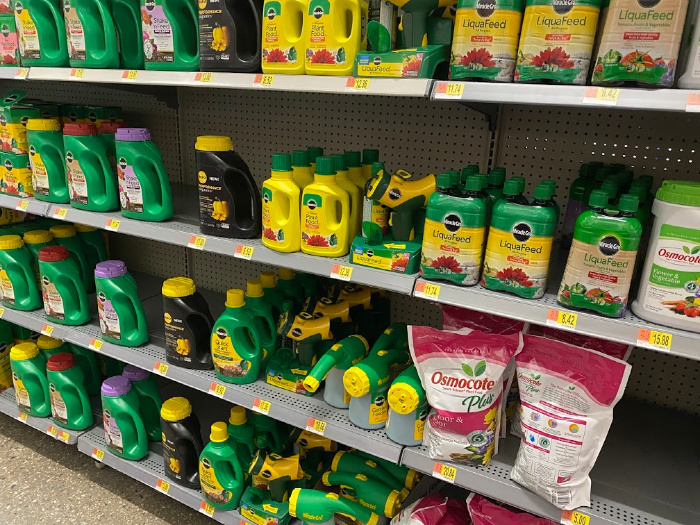 This is the time of year the seed companies send out seed catalogs and stores send out emails to customers. This is a good month for lawnmowers or other big-ticket garden items.
I have seen stores have a flash sale for ONE DAY only bargains. If you missed getting gloves when they were half-price last year, you may be in luck if you watch for the big discount days.
This is when you may be able to purchase garden soil, fertilizer, and all garden supplies drastically reduced. If your shovel is beyond repair, check out the inserts in your newspaper or mailbox.
Jewelry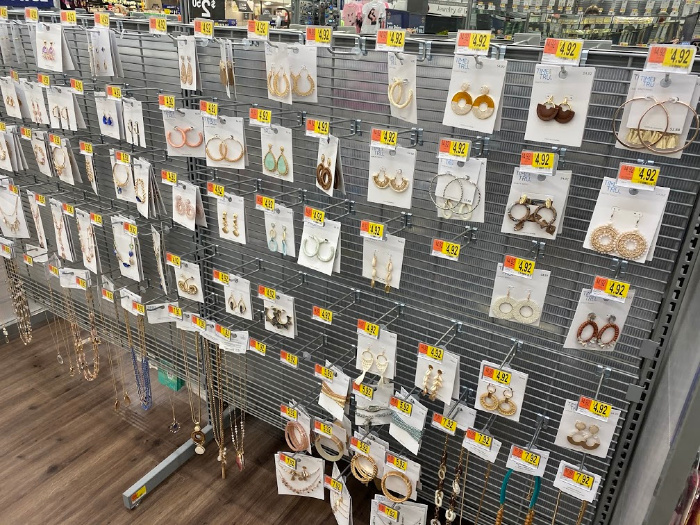 After Valentine's Day, most stores slow down in selling jewelry so it's a perfect time to pick up that piece of jewelry you may want for Mother's Day or your anniversary. It's a perfect month for getting perfume marked down as well.
Craft Supplies
March is National Craft Month, so the stores will be enticing you to come in and get your favorite craft items on sale. It's a great time to sign up for craft classes at your local craft store. You will see many items at rock bottom prices to use in your craft projects.
Cleaning Supplies
I'm so happy when my house is super clean!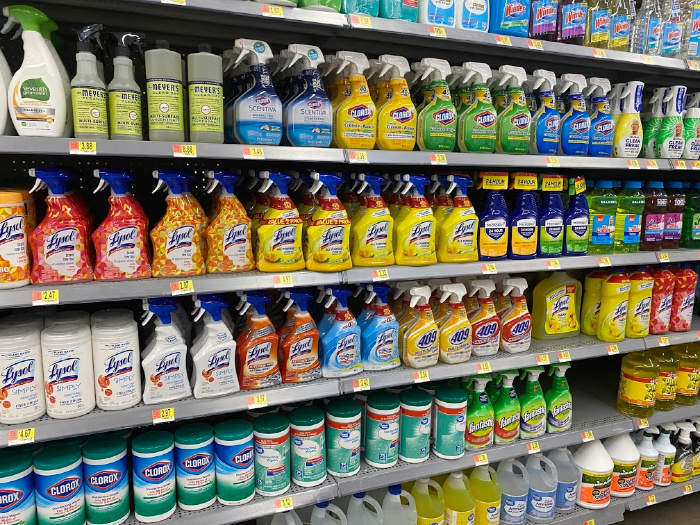 If you're like me, spring always means deep-cleaning after a long winter, you know, Spring Cleaning. This is a great month to stock up on cleaning supplies that are marked down.
Check for great coupons and mailers to give you extra savings. It's all about saving money on the things you use every day.
St. Patrick's Day Items
I love any holiday, and St. Patrick's Day makes me smile big time!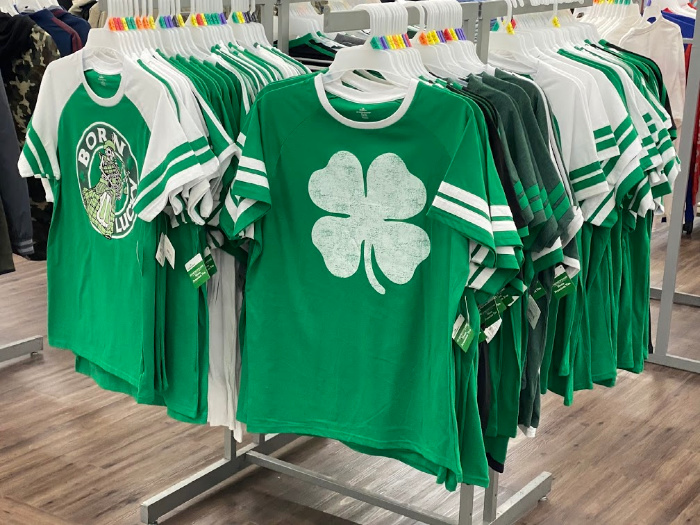 This is a great month leading up to the holiday to purchase those "green" items you want to make for your family on St. Patrick's Day. As with any holiday, the longer you stall to purchase the more you will save.
But you may not be able to find the exact items you want, so be aware.
Of course, after the holiday, you will find drastically reduced "green" items you can store for next year's party.
March 20th is National Ravioli Day, so watch for restaurants and stores with coupons to buy meals at a discount. Grocery stores will have frozen ravioli on sale.
Floor Mattresses On Sale
I saw these mattresses at Costco.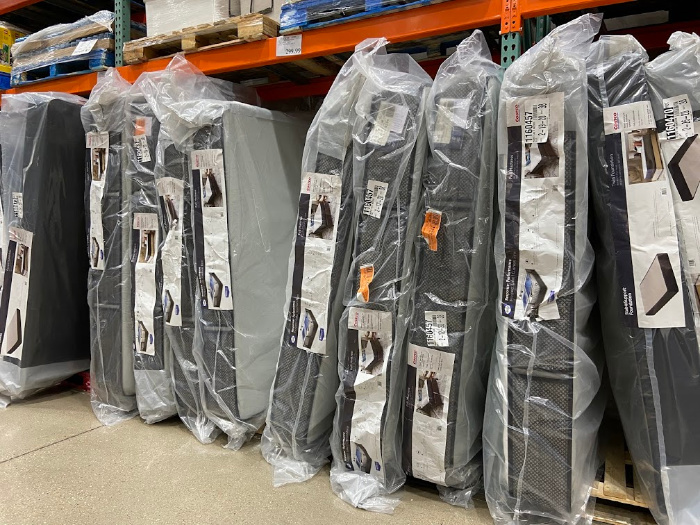 If you are looking at replacing that mattress for your bedroom, you may find some drastically reduced because the newer ones are heading to the stores in the spring. It's a great time to compare the prices of the ones you have been looking at purchasing.
What To Stock Up On March + Year-Round
Unique Holidays in March
March 1: Peanut Butter Lover's Day
March 2: Old Stuff Day
March 3: Peach Blossom Day
March 5: World Day of Prayer
March 6: National Frozen Food Day
March 7: National Cereal Day
March 8: International Working Women's Day
March 9: Panic Day
March 11: Johnny Appleseed Day
March 11: Popcorn Lover's Day
March 12: Plant a Flower Day
March 13: Jewel Day
March 14: National Pi Day (the mathematical term)
March 15: Everything You Do is Wrong Day
March 16: Tea for Two Tuesday
March 17: Corned Beef and Cabbage Day
March 18: Awkward Moments Day
March 19: Poultry Day
March 20: National Quilting Day
March 21: World Poetry Day
March 22: National Goof Off Day
March 23: National Puppy Day
March 24: National Chocolate Covered Raisin Day
March 25: Waffle Day and Pecan Day
March 26: National Spinach Day
March 27: Passover begins
March 28: Palm Sunday
March 30: Turkey Neck Soup day
March 31: National Crayon Day
Final Word
What to stock up on in March is a great way to save our precious dollars to buy what we need when they are priced at rock bottom prices? If I can get 50% off, or more, and it's something I need, I will snag it. Please be prepared for the unexpected. May God bless this world, Linda
Copyright Images: AdobeStock_142142188 by Benjamin Nolte