What To Stock Up On In January
Have you wondered what to stock up on in January? I started this series because I'm hoping there will be one or two items that you need that can be picked up on sale.
Here's the deal, we can't buy everything at once to be prepared for the unexpected, right? The good thing is, I will be updating these monthly posts each year since products and needs can change from one year to the next.
When I first started my blog, I wrote about what to buy for 52 weeks. I had a food item and a prep item. Those posts have been deleted and I want to share more broad ideas to get us prepared NOW.
Be sure and watch for my monthly "what to stock up on" series near the first of every month. Some of the "prep" items may not be on sale, but the season is prime for them, just giving you the heads up.
But you can always find other food items, paper goods, and prep products you need for emergencies. This year has shown us empty shelves, a semi-broken food chain, and the continuation of weather challenges. What will next year bring, I ask? We must be prepared for the unexpected no matter what may come our way.
It's not going to be hard if we keep up on it, I promise. One thing I highly recommend is teaching your kids and grandkids how to cook from scratch. It will be critical to know this skill. If you have already been doing this, I applaud you. You are way ahead of the game. I worry when I see the fast-food chains lined with cars bumper to bumper waiting for their meals. In case you missed this post, Cooking From Scratch 101
My goal is to encourage others to start with one or two prep items a month by saving money on other items each month.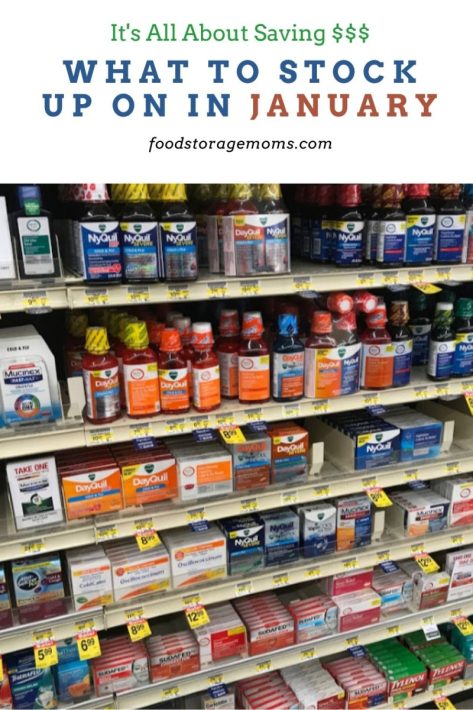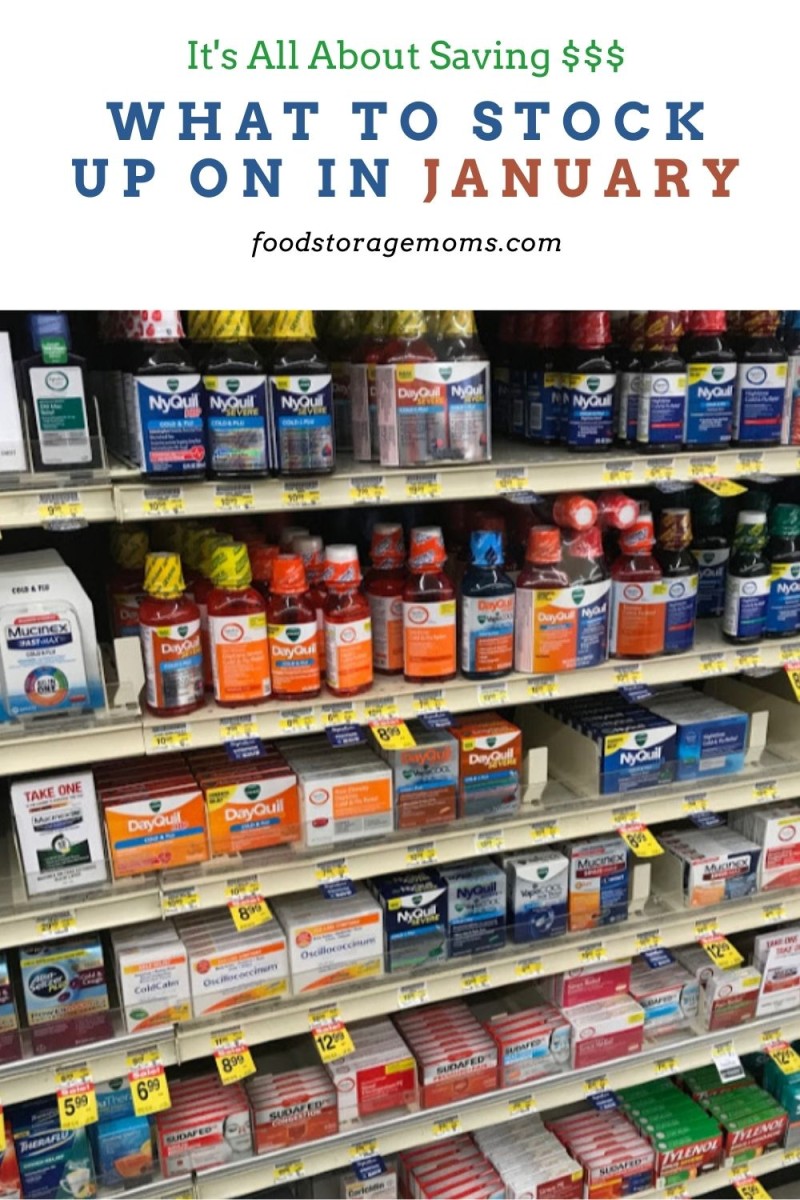 What To Stock Up On In January
Seasonal Foods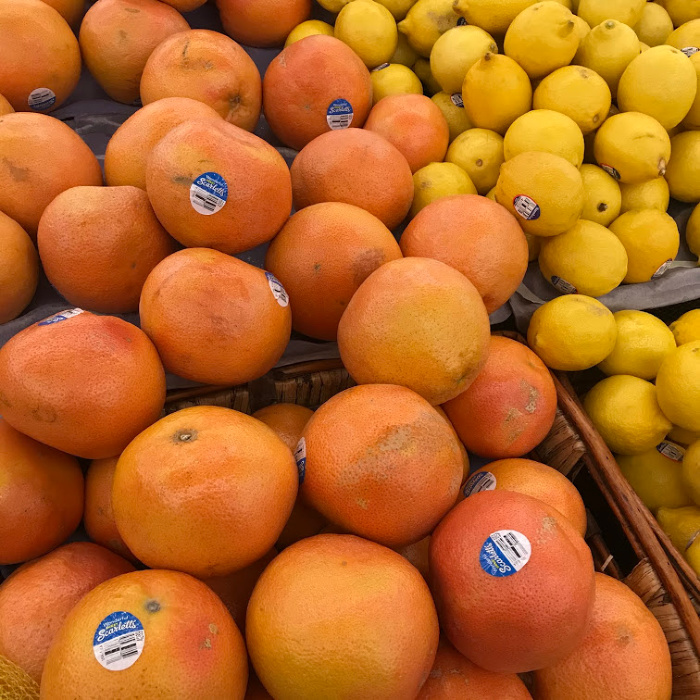 This is a really good month to purchase food that's in season during January. Do you love it when you bite into a really juicy orange? Fruits and vegetables taste so much better when they're fresh, as in season.
January is a great month for oranges, grapefruit, beets, artichokes, carrots, and cauliflower.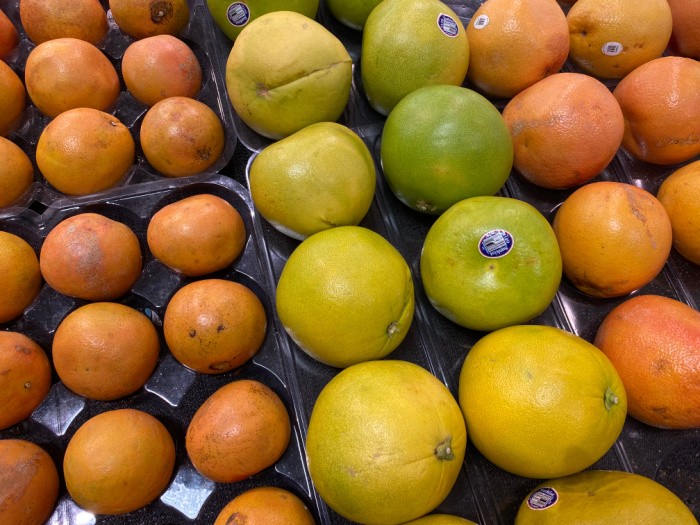 Brussels sprouts, radishes, spinach, turnips, clementines, lettuce, and fennel are some fruits and vegetables to consider stocking up on. This month grapefruit tastes better than ever!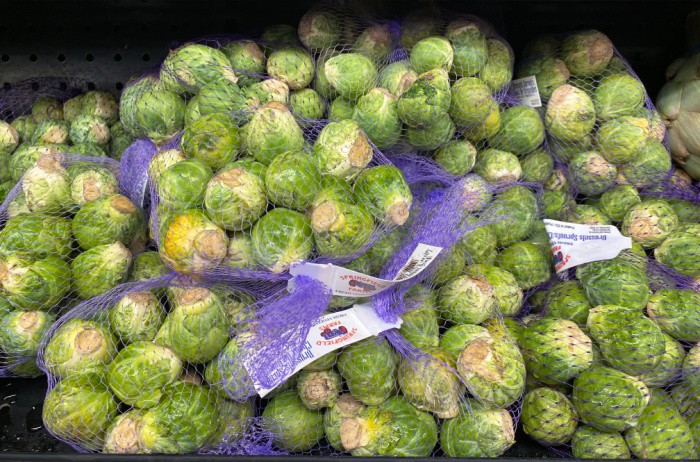 Pineapples
Oh my gosh, someone gifted us two fresh pineapples during the holidays this year. They were so good! I took this picture because the grocery store had these on display. They are so sweet this time of year!
Pomegranates
I love pomegranates, and these beauties were front and center when Mark and I entered the grocery store today. My parents lived in Las Vegas and we would pick fresh pomegranates from their backyard tree when visiting for the holidays. So delicious!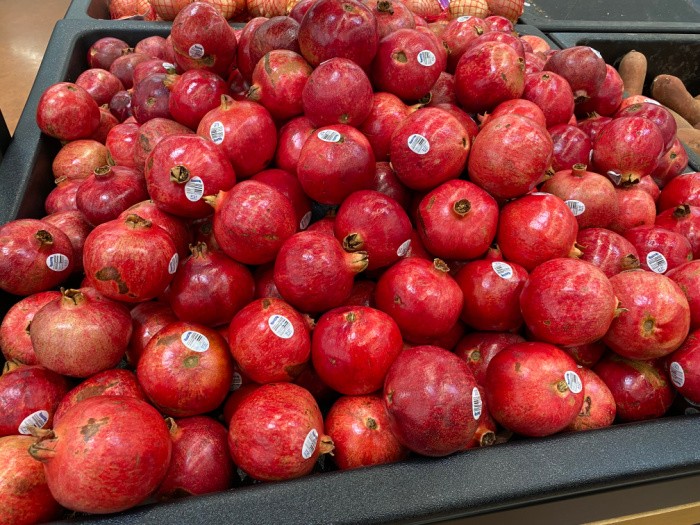 Garden Seeds
January is a great month to stock up on heirloom garden seeds. Is your garden soil just waiting for you to plant seeds? I love it when my hands are digging in the earth and I'm outside in the fresh air. Life is so good when we grow our own food. This is where I buy my garden seeds: SeedsNow
How I store my garden seeds:
Let's get organized this year with a container to store your garden seeds. I use a labeler to label every individual container inside the large container.
Plastic Photo Container and Label Maker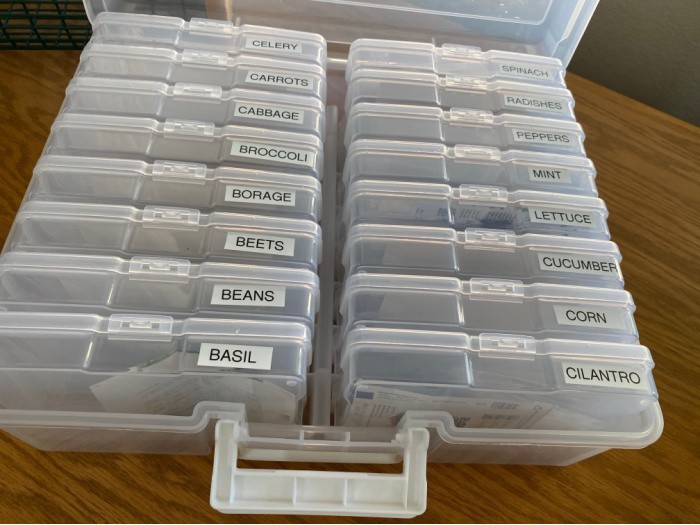 Electronics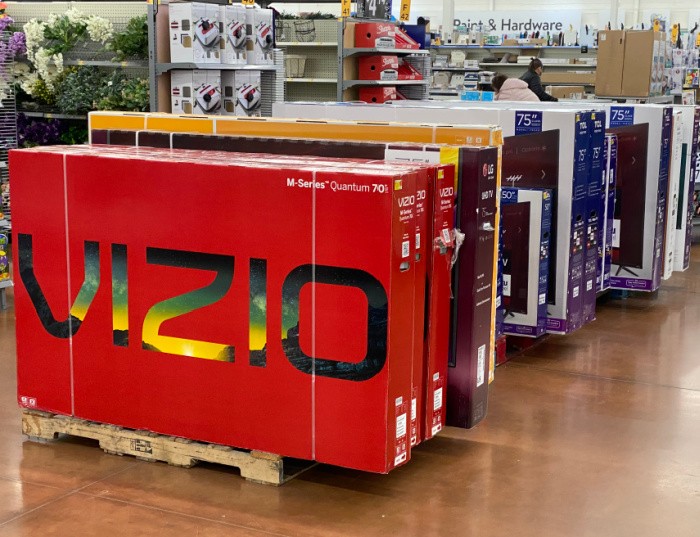 After the holidays, most big box stores have their electronics on sale because they don't want to carry the inventory for very long. If you think about it, electronics are changing all the time.
In other words, new stuff is coming out every month. This is a perfect time to buy last year's TV, or if your computer is going out, as in extremely slow or outdated, this may be a time to update.
If your tablet will no longer accept new updates you may want to snag a good deal on a new one. Mark and I tend to keep ours for years, but there does come a time when we must replace our computers.
Mark and I are not the types that need the newest electronics that come out. In fact, it stresses me out a little when I have to update my cell phone. I just don't have the time or the money to fiddle with upgrading, until it dies or just doesn't do what I need it to anymore.
Candy and Chocolate/Baking Items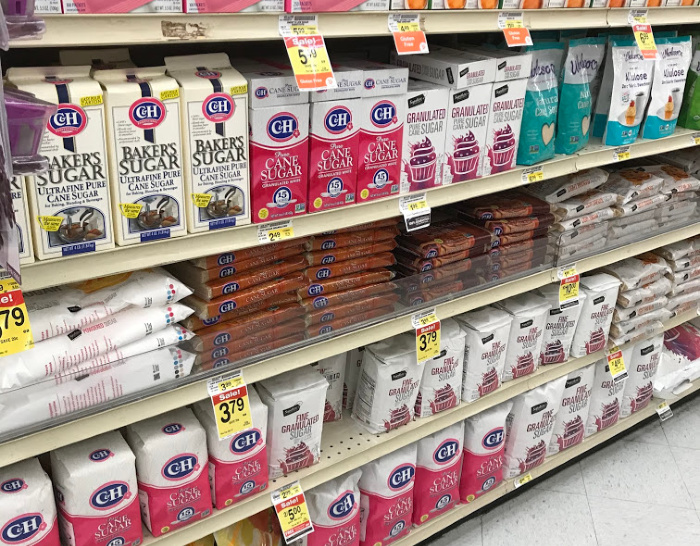 This is a perfect time to stock up on candy and chocolate. Here's the deal, if you want red or green sprinkles, get them now. I went to the store to get some red and pink sprinkles for sugar cookies and I had to go to two stores before I could find any.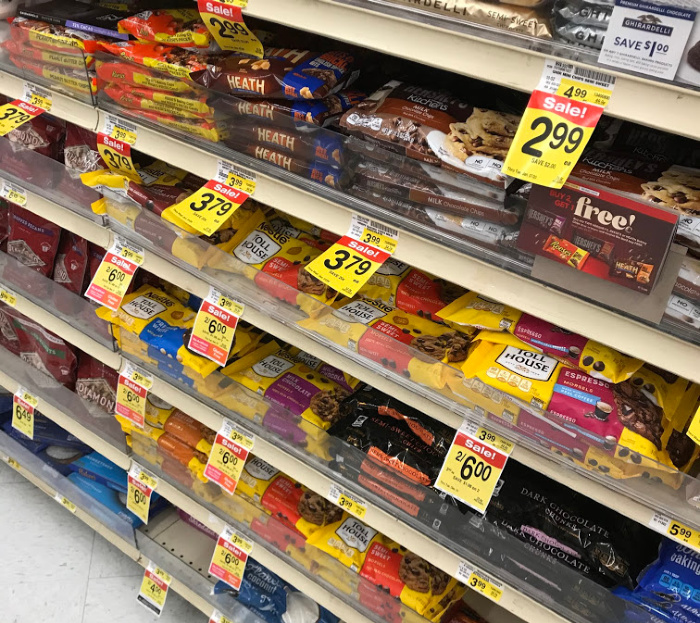 Let's talk about chocolate. Now, if you see chocolate on sale, grab the ones without nuts, unless you plan to eat them quickly. Of course, you could always buy some with nuts and eat them in the next month or two. Remember, nuts can go rancid pretty quickly.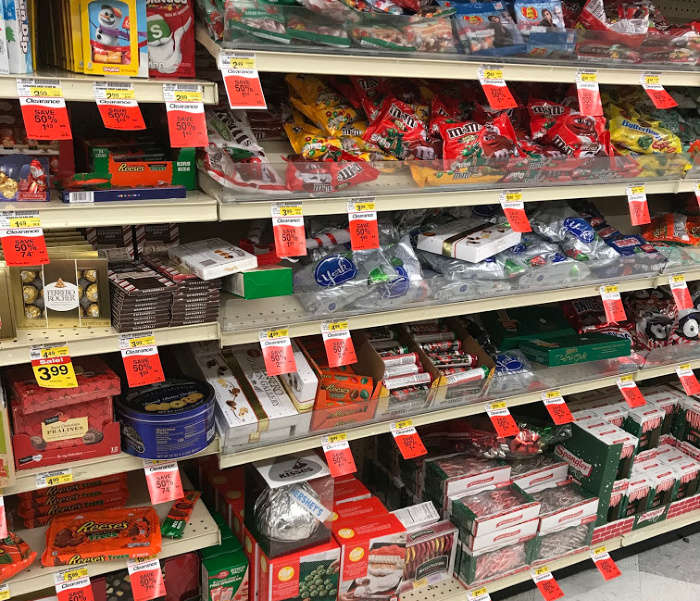 Please remember nuts need to be in the freezer if you go without eating them for an extended amount of time since they could go rancid. I use my FoodSaver to store about 12 quarts of chocolate in my food storage stash. Can you tell I LOVE chocolate?
If you don't have a FoodSaver, I highly recommend getting one. Will you use it every day, no. But it will save you money in the long run. Just look for one that has the accessory hose.
Here are the items you will need to store in quart mason jars. FoodSaver AND Accessory Hose-Wide Mouth-Regular Mouth
You may want to check Sam's Club or Costco for what you a FoodSaver, they usually have great sales from time to time. You need the one with an accessory hose. Please note, don't use your FoodSaver to seal a mason jar with powder-like food, it may get sucked up into the tube and your FoodSaver may break. I know this because I saw someone do it at a food storage company where I was teaching classes.
Christmas Decorations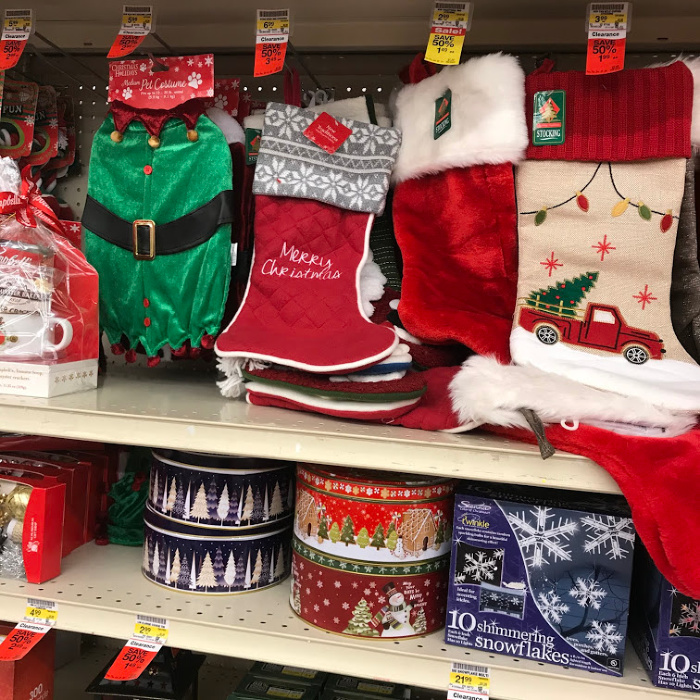 Do you have some Christmas decorations that have seen better days? Then, this is the best time to grab super low prices on some new ones.
I have been decluttering my home and boxing up some Christmas decorations my granddaughters want when they get married down the road.
I still like to look at some fresh ideas for my holiday decor, but I'm wanting less stuff these days. Christmas brings me joy and so do the colors red and green. Life is good around the holidays.
Have you watched the Netflix TV series called, "Tidying Up?" I watched the series with one of my granddaughters and, oh my, it makes you want to slim down your "stuff." We both giggled through the whole thing while binge-watching it. It has changed how I view things in my closet and what really brings me JOY.
Anyway, this is a great time to pick up Christmas lights, wreaths, trees, ornaments, wrapping paper, package ribbons, and tags. They typically have lots of leftover stockings for the fireplace or wall.
If you do an ornament exchange, this is a great time to pick up gifts for next year. I have seen tree stands, tree skirts, and much more. Oh my gosh, this list goes on and on.
So next year, after New Year's Day go grab a few things you may need for Christmas next year.
After Christmas Toys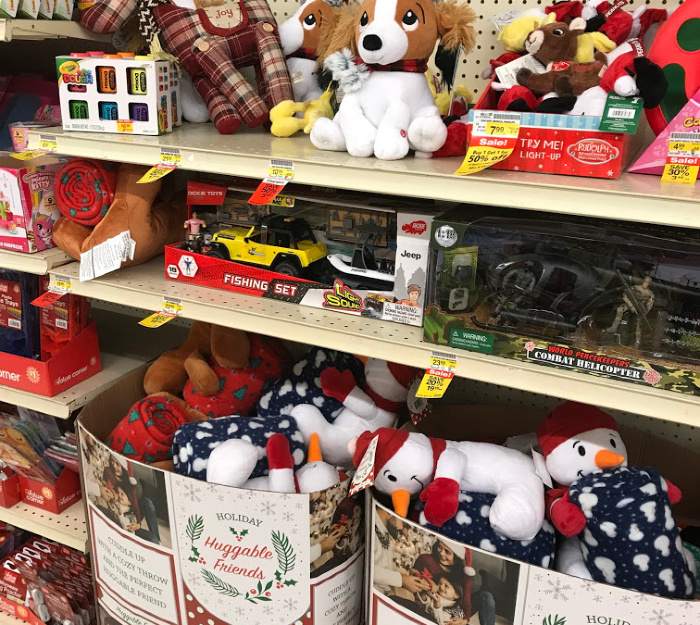 I remember when Mark and I were raising the girls we would look for after Christmas sales on Fisher-Price toys, etc. Those were popular back then, and if we could get them half price it was considered a great deal!
Then you have to hide the presents for a year and hope they want them the following Christmas (lol). This works well for the little ones, right?
I remember buying toys that the girls could give for birthday gifts when invited to birthday parties. I had a stash in the closet and they could choose the gift they wanted to give to their friend at the party.
The cool thing about this, I didn't have to go shopping and find a gift that was full price. Life is awesome when you save money on things when they are on sale knowing you will put them to use throughout the year.
This is a great time to pick up board games because the stores may have a surplus, and why would you want to pay full price on the games you have that are missing way too many parts, right? Buy them now when priced at a discount.
Sometimes the stores may have some excess Christmas books they want to unload, therefore they will be drastically reduced.
Diet Food/Snacks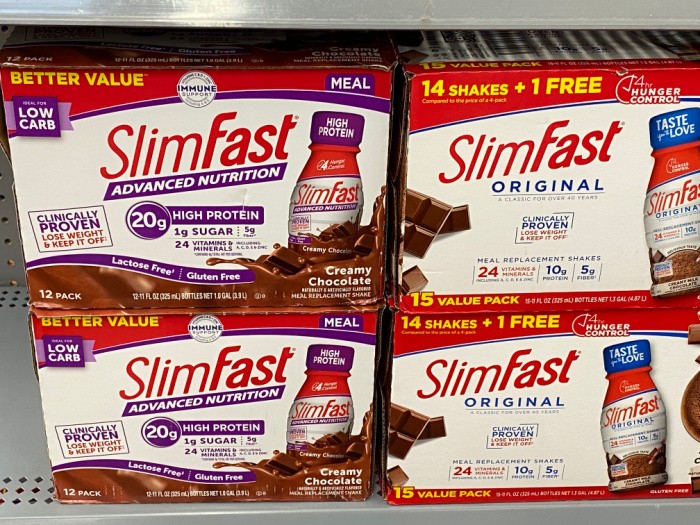 This is the month for New Year's resolutions, and the stores put out all sorts of diet foods and snacks. It's so funny because I walked into three grocery stores only to find all these diet foods and snacks front and center when I walked through the door. You can get some of them at extreme discounts. I saw shakes, bars, and snacks galore.
And the exercise equipment was also close to the front of the store. I'm assuming they are saying, "If you need to lose weight, grab a jump rope or yoga mat." It's a great marketing idea.
Winter Clothing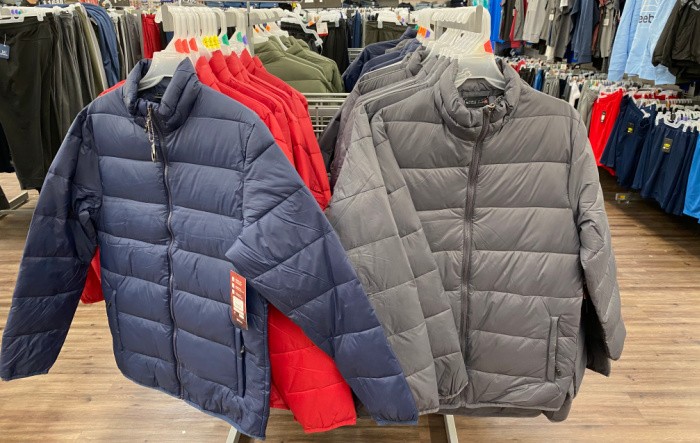 If you need a new coat, a sweater, or a sweatshirt, this is the time of year to snag one and save the most money. If you need new gloves, wool socks, mittens, scarves, and hats, check out the bargains.
Their spring and summer apparel will be arriving very soon, so here again, drastically reduced prices.
If you snowboard or ski, look for that equipment and all the accessories that go with them. Most people have purchased this year's models for Christmas, so the stores want to unload the previous year's models.
If you need regular boots or snow boots, this is the time to get the deals. Winter blankets come to mind here as well.
Cold and Flu OTC Medicine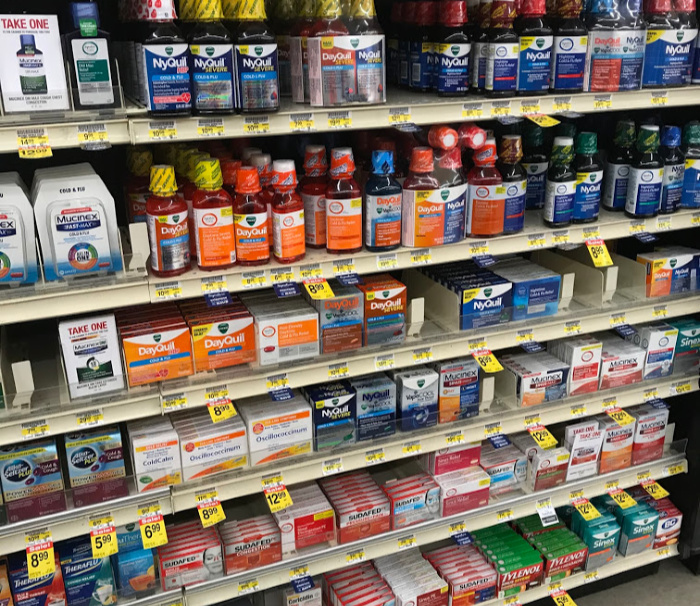 It's that time of year that colds and influenza are rampant, so the stores have aisles of cold medicine, cough syrup, fever reducers, and humidifiers on sale at the lowest prices.
They realize this is a great time to market them, but they also want to get rid of the big shipment quickly, so this is why everything may be on sale in January. Please be sure and look at the expiration dates on the boxes.
Preps I recommend for January
Please make a plan for the year regarding which preps you really need or want. Some preps are needed more than others, ASAP. But we still need to get started based on the budget we can afford.
Here are the areas we all need to concentrate on (this list will change and vary every month):
Water
Food
Cooking Sources like a Butane Stove, Dutch oven, Sun Oven, Kelly Kettle, etc.
Cooking Fuel
72-Hour Kits
Portable toilet
Portable washing machine: My favorite is the LaVario (currently unavailable)
Car Survival Kit Linda's Car Survival Kit
What Should I Stock Up On During the Other Months?
Unique January Holidays
January 1: New Year's Day
January 2: National Cream Puff Day
January 4: National Spaghetti Day
January 5: National Bird Day
January 5: National Whipped Cream Day
January 6: Bean Day
January 8: Bubble Bath Day
January 12: National Hot Tea Day
January 14: Dress Up Your Pet Day
January 15: National Bagel Day
January 15: National Hat Day
January 19th: National Popcorn Day
January 20: National Buttercrunch Day
January 20: National Cheese Lover Day
January 21: National Hugging Day
January 22: National Blonde Brownie Day
January 23: National Pie Day
January 25: Opposite Day
January 26: Spouse's Day
January 27: Chocolate Cake Day
January 28: Fun at Work Day
January 29: National Cornchip Day
January 30: National Seed Swap Day
January 30: National Croissant Day
Final Word
I never recommend using a credit card for anything if you have the cash available. If you use a credit card, then you may not have the money to buy the item. You may be one of those who pay off their cards each month and only use them to earn the reward points. Good for you!
I like to wait until I have the cash because it's a great time to stock up. I hope my "what to stock up on in January" tips help get you started prepping or adding to the preps you have now. If you happen to find other worthwhile items you think need to be added to my list, let me know and I'll share it with my readers, they really appreciate the input. May God bless this world, Linda
Copyright Images: Cozy Winter Still Life Deposit photos_88758674_s-2019