Common Sense Rules For Prepping
Being prepared for power outages, loss of income, or natural disasters just makes sense. But, how you prepare should make sense, too! So, I've come up with a list of common-sense rules for prepping that will help you prepare for anything in a sensible way. 
Common Sense Rules For Prepping
When it comes to being prepared, it's common sense that you can't predict what is going to happen in every situation. You don't know if you need to prepare for a power outage, job loss, natural disaster, or a global pandemic. With these common-sense rules for prepping, you can cover all your bases without it taking over your life!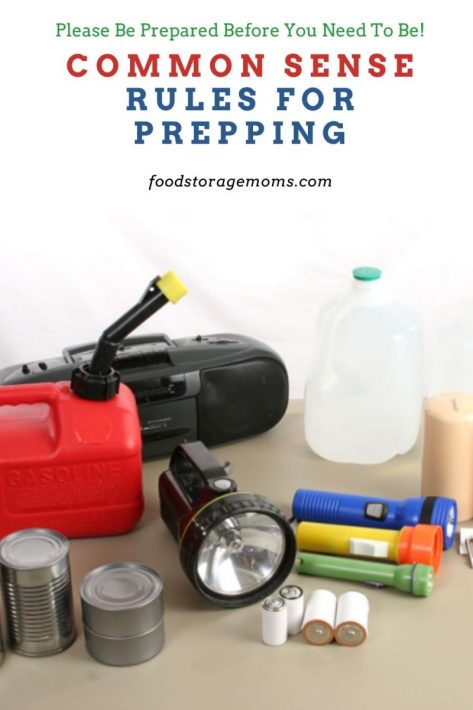 Rule #1: Don't Get Tunnel Vision
There are too many variables to try and predict what will, or could, happen. If you get caught up in social media and what everyone else is freaking out about, you may not be prepared for something else that happens.
Many preppers prepare or invest in specific gear while ignoring other possible outcomes. What is the point in being prepared for a power grid failure if you aren't prepared to handle a simple tornado or hurricane? Don't get tunnel vision and focus only on one catastrophic thing that could happen. Prepare for basic needs regardless of the situation.
It does make sense to best prepare for those disasters or emergencies that tend to happen most often in your location. Preparing for hurricanes in Florida makes total sense. Preparing for earthquakes in California also makes sense. But remember, you can have terrible storms in California and earthquakes in Florida, so prepare for those and other challenges no matter where you live. 
Rule #2: Make Preps Simple, Usable, and Practical
When we are in crisis mode, our brains work differently. You may have some senses that are better than others, but you may not have the capacity for rational decisions, or the ability to remember how one of your preps even works.
For example, if you don't have specific training on how to use Decompression needles and esophageal tubes, this may be an impractical prep because even if the situation arises, you may cause further harm because you don't know how to use them properly.
It's crucial that your preps be practical and usable especially when your brain is in crisis mode. The less you have to remember at the moment, the better things will go. Having "how-to" books available can take some pressure off. It's a problem if you put those books together based on materials or equipment you have but haven't learned to use them. The old adage, Practice Makes Perfect, applies here.
Rule #3: Don't Try to Remember Everything You Read
We put a lot of useful information on this blog, but it's impossible to try to remember all of it. When reading the information, try to take one thing away from it that you can absorb into the back of your brain.
For example, my Duct Tape post lists 15 ways you can use duct tape in various situations. It's impossible for you to remember all 15 things, but you could focus on one major thing. The real value of a post like this is that duct tape is something you can use for a lot of things, and is thus important to stock. As mentioned above, putting the information to practical use reinforces what you've read and studied, so practice and the approaches for processes will make more sense and come to mand as needed. 
Rule #4: Use the 80/20 Rule
Even the best of preppers can never be 100% prepared for everything. This is because we can't predict the future. An example of the 80/20 rule is 20% of readers post 80% of the comments. Or, 20% of people determine 80% of the politics.
With this, we can create a framework for prepping. If you have two weeks of supplies in your home and a bug-out bag, you are better prepared to handle any emergency than 80% of the population. You won't ever be 100% prepared, but you can be 80% more prepared than anyone else. Don't overstress on trying to get 100% prepared.
The challenge you face is setting your priorities for how to prep for those most common situations. You can research weather patterns, seismic happenings near your community, flood maps, etc. to see what are the most common challenges you may experience, and then plan accordingly. 
Rule #5: Have a Healthy Mix of Preps
When you are prepared for anything, your preps should be a mix of gear, supplies, skills, practice, planning, community, and you. Preppers can usually be divided into two groups: those who have gear but few skills and those who have skills, but not the gear. You want both, and here's why:
You may have all the gear in the world, but if you don't know how to use it, it won't do you any good. 
You could have enough food to feed an army, but if you don't know how to cook it without a stove, you won't be able to eat it. 
If you have the best urban garden but can't defend yourself against those who will take your food or the pests that frequent your area, you are going to be in trouble.
Having gear and supplies goes hand-in-hand with practicing how to use it, planning when and how you will use it, and having the right skills to use your preps. Again, it doesn't need to be 100%, but you need a healthy mix.
Gear is important! Skills are important! Planning is important! Being able to defend yourself is important!
Rule #6: Invest in Preps with a Budget
If you are brand new to prepping, you should expect to dish out a pretty penny to get you prepared for most things. If you are just prepping for yourself with a basic mix of supplies and gear, you should expect to spend $800-$1000. For a family of 4, you're looking at about $2500. After you've spent the money on the basics, it will only cost about $50 per year to maintain it.
With that being said, you don't have to spend all that money at once! You can buy the most important things for $40, then save up, buy the next thing, and repeat until you have what feel you'll need. Even if you only have an extra $20, you can get started. In my Prepping for Beginners: A Guide to Get You Started, you can use the first shopping list to get started, today. 
Rule #7: Do NOT Let Prepping Dominate Your Life
The prepping community is filled with passionate and engaged people, which is part of what helps motivate others to prepare. But, sometimes people get so passionate about being prepared that it can dominate their life and how they spend their money which can grow into an unhealthy fear. 
Although fear can fuel transformation, it can also dominate your life to a point where you aren't enjoying the life you have. There's a difference between survival fear and irrational fear. It's important to prepare for the future, but it's also important to keep your perspective. 
Spend a reasonable amount of time, money, and energy on prepping, but don't let it dominate your life.
Rules for Prepping Basics
Prepping doesn't have to be hard, time-consuming, or filled with anxiety. When it comes to prepping, there are a few more basic rules to remember:
Get your finances in order– Pay down debt, have savings, and make sure you have cash on hand for emergencies. 
Prepare for at least two weeks of full self-reliance– You need enough water and survival food for everyone in your house to eat for at least 2 weeks. I recommend a month. In addition, have emergency fuel sources and ways of heating and cooking your food without the use of gas or electricity.
Prepare a bug out bag– Although I don't recommend leaving your home with all your preps unless you absolutely have to, you should have a bug out bag with 72 hours of survival gear and supplies. 
Learn skills and practice– You want to know core homesteading skills as well as practice with your gear before something happens. 
Have a first aid kit– Make sure you have items for minor cuts, scrapes, sunburn, or medical needs, as well as over the counter medications for fever, cough, stomach issues, and common illnesses. 
Know how to protect yourself– Part of being prepared is knowing how to protect yourself and home from looters and those seeking to hurt you. 
Final Word
When prepping, it's important to hope for the best and plan for the worst! You can still live a full and active life being a prepper, but having a backup plan is a smart move. Use these common-sense rules for prepping and focus on getting practical, useful preps. Once you learn some good basic prepping steps, don't be bashful about sharing what you know with family, friends, and others who are willing to listen. May God bless this world. Linda
Copyright Images: Hurricane Supplies AdobeStock_458745 Lisa F. Young