20 Things To Do When The Power Goes Out
I'm not sure how my readers feel, but lately, it seems that there are so many news reports of emergency situations where the initial report states that: "thousands are without power at this time." As I've thought about it, I figured there were at least 20 things to do when the power goes out so you are responding as best you can to the situation.
I've written a number of times about power outages and the items we'd need in our prep stash as we put our best efforts into being prepared. Today it isn't as much of a review of "things" to have as much as "things to do." Of course, our discussion will include those "tools" that will make your response more successful, but how you react to the situation is critical too. Invest in, Lights That Turn On When The Power Goes Out
"Bugging In" by our Raymond Dean White
"Olive Oil Lamps" by Ron Brown
"Prepare Your Family For Survival" by Linda Loosli
20 Things To Do When The Power Goes Out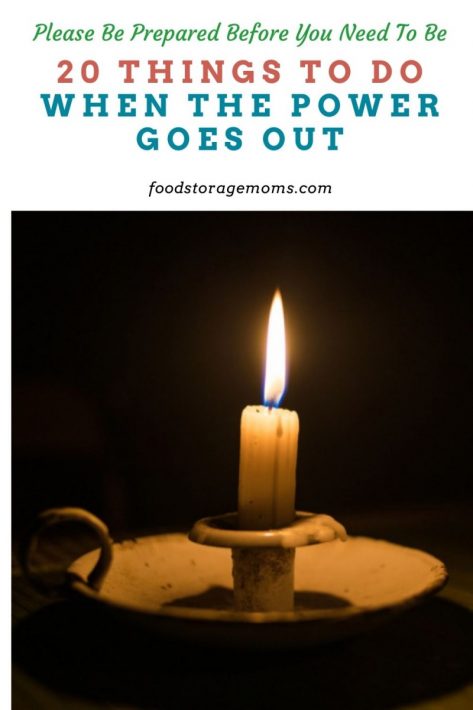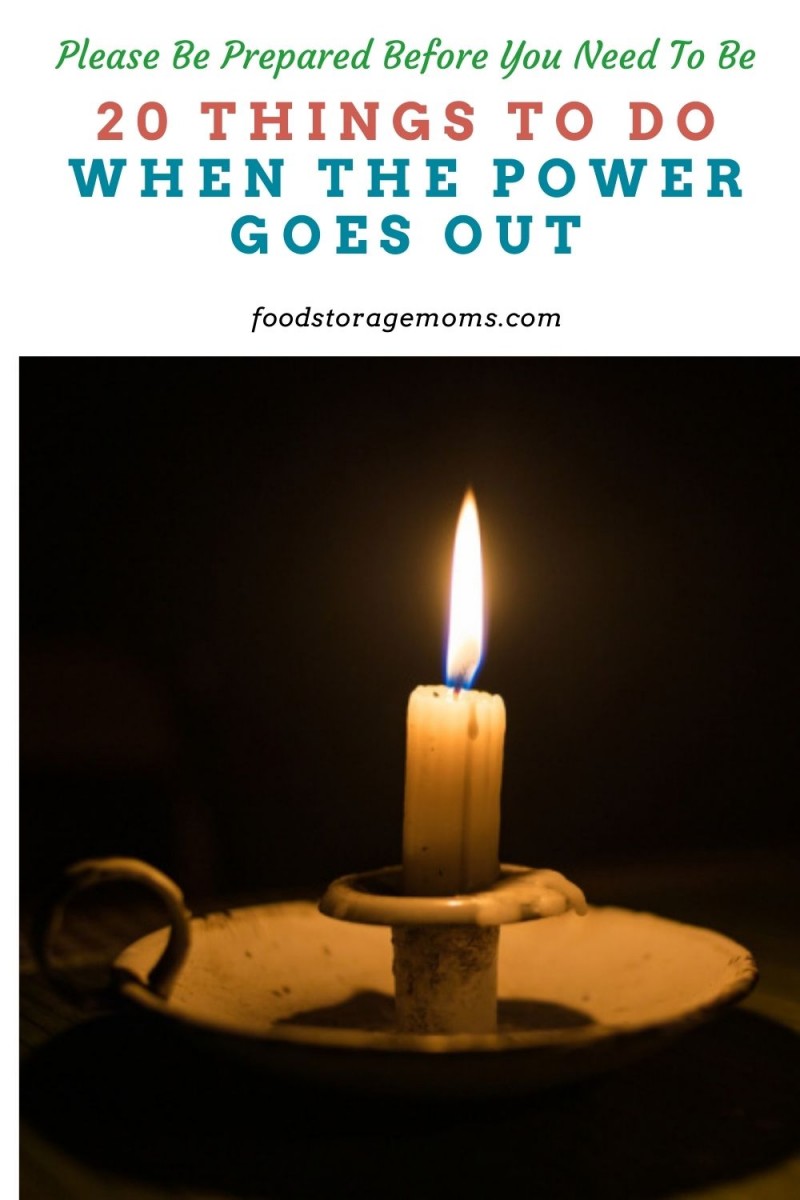 So, What are the 20 Things to Do When the Power Goes Out?
Based on my own experiences with power outages, and some research on the subject to gather information about what others' thoughts are, here are the ideas I feel will answer this important question.
Grab Your Light Sources: most of us have put together a 72 Hour Kit, or something very similar as preparation for almost any emergency. Many preppers have assembled what they call a "Lights Out Box," and it could come in various sizes based on your personal feelings of what is important. This handy container will have things like lanterns, flashlights and workable batteries, your radio that's geared to work in emergencies, etc. I've mentioned many times, I favor solar flashlights and lanterns since they don't require fresh batteries. If you visited my home today, you'd find the window sills that face the sun the majority of the day are lined with these solar light sources to they're being "charged" every day. OLights are the best
Protect Your Electronic Investments: in today's society, we all have electronics in our homes that need to be protected. That would include our desktops, game consoles, mobile phones, laptops, and more. Some people feel comfortable with surge suppressors to protect these important work and communication tools. Depending on the quality of the surge suppressors, you may be ok. For me, I take the extra step of unplugging the units when we lose power so they won't get hit hard when the power comes back on.
Will You Have Water Available?:hopefully, the power outage is concentrated to your location and doesn't cover a broad area that includes your local water treatment plant and/or pumping stations. As a precaution, consider filling your tubs and sinks immediately in case you lose water to your home. Note: if you have small children who may be subject to falling in the tubs, I'd rethink this step or take special precautions.
Checkout Your Surroundings: it's always wise to understand the extent of the power outage, if possible. If you go outside and look around, you can tell if your total neighborhood is without power. This may also prompt you to check on neighbors who could use special help or attention.
Reach Out to Your Utility Provider: it would be good to know conditions from the true source. They may not answer the phone, but typically, they will have a recorded message for their customers. You may even find out an estimated time for power restoration.
Tune In: that emergency radio mentioned in #1 above should be turned on and tuned in. Again, this is to gather as much information as possible. It would be wise to determine the local emergency station or frequency BEFORE THE EMERGENCY so you're ready when things turn upside down.
Get Your Family Involved: to help family members stay safe and engaged, make sure each one has a light source from the container mentioned in #1 above.
Put Those Candles to Work: although I'm always nervous to suggest people light some candles, if you have sturdy candle holders and/or some thick Mason jars, you can feel more comfortable putting the candles to work lighting up a larger area than a flashlight can provide. If you have the solar lanterns mentioned, that is the best source for safe all room lighting.
Protect Your Food: you may not have any idea how long the power will be out. You need to make sure food in the fridge and freezer are protected by limiting the number of times the doors are opened. Quality appliances should keep fridge food for at least four hours and freezer food for 24 hours. Consider cooking anything that has thawed, but be careful not to eat any tainted items. If in doubt, throw it out!
Use Up the Perishables: if there is any indication that the power is going to be out for an extended period, you'd be wise to begin eating items that are the most perishable. That would certainly include any dairy items. Save those cans of tuna and chicken for later.
Check the Weather: this may be most important during cold times of the year. You want to keep you and your family warm, so consider covering windows, huddling in a group for warmth, etc. Having extra coats and blankets available is a smart idea. If it's hot outside, you might want to do the opposite and open windows and doors to try and take advantage of any small breeze available.
Protect Those You Love: statistics show that crime often goes up in locations where the power is out. You'd be serving your loved ones well, including your pets, to keep them indoors and behind locked doors.
Stay Charged Up: you've heard me harp about keeping your gas tank full, but that also applies to any devices that provide communication to your home, like cell phones and emergency radios. Invest in a solar charger or put your car charger to work.
Make Your Portable Generator Your Friend: I don't have a portable generator in my prep inventory. I worry about having the fuel safely available all the time. If you do have one, make sure you know how to use it efficiently. That would include having a safe way to store the necessary fuel it requires.
Be the Entertainment Director: with the power out for an extended period, you and family members are likely going to get bored. Consider having some games to play, videos to watch, etc. How do you power them up? Read #16 below.
Have Other Backup Power Sources: right now, in my garage I have some Goal Zero backup power units. The one with the largest capacity is a 1200-watt unit. It can be charged by plugging it into a standard wall outlet, or if the sun is out, with some solar charging panels. I've tested it with my wheat grinder, my Bosch blender, and other appliances. The best test yet was when we used it to power my son-in-law's CPAP. It worked great!
Try to Keep Things as Normal as Possible: yes, the power is out, but life must go on. The kids still need to do some homework, the meals still need to be prepared and served, and you still need to remember to take your prescribed meds.
Personal Hygiene is Important: if you do have water available, taking a shower or bath, changing diapers, and staying hydrated are as important as ever. Try to stay comfortable and safe.
You'll Still Need to do Your Necessary Stuff: I was reminded when cleaning the garage recently, that even though we may not have power, we still need to relieve ourselves when I saw the DIY toilet I wrote about months ago. Again, as long as you have a "facility"available with the necessary toilet paper and some disposable bags, you can get things done.
Don't Forget Your Neighbors: if you're lucky, you live in a neighborhood where people look out for each other. Be willing to check on others, particularly those who might struggle in a "lights out" situation. That might include sharing your resources like meals and extra blankets. Don't be afraid to make a difference.
Final Word
Emergencies can hit us at any time. For some reason, they seem to be more frequent these days. You'd think in our high-tech-oriented world we'd all be better prepared for the unexpected, including the government and large utilities. I use the term "lights out" in item #20.
It reminded me of a book I've read many times that was written by Ted Koppel, the former TV news guy. He wrote a book titled "Lights Out" that's about the fragile nature of our power grid system and the risk for problems that are eminent if the infrastructure in place within our national power grid isn't improved. If you want some interesting reading, check it out.
Thanks for checking in today, and I hope you found this post worth your time. Let's all stay prepared so we can say what the old Motel 6 ads used to tout, "We'll Keep the Lights on for Ya." May God bless this world. Linda
Copyright Images: Candle Burning Depositphotos_299002646_S