12 Reasons Why You Should Prep
Being prepared for a natural disaster doesn't make you a crazy person like we've been led to believe. You also don't have to be labeled a conspiracist, or have a family that sits around wearing tin-foil hats all day. Having the right supplies and plans in place is actually a very rational thing to do. The question is, are you prepared and know what to do following a major disaster or other types of threats?  Here are several reasons why you should prep. 
Related: 8 Ways to Convince Your Loved Ones to Prep
If Covid-19 wasn't already enough of a reason to convince people to prep, I'm not sure that there's much else that would. But I'll still do my best to argue my case regarding why you and your family need to be ready before the crisis ever takes place. Here are 12 reasons why you should consider prepping.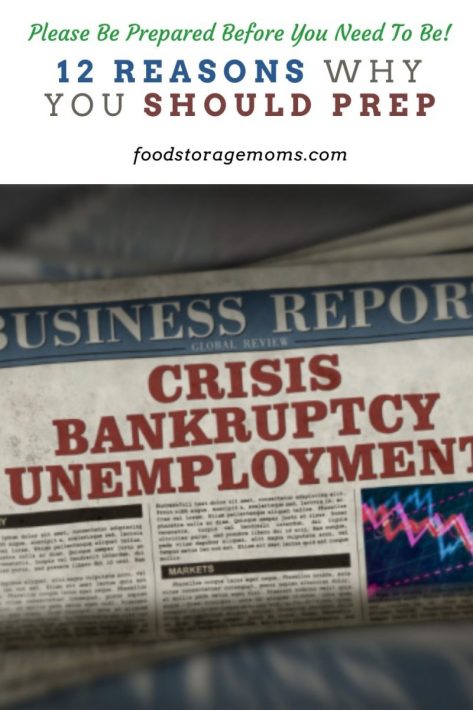 12 Reasons Why You Should Prep
1. Power Outages
Out of all of the reasons I have listed to prep, a power outage is the most likely to occur. You may think that it's not necessarily a dangerous situation, but it could turn into one if the power is out for an extended period of time. Especially, if it takes place during a cold winter storm or the very hot summer months. Would you have the supplies to be able to keep your family from freezing to death or from having a heat stroke while being cooped up in your home? This is a major reason why you should prep. In case you missed this post, Power Outage: What to do Next
2. Earthquakes
Most injuries and deaths that occur because of an earthquake happen because of something falling on an individual. The safest place to be is outside and away from trees and buildings. In case you missed this post, Earthquakes-Are You Ready?
Following an earthquake, you should never re-enter your home if it's taken on significant damage, unless your local officials have told you that it's okay to do so. You'll need to have a disaster supply kit that has a first aid kit included, that way you can bandage any wounds or head injuries that your family may have experienced.
3. Hurricanes
Hurricanes are the most destructive and deadly when it comes to extreme weather. It's also becoming more common these days for a hurricane to be followed by another hurricane. In case you missed this post, How to Prep for Hurricane Season
If you're living along, or near the coasts, you have to be prepared for them. Your family's lives could depend on it. Along with prepping supplies, you need to have an evacuation plan ready should the weather experts tell you that you need to get out of your home before the storm hits.
4. Tornadoes
At times, tornadoes can develop very quickly, and with little to no warning. You need to consider a place in your home where you can seek shelter, whether it's a basement, cellar, or a room that doesn't have any windows. You certainly don't want to be caught without a weather radio that can provide you with instant updates or changes to weather conditions in your area. In case you missed this post, Tornado Watch vs Tornado Warning
5. Snow and Ice Storms
Getting snowed in doesn't sound so bad, especially if you think you could use a few days off from work. But if your power is knocked out and you don't have the food to sustain you and supplies to keep you warm, your situation could turn deadly.
6. Wildfires
Wildfires are happening in California and other western states like never before. It's imperative that you have the appropriate supplies and an evacuation plan ready, should one ever come your way.
7. Floods
FEMA has stated that flooding is the number one disaster in the United States today. In case you missed this post, Flooding: Everything You Need to Know
You may live far away from a large body of water, but that doesn't mean that it's not possible for flooding to happen in your area. Flash floods can happen very quickly, and unfortunately, most homeowner's insurance doesn't cover your home and property in case of a flood. If you live in a flood zone your lender will require you to get flood insurance, in most cases. Double-check, just in case.
8. Terrorism
September 11th was a terrifying day in our nation's history and one that nobody was prepared for. Since then, there have been several other terrorist events like the Boston Marathon bombing and the 2017 Las Vegas shooting. In case you missed this post, Top Threats You Need to Be Prepared to Survive
There are other ways that terrorists could cripple our country, whether it's financially, or wiping out the entire electrical grid. The latter would push us back to the dark ages. People would resort to looting grocery stores and businesses, and your family would be left with nothing if you hadn't prepared.
9. Pandemics
The Covid-19 pandemic has taken up most of 2020, while we witnessed empty grocery shelves for certain items for months on end. Toilet paper, paper towels, hand sanitizer, and other disinfectants were extremely hard to find, along with several of our favorite food items. You just never know when the next pandemic that has the potential of being significantly worse will come back around. In case you missed this post, 30 Items You Need To Survive A Pandemic
10. Unemployment
You just never know when you could lose your job or be sent home without work for an uncertain period of time. Covid-19 sent millions of America's workers home and made it harder to keep food on the table and bills being paid on time. An emergency food pantry will be something nice that you can fall back on should you ever be left without work and can't afford to buy groceries and rent. In case you missed this post, Unemployment Checks Ending: Things to Consider
11. History Has a Way of Repeating Itself
The stock market crash of 1929 had a devastating impact on our country, as well as for the rest of the world. Millions of people lost their jobs and homes, making it harder to feed and provide for their families. It was so bad that there were reports of people that were even jumping out of skyscrapers. It's been said that history has a way of repeating itself, so if this unfortunate situation were to happen again in our lifetime, would you be prepared?
12. We are Living in Some of the Most Uncertain Times
Let's be honest, just in the past few years, the citizens of the United States of America have become extremely divided in their views, especially pertaining to politics, social justice, and police reform. This summer we had several violent and destructive riots going on in many cities across the nation. What would you do if there were violent protests or riots in your neighborhood?
Final Word
There are so many other reasons why you should prep. EMP attacks, solar flares, and cyberattacks are other threats that may seem like something out of a science fiction movie, but they are also potential threats that are very real. If any one of these situations I mentioned above were to ever happen to you, there's the chance that you wouldn't find the food and supplies that you need if you wait till the last minute. You have to be prepared before the disaster comes! May God Bless this world, Linda.
Copyright Images: Business Report AdobeStock_383467289 by Skorzewiak