Power Outage: What to do Next
While you might have had the power go out in your area a number of times in the past, were you fully prepared and knew what to do during the situation?
Not taking the proper precautions and actions before and during a power outage can have some costly consequences. Not only can the quality of life in your home change, but the safety of your family members and some of the contents and appliances could be affected too. Power outages seem to often be the result of a strong winter storm, a hurricane, or other weather-related causes.
We can try to protect our families by having our homes as well prepared for outages as possible, particularly if we know in advance on the news or social media from forecasters that low temperatures, winds, and freezing rains are in store. What we as homeowners can't foresee is an outage caused by what some local authorities and officials call domestic terrorism since it appears as an intentional crime.
Recent Power Grid Hit
As an example, most of you should have heard about the significant power outage in Moore County, North Carolina that started over the past weekend. The outage was caused by gunfire sustained, not at one power station, but at two substations owned by Duke Energy, one of the largest electric utilities in the U.S., and a utility that is part of the nation's power grid.
There is still a lot of investigative work to be done since no suspects or a motive have been found at this point, but state investigators have called a state of emergency, set a curfew, and involved federal authorities, including the FBI. More on this recent localized power outage later.
Preparing before a power outage takes place will keep you out of the dark and prevent you from scrambling to adapt to your new environment. Let's take a look at ways you can prepare for a power outage, and what steps or actions need to be taken. Stay safe and use these tips!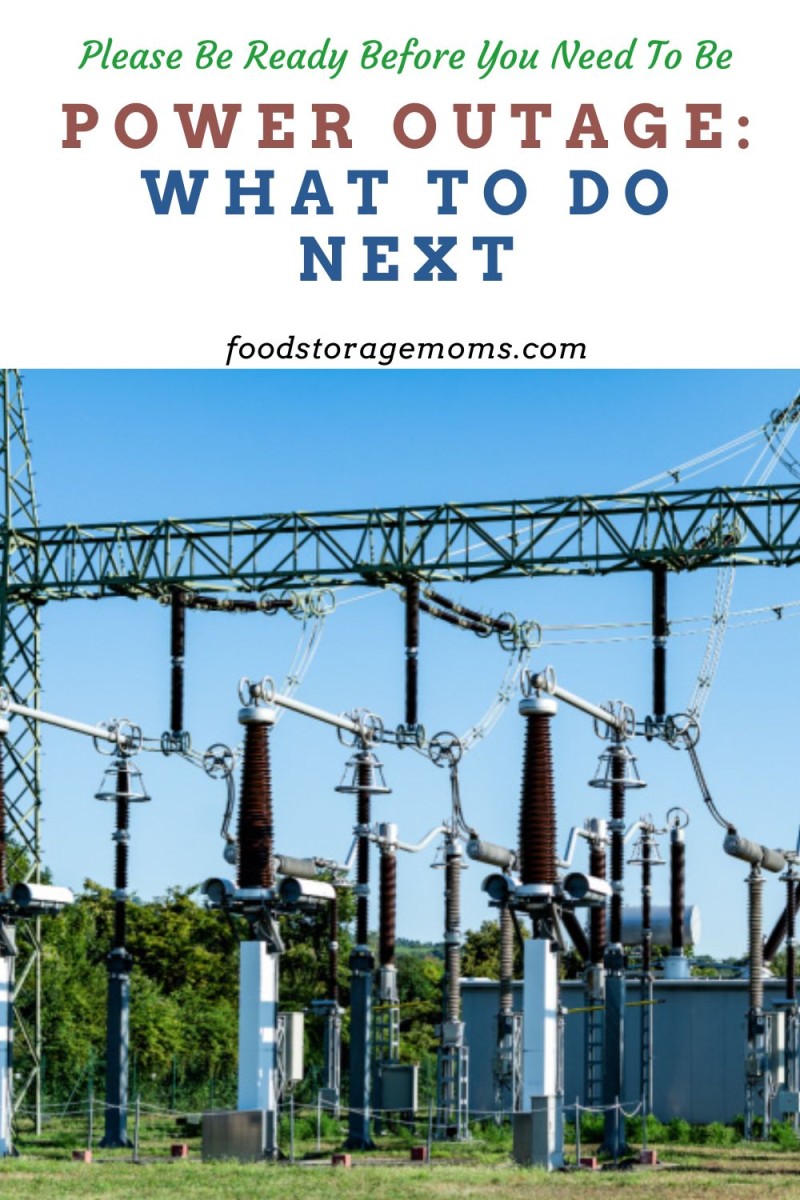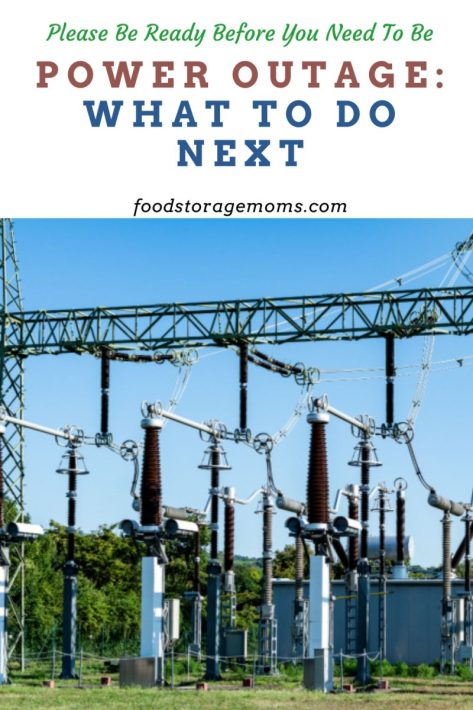 How to Be Prepared During a Power Outage
Be Prepared Beforehand
Are you prepared for a power outage? How about a power outage during a significant crisis? Not having a plan before the situation presents itself can prove costly. Here are a few ways you can continue to eat meals, stay warm, or deal with injuries during a serious power outage.
Have an Emergency First-Aid Kit on Hand
Having a first-aid kit on hand for any emergencies isn't hard to put together. Most power outage cases may not require one, but you never know when you're going to need it and what effect the blackout might have on life and limb.
You want to have some first aid supplies handy since you don't know when local or state emergency responders might be available to help specific residents. You just can't count on a swift response. General public safety is their first concern, so when they get to your area often is an unknown.
Here are some of the basic, but best first-aid kits for you to consider putting in your home.
Back-up Cooking Method
If you don't have a gas stove, how do you plan on cooking meals for what could be days on end with a power outage? Having a camping stove is a great way of cooking any small meals or boiling hot water. I have a small butane countertop stove I've used from time to time, and I love it. You can cook on your BBQ, but they aren't efficient when it comes to boiling water. Butane Stove with extra Canisters
Stock up on Blankets
Power outages can happen not only in thunderstorms but in wintery blizzard-like conditions. It may take a while for full power restoration in your area, so being able to keep family members warm is critical. Since in most power outage situations we end up having to shelter in place, having extra blankets, a change of dry clothes, and other personal protective gear available is very important.
Storing blankets in the closet is not a bad idea. Circumstances like this will arise, and remind you why you have them tucked away in the first place.
Know What to Do When Circumstances Get Ugly
Check the Circuit Breaker
Hopefully, the power going out is due to fuses or breakers that have short-circuited in your home. This can be a much quicker problem to solve.
Check your main electrical panel and see if there are breakers or fuses that have caused the power to go out. Flipping a breaker switch or replacing a fuse might be all you need to do. Even if you've installed a power generator, if the breaker has flipped or is broken, doing the necessary repairs at your home is a much easier task than having to run the generator.
Check Your Neighbors' Homes
If your circuit breaker was not the issue, go check on your neighbors' houses and see if their power is out too. If that's the case, you are dealing with a bigger issue that may cover a larger area than your neighborhood or even your zip code. If all the home or street lights are out along your street, there is a more general outage that needs to be investigated.
Call the Electric Company
Get on the phone and call the electric company and report outages that you see around you. Remember to be patient, it might take a moment to get through. Chances are, they've had a number of calls from your neighbors already. Request an outage status report so you know how big of an issue you're dealing with and how long it may be an issue.
The utility may be able to pinpoint how wide-ranging this outage is by generating an outage map based on the phone calls and reports received. That is how they go about getting the repair crew out on the road to help restore the power as soon as possible. You don't want to be making critical decisions based on rumors you've heard, get the facts from those in the know.
If your power is out you won't be able to use the browsers on your laptop or even reports on your TV from national sources like CNN or FOX News. If you have a battery-operated, solar, or crank radio you may be able to stay in touch with the outside world. It's always a great idea to have extra batteries of all kinds in your home, just in case.
Be sure and sign up your cell phones for REVERSE 911 in your city and county.
Turn off all Appliances and Lights
To avoid any power surge damage to appliances like TVs from getting zapped when the power is restored, go ahead and turn off and unplug everything. The last thing you need is to miss a future game day or have to replace some expensive home-based appliances and equipment because of power outage damage.
If you haven't done so already, have each of these items protected by a good quality surge protector. Some are specifically designed to protect major appliances and are worth you paying some extra money. If you've had frequent power outages where those surge protectors have already saved the day, you might want to check with the manufacturers or user manual to see if you think they are still going to do the job "next time."
Grab Flashlights/Bright Lanterns
I'm not sure why it is, but most of the time it seems that the power goes out during the middle of the night. Gather up flashlights and bright lanterns, like a camping lantern, to help give you some visibility.
Try to stay away from lighting candles as we used to when we were kids. Candles increase the chances of fires if knocked over or played with by children.
Keep Refrigerator/Freezers Shut
Whatever you do, keep the refrigerator and freezer doors shut at all times. You can't be sure how long it will be until the power is restored. It could take several days. Most freezers can store food for up to 24-36 hours or longer when you keep the doors shut.
Limit your Flushing
Sometimes the city's power outage will affect the water system pumps. If they aren't working then water can't be pumped to your home and the toilets you use. If that happens, try to limit your flushing if at all possible. You may end up having to use some of your stored water to perform the flushing needed. There's a saying I've heard from some plumber friends: "If it's yellow, let it mellow. If it's brown, flush it down." Having a bucket handy to flush the body waste using stored water may prove to be a blessing.
Other Tips for Dealing with a Power Outage
Stay Hydrated
Have you noticed that we forget to take care of ourselves during a calamity? Remember to drink plenty of liquids to stay hydrated during a power outage. The power can be out for any period of time, stay hydrated. If you're concerned about the quality of water coming through those taps, have some backup means to filter the water since boiling it may prove difficult.
Wintertime Power Outage
During a winter power outage, not only does the cold affect you and your family, but your home's pipes as well. You don't want your pipes freezing and bursting, especially if you're not home. Don't forget to report an outage as mentioned above!
Leave a small stream of water running in the kitchen sink to help with this. You can also have your pipes insulated beforehand to help prevent frozen pipes, particularly those pipes exposed to your exterior walls.
If your power is out for an extended number of days during the winter, it might even be better to store your foods outside to prevent spoiling of the food in your fridge or freezer, if it's cold enough. If you decide to empty everything out, be sure to leave your refrigerator doors open while the power remains out.
Know When to Evacuate
Are you in a dangerous situation while the power is out? If so, for your own safety, get out! Extreme cold temperatures can be life-threatening, even inside the safety of your own home.
Go and stay with friends or family during this time. Don't remain in such a helpless state if you have options. This is especially true if you have young babies or an elderly family member. Better safe than sorry.
You may be familiar with the situation in Texas a year or so ago. They had a terrible winter storm come through that laid down some very heavy snow in combination with high winds. The local power grid went down, leaving thousands of families in dire conditions.
The total time of restorations of power to large areas was longer than anyone ever expected. Those managing the grid, local utilities, and other agencies were criticized for not being well prepared, and families lost members due to the conditions. Who knows when you might end up as the last customer to have power back up and running. All the more reason for you and yours to be as prepared as possible.
Tips for Using a Generator
Some people are under the impression that a backup generator is going to have all your electrical appliances up and running, just like normal.
Generators are great for keeping your refrigerator running, a few lamps on, or fans blowing. That's about all.
Never plug a backup generator into a wall outlet. This can be extremely dangerous, for not only your family but also the utility employee that's working on getting your power fixed.
Dealing with an electric outage is no fun, but generators can help if used following proper safety precautions.
Blackout Events/Power Grids/Internet Fiber-Optic Sabotaged
I quote NERC "On May 1, 2012, FERC and NERC issued a joint report on the September 8, 2011, Southwest Blackout Event. On the afternoon of September 8, 2011, an 11-minute system disturbance occurred in the Pacific Southwest, leading to cascading outages and leaving approximately 2.7 million customers without power. The outages affected parts of Arizona, southern California, and Baja California, Mexico. All of the San Diego areas lost power, with nearly 1.5 million customers losing power, some for up to 12 hours."
I quote, The New York Times, "The chain of events is not in dispute: Shortly before 1:30 a.m. on April 16, 2013, one or more people methodically cut communication cables near a Pacific Gas & Electric substation in San Jose, CA, sprayed more than 100 rifle bullets and knocked out 17 of the station's 23 transformers before fleeing and avoiding capture." The FBI was involved in this one as well.
I quote, CBS News "FLAGSTAFF, Ariz. — People across northern Arizona couldn't use the Internet, their cellphones or landlines for several hours Wednesday after someone vandalized a fiber-optic line that brings communications to a large part of the state, officials said.
Businesses couldn't process credit card transactions, ATMs didn't function, law enforcement databases were unavailable, and even weather reports were affected in an area stretching from north of Phoenix to Flagstaff, about 100 miles away." This was in the year 2015, and CenturyLink was not prepared for this.
Sign Up for Reverse 911
Google your city and state followed by Reverse 911. For instance, I would put, South Jordan Utah Reverse 911. Then follow the instructions.
I live in Salt Lake County in the state of Utah, so I would Google: South Jordan Utah Reverse 911. YOU MUST GOOGLE YOUR CITY.
I quote PHONE # REGISTRATION, Emergency Notification System (ENS) However, because the system uses the region's 9-1-1 database, only landline numbers are automatically added to the system. If you have an alternative telephone system provider, such as a cable network, a Voice over Internet Protocol provider (VoIP), or a cellular telephone, and would like to be notified via that provider, you must register those telephone numbers. Similarly, if you would like to receive an email notification, you must register the email addresses at which you wish to receive the notification.
"Lights Out" by Ted Koppel
Please order this book by a well-known TV reporter, Ted Koppel, "Lights Out", it's not a fantasy book like "One Second After", this one is the real deal, my friends. I have the audible and have now listened to it at least 18-20 times and I learn something new every single time.
Three Main Power Grids In The US
I quote, Electric Choice, "There are three separate grids that actually come together to create the United States complex full network. There is the Eastern Grid, the Western Grid, and the Texas (ERCOT) Grid, with the Eastern Grid being the largest of the three."
Power Outage Tips to Remember
Your full freezer won't go bad right away, rely on the generator if you have one.
Anything battery-powered is better than not having any sources at all.
Be sure to try and report downed power lines, if possible.
Keep extra batteries on hand.
Keep cell phones charged.
Check on family members and neighbors to make sure everyone is ok, especially the elderly ones who are most vulnerable.
What are some things we do know about the North Carolina power outage?
Because of the possible domestic terrorism element, even the White House has been involved as extra resources are put to use. Some of the gunfire damage is fairly easy to repair, but other items damaged are going to require pretty sophisticated repair work. Substations have some fairly large equipment pieces that can't be easily repaired or replaced, and it could take a while to accomplish what's needed.
Originally there were over 45,000 customers affected, but by Monday morning they had restored power to approximately 7,000, leaving 38,000 customers subject to the cooler temps seen in December each year.
Substations are part of the critical infrastructure that helps make up our nation's power grid. There literally are megawatts of power that go through them on their way to your neighborhood and home.
That's one reason why solar panels for home use, and even in an industrial setting, are a hot topic of discussion. Some people are working to be "off the grid," and that's why many families, government facilities, and businesses are researching if solar power is the answer for the future.
My only concern is what happens when the battery backups to these solar panels no longer work.
Final Word
Power outages can be extremely frustrating to deal with, and it seems they always come at the worst possible times. These are some ways to make sure you make the best of your situation. Based on your own personal experience, what other things are important to consider when you're dealing with a power outage for an extended amount of time?
Please keep prepping, we must be diligent. May God bless this world, Linda
Copyright Images: Winter Snow Deposit photos_22397709_s-2019, Power Grid Station AdobeStock_372874217 by Lukas