Influenza Statistics: What to Know About the Flu
It's officially flu season again, just like we see every fall and winter. We all know how horrible it can be to get the flu, particularly if we have underlying health issues like asthma, diabetes, or heart disease since these put extra stress on our bodies and immune systems.
The bad thing about the flu is that different influenza viruses change every year, making prevention a dynamic national problem. Even if we get one vaccine for the most prevalent one, we could still end up with the flu.
Influenza statistics by the numbers will tell you everything you need to know including the flu shot, flu virus, and how to stay healthy during flu season. Please refer to the CDC for the most up-to-date and accurate information on current variants, most often prescribed antiviral medication, and steps you should take to avoid serious flu-related complications.
Please keep in mind I am not a nurse, doctor, or anyone in the medical field. I just like to know my options when dealing with sickness.
Influenza Statistics: What to Know About the Flu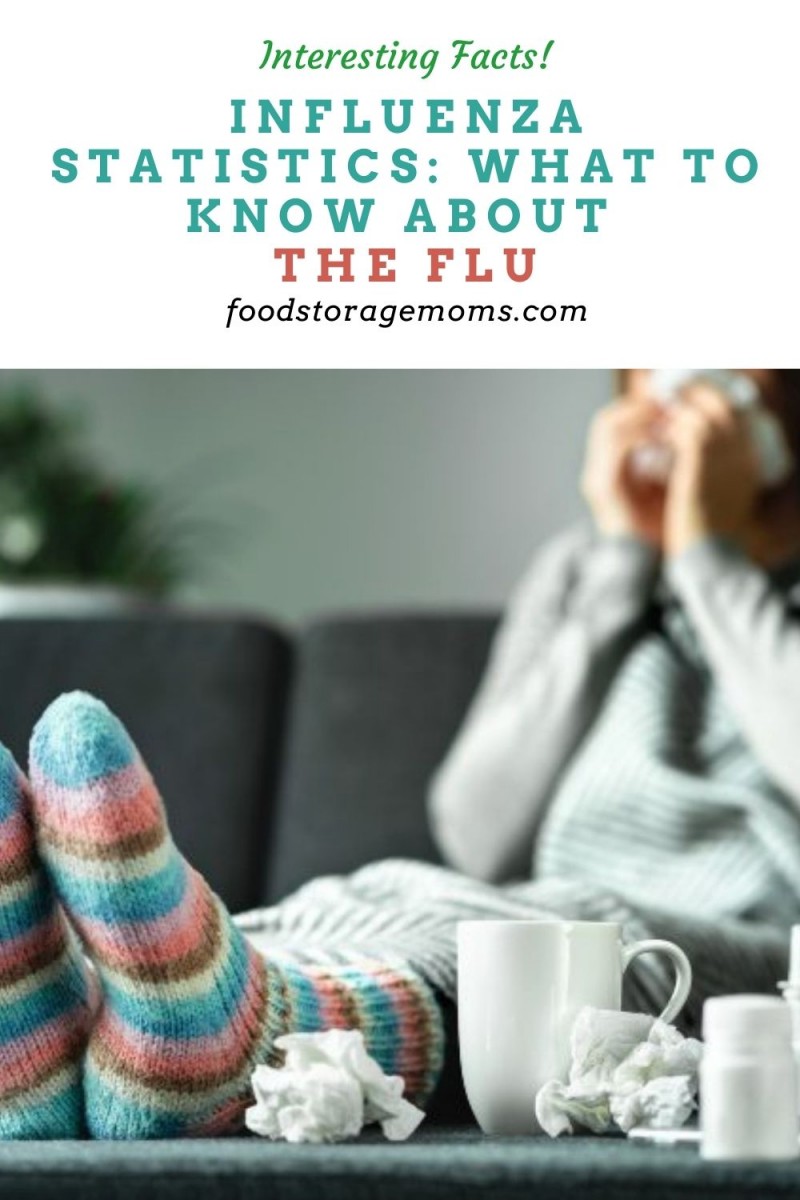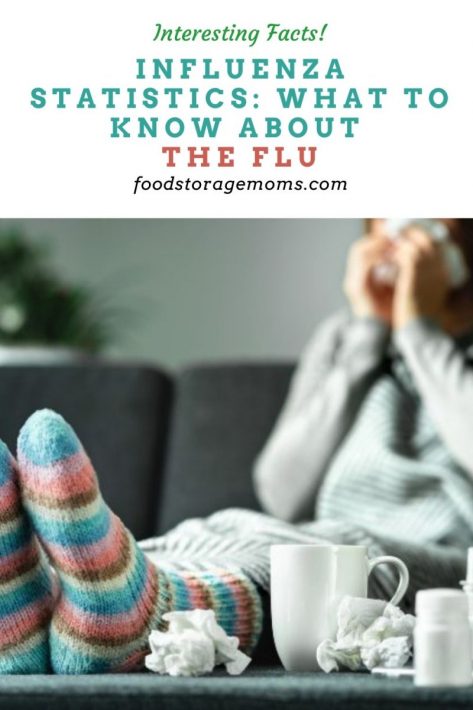 What is Influenza Virus?
The influenza virus is actually various viruses that cause what we know of as the flu. The flu is a very contagious respiratory illness that infects your nose, throat, and sometimes the lungs, often causing difficulty breathing, flu cough, chest pain, and other symptoms as listed below.
Influenza/Flu Symptoms
The bad thing about the flu is that you sometimes don't know if you have the flu or the common cold because the symptoms are so similar. Some symptoms that show you may have an influenza virus include:
Fever
Feeling feverish/chills
Nausea-stomach flu
Cough
Sore throat
Runny or stuffy nose
Muscle or body aches
Headaches
Fatigue
Sometimes vomiting or diarrhea
Ear Infections
Sinus Infection
Complications of the flu can lead to hospitalization and life-threatening complications, so you have to take your sickness seriously if you have a history of health issues that could be compromised. Normal routines and natural life events like pregnant women experience can be affected if you contract the flu. Flu viruses are unique and tricky. Since the flu is a virus there are specific antiviral medicines that can be prescribed, depending on the influenza type to fight the contagious viral infection you have. The new subtypes of influenza that appear each year complicate treatment and prevention.
A sickness like pneumonia is treated pretty much the same each year since it is one of many bacterial infections, thus the name bacterial pneumonia. These are treated with antibiotics, and although they come out with new antibiotics all the time, there are specific ones used over and over again because the bacteria strains don't tend to change or mutate as viruses do.
How do you Catch It: Influenza Statistics
Catching the flu is pretty easy to do. Those who have the flu can spread it to others who are standing 6 feet away through tiny droplets that become airborne from our own mouths. Airborne droplets fly into the air when someone coughs, sneezes, has a runny nose, or when talking. Here are some statistics on the process of infection:
Those infected with the flu are most contagious during the first 3-4 days.
You can infect others for 24 hours before you even get symptoms.
Those infected can pass the virus to others for 5-7 days after getting sick.
It usually takes about 2-days before you show symptoms after being exposed.
If you Catch the Flu
If you catch the flu, you'll want to go to the doctor. Many doctors will prescribe Tamiflu for those with the flu. If you aren't ready to go to the doctor or to take prescription medication, you can try Natural Remedies that Really Work! If your symptoms don't improve or worsen, seek medical treatment!
How Common is the Flu
The influenza virus is so common that not everyone who is infected each season can be known for sure, it can only be estimated. According to the Centers for Disease Control (CDC), the annual percentage of those infected with the flu is about 8% of the U.S. population. Here are some influenza statistics reported by the CDC from October 2019 to February 2020:
22 million to 31 million have had flu illnesses
10 million to 15 million have visited the doctor for the flu.
210,000 to 370,000 have been hospitalized for flu complications.
12,000 to 30,000 have died because of the flu, many in long-term care facilities.
The reason you hear so much about the flu or influenza is that it is obviously incredibly common. As you can see, 5% to 20% of the population will get the flu each year. Studies have shown that adults typically get the flu twice per decade. However, children can catch the flu every other year, on average.
These are estimated ranges because not all cases of the flu are caught or reported. Nevertheless, even cases that are reported are significant in number.
You may want to invest in some N95 masks, they may help you from spreading the sickness in your own home, at work, attending church, or at other functions that take you outside your home. N95 Masks
How To Stock Your Home Pharmacy
When is the Flu Most Common
It is now late November, and it seems like everyone around me is sick! Well, that's because the flu actually becomes the most prevalent in December and February. The flu can be detected all year round, but historically it begins to increase in October, hits a peak in December, and then increases even more in February.
Influenza Statistics on Shots
Should you get the flu shot? Many experts agree that the best way to prevent the flu is to get the flu shot every year. This is because it fights the virus before you come into contact with it. Additionally, if you do catch the flu, it lessens the symptoms. Let me be clear, I'm not advocating for or against flu shots, but if you tend to be more susceptible to sickness or disease, then you should strongly consider getting the shot.
Just because you got the flu shot last year doesn't mean you're out of the woods and you consider yourself one of the healthy people. The types of flu change and need to be addressed each year through the most current flu shot.
How does it work?
The flu vaccine works by giving your body a deactivated flu virus. This allows your body's immune system to fight the virus before you come into contact with the live virus. It may not prevent all the different variations of the flu, but it will help lessen symptoms since your body already "knows" how to fight it.
Influenza Statistics and Facts
Here are just a few statistics and facts you should know about the flu shot:
It takes 2-weeks after the vaccine for your body to build up antibodies.
It is recommended to start getting flu shots every 6-months.
The flu shot reduces your chances of catching the flu by 40-60%.
The vaccine will only protect you from 3-4 different flu strains. Not all of them.
Influenza Statistics Over 10 Years
What is important to note is that in the last 10 years, the number of people who get the flu has not decreased. In fact, it stays relatively the same, and in some years increases. Deaths have also gone up and down depending on the year. Here are a few statistics:
2010 to 2011: 21 million cases were reported and 32,000 died.
2011 to 2012: 9.3 million cases were reported and 12,000 died.
2012 to 2013: 34 million people were reported to have the flu and 43,000 died.
2013 to 2014: There were 30 million people with the flu and 38,000 died.
2014 to 2015: Again, 30 million had the flu, but 51,000 died.
2015 to 2016: 24 million people had the flu and 23,000 died.
2016 to 2017: This year, 29 million people had the flu and 38,000 died.
2017 to 2018: There was a record of 45 million people who had the flu and 61,000 died.
2018 to 2019: An average of 35 million had the flu and 34,000 died from it.
Current 2019 to 2020: See the above statistics.
To me, it seems like regardless of the vaccine, there are still many cases of the flu, mainly because people make the conscious decision not to get the shot. Yes, there may be possible side effects like loss of appetite, but they are generally minor in nature. The main thing we can do is work on ways to stay healthy and stay flu-free.
How to Stay Healthy
When it comes to staying healthy, there are a few things you can do to help prevent you and your household from contracting an influenza virus or another sickness.
Wash your hands. Wash your hands often and thoroughly. Make sure to wash them after using the bathroom, before cooking, and whenever you touch money, public door handles, remote controls, shared keyboards and mice, etc.
Drink lots of water. Water flushes your system out, which helps to flush viruses and bacteria. Drink at least six 8-ounce glasses of water each day. Those who drink much alcohol need to remember it doesn't help keep you hydrated and may reduce the effectiveness of your immune system over time.
Read How to Stop Influenza in Your Home. You will find some great tips for staying healthy and getting healthy once you get sick.
Related: How to Clean Your House and Stay Healthy
Stock Your Home Pharmacy
Essential Oils
Infant Fever Reducer Medications (IF you can find them buy them)
Child Fever Reducer Medications (IF you can find them buy them)
Final Word on these Influenza Statistics
Flu season is among us, but so are some other infectious diseases such as the coronavirus. Whether you are young, old, or perfectly healthy, it is important to wash your hands, drink lots of water, and stock up on pandemic supplies you will need.
We've covered a lot of useful information in this post. We hope it proves helpful as you strive to protect your family from the flu and its effects.
Some of the questions people ask about the flu and we tried to answer are:
What causes influenza? Can influenza be cured? How long are you usually sick with influenza? How serious is influenza? Can influenza heal itself? What kills a flu virus?
Check the Weekly Influenza Surveillance Report to stay up to date on influenza stats. Stay healthy and God Bless! Have you had the flu? Share your stories in the comments below! Stay well, my friends! May God bless this world, Linda
Copyright Images: Influenza AdobeStock_245369435 Terovesalainen