Blueberries: Everything You Need to Know
Every time I think of blueberries, my mouth instantly begins to water. I get excited thinking about my next blueberry picking adventure once the picking season has finally arrived. After coming home from the blueberry patch, you'll find me baking a warm blueberry pie, blueberry muffins, or putting them in my breakfast cereal. Whatever I have left over, I'll freeze for later use where they'll taste just as good as when they were fresh. Keep reading to discover blueberries: everything you need to know.
Blueberries: Everything You Need to Know
Blueberries are just about the most versatile berry out there, where you can enjoy them for breakfast, or as a dessert for dinnertime. Not only are they simply so good tasting, but they're filled with several vitamins and minerals that also make them very good for you. Here's more on blueberries and everything you need to know about them. In case you missed this post, How To Dehydrate Blueberries and Make Powder
Fun Facts About Blueberries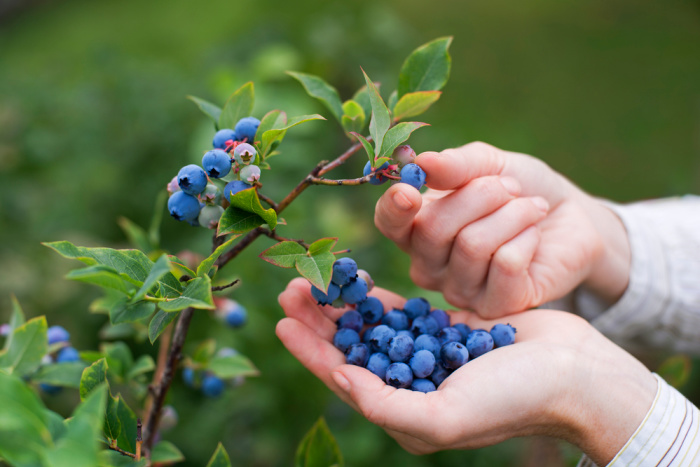 Did you know that blueberries are 1 of only 3 berries that are native to North America? The other two include concord grapes and cranberries.
Blueberries get their color from what are called anthocyanins, a type of antioxidant that battles inflammation and different diseases.
The United States is the world's leading producer of blueberries, where about 600 million pounds are harvested every year!
A single blueberry bush can produce between 5 and 20 pounds of blueberries at a time.
Types of Blueberries
Highbush
Highbush blueberries are the ones that you're most likely to find at your local grocery store.
Lowbush
Lowbush blueberries are closer to the ground and usually smaller, but they come packed with more antioxidants.
Hybrid Half-high
This variety is higher off the ground than the lowbush, which helps them survive a frost on late snowfall. They also have a higher yield.
Rabbiteye
Rabbiteye blueberries produce a sweeter berry, and usually come medium to large in size with a generous yield.
Nutrition Facts of Blueberries
Blueberries are low in calories and high in nutrients, making them a great choice for a snack. They are made up of nearly 85% water. They come filled with fiber and several important antioxidants (one of the best antioxidant foods) that help protect the cells in your body. You'll also find vitamin C, K, and manganese, along with small traces of vitamin B6 and iron.
Health Benefits of Blueberries
It's pointless to argue against the fact that blueberries are one of those superfoods everyone should consider adding to their regular diet. Just one small handful of them are jam packed with nutrients and vitamins that help promote your overall health, and at the same time, helps your body fight against several types of diseases. Here's a further look into the many health benefits that blueberries bring you.
Lower Blood Pressure
Studies have shown that people who struggle with high blood pressure who made the decision to eat blueberries on a more regular basis, showed a reduction in blood pressure over time. They also have a positive effect on cholesterol. This is important because it lowers your risk of heart disease.
Improves Memory
As we grow older, unfortunately our brains age with us and don't function like they once did. Blueberries can help your brain cells send signals more efficiently, helping your memory stay sharp. Studies have indicated that eating more berries (like blueberries) can delay mental aging by up to 2 ½ years and may help prevent Alzheimer's.
Fights Certain Diseases
Blueberries are filled with disease fighters (antioxidants) that work pretty much like damage control. They battle inflammation and other harmful free radicals. Some of these diseases include diabetes, heart disease, and may help prevent certain types of cancer, like colon cancer.
Slow Aging
Thanks to all the antioxidants in blueberries, they are able to help your body neutralize free radicals that are set on damaging your body's DNA. This helps to slow your body's aging simply by adding a cup of blueberries to your regular diet.
Reduces Muscle Fatigue
Your body absorbs a lot of stress every time you head to the gym. If your exercise was too strenuous, you may notice soreness, as well as fatigue. Blueberries have been known to speed muscle recovery and reduce fatigue at the same time.
Buying the Right Blueberries
Making sure that you're buying the freshest blueberries at your local grocery store, there are a few things that you need to look for. Keep an eye out for berries that are firm, plump, and have a smooth surface. Don't buy a container of blueberries that has leaves or twigs mixed in with them. Also, it's not the size that matters, but the deepness in color that indicates the berry is mature. The best berries will be almost a purplish-blue to a bluish-black color.
Best Time for Blueberry Picking
If you've never gone out blueberry picking before and are wondering when's the best time to pick them, you're in luck. Blueberry picking season can be different based on where you live. Florida enjoys their first crop as early as late March, while states like Idaho, have a narrow window between August through September. Here's a closer look at when blueberry harvesting season is for states near you.
When you finally arrive at your local blueberry farm, there are a few things to keep in mind. A ripened blueberry should easily release from the bush without any tugging involved. Also, take a look at the calyx (opposite end of the berry away from the stem) and see whether it's turned blue or not. If it still has a red or green color to it, the blueberry isn't ready to pick.
Storing and Freezing Blueberries
Whether you plan on storing or freezing your blueberries, don't wash them until you are ready to use them. That's because the waxy layer on the outside of the berry help the berry retain its moisture content. Place your container of blueberries in the refrigerator (not the crisp drawer) where they can last for up to 10 days.
To freeze your blueberries, place them single-layered on a cooking sheet and then into an air-tight container where they can be stored for up to 6 months. Rest assured that they'll taste just as fresh as when you first purchased them.
Final Word
Blueberries can be enjoyed right off of the bush, but they can also take your delicious baked goods to a whole other level. My personal favorite is putting warm juicy blueberries on my waffle a la mode, with an occasional scoop of vanilla ice cream. (Sometimes I'm bad, I'll admit.) How do you enjoy eating your blueberries? I'd love to hear from you. What do you think about blueberries: everything you need to know? May God bless this world, Linda
Copyright Images: Blueberries Deposit photos_29596877_s-2019, Blueberries Deposit photos_11650446_s-2019