Oatmeal: Everything You Need to Know
Growing up as a kid, I remember just how appreciative I was of a bowl of steamy hot oatmeal on a cold wintery morning before school. Adding maple and brown sugar to the equation made it that much more irresistible. It always seemed to hold me over until lunchtime, while providing energy and the focus that I needed in the classroom. But I didn't know about the health benefits that came with eating it. Let's continue reading about oatmeal: everything you need to know.
Oatmeal: Everything You Need to Know
Even though dieters today will try to steer you away from the carb-rich food, this long-time warm and hearty breakfast favorite is still very much in fact, good for you. The world's oldest family, that can be found in the Guinness World Record credits whole-grain oats as one of the secrets for their family's longevity. With a combined age of 1,075 years, their belief on the matter doesn't take much convincing. So here's more on oatmeal and why it's good for you, along with everything else you need to know about it.
Basic Info
Oats, or avena sativa, are a hearty whole grain crop that's primarily used to feed livestock, but it's one that we can enjoy in the morning as well. Oatmeal is a coarse flour that is made from hulled oat grains called groats.
Just like certain fruits and veggies, oats are a superfood that contain several nutrients, minerals, and antioxidants that work to bring you so many health benefits. Oatmeal is processed in such a way, so that it does not remove the germ or the nutritious bran. That way you are still getting all the whole grain that allows it to remain so good for you.
Fun Facts
Did you know that oatmeal is one of the earliest cereal crops that man harvested? It's been around as long as we have. Oatmeal was first cultivated by the ancient Chinese as early as 7,000 B.C, and was first used in a porridge by the Ancient Greeks.
Oatmeal is extremely cost effective, at right around 15 cents per serving.
Humans only consume about 5% of the world's production of oats, where livestock gets the majority of it.
Main Types of Oatmeal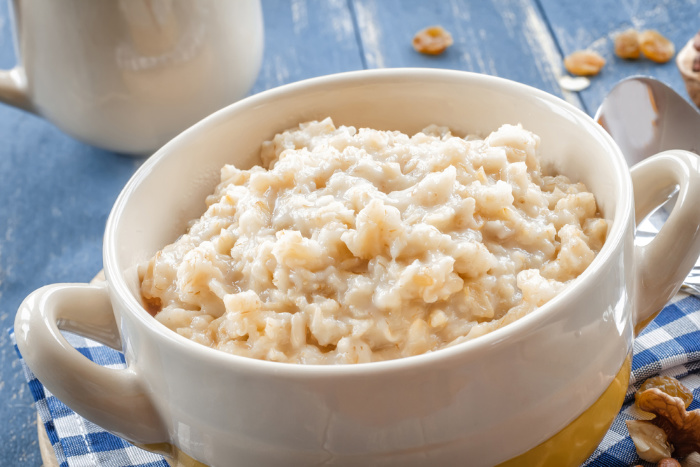 Steel-cut Oats (Irish or Scottish Oats)
Steel-cut oats are milled by slicing the oats into thin pieces that look a lot like rice. Steel-cut oats typically take longer to cook while producing a chewier texture.
Old-fashioned (Rolled oats)
They have similar nutrition value as the steel-cut oats do, with the main difference in how they are milled. Old-fashioned oats are first steamed and then rolled into a flat shape, which allows them to stay fresh longer, absorb water easier, while providing you with less cooking time. They are also a good option for when you are making granola bars, muffins, or oatmeal cookies.
Instant Oats
Instant oats have been processed the most of the three. They are pre-cooked, dried, and have been pressed a bit thinner than rolled oats. You'll notice a mushier texture that you get with them, but they cook in even less time than the old-fashioned oats.
Nutrition Facts of Oatmeal
Oats are mainly made up of carbohydrates, at right around 79.5%. They have about 13% protein and 7.5% fat. Oatmeal is loaded with whole grains as well as several starches. One especially important starch is called beta-glucan, which provides a number of health benefits that we'll get to in a bit. Oatmeal is also cram-packed with fiber, which helps with digestion.
Oatmeal contains several vitamins and minerals that help round out your diet. These include vitamin B1, copper, iron, magnesium, phosphorus, manganese, selenium, and zinc.
You can also find several antioxidants in oatmeal that are of importance to you. These include avenanthramides, phytic acid, and ferulic acid. In case you missed my post on How To Make Oat Milk (It's So Easy)
Health Benefits of Oatmeal
May Help Reduce the Risk of Cancer
The beta-glucan that was briefly mentioned earlier, is known to lower high cholesterol, and may also help to reduce the risk of certain types of cancer. This includes colon cancer and a number of other types. Studies have shown that when women who ate foods that contained higher amounts of fiber in them, had a lower risk for breast cancer than the women that had less fiber in their diets.
Boosts Energy
Did you know that eating oatmeal 3 hours before you workout can give you an extra boost of energy and endurance? I don't know about you, but I could sure use an extra bit of an energy boost in the mid-afternoon hours.
Helps with Digestion
The abundance of fiber that can be found in oatmeal is known to promote healthy digestion and regularity. This is especially helpful as you grow older, need I say more?
May Promote Weight Loss
The beta-glucan in oatmeal also does another benefit for you. It allows you to feel fuller sooner while keeping your cravings away around the mid-morning hour. This means that you'll be eating less, which can help you to lose weight. But you should consider eating oatmeal in moderation, so that its high carbs don't come into play and do the opposite for you.
Helps Reduce Inflammation
Inflammation can cause several severe health problems, including heart disease, obesity, and cancer. But oats contain what are called avenanthramides, an antioxidant found only in oats, that can help with reducing inflammation.
Improves Immune System
The beta-glucans that have been mentioned a number of times already, have properties in it that keep harmful bacteria away. Eating oatmeal provides your immune system with proper function to fight off illnesses.
Promotes a Healthy Heart
Just like the label suggests on most packaging, oatmeal promotes a healthy heart, reducing the risk of heart disease. Heart disease is the number one cause of death in America, and a healthy dose of oatmeal (or other fiber-rich foods) can lower your chances of having a stroke or heart attack by up to 12%. Oatmeal also helps reduce cholesterol as well.
Oatmeal in a Jar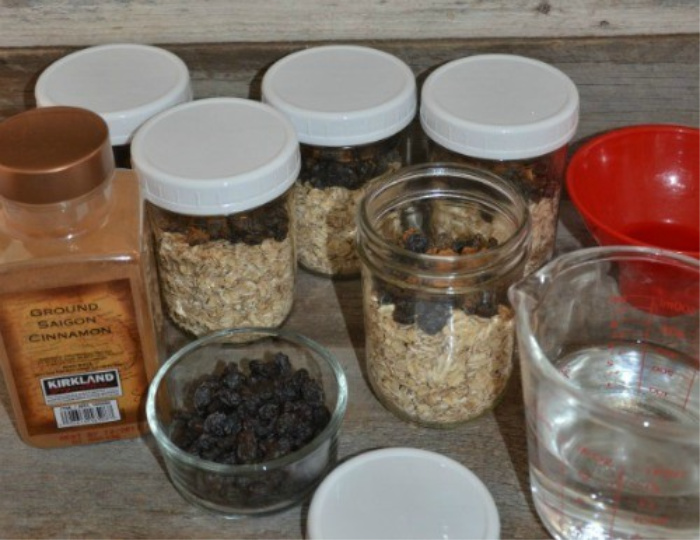 Kitchen Items
I make these jars of oatmeal every week. They have the dry ingredients in each jar and ready to just add boiling water. One jar makes enough for 2 people for breakfast or a snack.
6 Mason Jar Oatmeal Recipes by Food Storage Moms
Ingredients
1/2

cup

oatmeal-dry Old-Fashioned (170 calories)

1/4

cup

raisins (55 calories)

1

tablespoon

brown sugar (45 calories ) or any dry sweetener or no sweetener at all

1

teaspoon

ground cinnamon (6 calories)

1-1/4

cups

boiling water

Recipe #1 is the recipe shown above

Recipe #2 is the recipe above plus cranberries and sliced almonds

Recipe #3 is the recipe above but add shredded coconut and chopped pecans

Recipe #4 is the recipe above but add one layer of freeze-dried bananas

Recipe #5 is the recipe above but add one layer of freeze-dried apples

Recipe #6 is the recipe above but add dehydrated peanut butter and some freeze-dried bananas
Instructions
Place all of the ingredients except the boiling water in a pint mason jar. When ready to eat carefully pour the boiling water into the mason jar with this recipe or the ones below. Place the lid on and screw lightly. Set timer for 15 minutes, then wait and remove the lid and it is ready to eat.

Please note: if you use Steel Cut Oats you will need 1-1/2 cups boiling water. Everything else is the same in the recipe.
Final Word
Even though oatmeal contains a larger amount of carbohydrates in them, it's still a superfood that you should at least enjoy in moderation. It's chocked full of several health benefits you can't afford to miss out on. Here are over 50 oatmeal recipes if you grow tired of eating oatmeal as is. Please keep prepping, we must. May God bless this world, Linda
Copyright Images: Oatmeal Deposit photos_38611825_s-2019, Oatmeal Deposit photos_40332081_s-2019