Flour: What You May Not Know
Flour is a white powder composed of ground ingredients, including raw grains and roots. It's an everyday staple found in kitchens across America, and even around the world. People often have flour at home in the kitchen because they can use it to make tons of different foods or enhance the flavor and texture of the foods they're preparing.
But, while you likely know it's a common ingredient to have at home, you might not know the many things you can prepare with it, along with other essential details worth learning. Check out this article to find out all the things you never knew about traditional flour.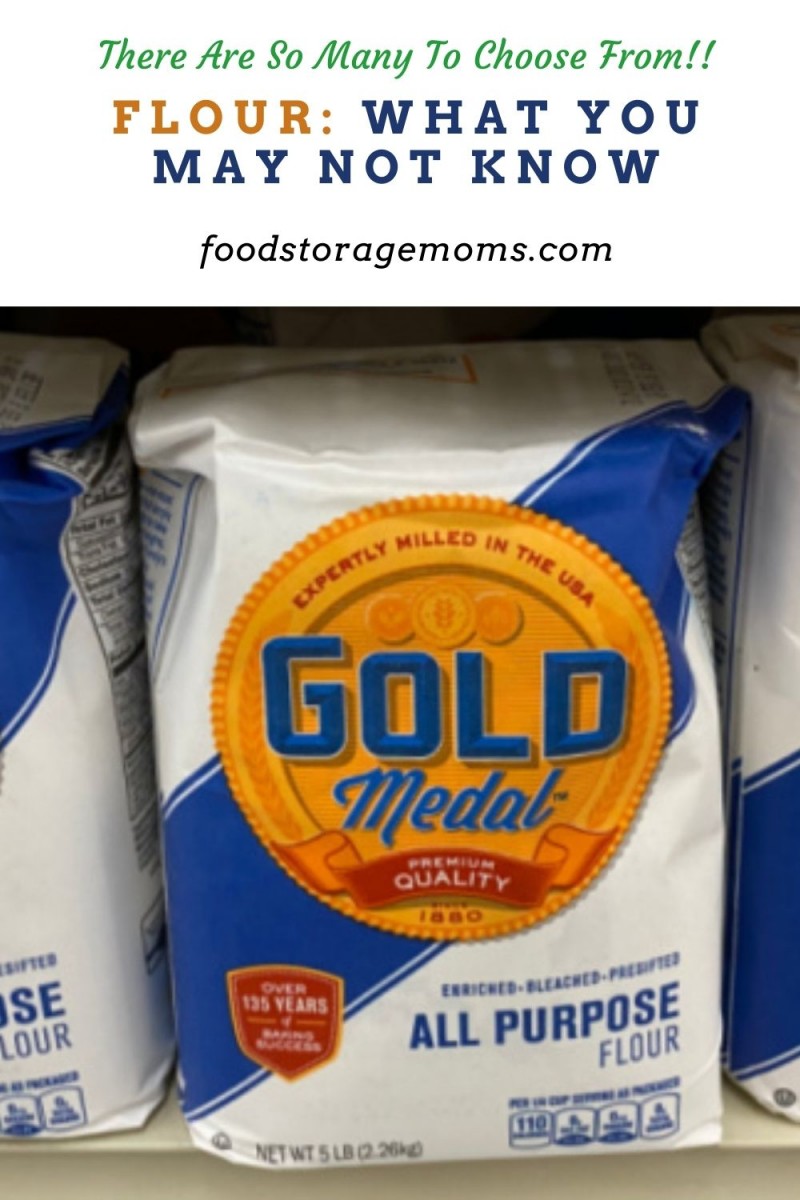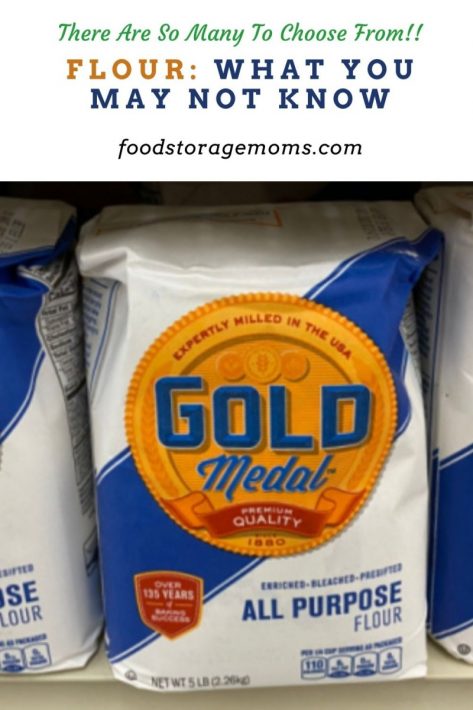 The Different Types of Flour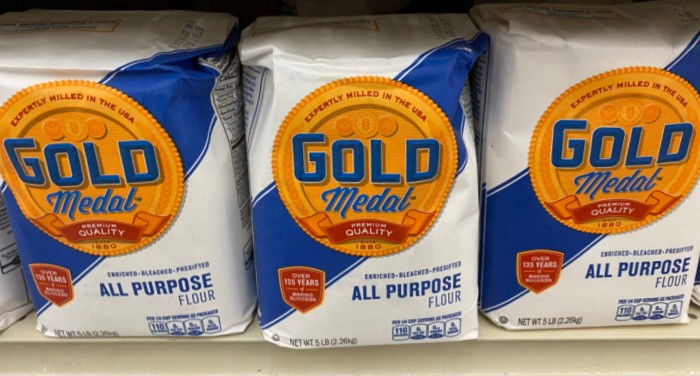 White flour is, by far, one of the most popular types of flour used by people at home and in commercial kitchens. It's often known as all-purpose flour because it serves different purposes in hundreds of different meals.
However, all-purpose white flour isn't the only option you have when preparing meals. There are several other options that people can use for cooking, baking, and making a number of different things.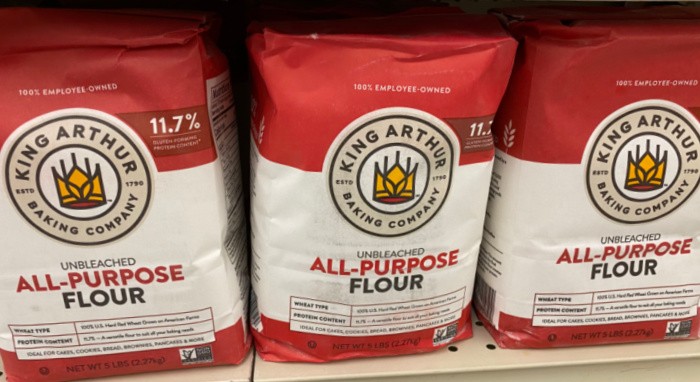 Whole Wheat Flour
I worry about purchasing my whole wheat flour at local grocery stores. For instance, how long has it been sitting on the shelf, and is it made from hard white or hard red wheat?
Freshly ground wheat is better if used the same day, or if not, being put in a tightly sealed bag in your freezer. We should grind the amount of hard white wheat we will use within one month and then stored in the freezer. It will lose its nutrients and go rancid rather quickly if not frozen.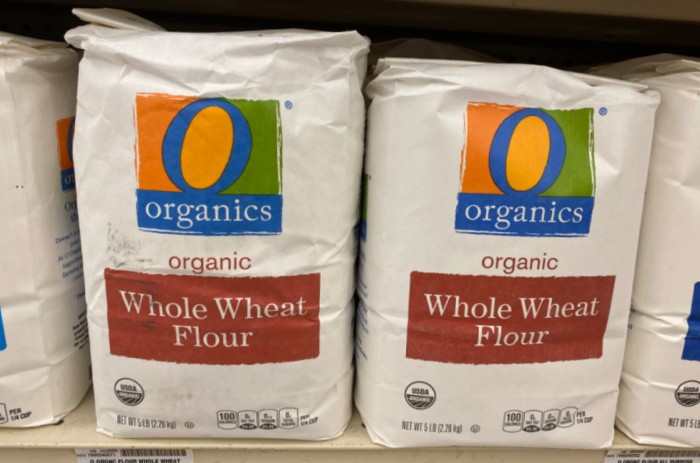 Whole wheat flour consists of mashed whole grains from the wheat plant. It contains extra nutrients that make people want to use it. If you're looking for flour that offers more nutritional value than other options, this is a great selection. It also has a great taste when used in different recipes, whether you're preparing gravy, fried chicken, or something else to eat at home.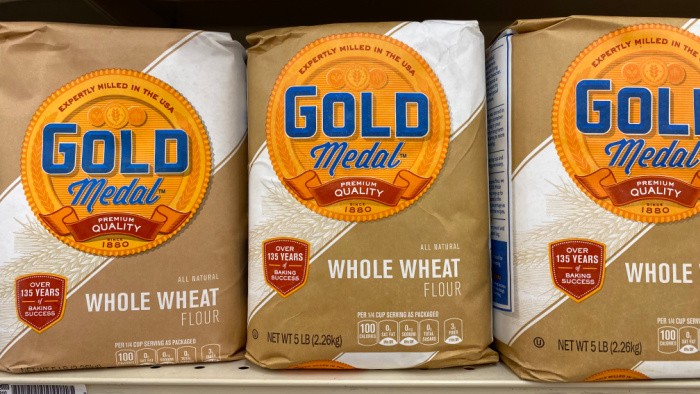 Cake Flour
Years ago, I bought a box of cake flour, I was taught by my mother that's what you need to make great cakes. Well, that was before cake mixes. I buy cake mixes on sale and add instant pudding and sour cream to make a really rich and moist cake. My Chocolate Cake Recipe.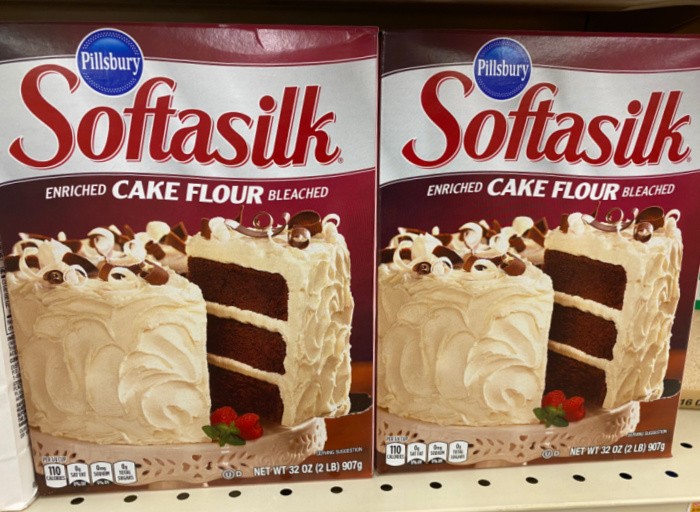 Cake flour is a particular type of flour designed for use in baked goods. It's the perfect type of flour to have at home if you like to make cakes from scratch. It has a fine and soft texture compared to traditional all-purpose flour, which sets it apart from other options.
So, if you are thinking about making a cake from scratch, get some of this flour so it's available in your kitchen.
Bread Flour
My favorite bread flour is available for purchase at Costco. It's called Bread Flour because it's awesome flour whenever you plan to make homemade bread. I store it in white 5-gallon buckets with RED Gamma Lids so I can identify it in my storage room.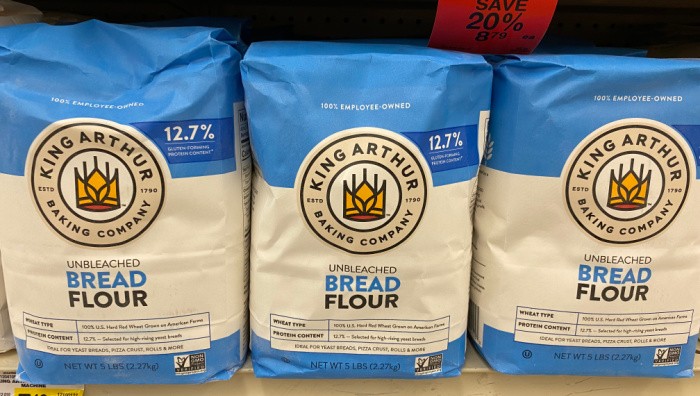 Bread flour comes from hard spring wheat. It's the perfect flour to use at home when you're planning on preparing bread from scratch. If you have a bread machine at home, consider getting bread flour!
You can make so many variations of bread using this flour and a few other ingredients, such as your favorite seasonings. And don't forget cinnamon rolls, dinner rolls, and breadsticks!
Hard red wheat contains more protein than other flour options on the market. It has enough gluten to give bread the ideal texture. I grew up on hard red wheat, and I personally prefer hard white wheat.
These are only three of the many types of flour in existence. The type that you'd need to purchase would depend on what you're planning to make. If you're a chef, or someone who just really enjoys cooking, it's a good idea to have several types of flour available to use.
I quote, Wikipedia, "Bread flour or strong flour is always made from hard wheat, usually hard spring wheat. It has a very high protein content, between 10% and 13%, making it excellent for yeast bread baking. It can be white or whole wheat or in between. Cake flour is a finely milled white flour made from soft wheat."
What is the shelf-life for white bread flour or all-purpose flour?
Now, let me explain something before I mention how long white bread flour or all-purpose flour will be shelf-stable in the pantry. I only buy enough flour that I will use in a year, that's 12 MONTHS. Once the bread gets much older, the results you have when making bread may not be optimal. I store my SAF yeast in the freezer.
But, I also store a 1/2 pint jar of that same yeast in my refrigerator. If you want fluffy bread, super soft dinner rolls, and super yummy cinnamon rolls, you need fresh flour. I've been making bread for over 50 years, I'm so grateful my mom taught me this skill.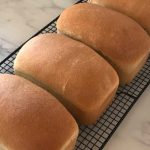 Whole Wheat Bread For Two
Servings
:
2
one-pound loaves
Ingredients
1 1/2

cups

warm water

2

tablespoons

olive oil

1/4

cup

or so of honey

1/2

tablespoon

salt

1/2

tablespoon

SAF instant yeast

1/2

tablespoon

dough enhancer

1/2

tablespoon

wheat gluten

1/2

tablespoon

lemon juice

3-1/2 to 4

cups

whole wheat flour
Instructions
Start adding the ingredients in the order shown above with one exception into your mixing bowl…start with 2 cups of flour and slowly add more flour until the dough pulls away from the sides of the bowl. I use a Bosch Mixer. I grew up making bread without a mixer. It can be done by hand. I grew up letting my bread rise twice so I still do that. Old habits are hard to break!

I mix it for 10 minutes in my Bosch. Cover with greased plastic wrap until it doubles in size. Punch down and form dough into two one-pound loaves. I let the dough rise one more time with greased plastic wrap. Bake the bread at 350 degrees for 27-30 minutes. If your pans are larger you will bake your bread longer. You will love making whole wheat bread, I promise!!
Gluten-Free Flour
One thing you need to be aware of with these flours is the fact they have a very short shelf-life. You may be able to extend the life by freezing it, but I do not stock this flour. I recommend reading the packages for shelf-life.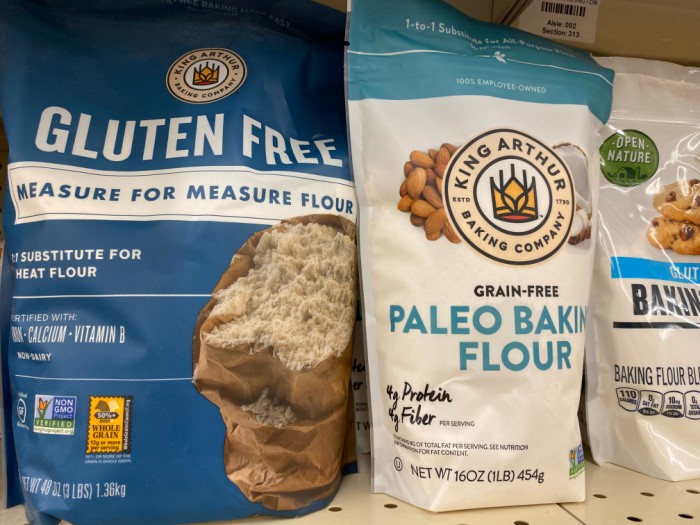 Almond Flour
Almond flour is one of the most common gluten-free flour types. It consists of blanched almonds, which means the skin has been removed. One cup of almond flour contains about 90 almonds, so you may taste a bit of a nutty flavor. It's commonly used for GF cookies, muffins, and can be a gluten-free alternative to breadcrumbs.
Oat Flour
You can make your own if you have rolled oats (not steel-cut or quick oats) using a food processor or high-powered blender. What's nice is that you can make this oat flour as needed. You will blend it until it makes a very fine flour. Use it in any recipe calling for oat flour.
White or Brown Rice Flour
You may want to place the dry white rice or brown rice in the freezer for 15-20 minutes, so it's cold (not wet) before placing 1/2 of dry uncooked rice in your high powdered blender, like a Vitamix, using the dry blade container. It may keep the blender from overheating. Use the flour in your favorite recipe.
Coconut Flour
I researched how to make it, using leftover coconut pulp and drying it. I would just buy a bag of coconut flour, myself. Coconut Flour You can use it to bread chicken for baking or frying. If you use it in a recipe calling for flour, you'll need to add additional liquid because it soaks up a lot of moisture when mixing.
King Arthur 1:1 GF Flour
The blue-colored package above is King Arthur's Gluten-Free measure for measure flour. In other words, you can make cookies, a cake, muffins, and sweetbreads with it. But NOT regular bread for toast or sandwiches, it won't work.
You switch out your recipe with one cup of regular white flour for one cup of this flour. Thus, one for one, or measure for measure. I tried making gluten-free bread ONCE. I think it's cheaper to buy it.
The Many Ways to Use Flour at Home
It's good to have flour at home because you can use it to make dozens of different things. These are just a few of the many foods and other ways you can put flour to use.
Gravy
People have used flour to make gravy for centuries. Instead of buying canned or jarred sauce, make it from scratch using pan drippings, flour, a bit of butter, some broth, and your favorite seasonings.
Most people keep it simple by adding a bit of salt and pepper to their homemade gravy mixture, but you can use what you like to create the tastiest gravy that goes on chicken, turkey, beef, mashed potatoes, and even biscuits.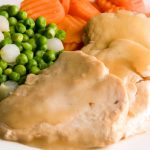 Linda's Homemade Gravy
Ingredients
1

cup

Turkey, Chicken, or Beef Drippings

1-2

cups

of Flour

1

quart

Water or Milk (I use water more than milk)

Salt & pepper

Sugar
Instructions
1. I use the pan that the turkey, chicken, or beef was baked in with the "drippings" and bring the liquid to a boil. If you have very little juice or drippings, add some water. Now, I can't give you exact measurements because this depends on the size of a turkey, chicken, or roast you purchased and how many drippings are available. Over time, with experience, you'll learn.

2. I take about 1-2 cups of flour and put it in a quart jar with cold water and shake it like crazy.

3. I slowly add this mixture to the hot boiling turkey, chicken, or beef drippings. Use a whisk and stir constantly.

4. I have a quart pitcher with cold water to add to this pan as the gravy thickens. I add water until it's the consistency I prefer. Not too runny, but not too thick.

5. I add salt, pepper, and sugar to taste. Yep, it's the sugar that brings out the best flavor. Of course, it's optional.

6. If you have some lumps, no worries, bring out the hand mixer. The flavor is fabulous and so easy to make.
Fried Chicken
If you want to make impressively crispy fried chicken, you'll need some flour. Before you coat the chicken in flour, you allow it to brine in buttermilk for several hours and then season the flour to your liking. Next, dip your chicken into the flour, coating it on both sides, and then fry it in hot oil to get that crisp and delicious skin.
You can also coat chicken in flour and fry it in the air fryer or bake it in the oven. Of course, you don't have to fry it in oil if you don't want to, but it's an option!
Cookies
Prepare cookies from scratch using flour with sugar, baking powder, chocolate chips, and a few other ingredients. You can make chocolate chip cookies, sugar cookies, oatmeal cookies, or any of your other favorites with the right recipe.
While these are some of the common foods you can make with flour, many of the foods you eat already contain flour, including:
Bread
Cereal
Pretzels (Soft-Baked and Hard)
Crackers
Muffins
If you eat any of the foods above, you're likely consuming food that contains flour, unless it specifically states otherwise.
Other Uses for Flour
While flour is a kitchen staple that you can use to make gravy, bread, cake, and plenty of other foods, other uses don't involve food, such as:
Keep Ants Away
If you're having trouble with ants getting into your home, spread flour at entry points to keep them away. They don't like walking through the flour, so they'll avoid it.
Use It to Clean Stainless Steel
If you have stainless steel appliances at home, such as a stainless steel oven or fridge, you can keep it clean by combining a bit of flour with water and gently wiping it down using a microfiber cloth. It works great!
Some of the other uses for flour include homemade play dough, acne face mask, and starch for fabrics to get them feeling comfortable and looking smooth. Because you can use it in other ways, it's yet another reason to keep flour in your home.
Final Word
Once you buy your flour, you can remove it from the bag it comes in and pour it into a container with an airtight lid. Putting it in such a secure container is the best way to keep your flour fresh for a longer time.
In addition, you never know when you're going to need it to make something delicious, or for other reasons, such as cleaning or ant control, so it's good to have. Buy different types of flour, based on what you plan to use it for so that you always have what you need at home! May God Bless this world, Linda