How To Cook Quinoa and Store It
Today it's all about how to cook Quinoa and store it as well. You may be looking for protein substitutes just like me. The thing I love about quinoa is the high protein. Let's talk about how to cook the quinoa and store it.
If you are not a beef or pork rancher you know what the grocery stores are dealing with right now when it comes to finding meat for your family's meals. When you go to the grocery these days you can only buy 2 pounds or 2 packages of meat daily.
Of course, they can't keep track of what you buy unless you have a Costco or Sam's Club card. You could go back to the store later and buy more, but who has time for that, right?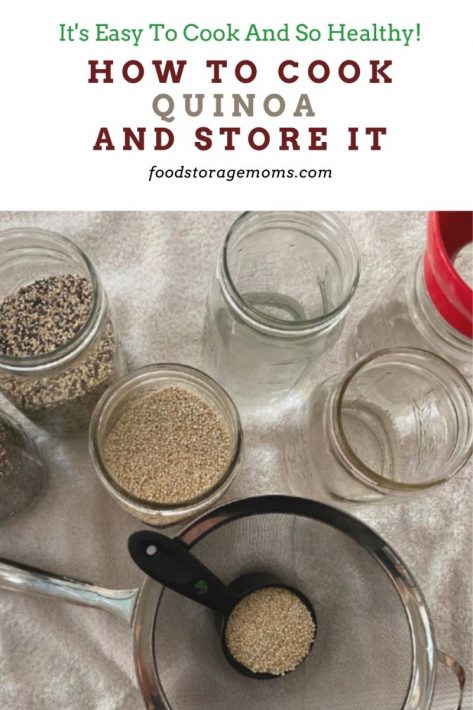 How to Cook Quinoa and Store it
Like I have done for the last 8 years on this blog, I'd like to teach you what I know. So, I am going to be talking about quinoa and lentils a lot because we will need to shift our meals towards meatless sooner than later. Meat may or may not become more scarce.
I never write about scare tactics but you have probably heard what I have on the TV. Ranchers are having to slaughter their meat because they can't get it to market.
Some dairies are dumping their milk or selling it to their neighbors on the low down. It's important we've lived in a time where we can thrive because we have all of the right information about how good things can be, and we strive to get back to that condition. But it's also important to learn how to deal with things as they are and make the most of them as best we can.
In case you missed my other post on quinoa: Quinoa: Everything You Need To Know or 7 Frugal Quinoa Meals Anyone Can Make
How To Cook Quinoa
I'd love to teach you how to cook quinoa. Some of us have never made quinoa because it's been something almost foreign to us. I've used quinoa in so many recipes. Once you learn how to make it, you can also cook it for many of your meals like I do.
Step One
You can see the fine mesh strainer below. I use it to rinse my quinoa. Years ago I soaked it, now I just rinse it. Whatever works for you is awesome. I bought a set of these for my daughters and myself: Bellemain Mesh Strainers.
I also use a canning funnel when I fill my wide-mouth mason jars. I'm using quart-size wide-mouth jars today to make quinoa in three different flavors. My favorite funnel: Canning Funnel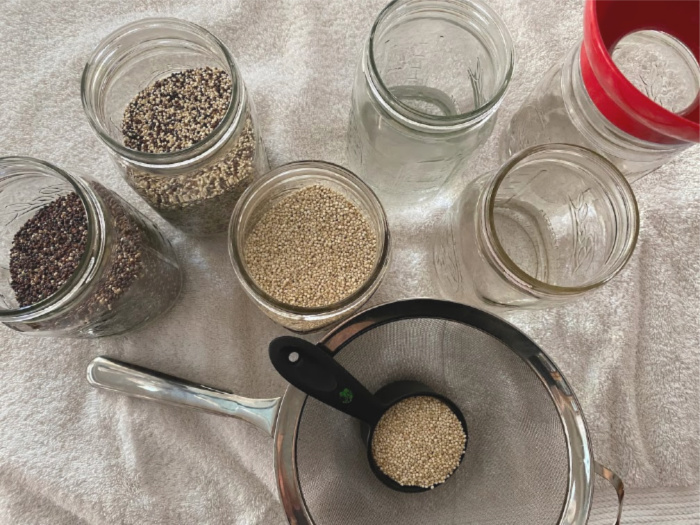 Step Two
I used 1/2 cup quinoa to one cup of water in each quart jar. These are wide-mouth mason quart jars.
Step Three
I filled the 8-quart soup pot with about three inches of water from the tap. Then I placed the three jars without lids in the soup pot. I made sure the water was at least halfway up the height of the jars.
You do not cover the jars with water. Here is a good 8-quart soup pot if you need one: 8-Quart Soup Pot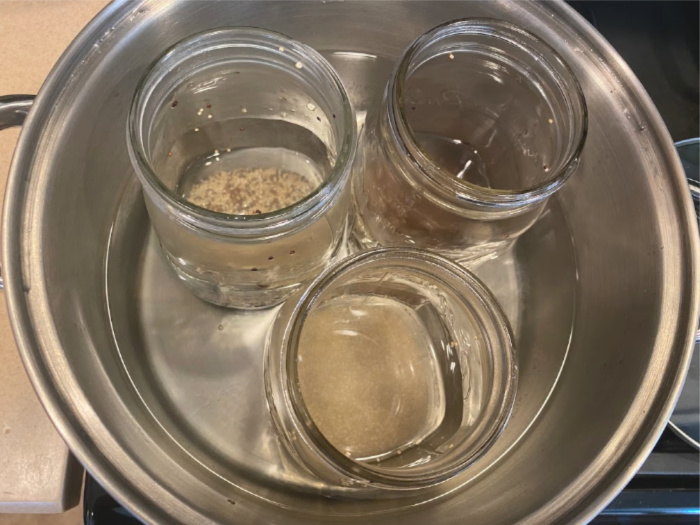 Step Four
Cover the pot with the lid and bring it to a medium boil, not a rolling boil. I let it boil for about 40-50 minutes.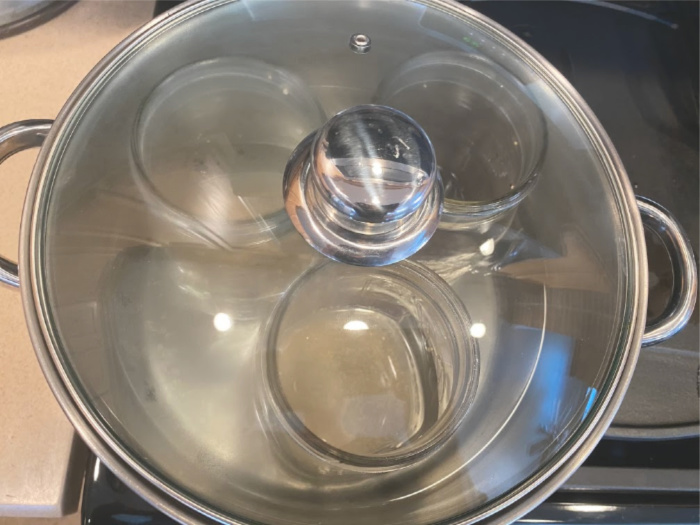 Step Five
I removed the jars from the pot after turning off the heat. I did add 1/2 teaspoon of Better Than Bouillon to each quart while the jars were cooling on the counter.
Just giving you the heads up, the Better Than Bouillon is cheaper at your local grocery store compared to Amazon. But at least you know what it looks like.
I buy the vegetable and chicken bouillon, it's a great food storage item and takes up very little room. After being opened it does need to be refrigerated.
You can also cook quinoa in your rice cooker or your pressure cooker/Instant Pot. I just like more than one flavor when cooking them.
Step Six
You can freeze cooked quinoa and bring a bag out of the freezer when needed and thaw it in the refrigerator the day before putting it to use. I used quart-size freezer bags.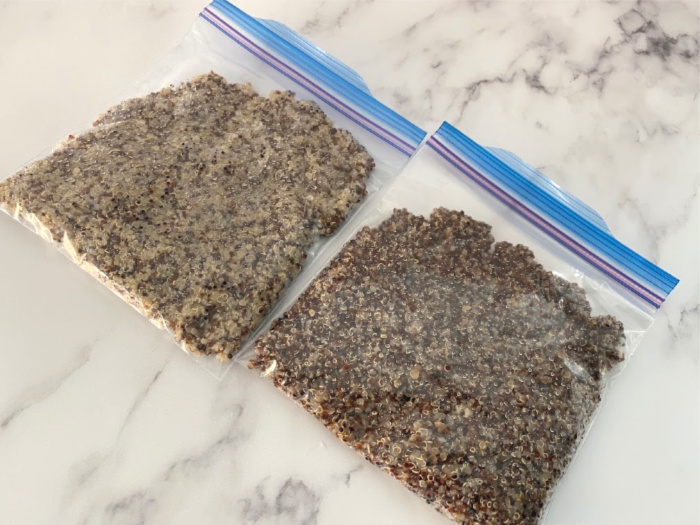 Step Seven
You can see below I "fried" the cooked white quinoa with onions and red bell peppers in a little olive oil. You can cook it with or without oil.
Of course, you can cook it with any oil of choice you prefer.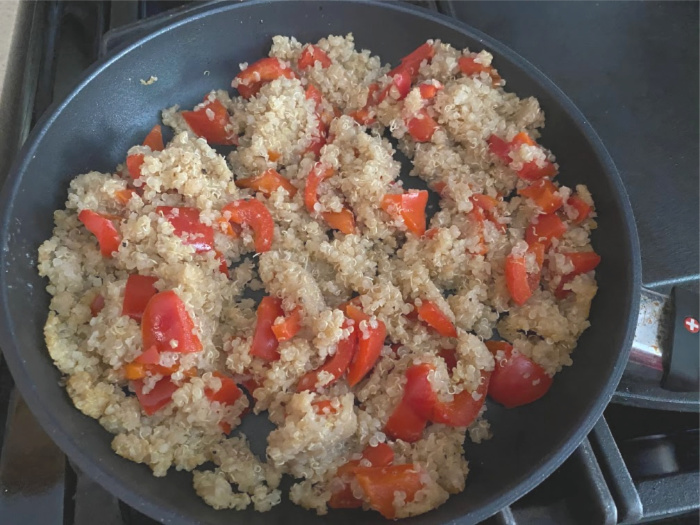 How can I store the cooked Quinoa?
You can store the cooked quinoa in pint or mason jars in the refrigerator after cooking. FoodSaver bags work great, or any airtight plastic or glass container before storing it in the refrigerator.
How long will cooked quinoa safely keep in the frig?
I always stay on the safe side of food storage. When in doubt throw it out, is my motto. My rule of thumb for most food items is 3-4 days maximum to safely store it in the frig.
Can I freeze leftover quinoa?
Yes, you can. I use quart freezer bags and flatten the bags to stack in the freezer. Any airtight container would work.
If stored properly in airtight containers the frozen quinoa will keep about 6-8 months safely.
What can I serve with it?
When it comes to serving quinoa, you may be wondering what you can serve it with. Just like rice or beans, you can use quinoa in a ton of other recipes and alongside many main dishes.
Chicken
Fish
Beef
Hamburgers or Hot Dogs
Pork chops or tenderloin
How do I store the open containers of quinoa?
The containers I buy say on the label to put the unused dry quinoa in the refrigerator after opening for extended shelf-life. You can use the original container if it's plastic or glass and place it in the refrigerator.
Food Saver bags would work too, just keep them in the frig after opening the original container.
If you purchased yours in bags, just place the dry quinoa in quart jars in the refrigerator after opening the bag.
Can I serve it hot?
Absolutely, it's a great side dish or main dish. I actually enjoy this quinoa served hot, it's my favorite. Plus, you can substitute it for so many other staples, like rice.
Can I serve quinoa cold after cooking it?
You can make a salad with cold quinoa by adding cold chopped vegetables and or fruits. Perfect meal or side dish. Bonus tip, add a few pinenuts, best meal ever!
Printable Recipe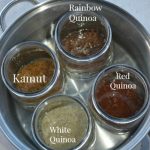 How To Cook Quinoa
Ingredients
1/2

cup

quinoa, any flavor or Kamut

1

cup

water per quart jar
Instructions
I realize we can use a pressure cooker, but I also realize a lot of people do not have one or they do not need 6 cups of quinoa in one flavor.

So, I decided to try and cook 4 of my favorite grains in quart canning jars. I used an eight-quart soup pot with a lid.

I used the same amount of grain per water ratio for all four grains. I placed one cup of water in each quart jar with 1/2 cup of grain per quart jar.

I filled the pot with 3 inches or so of water from the tap and placed the jars in the pan. I turned the heat on to bring it to a boil and boiled the filled jars with the lid on top of the soup pan.

No lids on the individual jars.

Two of the quinoas cooked faster than the others so I removed each quart when they looked fluffy and cooked. It took about 30-40 minutes.

The Kamut took about 10-15 minutes longer. It is a chewier grain and adds texture to any salad. Yummy!
Final Word
I hope you enjoyed my post today on how to cook and then store quinoa. I'm trying really hard to teach those who are just now learning to cook from scratch that it's easier than they may think.
Please keep stocking up, we must. May God bless this world, Linda
Copyright Images: Quinoa Deposit photos_113507150_s-2019