20 Tasty Sandwich Recipes
Whether you're looking for a quick meal for lunch or a no-fuss dinner option, these 20 tasty sandwich recipes are here to provide inspiration.
From classic recipes with a modern twist, to more gourmet alternatives that still qualify as a sandwich, these delicious recipes are downright swoon-worthy.
Bread choices abound and ideas for meats, veggies, condiments, and dressings make this an appetizing collection for all your sandwich needs.
From packable lunch box ideas to brunches, picnics, and BBQs, these handhelds are perfect for informal occasions.
You'll find classics like club sandwiches, Reubens, grilled cheese, egg salad, and tuna, plus brisket, Monte Cristo, Greek, Italian, and green goddess sandwiches that will make you drool. Take your sandwich game to a new level with these tasty recipes!
Kitchen Tools You May Need
Here Are Some More Of My Favorite Recipes
20 Tasty Sandwich Recipes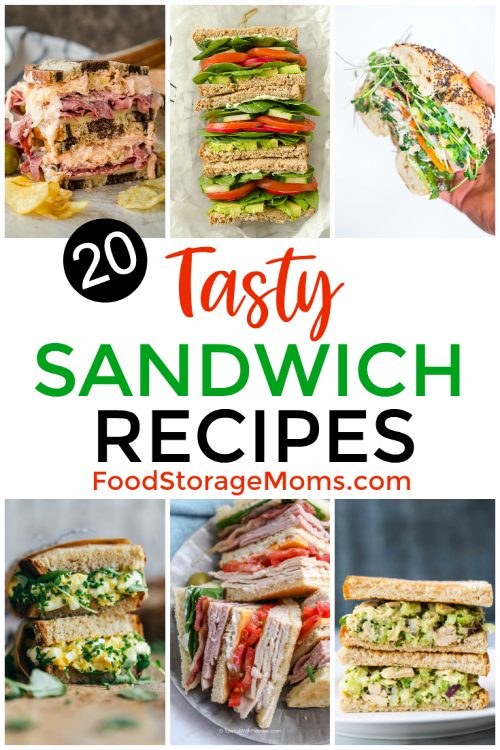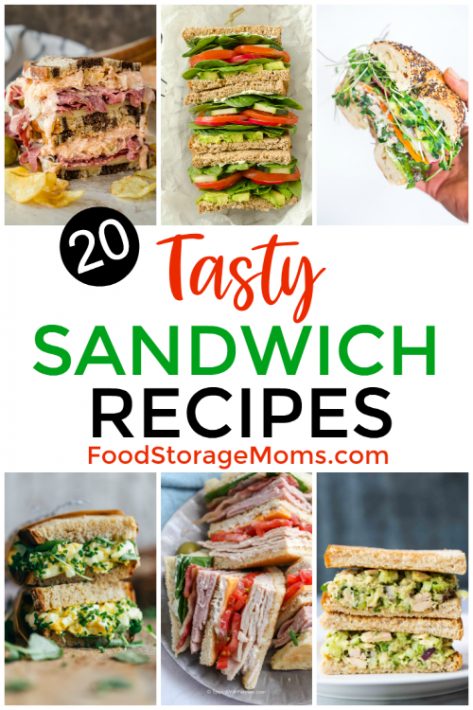 Club Sandwich by Spend With Pennies
A deli classic, building a club sandwich is as easy as layering ham, turkey, bacon, cheese, lettuce, and tomato between 3 slices of toasted bread. Your sandwich will be tall, so do the right thing and secure it with a toothpick so it holds together.
Serve it on a platter with some potato chips with a dill pickle on the side and enjoy!
Egg Salad Sandwich by A Beautiful Plate
Up-level a plain egg salad sandwich by using homemade mayonnaise, chives, watercress, and artisanal bread. The difference in taste will be immediately noticeable, and you'll wonder why you haven't been making your egg salad sandwich like this all along.
Spring Goddess Sandwich by Feasting At Home
Go green with this healthy sandwich that features a smashed chickpea salad full of herbs and veggies. Layer this tasty salad between two pieces of bread or a bagel.
Add in lettuce, alfalfa sprouts, sliced avocado, cucumber, and radishes for some crunch and enjoy this beautiful sandwich.
Italian Hoagies by Baker By Nature
When you're hungry for a substantial sandwich, this Italian hoagie is just the one to make! Fill a long hoagie roll full of spicy meat like prosciutto, capicola, genoa salami, and soppressata salami.
Layer on provolone cheese, romaine lettuce, tomatoes, and onions. Don't forget the drizzles of olive oil, red wine vinegar, and seasoning. This is a powerhouse of a sandwich!
Pepperoni Pizza Grilled Cheese Sandwich by Six Sisters Stuff
No time to make an entire pizza? No problem. Assemble this quick sandwich version using crusty Italian bread. Add in pepperoni, fresh mozzarella cheese, sliced tomatoes, marinara sauce, and finish with some more cheese. Butter the outsides of the sandwich and pan-fry. Kids love it, and you will too!
Reuben Sandwich by Natasha's Kitchen
Corned beef, Swiss cheese, sauerkraut, and Thousand Island dressing get nestled between two pieces of rye bread in this iconic sandwich. Butter the outside pieces of bread and grill them in a pan just long enough to warm the sandwich and melt the cheese. Awesome!
Tuna Melt by How Sweet Eats
This is not your traditional tuna melt; it's a fancy version which is a fun change if you're looking for a non-mayo approach. This tuna sandwich is mixed with olive oil and fresh herbs.
A sun-dried tomato spread goes down on the bread along with slices of manchego cheese, tuna salad, arugula, and pickled onions. Butter the outside pieces of bread and grill it to melt the cheese.
Monte Cristo Sandwich by Mommy Musings
Whether you use a deep fryer or a skillet, this sandwich is a favorite for those who love melted Swiss and cheddar cheese with turkey and ham.
Dunk the prepared sandwiches in a simple batter and deep fry until golden brown. Let them cool and sprinkle a little powdered sugar on them and serve with raspberry preserves. Amazing!
BLT Grilled Cheese by Well Plated
Give this BLT a pepper flavor by using arugula for your greenery. Keep the boldness going by using tangy sourdough bread, zesty Dijon mustard, sharp cheddar cheese, and of course sliced tomato and cooked bacon.
Butter the outside bread slices and heat in a pan until golden brown and the cheese is just oozing out the sides. Perfection!
Ultimate Veggie Sandwich With Lemon Herb Cream Cheese by Flavor The Moments
Get your veggies in with this sandwich full of spinach, tomato, cucumber, avocado, and radish. Use yummy garlic and highly seasoned cream cheese spread. Use your favorite bread, or even a wrap, for this tasty veggie sandwich.
Pesto Artichoke And Havarti Grilled Cheese by Two Peas And Their Pod
If you love warm and gooey cheese sandwiches overflowing with zesty herbs and flavor, you must make this sandwich! Whole grain bread will be sturdy enough to handle the pesto, diced artichoke hearts, and Havarti cheese slices. Grill this awesomeness until golden brown. Swoon!
Copycat Chick Fil A Chicken Salad Sandwich by Life Made Simple Bakes
This chicken salad is the creamy version that was once a popular fast food menu item. Cooked chicken filets along with hard-boiled egg, celery, mayonnaise, and relish get pulsed in a blender for a smoother consistency and spreadability. This is great for those who don't like chunky chicken salad falling out of their sandwich!
Avocado Chickpea Salad Sandwich by Yummy Healthy Easy
Avocado lovers will adore this sandwich that incorporates smashed chickpeas, Greek yogurt, and spicy seasonings to create a healthy sandwich full of protein. Pile it on between whole wheat bread and enjoy. Oh, and it's kid-approved too!
Greek Vegetable Sandwich With Feta Spread by Wonky Wonderful
If you love Greek salads then you'll want to try this sandwich! Slather two pieces of your favorite bread with feta and Greek yogurt spread. Then load it up with lettuce, sliced tomato, cucumber, red onion, kalamata olives, and plenty of pepperoncini. Add in some clover sprouts for good measure and enjoy this feast!
Turkey Bacon Brie Grilled Cheese Sandwich by Wine And Glue
Grilled cheese goes gourmet with brie, bacon, and turkey. This is a great sandwich to make when you have leftover turkey. Mix a little mayo with garlic salt for a flavor boost for your bread. Load up the cheese, bacon, and turkey and grill the sandwich until golden. So delicious!
Grilled Banana Nutella Sandwich by Healthy Nibbles And Bit
Nutella fans will want to make this sweet sandwich as soon as possible. Whole grain bread gets a smear of the hazelnut spread, and then sprinkle with toasted coconut.
Add mashed banana and top with a slice of bread. Grill the sandwich or use a Panini press. Simple, tasty, and awesome!
Brisket Sandwiches With Coleslaw by Carlsbad Cravings
Slow cooker brisket sandwiches are perfect for any time of year, but with the BBQ flavoring, they're perfect for summer events too. You can make this tender brisket ahead to save time; it will keep in the fridge for a few days. Make sure you have plenty of tangy coleslaw available to top it off. Pile all this deliciousness on large toasted buns and dig in!
Salami Mozzarella Sandwich by The Little Epicurean
This zesty Ciabatta sandwich is filled with hot salami and soppressata, along with mozzarella cheese. Layer on arugula, sliced fennel, a little pesto, and sliced tomato. Dress it with some olive oil and red wine vinegar. Make this ahead of time and chill in the fridge before slicing and serving.
Pineapple Grilled Chicken Sandwich by OMG Chocolate Desserts
Fire up your grill for this yummy grilled chicken sandwich. A little BBQ sauce marinade before grilling the chicken gives a depth of flavor to the meat. Grill some pineapple slices and lightly toast the hamburger buns too. Put it all together with a little lettuce, sliced jalapeno, plus sliced red onion, and enjoy!
Avocado Tuna Salad Sandwich by Simply Recipes
Skip the mayo in this tuna salad and use creamy avocado instead. Add in some diced celery and red onion for a little crunch, and a squeeze of lemon juice for some tartness. Toast your favorite bread and pile on the tuna salad. Delish!
Final Word
I hope you enjoy my post today with 20 tasty sandwich recipes. Are you like me and like to try a new recipe every so often? Life is so good when we know how to cook from scratch. Please stock your pantry, we must. May God bless this world, Linda