You Need These 21 Utensils In Your Kitchen
I was looking around my kitchen and taking inventory of the utensils I tend to use most often. Mark is always reminding me that having the right tools for a project makes all the difference. I thought to myself that I needed to update this post from 2015 and explain again why you need these 21 utensils in your kitchen.
I will list my favorite 21 utensils today, but I would love to hear what your favorite ones are, the ones you can't cook or bake without. There is something magical when you grab a bowl and start measuring the cups of flour, sugar, spices, and other ingredients to make a successful recipe come to life.
When you use one of these utensils to complete the recipe, it makes the chore so much easier.
When my beautiful granddaughter, Maddie, left for college a few years ago I really thought to myself that college students need a college shower party so they will be prepared for the time ahead when they'll be fixing their own meals.
We take for granted what we have in our kitchens. I looked for as many duplicate pieces I could find for her in my cupboards and drawers, and still ended up buying a few she really needed.
Related: How to Care for Wooden Utensils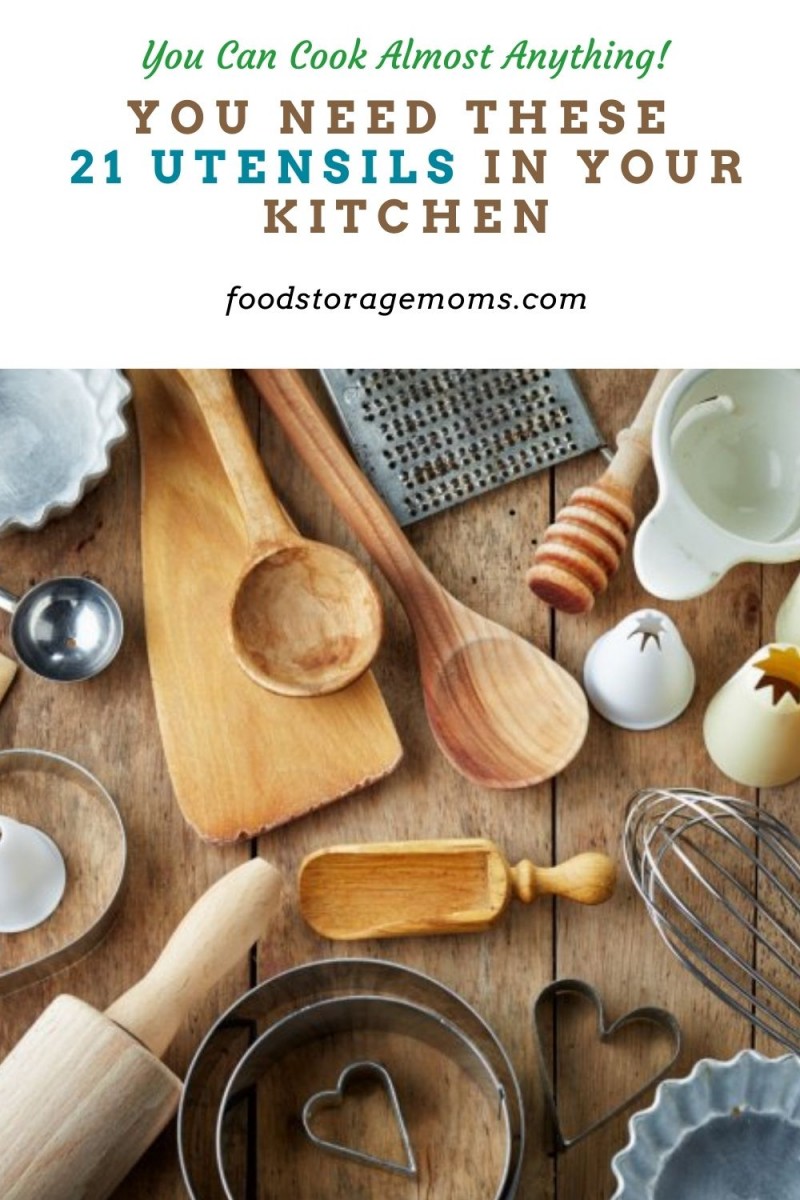 Utensils In Your Kitchen:
Danish whisk: I use mine for just about everything. Danish Dough Hand Whisk / Mixer 11″ or 14″. I use it for pancake batter, waffle batter, muffins, and natural yeast making. Some people are so used to using a large spoon to stir varios mixtures, they haven't learned the benefit of using a whisk. I love mine.
Stainless steel whisk: this one I use for lumpy gravy or to beat some eggs. If I want to take the time, I can use it to make whipped cream, but I would rather use my electric hand mixer. Norpro 3 Piece Stainless Steel Balloon Whisk Set
Pizza cutter: I use my pizza cutter for more than just pizza. I use it to cut crackers and raw bread dough to make breadsticks. OXO SteeL Pizza Wheel and Cutter. We often buy pizza from Pappa Murphy's, and they make it and you bake it. The pizza cutter is a must have at our house!
Measuring cups: these can be used for measuring so many different things, this is a no-brainer. Some cooks try to estimate how much of an ingredient they've put in the bowl, and then they wonder why things didn't turn out right. These make great gifts for college students or newly wed couples.
Measuring spoons: these can be used for measuring so many small amounts, this is a no-brainer too. Some spices have a real affect on the flavor of the recipe, so even though the spoons may be small, having the right amount is critical. I have three sets of these. You can never have too many, right?
Spatula's: I like to buy the silicone version because they seem to last longer and I can use them in hot liquids I am stirring on the stove. The silicone ones also seem to be more flexible when trying to scrape the remaining mixture from the bowl.
Pancake turner: these are great for pancakes, French toast, and grilled cheese sandwiches, to name a few ways they are needed. They can also be used to effectively turn over items in the frying pan to make sure all the materials are cooked to perfection, much like a stir fry.
Pastry brush: I love these to make certain things that need to be smothered with butter, sauces, or basted properly are covered all over. These can be used for bread sticks, pies, French bread, and meat marinades.
Garlic press: doesn't everything tastes better with garlic as an ingredient? Oh, and the health benefits….need I say more? A press makes putting it to use so much easier. I have to be careful how much I add since my husband seems to have trouble digesting too much garlic. I'd love to have more recipes with garlic. Let me know how you put it to use.
Potato masher: this is one of my favorite utensils, but then I like mashed potatoes with just a few small lumps: OXO Good Grips Stainless Potato Masher. If you like mashed potatoes, this is a must for your kitchen inventory.
Cookie scoop: cookies are almost a weekly project at our house. Who doesn't love the smell of homemade cookies? I bet you are dreaming of making some of your favorites right now. I want to make my favorite pumpkin cookies this time of year. Yummy! This is my favorite masher: OXO Good Grips Medium Cookie Scoop
Tongs: I have several of these in different sizes. You can use them for salads, parties, barbecues, etc. Be careful if you use the version with a plastic or rubberized tip that you don't melt it when used to turn the goodies on your BBQ, they could melt or become mis-shapen.
Bread knife/knives: please, please buy one really good bread knife. Also, keep your knives sharpened at home, or find a good store that will keep yours sharp by getting them sharpened at least once a year. I've always lived by the addage to buy right the first time. A set of high quality knives that are kept sharp will make meal prep a much easier exercise.
Can opener: everyone should have at least two? If we have to totally live off our food storage, we need to be able to open the cans. Don't poor boy this purchase, get really good quality openers. Buy an extra one of your favorites like this one: Swing-A-Way 407BK Portable Can Opener, Black
Vegetable peeler: I realize we are all trying to eat the peelings on most veggies these days to get the full health benefits, but I still want one of these. There are times that eating the "skin" just doesn't feel right. Having one of these at least gives the cook options.
Rolling pin: I like to have a big and little one. I have the fondest memories of my daughters, and now grandkids, rolling out bread dough. Did I say cinnamon rolls? Please!
Cheese grater: yep we all need one even if we buy most the cheese we eat already grated. I've been writing a number of posts this month that highlight different kinds of cheese balls. We've had to grate a whole lot of cheese as part of that process. This is one like The Olive Garden has for those special pasta servings: Zyliss Classic Rotary Cheese Grater
Funnel: I tend to get my work area a little messy when I cook. Using one of these helps keep the mess at a minimum. I use them to measure seeds into a jar, canning fruits and vegetables, making Hummingbird syrup for jars, etc.
Gravy ladle and/or soup ladle: this utensil can make serving liquids so much easier. Why try to move liquids from one container to another using a large spoon? This utensil makes the effort so much more efficient. Remember, they come in all sorts of sizes. Who can use another one in the kitchen??? Me!!
Biscuit cutter: these are great for biscuits and sometimes crackers or cookies. I just ordered these for my new butter cracker recipe: RSVP Stainless Steel Round Biscuit Cutters with Fluted Edge, Set of 4
Thermometer: great for cooking meats, baking bread, and candy. One of these is a must if you cook large meat dishes like a roast turkey, beef roasts, etc. It makes the process so much safer! It also makes cooking candy easier so you don't burn it when it's being cooked on the stovetop.
My favorite food canning resource: USU Extension Service
You Need These 21 Utensils In Your Kitchen
Jan: "Joyce Chen" scissors (I just ordered some, squeal!)
Cheryl: GOOD Kitchen knives and a sharpener
Dang Duffy's and Harry: Ulu Knife
Steff: Kitchen Shears for cutting up salads and pancakes for toddlers
Final Word
Having the right tools, whether in the garden, garage, or kitchen makes all the work we do around the house so much easier, and safer. That's why I wanted to remind you, you need these 21 utensils in your kitchen.
If you don't have the majority of these utensils, you are making canning and meal prep much more difficult than it needs to be. Consider buying those you don't already have, you'll be glad you did, I promise.
Also, having these now as you try to teach your younger family members how to make the kitchen a fun and worthwhile place to spend time, will make those lessons easier to teach, but will truly set the stage for successful meal preps for a lifetime. May God bless this world. Linda
Copyright Images: Kitchen Utensils AdobeStock_69903665 by Mara Zemgaliete