What Every Pantry Should Have
Today it's all about what every pantry should have. Here's the deal, we all have our favorite items we must stock, right? It could be salsa, green chilies, olives, or cream of chicken soup. My top items may not be what you want to have in your pantry, I get it.
But this is a list that most everyone can use. Some of you have been cooking from scratch for years, maybe some of you are just learning. Everyone has skills, whether it be cooking, baking, sewing, or whatnot.
It's been quite a shock to see the grocery store shelves barely stocked. Some shelves are totally empty, others are only one can deep. In Utah, every fall I buy case lot sales of foods. Whoa, before you say, I never eat anything out of a can, please take another look.
Sure, we all want fresh vegetables and fruits, but I still buy some canned items. In case you are wondering what canned food I recommend, here is a post I have written about that issue. Canned Foods I Highly Recommend You Store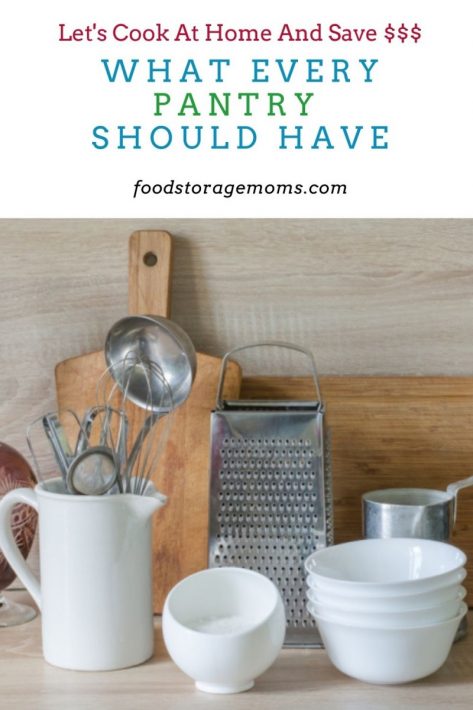 What Every Pantry Should Have
I'm going to break it out in sections. So, let's get started. Some items may be in other sections, just giving you the heads up here. Once you organize your pantry you should be able to cook just about any meal from scratch.
You don't need any fancy cookbooks, in fact if you have your mom's or grandma's cookbooks, those are the very best.
The next time you are out and about check out thrift stores or garage sales for old cookbooks. Do you LOVE the neighborhood cookbooks as much as I do?
If you have special dietary needs, you may need to add or subtract a few of these items I use all the time. The thing I like the most is knowing what is in the meals I prepare at home.
It seems like when I eat out, which is rare, the food is delicious but has a lot more butter, salt, and sometimes spices that are not my favorite. I guess you could say, I'm a simple chick that cooks from scratch at home!
Baking Items
Mark and I love to grind our own wheat and make my No-Fail Whole Wheat Bread recipe. But I also like to make Cinnamon Rolls with cream cheese frosting.
Do you love the smell of something yummy baking in the oven? Life is so good when you have the skills to bake cookies, bread, or whatever you love to cook in the oven.
Honey
Sugar
Bread Flour
White Flour
Baking Soda
Baking Powder
Salt
Vanilla
Yeast
Chocolate Chips
Shredded Coconut
Instant Milk
Evaporated Milk
Buttermilk (dry form)
The Spices I Use The Most
If you have spices in your pantry that are organized so you can find them quickly and you don't need to run to the store, say for cinnamon, life is so much easier. Just grab your measuring spoons, cups, and a bowl to get started.
You can use a hand mixer, a spoon, a Danish Whisk, or a stand mixer to make a meal, a dessert, or a side dish.
Chili Powder
Sweet Basil
Garlic
Cumin
Garlic Powder
Onion Powder
Sage
Cinnamon
Nutmeg
Salt
Pepper
All Seasons Salt
Cayenne Pepper
Paprika
Crushed Red Pepper
The Perfect Oils
These are my favorite oils, what about you?
Olive Oil
Coconut Oil
Canola Oil
Vegetable Oil
My Favorite Kinds of Vinegar – I Love These
Do you love bread dipped in vinegar and oil? I sure do!
Balsamic
Apple Cider
White Vinegar
Red Wine
Canned Meats
Sometimes I need to fix a meal at the last minute and those cans of meat come in real handy. Or, you can add a little mayo or Miracle Whip and you can make a sandwich. The dried beef makes the perfect Cream Chipped Beef on Toast, right?
Chicken Breast
Turkey
Cooked Ground Beef
Canned Pork
Shredded Beef
Dried Beef in Jars
Canned Foods
Let me know what cans of canned food you would add to my list, I love knowing what others stock.
Chicken Broth
Vegetable Broth
Beef Broth
Better Than Bouillon
Diced Tomatoes
Tomato Paste
Spaghetti Sauce
Cream of Chicken Soup
Cream of Mushroom Soup
Cream of Tomato Soup
Green Beans
Corn
Green Chilies
Sliced and Whole Water Chestnuts
100% Pumpkin (not the pumpkin pie cans)
Cake Mixes (not technically canned but you get it)
Instant Pudding
Gelatin
Fruit Cocktail
Crushed Pineapple
Pineapple Chunks
Crackers
Best Condiments
I admit I love pickles on sandwiches, my husband introduced that to me over 50 years ago. These are all my favorite condiments.
Mayonnaise
Miracle Whip
Ketchup
Mustard
Soy Sauce
Vinegar
Tartar Sauce
BBQ Sauce
Pickles
Pickle Relish
Ken's Thousand Island Salad Dressing (it's my favorite)
Pasta, Quinoa, and Rice
If you stock these items you will never starve. Of course, you need water and a way to cook them, but these are my staples.
White Rice (Jasmine is my favorite)
Brown Rice (I stock very little brown rice because it goes rancid within 6 months.)
Pasta
Quinoa Red, White, or Black, or Mixed
Lentils
Chocolate
The more the merrier for me!
M & M's (don't judge me-LOL)
Dark Chocolate
Dark Baking Cocoa
Healthy Snacks
Oh man, I'm a snacker, these are just a few of my favorites.
Granola Bars
Peanuts
Trail Mix
Cashews
Raisins
Popcorn
Dried Fruit
Freeze-Dried Fruit
Pretzels
Pet Foods
We have two female Shih Tzu's, Izzy and Bailey. I sleep better at night knowing I have at least six months worth of food on hand for them.
Dog or Cat Food
Pet Treats
Kitty Litter
Puppy Pads
Final Word
I hope you enjoyed my post today, what every pantry should have. If you can cook from scratch, your children or grandkids will watch you cooking and see the joy it brings to you and your family.
Life is all about sharing skills and talents with one another. Have fun and eat at home, you'll love it! May God bless this world, Linda
Copyright Images: Crockery Utensils Deposit photos_123721424_s-2019