How To Make Whole Wheat Bread

Today I am going to show you how to make whole wheat bread step by step. If you can make bread you can survive almost any disaster. On Saturday, I went to get my haircut at a local hair salon.
I love it when Jennifer is available to cut my hair because she lives in Hurricane, Utah and I will tell you one thing for sure, that town is prepared for any disaster.
There is a large group of people who meet monthly, and I was lucky to be invited to one of their meetings about a year ago. They had doctors come and show us how to suture cuts with all different size suture tools. We did deep cuts and shallow cuts on pieces of rawhide type material. The original plan was some pigskin after a pig was slaughtered, but one of the doctors had a family emergency and was not able to bring the pig pieces.
Well, Jennifer asked me how my book sales were doing: Prepare Your Family for Survival: How to Be Ready for Any Emergency or Disaster Situation. I told her I am blessed that the book sales are doing well. Then she mentioned her husband had been in New York when the terrorist attacks of 9-11 occurred. He was staying in a hotel when it happened.
As you remember, all the airlines were shut down and it was hard to get a rental car. Of course, communications were minimal, to say the least. The hotel where he was staying was totally out of food in three days and the people staying in the hotel were told they could help themselves to anything they could scrounge in the kitchen.
The roads were shut down for days. Jennifer said everyone needs to read my book to learn to be prepared for a disaster or an unforeseen emergency before they happen. Today, not next week.
After I drove home from the salon I decided I would make my whole wheat bread and take pictures to show the world step by step how to make it. I typically grind my wheat for a month ahead of time because then it takes me only 15 minutes to whip up a batch of bread dough using my Bosch bread mixer: Bosch Universal Plus Kitchen Machine.
I freeze my wheat in these bags: L'Equip Zip Bags. I highly recommend the Komo Medium Mill from Pleasant Hill Grain. It's by far the best electric wheat/grain mill I have tried, and I have tried over a dozen electric brands. I have had a wheat grinder my entire married life.
Some are hand-crank models (my parents gave me one for Christmas one year). I have the GrainMaker hand crank and a few other electric ones. If you can grind wheat you can make bread with commercial yeast or natural yeast. I mixed my bread by hand in a very large silver bowl for years.
If you have gluten issues you need a mill that will work with the grains your family can tolerate. I suggest you get a mill then a bread maker. You can always mix bread by hand, I did for years. I learned it from my mother.
I have given all four of my daughters wheat grinders and bread mixers. The wheat grinders and bread makers last for years, so save the money you need for the ones with the quality and features you really want.
My daughter tried making whole wheat bread with a Kitchen Aid mixer and it died from overheating. I think if you only made one or two loaves in the largest 6-quart model it may work, but be careful. I only use my Kitchen Aid 6-quart mixer for cookies, cakes, etc.
I have taught classes for years on how to make bread and I have used 99.9% of all the electric bread mixers out there and the Bosch is my mixer of choice. So, let's get started with my step by step pictures on how to make whole wheat bread.
Eight (one-pound) Loaves Recipe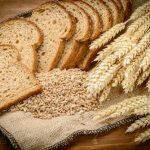 No-Fail Whole Wheat Bread Recipe
Servings
:
8
one pound loaves
Ingredients
6

Cups

Warm Water

2/3

Cup

Olive Oil

1

Cup

Honey

2

Tablespoons

Dough Enhancer

2

Tablespoons

Wheat Gluten

2

Tablespoons

Salt

2

Tablespoons

Dry Instant Milk

2

Tablespoons

Saf Instant Yeast

2

Tablespoons

Lemon Juice

14

Cups

Whole Wheat Flour
Instructions
Start adding the ingredients in the order shown above with one exception into your mixing bowl…start with 7 cups of flour and slowly add more flour until the dough pulls away from the sides of the bowl. I use a Bosch Mixer. I grew up making bread without a mixer..it can be done by hand. I grew up letting my bread rise twice so I still do that. Old habits are hard to break! I mix it for 10 minutes in my Bosch. Cover with greased plastic wrap until it doubles in size. Punch down and form dough into eight one-pound loaves or less if your bread pans are larger. I let the dough rise one more time with greased plastic wrap. Bake the bread at 350 degrees for 27-30 minutes. If your pans are larger you will bake your bread longer. You will love making whole wheat bread, I promise!!
Two (one-pound) Loves Recipes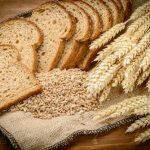 No-Fail Whole Wheat Bread For Two by FSM
Servings
:
2
one pound loaves
Ingredients
1 1/2

cups

warm water

2

tablespoons

olive oil

1/4

cup

or so of honey

1/2

tablespoon

dough enhancer-

optional-this makes fluffier rolls or bread  My favorite: NutriMill Dough Enhancer

1/2

tablespoon

wheat gluten-

optional-this makes fluffier rolls or bread  My favorite: L'Equip Wheat Gluten

1/2

tablespoon

salt

1/2

tablespoon

dry instant or powdered milk

1/2

tablespoon

SAF instant yeast

1/2

tablespoon

lemon juice

3-1/2 to 4

cups

whole wheat flour

Instructions:
Instructions
I literally dump everything in a bowl and start mixing with a bread mixer, bread machine or by hand. Knead for 10 minutes. NOTE* You do not bake your bread in the bread machine. You grease your pans and mold your loaves to fit your pans. Cover with a clean wet towel or greased plastic wrap. This recipe will make two-1 pound loaves. Let them rise and bake at 350 degrees for about 27-30 minutes.
Whole Wheat Bread
Here's my recipe if you need it: Whole-Wheat-Bread Recipe or my recipe for two people: Whole-Wheat-Bread-For-Two Recipe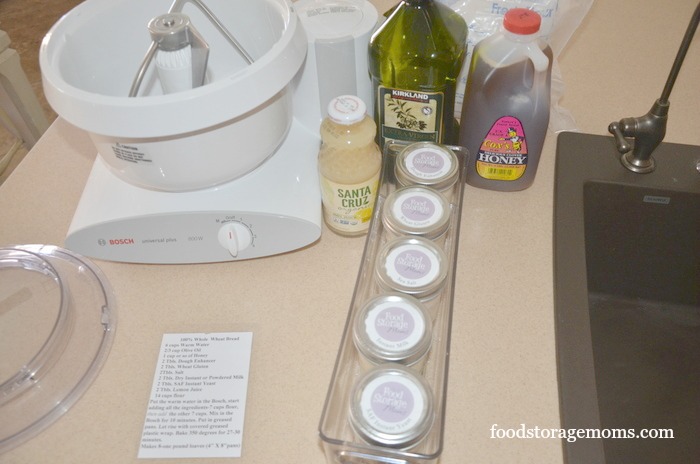 I store my wheat in the freezer until I am ready to make bread. I store my dough enhancer, wheat gluten, salt, instant milk, SAF instant yeast in the container shown above. The jars are half pint regular mouth mason jars: Ball Canning Regular Mouth Half Pint Canning Jar 8 oz. 12-Count I store my lemon juice in the refrigerator as well.
The olive oil and honey I store in my pantry. All you need is a tablespoon, 2/3 cup measuring cup, and a one-cup measuring cup as well. I turn the kitchen faucet on to get my six cups of warm water and dump it in my Bosch bread mixer. I use these ingredients to make my eight loaves. I dump everything in order into the Bosch bread mixer.
My Whole Wheat Bread Ingredients
Please use fresh ingredients, my motto is when in doubt throw it out.
6 cups Warm Water
2/3 cup olive oil
1 cup honey
2 tablespoons dough enhancer L'Equip Dough Enhancer I buy six at a time, typically, and store them in my freezer.
2 tablespoons wheat gluten  L'Equip Wheat Gluten  I buy six at a time too and store them in my freezer.
2 tablespoons salt
2 tablespoons dry instant milk
2 tablespoons Saf Instant yeast Saf Instant Yeast, 1 Pound Pouch I buy six at a time and store them in my freezer.
2 tablespoons lemon juice
14 cups whole wheat flour (I start with 7 cups then I add the other 7 cups) I had to use 16 cups of whole wheat flour in Flagstaff, AZ. because of the altitude when I stayed with my daughter and her family and I made this bread recipe.
This picture below is the first step: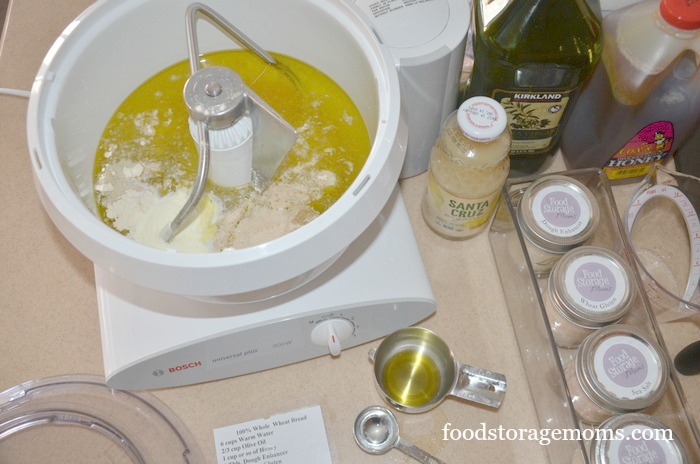 This is the second step, I turn it on and slowly add more flour.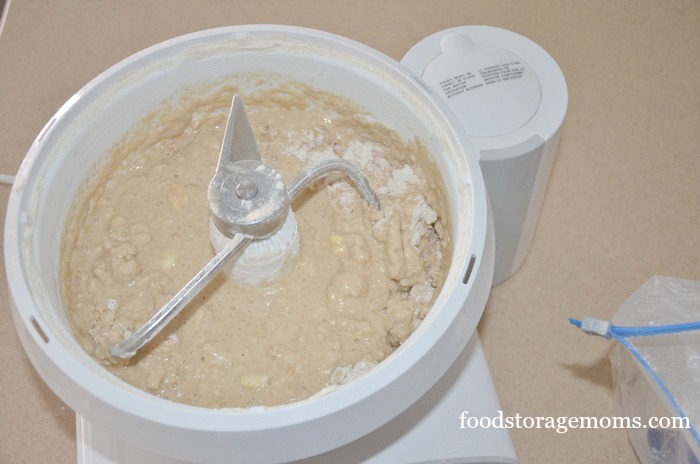 The third step I add the rest of the flour until the dough pulls away from the sides of the bowl. Here again, if I need to add an additional 1/2 cup or so of whole wheat flour I add it until the dough pulls away from the sides of the bowl. Let the bread dough mix for ten minutes.
Please do not leave your mixer unattended. Trust me, they have jumped off a counter at a class I taught. I had asked my helper to watch the mixer while I was getting the pans ready to bake and she didn't realize I really meant watch the mixer. I still get the giggles thinking about that class. Not the chipped bowl though.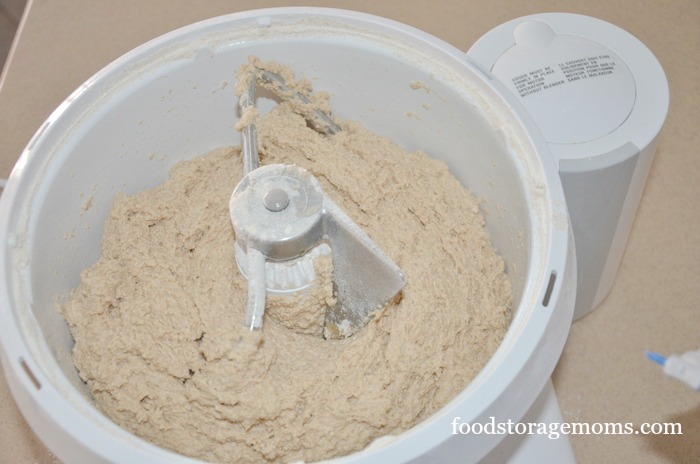 This isn't the fourth step, but I wanted to show you how easy it is to clean your Bosch mixer parts. I clean as I go with my bread making. I use hot water and my kitchen sprayer so I don't find bread dough in my washing machine from using a wash rag to clean up my bread making tools.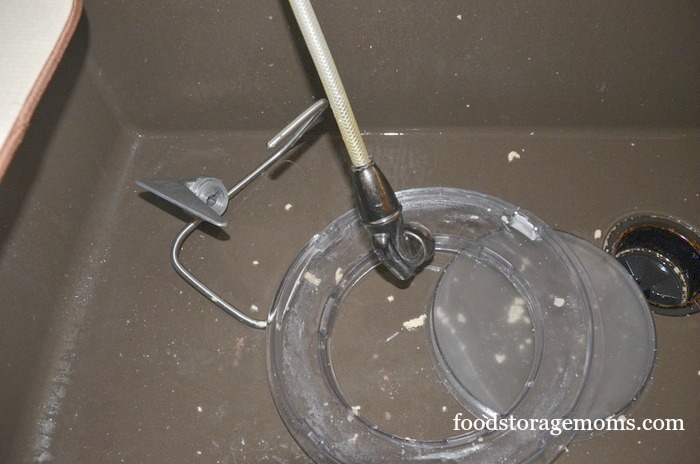 This is the fourth step, I tip the bread mixing bowl and use my hands to bring the dough onto my greased countertop. I use vegetable spray on the counter. I punch the bread dough down and turn the edges into the center and push it around, I guess you could say. I flip the mound over and get ready to cut the dough.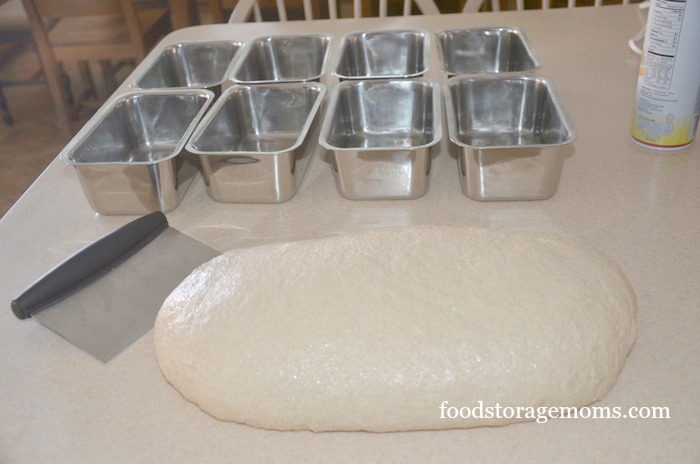 The fifth step is to cut the dough. I learned this trick at one of the stores where I used to teach how to make bread. No more pulling bread dough to make a loaf. Just giving you the heads-up here. I use this as dough scraper: OXO Good Grips Multi-purpose stainless steel scraper & chopper I basically take the chunks I have cut and spray a little more vegetable on the counter to mold the dough pieces into a loaf shape with the smooth side up in the pans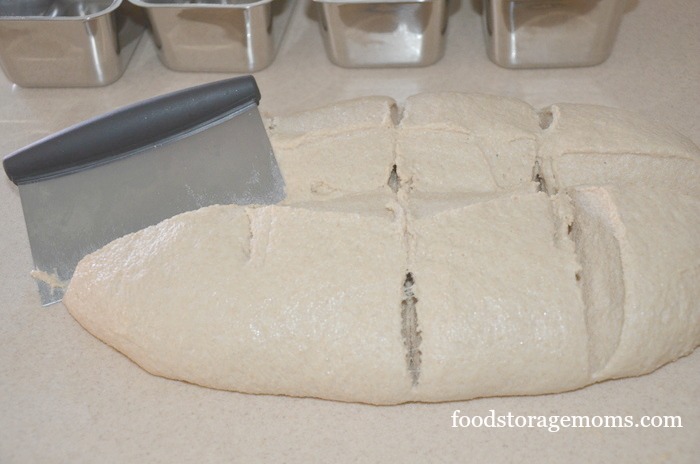 I do not weigh my loaves, but I do try to make them equal in size. I use what turns out to be close to one pound loaves. I cannot buy these stainless steel pans anywhere. These are taller on the sides than the ones I see at kitchen stores these days. I have had these pans for years. The closest pan I can find as far as the size is this one: Fat Daddio's Anodized Aluminum Bread Pan, 7.75 Inch x 3.75 Inch x 2.75 Inch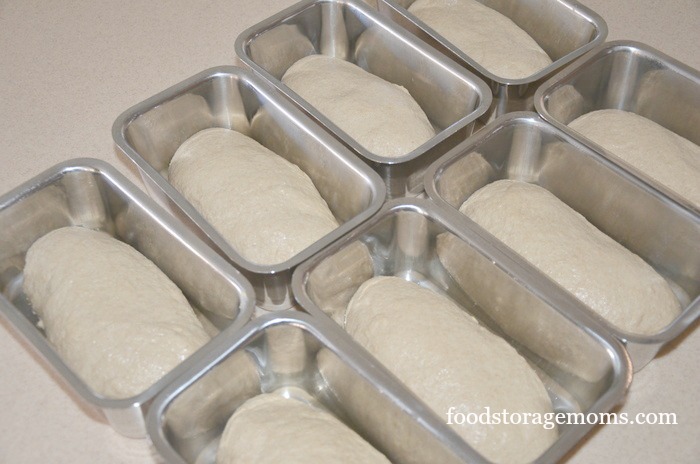 The sixth step is to cover the pans with greased plastic wrap and let the loaves rise until double the original size, give or take. You can use the thumbprint test if it stays down the bread is ready to bake.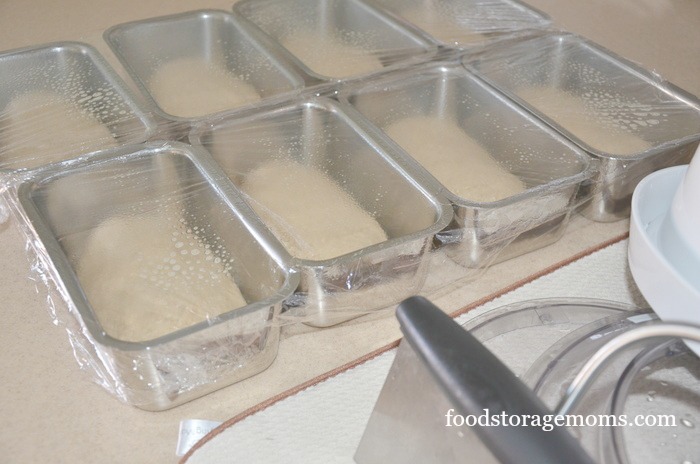 Now you wait.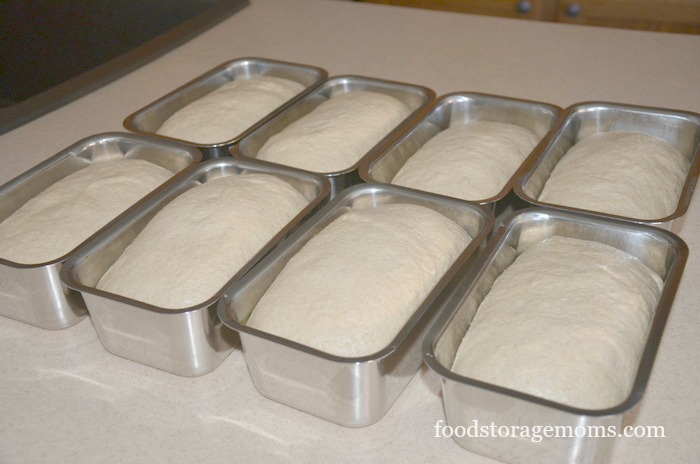 The seventh step is to remove the plastic and place the loaves in a preheated oven at 350 degrees for 30 minutes, or until golden brown. It sounds like it takes forever to make bread, it doesn't, it takes me 15-20 minutes to assemble, mix for ten minutes and mold the loaves to let rise. After I bake my bread I use a baggie to cover my hand to spread butter over the hot loaves. Life is good if you can make bread.