French Bread-How To Make In One Hour Start To Finish
How To Make French Bread In One Hour Start To Finish! When my girls were little they would sell this French Bread door to door as well as at Bake Sales at school. All of my girls are very outgoing and hard workers. I really think between all the canning, gardening and the selling of French Bread to people taught them a really good work ethic. Today, I don't think I would have them sell door to door….boy, how things have changed. Of course, schools only want store purchased products to be brought into the school, even for birthday treats. My oldest daughter, Alli reminded me that we sold one loaf for $.75….how times have changed…
It got to a point that the girls were taking orders for the bread…..gotta love it! They were real entrepreneur's back then!
Only Six Ingredients For The French Bread:
Please make sure all of your ingredients for the French Bread are fresh. If your yeast or flour is old the bread will not rise as you would like it too! You literally mix the ingredients. Let it rest 15 minutes. Make the loaves and let rise another 15 minutes. Bake for 15 minutes! Yummy! The texture is soft and the taste delicious.  Try some with butter and jam.  We like blackberry!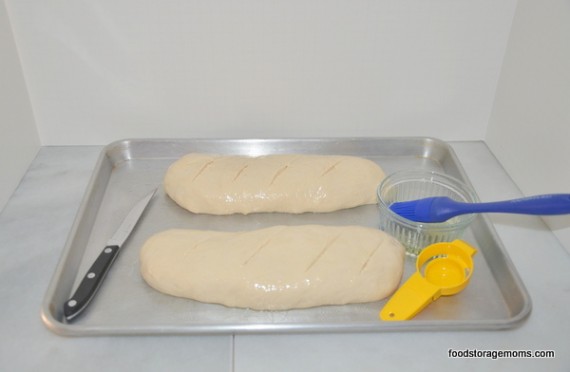 Here I have shaped the loaves, slathered with egg whites, and made a few shallow cuts. One more bread rise and they are ready to bake! You can make this no-fail French Bread and serve it hot from the oven in one hour. Make a pot of soup and your dinner is ready in no time. Doesn't everyone love hot bread?
French Bread Pans-My Favorite Ones.
How To Make French Bread In One Hour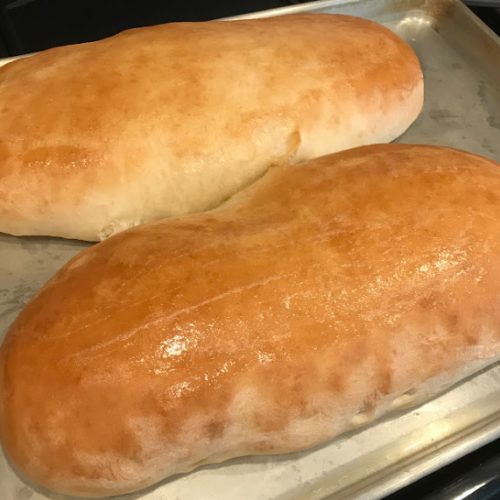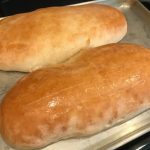 How To Make French Bread In One Hour by FSM
Ingredients
2-1/2

cups

hot water

4

teaspoons

SAF instant yeast

3

tablespoons

sugar

1

tablespoon

Real Salt

6

cups

white BREAD flour or freshly ground hard white wheat

egg whites (lather loaves with a brush after first bread rise/cut 4-5 shallow cuts on top of loaves)

sesame seeds or poppy seeds (optional sprinkle on egg whites before the 2nd bread rise time)
Instructions
Mix everything in the order shown except the egg whites and optional seeds. Knead for about five minutes in a bread mixer. Let rest for 15 minutes covered. Shape the dough into 2 loaves and place on a greased cookie sheet. Lather the tops of the loaves with the egg whites, cut four to five shallow cuts on top of the loaves. Next, sprinkle seeds if desired. Let rise one more time for about 15 minutes. Preheat the oven to 400 degrees and bake for 25 minutes.