How To Use Wheat Grinders
Today's post is about how to use wheat grinders. Here's the deal, I feel a sense of urgency to teach people a wide assortment of things to help them become more self-reliant. I realize a lot of people know and use several self-reliant tips, but I learn great tips from my readers and I want to return the favor.
By updating this post from a few years ago I am going to share what I know and I would love to hear tips from you.
So let's get started with wheat grinders/mills today. One is electric and grinds/mills wheat to make flour only. The other hand-powered one can grind/mill grains, make cereal, nut butter, and so much more. As most of you know, I love making bread. I've been making different kinds of bread my whole married life, over 50 years.
I'm convinced that if a family can make their own bread, they can survive just about anything. To make bread you need flour, and why not be truly self-reliant by grinding your own wheat into flour. I know some of you have issues with gluten, I understand the challenge. There MAY be one or more of the grains available that will be safe to grind into flour for your use.
Be willing to do some research and learn the many types and ways bread is made throughout the world and add bread making to your repertoire of meal planning and preparation.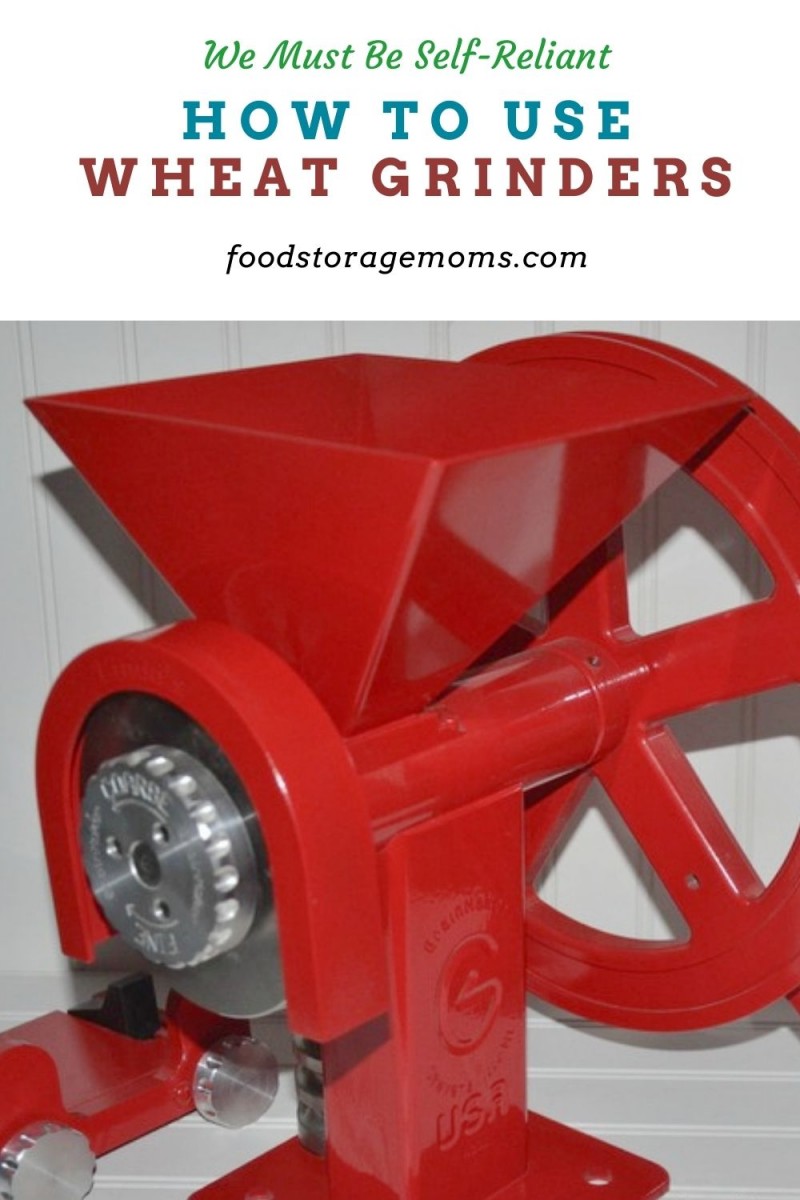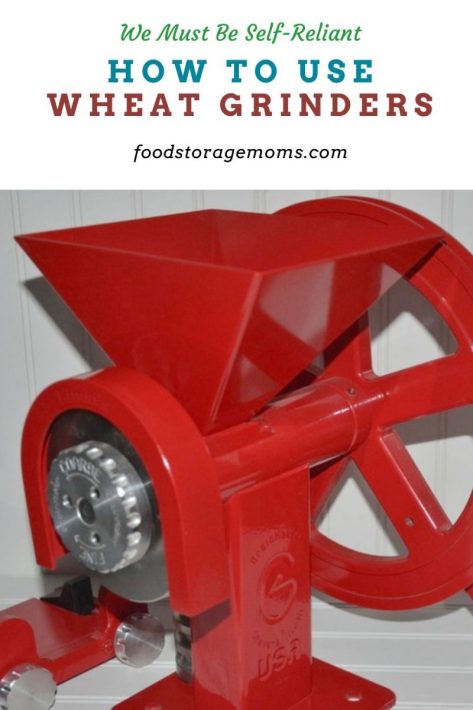 In case you missed this post, Wheat: What You May Not Know
Wheat Grinders
Hand-Powered:
As the story goes, Bonnie Jones wanted to start being more self-reliant and decided she should have a hand-operated grain mill to be the best prepared. She and her husband Randy looked all around for a good quality grain mill they could rely on. After much searching, they never come up with a unit they liked.
Randy decided to build one on his own and thus was born The GrainMaker Mill. That was back in 1998 and no one ever thought it would become the basis for a variety of products that are sold all over the world from their plant in Stevensville, Montana. The company affectionately refers to the GrainMaker Mill as "Hand-Powered Goodness" on their GrainMaker Mill Website.
I'm almost giddy over this mill. I saved my money for two years to buy it. I always try to look into the future when I make purchases of any significant size. My food storage standards are pretty high and I looked high and low for just the right hand-powered crank mill. This is the one I chose. I absolutely love how it works and the quality is top-notch!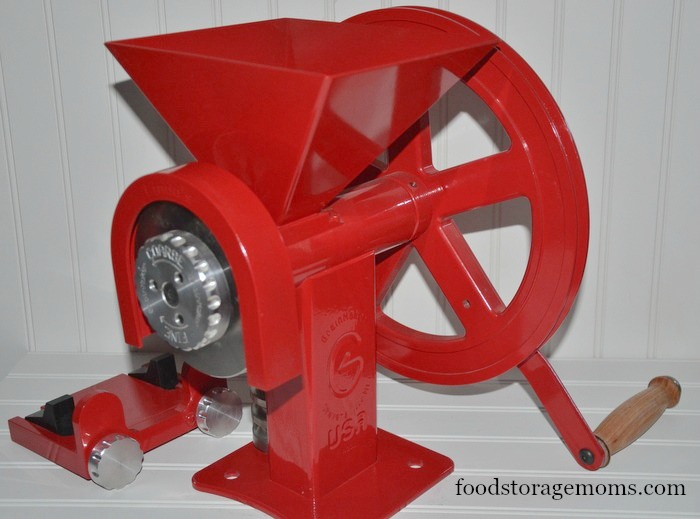 Today I picked up the phone and called Bonnie at The Grainmaker Mill Company in Stevensville, Montana. I had a few questions for her and we had a fun chat about this fabulous GrainMaker Mill. She and her family make these hand-crank wheat mills. I bought my GrainMaker Mill back in 2011. I wanted one that I could hand grind/mill wheat and many other grains. The GrainMaker can mill the following items:
Wheat: hard red winter, soft red winter, hard red spring, hard white, soft white, and Durum. You can also grind Kamut (Trademark) and Spelt.
Corn: my friend Kathleen grinds her own corn and makes the best cornbread in the world.
Rye: I love making rye bread, and you will too.
Rice: you can make rice flour and use it as a thickening agent.
Barley, Buckwheat, Quinoa, and Millett: it's amazing how many different grains we can mill!
Oat, Groats: so many people are using oat flour these days.
Flaxseed: yes you can grind Flaxseed in this baby!
Beans: bean flour is great for those with gluten issues (use the GrainBreaker auger).
Coffee: make a fresh brew using the GrainBreaker auger to grind the beans how you like them ground.
Nuts: (not refrigerated or frozen ones, let them rest until they are room temperature). Do you love nut butters as much as I do?
Dehydrated tomatoes, potatoes and other vegetables.
Below you can see the inside of the hopper that holds the grains for milling with the coil auger peeking up from the bottom. This unit comes with two different augers. One is the coil auger that is used for grinding small grains like wheat, barley, and rice. The other is the GrainBreaker auger, which is for grinding corn, legumes, coffee beans, dehydrated foods, and nuts. Be sure and fill the hopper with wheat or whatever you are grinding before you start turning the handle clockwise.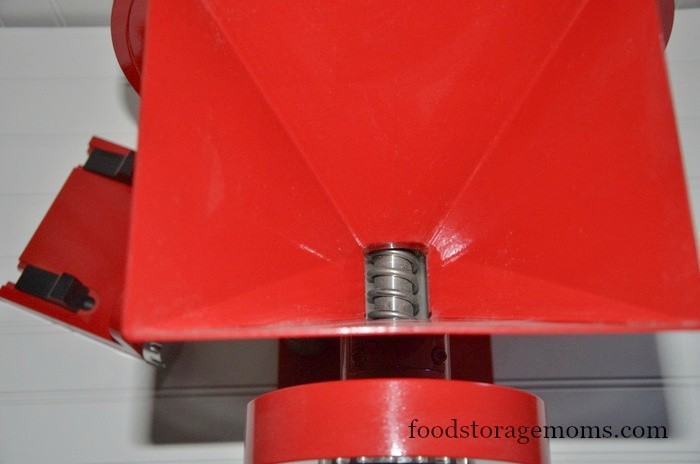 Below you can see the front burr and the stationary burr with the adjustable click and lock knob. The burrs grind or mill the grains. You can make the grain a variation from coarse to fine, it's your choice. You can make cracked wheat cereal that I'm sure your family will enjoy as a breakfast option!
It has a removable dust cover where the company can engrave a name or saying that is special to your family. It's truly a family heirloom that can be handed down from generation to generation. I opted to put my name: Linda's (see picture).
I use the clamp below to secure the mill to most countertops without damage. It works great on my countertop. Place the mill in the location that best works for you, place the clamp over the edge of the Mill base and turn the knobs until the clamp and Mill are secure. You can use some shelf liner under the mill for added grip and counter protection.
Clean up is easy, I use a dry cloth to dust it, and the cleaning brush provided comes in handy for those tight corners and crevices. If you do "nut butter," there are more steps to cleaning, but they are really quite easy steps, in my opinion.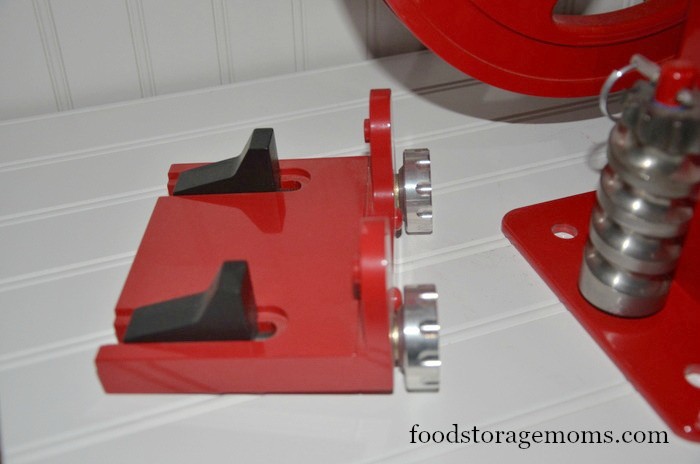 Electric Wheat Grinder:
This is the NutriMill/L'Equip electric mill I typically use when I grind my hard white whole wheat berries into whole wheat flour. I make eight loaves at a time and I am too impatient to wait for all the flour I need by hand cranking with the grinder above.
I believe in having more than one way to grind or mill my grains. I chose this one because I used to teach classes at a Bosch Store and this is the one they sold. I love it. The reason I make eight loaves is that I give a few loaves to people in the neighborhood. Who doesn't love a hot loaf of bread from the oven, right? This is the brand: NutriMill Classic Grain Mill
There is a picture below of the hopper where you put the grain to be milled. I grind 20 cups of wheat berries at one time. I then store the flour in freezer bags in the freezer until I have time to make my whole wheat bread. I have very busy days and this works the best for me. Note that you can't grind or mill Flax seeds or any other oily seed as indicated on the green sticker located on the unit. You can, however, mill the following grains:
Wheat (both hard and soft)
Oat groats (dehulled oats) great for making oat flour.
Rice, you can make rice flour and use it as a thickening agent.
Kamut (Trademarked)
Spelt
Dry beans
Lentils
Dent (field) corn, popcorn and dried sweet corn.
Buckwheat, barley, rye, millet, and quinoa.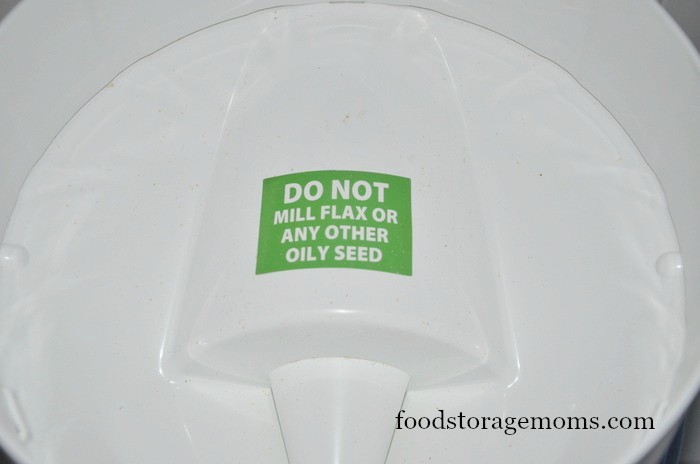 The picture below shows the flour "bowl" and the gray sponge-like part on top that you will need to keep clean to keep the air flowing properly and help the unit stay cool while milling.
The way I clean the part is by "tapping it against the bowl" until I can see the gray sponge without excess flour. I use a soft brush to clear out the "flour" in the bowl and the chamber that holds the bowl. I never wash the bowl or lid because I use it every other week. I did wash the bowl and lid when I originally purchased it, but that's the only time.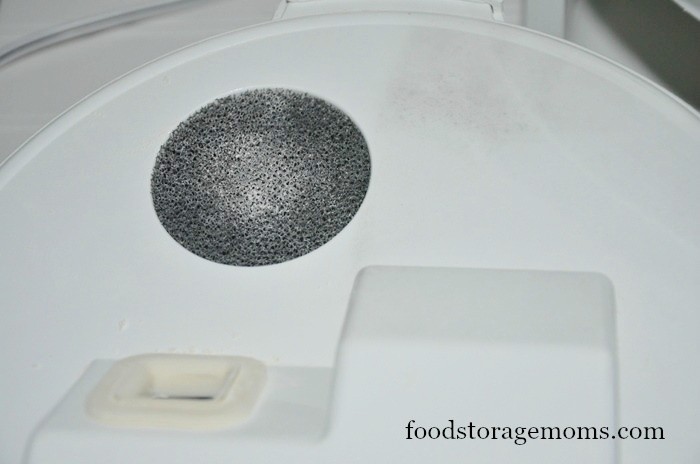 Although it's hard to see, the picture below shows some YES and NO lines. YES means the bowl is inserted in the chamber correctly. NO means you need to push the bowl in further or you will have flour blowing everywhere. Just giving you the heads-up here. It will only happen to you once……LOL!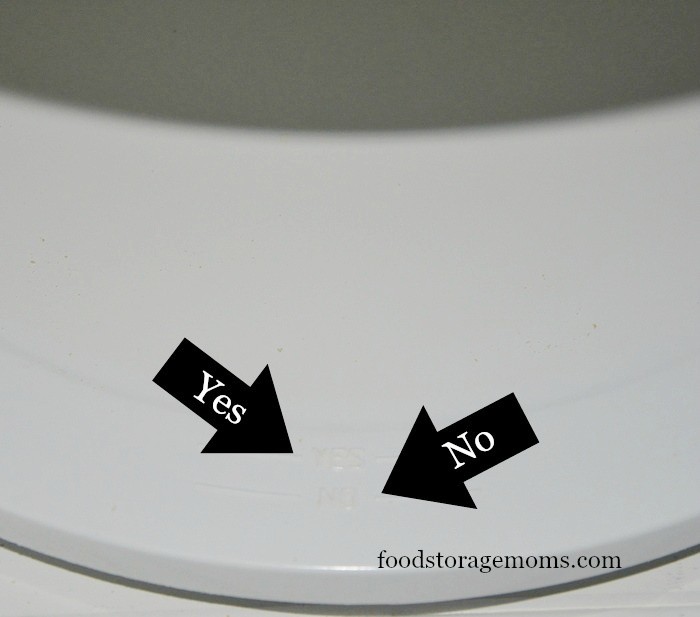 The picture below shows the control buttons to turn on the mill motor and to adjust the rate the mill feeds the grain to be milled. I never change the lower button, only the top one. I barely turn the top button counter-clockwise and the mill turns on when plugged in.
You MUST have the wheat berries in the mill BEFORE you turn the machine on so you don't damage the internal parts. I think the grains act as a type of lubricant for the internal parts as the product is being milled. I think the newer models have improved, but this one works great for me.
In case you missed my KoMo wheat grinder: How To Mill Grains & Grind Wheat
Final Word
I hope this helps you realize how easy it is to grind or mill the different grains, whether by hand or using electricity. If you can learn to make bread you can survive almost any disaster or hardship that comes your way. You can barter a loaf of bread and save money every month on groceries. Let me know if you have one or more wheat grinders. I love to hear your ideas and tips. May God Bless this world, Linda