How To Prep Your Sun Oven Today Not Tomorrow
I am going to show the world how to prep your Sun Oven today not tomorrow. Here's the deal, I have two of these awesome Sun Ovens. I have a few friends that are a bit nervous about just opening the Sun Oven box and getting started. I got my first Sun Oven from Paul Munsen, the person who designed these awesome ovens. I was a new blogger and he was kind enough to send me one to try out and then show the world how to use it. I have been doing this for about 3-1/2 years now and really enjoy the freedom these ovens provide. I ended up buying a second one from a store here in St. George when they had an awesome sale going on. I figure in my neighborhood there are a few people that will be cooking for the entire neighborhood. Not feeding, mind you, everyone must contribute to the neighborhood food bank if it comes to that. Just giving you the heads up here, we must all contribute. I don't think there is a nice way to say it, but everyone must be prepared for the unexpected. Some people may think the government will deliver food to your door, that's not going to happen, not enough resources. At least for days, weeks or months if we had a grid down, no power, no refrigeration, etc.we will be on our own, prepared or not.
This box that may seem daunting to open or you may feel you don't have time to tackle this project. I get it. But we need these boxes open and the ovens ready to use when we need them. I will show you how to do this step by step today. Get your box cutter or scissors and carefully open the box. I borrowed this unopened box from a friend this morning so I could demonstrate what is needed to be done. I'm glad she hadn't had the time to get the box open. It's important for me to show the world how easy it is to get this baby prepped and ready to go.
How To Prep Your Sun Oven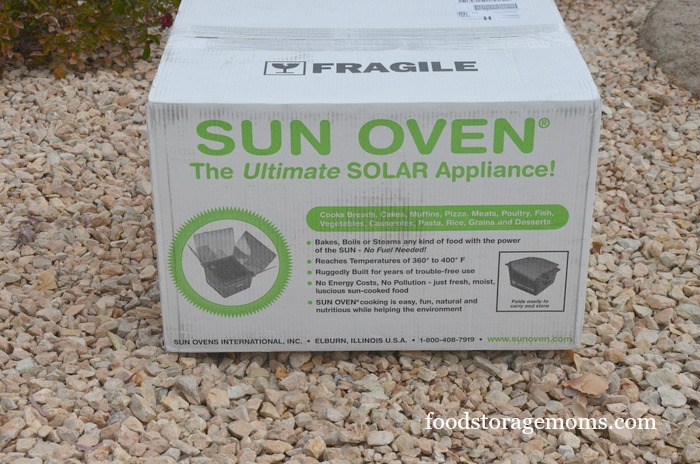 Inside the box you will find the Sun Oven and some awesome accessories. This particular package is from a few years ago so if you don't see this package online that's why. This package has two large bread pans which could also be used for casseroles, brownies, or cakes. I say large bread pans because I use smaller bread pans. These are 9.25in X 5.25in x 2.5in or 24cm X 13cm x 6.5cm. This package comes with two stackable pans with two different lids. One is enamel and the other is glass. You can bake with these stacked on top of each other with just one lid. I love the glass lid because I can watch how my food is baking. It also has three dehydrating racks with one roll of parchment baking paper. Please keep in mind, you can use your own pans as long as they fit in the area available inside the Sun Oven. This is the same model I have. I know the newer ones will hold a larger pan, but this model works great for me. Another tidbit you need to know is we cannot use stainless steel or light-colored metal pans as they will reflect the heat away from the food we are cooking. The darker the pan the better.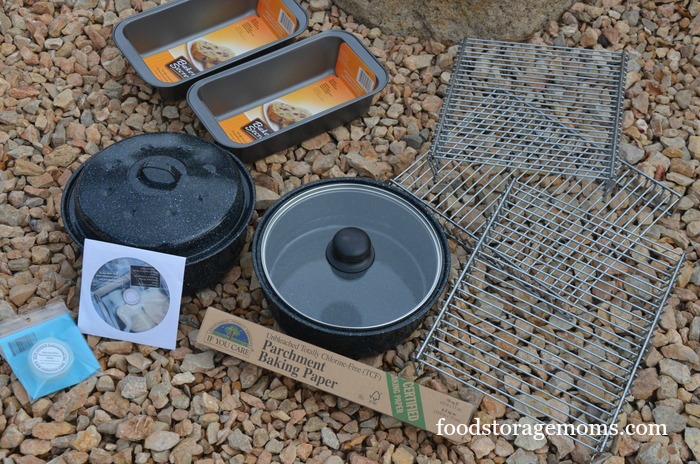 Can you see the blue film? We have to remove this before we can prep the Sun Oven to use outside. I had to use my fingers to pull the tiny pieces away from the rivets after removing the large blue sheets of film from the panels. That black strap you can see with a snap is the deal you use after you close down the oven (the glass top and the solar panels) and secure it for storage.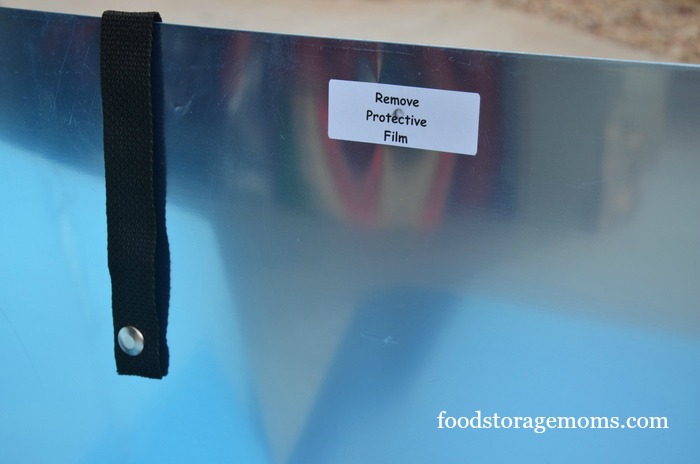 All of this blue film I had to remove. It only took me a few minutes.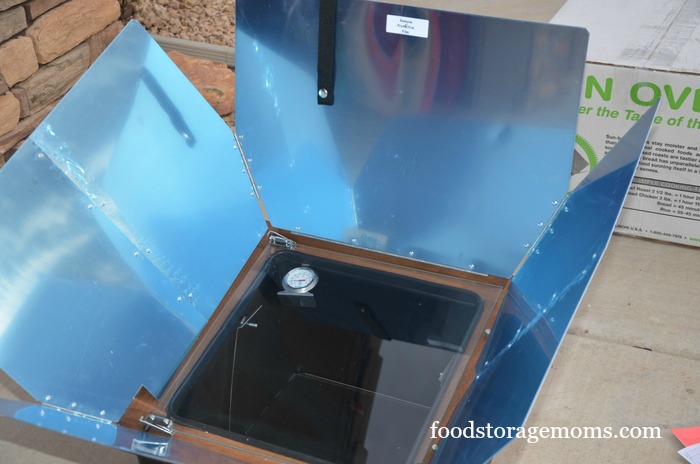 Next I decided I needed to wash the bread pans, baking pans with lids, and dehydrator racks with hot soapy water. I then rinsed and dried them.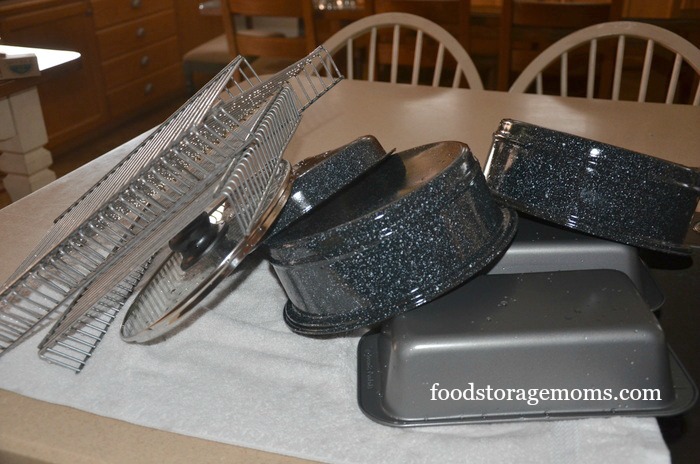 The next step was to set up the Sun Oven outside for about 30 minutes to start heating up so I could use it for the next step. You take 3 cups vinegar (I used white) and put it in one uncovered pan in the oven for 90-120 minutes.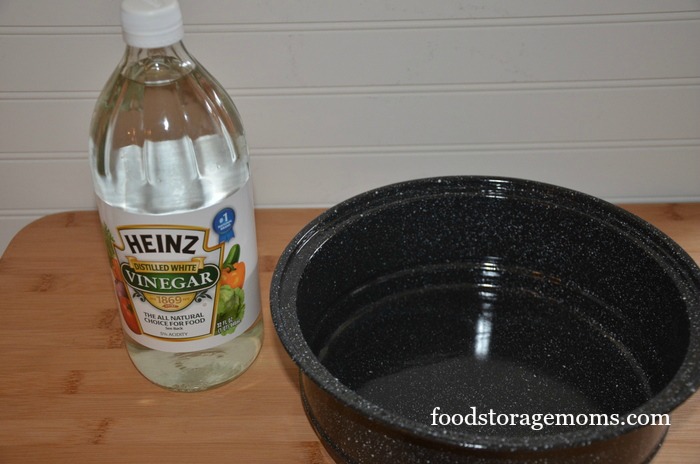 You can see the uncovered pan with the vinegar inside this oven here. I had trouble today getting the temperature up to 350 degrees because the day was little overcast. When it hit 325 degrees I started my two-hour countdown to bring the vinegar to a boil. I patiently waited for the sunshine to peek through the clouds. This is another reason I recommend having more than one type of cooking device when we lose power. Thanks to a reader, Shana asking why we need vinegar in the prep process. It's basically to clean the inside of the oven after it's been shipped to you. I cut and paste this from the Sun Oven website and I quote "Before you start cooking, the first time you use the oven, it is best to leave it in the sun for 90 to 120 minutes with an open pot of vinegar (3 cups of straight vinegar). The glass door should be closed and latched down and the vinegar will steam the oven chamber. After the oven has been pre-heated, completely clean the inside of the chamber and the inside of the glass door with the hot vinegar. While cleaning, it is best to scrub hard on the interior of the glass around the area where the glass meets the black gasket. Now you're ready to start cooking."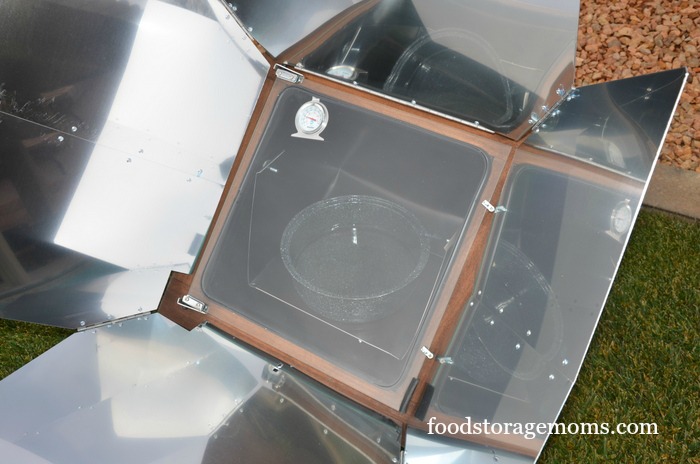 This shows the little thumbscrew we use to secure the solar panels in place.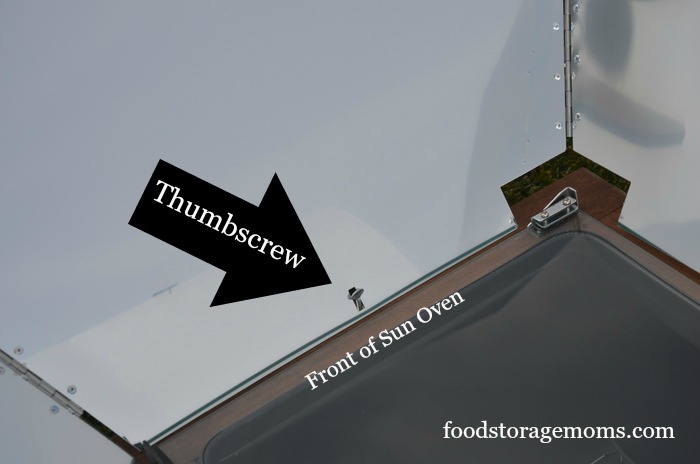 You can see this model has a "leg" on the back to raise or lower to catch the most sun rays at the correct angle. I used a permanent red magic marker so I can line up the button that pops through the holes on the bracket shown above the extension leg.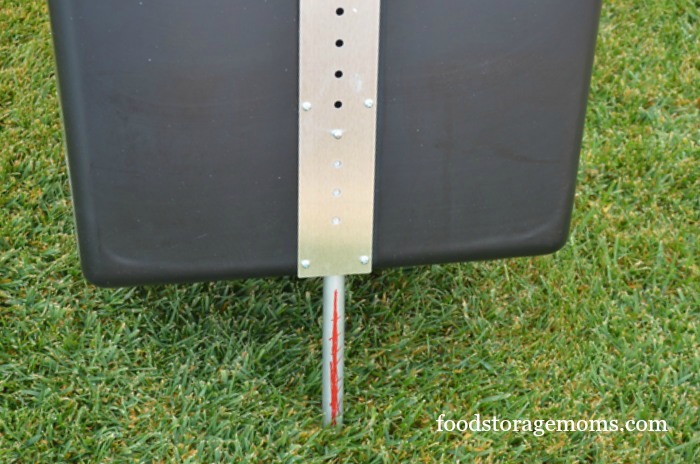 Now, I like everything organized, so of course, I have to put all my friend's accessories in this bag. I buy these bags: Set of 2 Medium Chests 12 Guage Vinyl 12x16x8 each
 I used these same bags to store my 72-hour kit food. You will want some oven gloves similar to these: [Revolutionary EN407 Standard] Gulife oven glove withstands heat up to 662F over 15S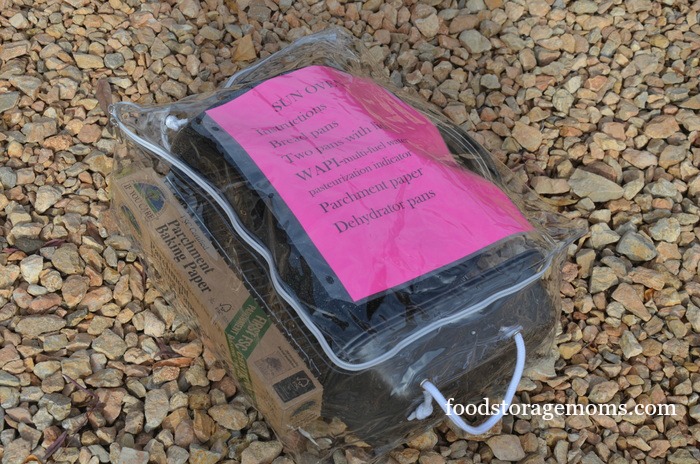 I hope this post today helps you get out your Sun Oven and get it ready if you have it sitting in your garage. Please do it today, you may need it tomorrow. Thanks for being prepared for the unexpected.