How To Make A Dutch Oven Stand Cheap
Today I'm going to show you how to make a Dutch oven stand cheap! My awesome brother-in-law, Duane S. made this Dutch oven stand for Mark and me about 25-30 years ago. It is the perfect solution for cooking with Dutch ovens, or even roasting marshmallows. I can add a grill to the top and grill some hamburgers or hotdogs.
Here's the deal, I like being able to use this Dutch oven stand to cook meals with every one of my Dutch ovens (all different sizes). It's the perfect height to stand and check the food that's cooking without leaning over the rocks on the ground.
I updated this post I wrote back in 2016 since we are all trying to cook outside and I thought it would be good to show others how to make one of these. They are great for cooking in your yard or to take camping. In case you missed this post, The Best Dutch Oven Pizza Recipe
How to Make a Dutch Oven Stand Cheap
Duane took a tire rim that is approximately 15 inches wide in diameter. He welded 3 short legs, about 6-inches tall and about 1-3/8 inches in diameter, inside the rim. The other three legs are 24-inches long and 1-1/4 inches in diameter and fit inside the shorter ones. In case you missed this post, How To Use A Dutch Oven
Duane made it so we can take the three 24-inch legs out and travel easily with this little barbecue, or Dutch Oven Stand, in a car or truck. It's really easy to store in the garage because it comes apart. It is extremely sturdy. He cut a metal grate and welded it so it is stationary inside the tire rim to hold briquettes or firewood.
If you had another grate/grill for the top you could barbecue on it. We use this mainly for the Dutch Oven, or sometimes we roast marshmallows or hot dogs with a skewer over the flames.
Dutch Oven Cooking Printable
Dutch Oven Cooking Times by Food Storage Moms
How to Make a Dutch Oven Stand:
Here is the list of the items you will need, check out car salvage companies, and get the pipes at your local hardware store.
tire rim about 15-inches in diameter
3 short legs made from pipe about 6-inches by 1-3/8 inches in diameter
three 24-inch long legs made from pipe that is 1-1/4 inches in diameter
grate to fit inside (you will more than likely need someone to cut the right size)
a welder to weld it together for you, at least the short legs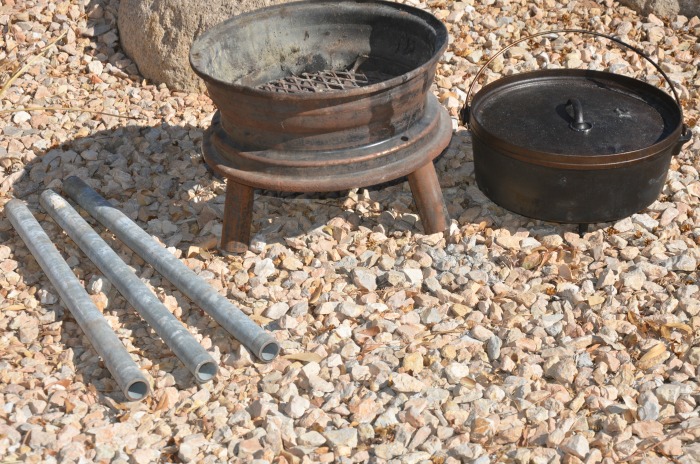 What I really like about this unit is that you can use it with or without the 24-inch extended legs. Of course, you would need to know someone who knows how to weld and has welding tools. Thank you to my brilliant brother-in-law for coming up with this great idea! The extended legs are about 24 inches long by 1-1/4 inches in diameter. This makes me want to cook something this weekend in my Dutch Oven!
Top View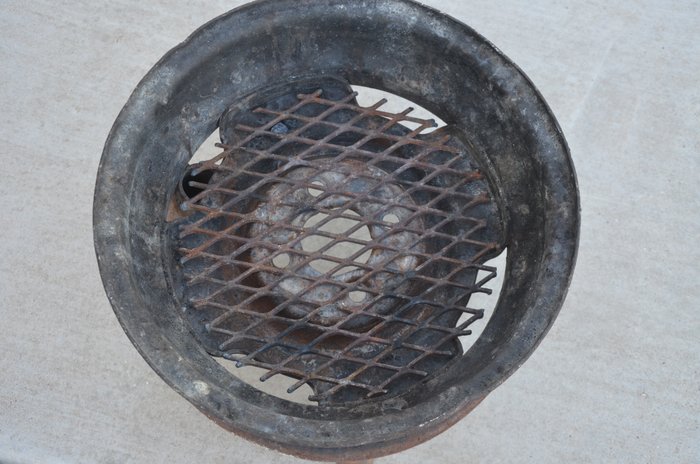 Grill Turned Upside Down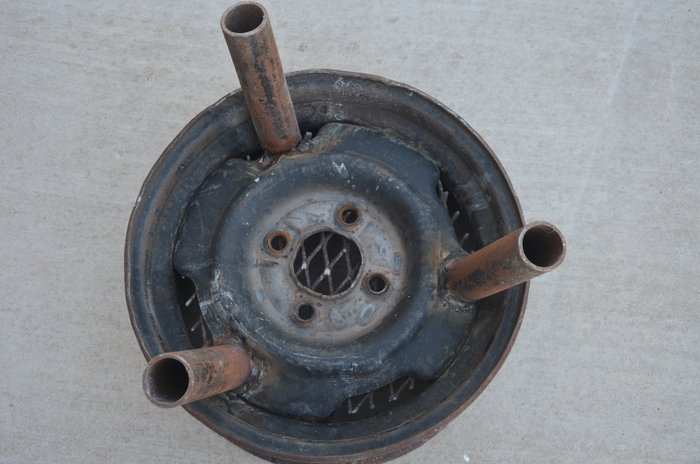 Here are some of my favorite Dutch oven recipes:
Dutch Oven Bread Recipe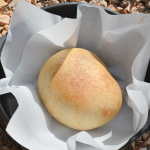 Dutch Oven Bread
Ingredients
Ingredients
1

cup

warm milk

2

teaspoons

SAF Instant Yeast

2

teaspoons

dough enhancer (optional) It makes the bread fluffy

1

egg

1/8

cup

olive oil

3/4

teaspoon

salt

1/4

cup

sugar

1/4

cup

warm water

3 to 3-1/2

cups

white bread flour
Instructions
Instructions
I start with a Bosch bread mixer, although you could make this in a bowl. I put the yeast, warm water, salt, oil, and sugar in the bowl. I then add the eggs and lightly mix it in the Bosch so the egg does not "cook". Then I add the warm milk and flour slowly. I continue to add flour until the bread dough pulls away from the sides of the Bosch bowl. I knead for about 7-8 minutes. I place the dough in a greased bowl and cover with plastic wrap. I let the dough rise until double the original size. I punch down the dough and shape the loaf in a greased or parchment paper lined 6-quart Dutch oven. I let it rise once again (using the same plastic wrap) until it doubles in size and then I bake it at 350 degrees for 27-30 minutes or until lightly browned. I lightly butter the top after baking.
Dutch Oven Biscuit Recipe
Dutch Oven Biscuits
Ingredients
4

teaspoons

SAF  instant yeast

1/4

cup

sugar

1

teaspoon

baking soda

2

cups

buttermilk

5

cups

flour

1/2

cup

warm water

1

cup 

butter softened
Instructions
I dump everything in a large bowl in the order shown above and use a Danish whisk and then use my hands. I add more flour as needed. I sprinkle flour on the counter and knead the dough quickly and roll out to 1/2 inch thick. I use a cookie or biscuit cutter. Grease a cookie sheet or Dutch oven. Bake in the house at 425 degrees for 12-15 minutes. If you use a 6-quart Dutch oven outside to bake them use 10 briquettes on the bottom and 14 briquettes on the lid or top. Bake for 10 minutes or until lightly browned.
Dutch Oven Peach Cobbler Recipe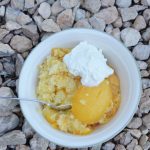 Dutch Oven Peach Cobbler
Ingredients
Ingredients
1

29-

ounce can of peaches (halves or slices)SAVE THE JUICE IN A BOWL

1

21-

ounce can peach pie filling

1

yellow cake mix (I prefer Duncan Hines)
Instructions
Instructions Instructions:
Drain the juice as stated above and place the peaches in the Dutch oven (I used vegetable spray before adding the peaches). Put one peach sliced in the juice you set aside. Spoon the pie filling over the peaches in the Dutch oven.

Now you take the bowl with the juice with one sliced peach and add the cake mix. You follow the cake directions (but you don't need the eggs). Spread the batter over the peaches evenly in the pan. By now the briquettes should be ready to bake our cobbler. Bake at 350 degrees for about 30-35 minutes or until the cake pulls away from the sides of the Dutch oven. If cooking outside with charcoal you will use 17 charcoals on the lid and 8 charcoals beneath the oven to make it 350 degrees if the pan is 12-inches in diameter.
What Makes a Dutch Oven So Special?
Dutch ovens are simply amazing because of their versatility. This makes it a kitchen essential that you may not know you've been missing out on all this time. They work for boiling, baking, roasting, browning, searing, deep-frying, and have plenty of space in them for cooking big pieces of meat. Dutch ovens also distribute their heat evenly within and are capable of retaining its heat for a longer amount of time.
What Food Turns Out Best in a Dutch Oven?
Dutch ovens work great when you're making chili, stew, and especially when used for braises. If you don't have a deep fryer, that's okay. Fried chicken tastes fantastic in a dutch oven as well, because the chicken is cooked evenly so you're not left with under or overcooked portions of meat.
Is It Safe to Put a Dutch Oven in the Kitchen Oven?
A Dutch oven is both durable and heat tolerant, as it can handle hotter temperatures. So the answer is yes, it will work perfectly fine when you place it in the oven. Just be aware that the knob on the lid of it may not be able to handle temperatures that exceed 400 degrees, so be sure that you remove it before baking.
For How Expensive They Are, are They Worth Having?
If you've done your research, you already know that Dutch ovens can be a little expensive vs other cookware, but I promise you that it will be worth the investment for how long they last. Seriously, they'll last you a lifetime. For those of you who are on an extremely tight budget, I'd still encourage you to get one that's made by Lodge, where you'll spend anywhere between $50 and $100. Keep your eyes open for Dutch ovens when you visit your local thrift store or at estate sales.
Mistakes to Avoid with Your Dutch Oven
While a Dutch oven is extremely versatile with all the different cooking methods you can use to prepare your food, there are a few things that you need to remember. The following are some of the most common mistakes that people have made with their dutch ovens that you should avoid so that you too, don't wind up damaging yours.
Unless you're boiling water, never put your Dutch oven over high heat. It will not only burn your food, but it may scorch the surface of your dutch oven as well. Preheating it when it's empty isn't good for similar reasons. If you were to use metal utensils, you'll most likely scratch the finish.
It's also best to wash your Dutch oven by hand instead of putting it in the dishwasher where the heat and soap chemicals may be too much for it. And lastly, make sure that you thoroughly dry your dutch oven with a dry paper towel after washing.
Food You Should Never Cook with a Dutch Oven
There are so many things that you can use your Dutch oven for, but I also want to be clear on the foods that you should never cook in them. Doing so may ruin your cast iron Dutch oven, or your meal may not turn out right.
Avoid cooking:
Acidic foods (tomato sauce, lemon sauces, and vinegar)
Sticky foods (pancakes, rice, eggs, fish, etc.)
Desserts (They'll wind up tasting more like what you last cooked in it)
Don't store leftover food in your dutch oven (you risk your dutch oven rusting and your food having an unpleasant taste)
First Things First
When you first bring your dutch oven home, try not to be a bit too hasty, and start cooking with it. The first thing that you should do is preseason it so that you're adding protection and flavoring to it.
You can do this by heating it up on your stovetop. Once it's reached a smoking hot temperature, you'll then rub extra virgin olive oil on it and allow it to cool. You can also use canola, flax oil, or plain Crisco shortening, but you don't want to find yourself using butter or flavored shortening.
Go ahead and repeat this process two or three times and you should be good to go. Just be sure that you clean it every time by rinsing. Never use soap when cleaning your cast iron dutch oven. This can alter the seasoning that you've worked so hard to create to make your food taste that much better. From time to time you'll want to season the unit to maintain the protective nature of the cast iron.
How to Make a Dutch Oven Stand Cheap
Final Word
The next time you get curious about a Dutch oven, I hope you're able to take some of these tips to heart. If you've never used a Dutch oven before, maybe it's time to get one and try some of these fantastic recipes. I can't wait to hear all about your experience(s) using one of these. Creating a Dutch oven stand cheap is easier than you ever thought possible! May God Bless this world, Linda.