How To Make A Dutch Oven Stand Cheap

Today I'm going to show you how to make a Dutch oven stand cheap! My awesome brother-in-law, Duane S. made this Dutch oven stand for Mark and I about 25-30 years ago. It is the perfect solution for cooking with Dutch ovens or even roasting marshmallows. I can add a grill to the to top and grill some hamburgers or hotdogs. Here's the deal, I like being able to use this Dutch oven stand to cook meals with every one of my Dutch ovens (all different sizes). It's the perfect height to stand and check the food that's cooking without leaning over the rocks on the ground. Duane took a tire rim that is approximately 15 inches wide in diameter. He welded 3 short legs, about 6-inches tall and about 1-3/8 inches in diameter, inside the rim. The other three legs are 24-inches long and 1-1/4 inches in diameter and fit inside the longer ones.
Duane made it so we can take the three 24-inch legs out and travel easily with this little barbecue, or Dutch Oven Stand, in a car or truck. It's really easy to store in the garage because it comes apart. It is extremely sturdy. He cut a metal grate and welded it so it is stationary inside the tire rim to hold briquettes or firewood. If you had another grate/grill for the top you could barbecue on it. We use this mainly for the Dutch Oven, or sometimes we roast marshmallows or hot dogs with a skewer over the flames.
Dutch Oven Stand Cheap:
Here is the list of the items you will need, check out car salvage companies and get the pipes at your local hardware store.
tire rim about 15-inches in diameter
3 short legs about 6-inches by 1-3/8 inches in diameter
three 24-inch long legs
grate to fit inside (you will more than likely need someone to cut the right size)
a welder to weld it together for you, at least the short legs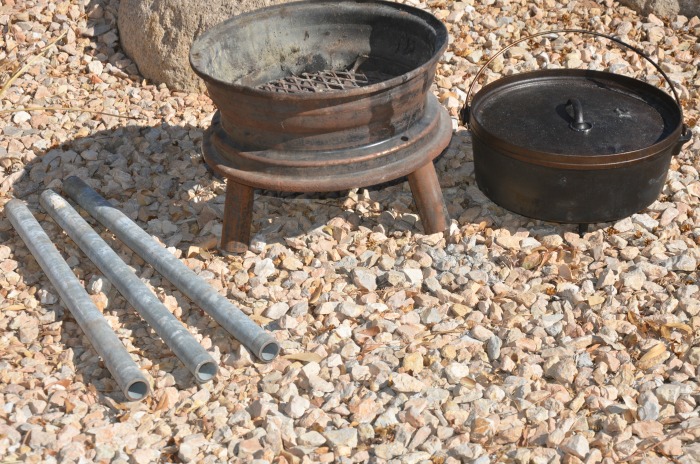 What I really like about this unit is that you can use it with or without the 24-inch extended legs. Of course, you would need to know someone who knows how to weld and has welding tools. Thank you to my brilliant brother-in-law for coming up with this great idea! The extended legs are about 24 inches long by 1-1/4 inches in diameter. This makes me want to cook something this weekend in my Dutch Oven!
Thanks to Claudia (awesome reader) I went outside and took these pictures to help everyone see the inside and the bottom of the grill interior and exterior! Thank you, Claudia!
Top View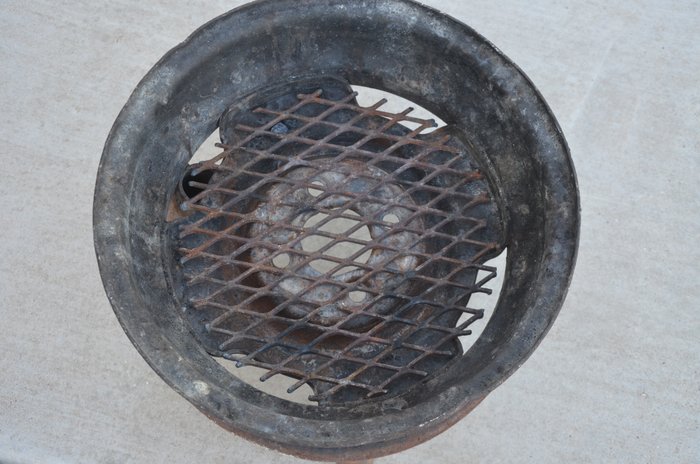 Grill Turned Upside Down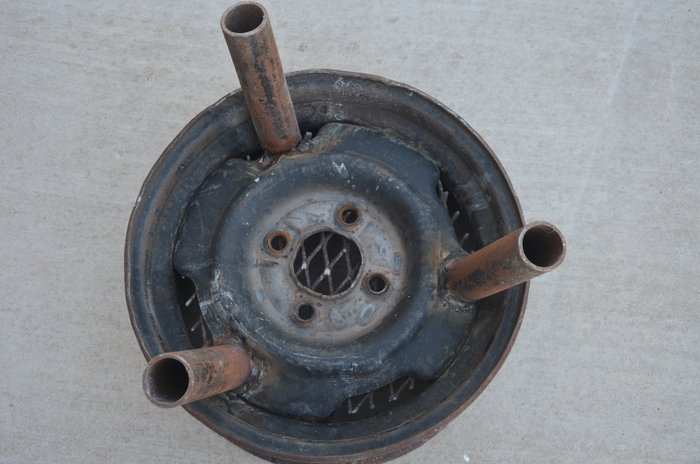 Here are some of my favorite Dutch oven recipes:
Dutch Oven Biscuits:
Ingredients:
4 teaspoons SAF yeast
1/4 cup sugar
1 teaspoon baking soda
2 cups buttermilk
5 cups flour (I can use white or freshly ground whole wheat)
1/2 cup warm water
1 cup butter softened
Instructions:
I dump everything in a large bowl in the order shown above and use a Danish whisk and then use my hands. I add more flour as needed. I sprinkle flour on the counter and knead the dough quickly and roll out to 1/2 inch thick. I use a cookie or biscuit cutter. Grease a cookie sheet or Dutch oven. Bake in the house at 425 degrees for 12-15 minutes. If you use a 6-quart Dutch oven outside to bake them use 10 briquettes on the bottom and 14 briquettes on the lid or top. Bake them for 10 minutes or until lightly browned.
PRINTABLE recipe: Dutch Oven Biscuits by Food Storage Moms
Dutch Oven Peach Cobbler by Food Storage Moms
Ingredients:
1-29 ounce can peaches (halved or sliced), liquid reserved in a bowl
1-21 ounce can peach pie filling
1 yellow cake mix (I prefer Duncan Hines)
Instructions:
Drain the juice as stated above and place the peaches in the Dutch oven (I used vegetable spray before adding the peaches). Put one peach sliced in the juice you set aside. Spoon the pie filling over the peaches in the Dutch oven.
Now you take the bowl with the juice with one sliced peach and add the cake mix. You follow the cake directions (but you don't need the eggs). Spread the batter over the peaches evenly in the pan. By now the briquettes should be ready to bake our cobbler. Bake at 350 degrees for about 30-35 minutes or until the cake pulls away from the sides of the Dutch oven. If cooking outside with charcoal you will use 17 charcoals on the lid and 8 charcoals beneath the oven to make it 350 degrees if the pan is 12-inches in diameter.
PRINTABLE recipe: Dutch Oven Peach Cobbler by Food Storage Moms
UPDATE: I found some very Dutch oven stand cheap (almost free) at the local gas service stations!
Comments from readers:
Claudia: Do you have any other photos of your Dutch Oven Stand Cheap? I would like the see straight down on the inside, and a photo of the bottom, while turned upside down if possible. Thanks,  Linda. I love all your posts!
My favorite things:
Lodge Camp Dutch Oven, 6 Qt
Lodge A5-3 Camp Dutch Oven Lid Stand
Lodge A5DLL Deluxe Lid Lifter
Lodge Pro-Logic P14P3 Cast Iron Pizza Pan, Black, 14-inch
Prepare Your Family for Survival: How to Be Ready for Any Emergency or Disaster Situation