Make A DIY Emergency Toilet That Is Sturdy
Yes, you make a DIY emergency toilet that is sturdy! You can actually sit on it and use it much like you would a regular toilet. I have shared my other emergency toilets comparing the 5-gallon buckets to the 6-gallon buckets. Here's the deal, the 5-gallon buckets are way too short for most people. I recommend at least a 6-gallon bucket because the height is about three inches taller which makes all the difference in the world when you need to squat on the toilet. Now, I have shared several styles of DIY emergency toilets as I do additional posts on the subject, but today, this one will rock the world, literally! When I saw this new DIY  toilet it was a cartwheel moment for me. We had some nieces and nephews over for a visit, and my nephew, Dane R. introduced me to this new version which he made with this new and improved style. He said to me, "Linda, I'm a big guy, and that plastic toilet with the green lid I've seen on your posts may tip over, and I'm afraid my grandkids will topple over when getting on and off." He said, "Let me show you the one I designed." I love this guy! So here we go. All you need is some scrap wood and you can make one. If you know someone with the necessary tools you can pay them to make one. This is for sure one you will want at your home or on a camping trip.
This is by far the best DIY emergency toilet I have ever seen. I'm so excited to share it with you today. Here are the items you will need. If you have a handy person in your family that's awesome. All you need are some scraps of wood and a few tools to make this sturdy DIY emergency toilet. I realize pee and poo are not the most popular topics to talk about, but we have to be prepared to relieve ourselves. Please stock up on toilet paper, cloth diapers, diaper pins, menstrual supplies, and paper towels. Before you buy you decide to construct your emergency toilet you need to buy a regular-size toilet seat or an elongated one and then build around it.
DIY Emergency Toilet
6-gallon bucket (approximately 17.5 to 18-inches tall)
10-gallon bags
Duct tape so you can tape the bag onto the 6-gallon bucket
Regular toilet seat to attach to the new and improved 6-gallon bucket
The toilet paper holder attached to the wooden box
Toilet paper
Kitty litter is the cheapest you can find
Kitty litter scoop to safely remove poo from the toilet until it's ready to replace the 10-gallon bag filled with kitty litter
Black bags to dispose of refuse safely away from any water source (I picture burying or burning the bags)
Wood box made to fit around the toilet with a lip to attach the regular toilet seat and toilet paper holder
Please store bleach for any cleanup, it will last for 9-12 months. We will need it to clean up disasters.
View inside the DIY emergency toilet: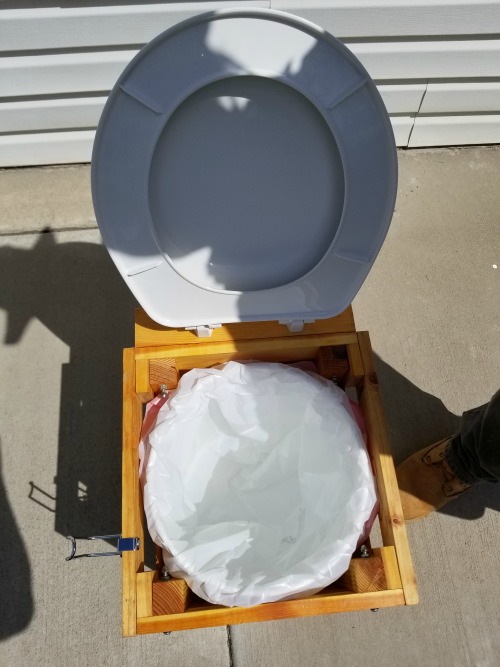 View of how the toilet seat is attached to the wooden box. A real toilet seat on a sturdy base, I love this!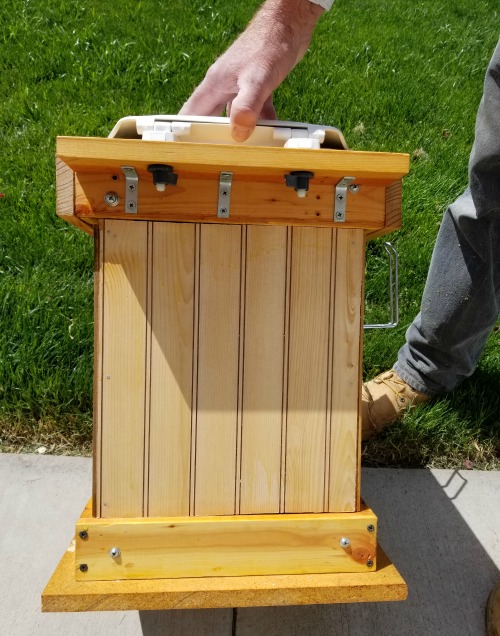 Food Storage Moms original one
Food Storage Moms inside our home
We really need to think about what's going on around us in this world of ours. If we lose power we will not have running water, sewer lines will eventually not work, and so it's critical we are prepared to dispose of our sewage and trash. If you have trash pickup as I do every Friday morning those hard workers will not be coming by to pick up trash if we have a major disaster. It could be a power outage, contaminated water, a pandemic, a flood, or a fire, to name just a few emergency situations. One of my biggest fears is a grid-down. Our country is not prepared in any way to get us back up and running with electricity if and when we are hit with an EMP or terrorist attack. The government can't help everyone if the stores are closed.  It won't be long before you realize that what you have in your house right now may be all you have for days, weeks, or months. Could you live with the water, food, flashlights, cooking fuel, and other emergency items you need in your house this very minute? I'm coming down pretty hard today, maybe because I'm a little discouraged that people don't get it, you know to be prepared for the unexpected. FEMA will not be there to scoop us up and save us, it's not going to happen. We are responsible for ourselves and our family, we need to do today what is truly necessary to be prepared, not tomorrow.
Please tell me the areas you are concerned with the most, maybe we can work on those areas together. It's critical we get our teams put together in our neighborhood with like-minded people. Are your neighbors on board with your thoughts on survival? I am not bugging out or leaving my home to be a target on a piece of land away from my community. That's why today, I had to share this awesome DIY emergency toilet, it's one more way to be prepared.
Please decide which emergency toilet works for you and let me know. If we lose power the sewer lines will work with a generator until the fuel runs out. Sewage and garbage are one of my biggest concerns, we have to make a plan and be prepared with shovels, garbage bags, and I mean a lot of garbage bags. I can never have too many 33-gallon black bags. Let me know if you have a design for your own DIY emergency toilet, I would love to hear from you. Let's get our neighborhoods prepared for the unexpected. Thank you, Dane, for this awesome design!
My favorite things: