Cash Stash: Standby for Emergencies
Are you prepared for a financial emergency that might be the result of a natural disaster, job loss, accident, or injury? Having cash on hand is an important part of any household budget. It's essential to have an emergency fund separate from everyday spending money and bills.
But how much cash do you need to have available? Let's look at why having cash on hand is important and what factors to consider when creating your emergency fund. I'm no financial professional, but financial experts have a lot to say about having a certain amount of cash on hand!
Cash Stash: Standby for Emergencies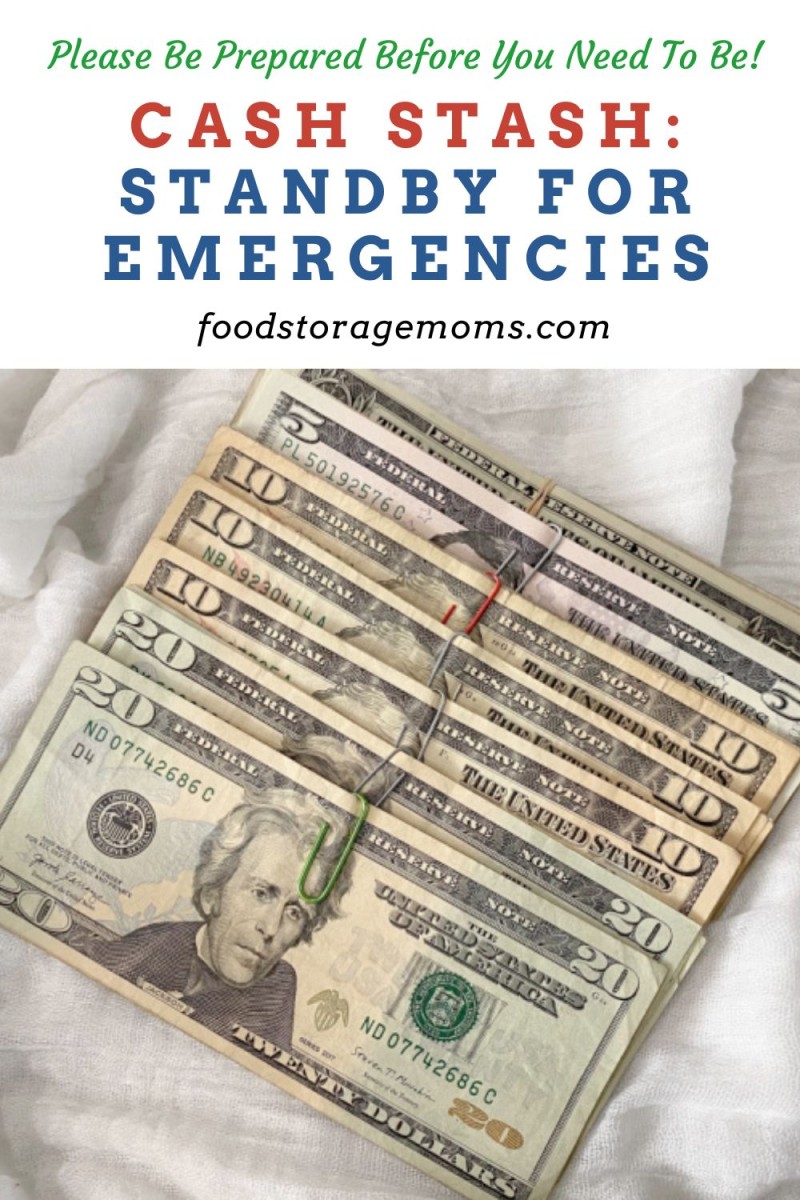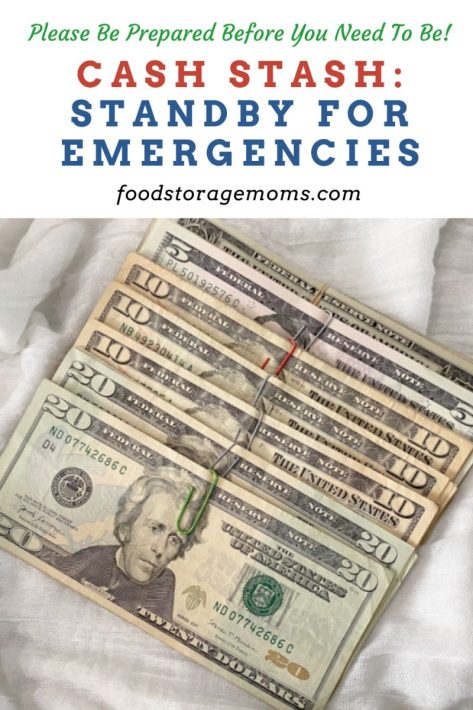 Why You Need to Have Cash on Hand for Emergencies
Having cash on hand is an essential part of any financial planning. It's important to have a separate emergency fund so that unexpected expenses or other financial setbacks won't wreak havoc on your budget. But exactly how much cash should you have available? In this blog post, we'll explore why having cash on hand is important and what factors to consider when determining the size of your emergency fund.
The Benefits of Having Cash On Hand
When it comes to preparing for a financial emergency, the most obvious item to include in the plan is having cash or liquid assets available. This provides flexibility since it can be used to pay bills or make needed purchases. What you don't want is to find yourself needing to wait for credit approval or needing access to a bank account. It allows you to avoid taking out high-interest loans if there's an unexpected expense like a car repair.
When you have enough cash on hand, you don't have to worry about unexpected events. Not every place is still accepting cash, but if they are, you'll have it on hand! A stash of emergency cash is SMART! 10 Ways to Save Money Using Cash
It makes sense to have most of your funds safely deposited in a bank or credit union. Those deposits are like "cash" since they are considered pretty liquid if held in a checking account or savings account. The challenge is, in many emergencies, the banks are also closed, so access to your emergency funds may be limited. Having cash reserves in denominations that will be accepted at most all establishments can make things easier.
How Much Should You Have Stashed Away?
Experts suggest having at least three months' worth of income saved up as an emergency fund. Hopefully, the cash savings to cover those three months of expenses is enough money to cover the expected bills. Be proactive in your plans so sudden expenses are covered without dipping into savings or using credit cards. For those who are self-employed, six months' income is suggested since income may not be as steady as salaried employees.
It's also important to factor in other sources of income when calculating your emergency funds such as investments, side hustles, inheritance, etc. This will allow you more wiggle room if you experience an unplanned but necessary expense like home repairs or medical bills. Your lifestyle can play an important role too. Consider how long you'd need funds if your job suddenly disappeared and plan accordingly. How to Survive in a Cashless Society
Of course, the financial situation in any given family is different. The guidelines for the amount of money required would need to be adjusted based on family size and desired minimal lifestyle. Another consideration is the unique need for medication for sick or older people. Only you know if there are any other factors to take into account.
Budgeting Tips
Having enough money available for basic necessities such as food, rent/mortgage payments, and utilities during emergencies should obviously be factored in. Don't forget about discretionary spending either! Experts suggest including some allowance for entertainment and personal care items like haircuts/manicures etc. You don't want these things to become stressors during tough times.
Setting up automatic transfers from checking accounts into savings accounts may also be useful. By regularly depositing funds from each paycheck into savings, you can still allocate portions towards immediate needs. You still have the flexibility of investing any remainder in other areas such as stocks/equities.
At the end of the day, building up an adequate emergency fund requires planning ahead and creating achievable goals. Doing so will help protect against financial crises down the line if life throws unexpected hurdles our way! 8 Paramount Lessons Budgeting Has Taught Me
How much money to have available in an emergency fund?
A safety net is important because when a true emergency takes place, having a reasonable amount of cash on hand is vital! Having large amounts of cash around can be risky due to theft, fire, floods, and more. We've always had a small fire-resistant safe in our home to hold some cash made up of smaller bills. We also stored some valuables and critical documents we may need like insurance policy info, passports, birth certificates, etc.
I've suggested to my readers to shy away from storing larger bills in their safe or emergency kit. Many establishments won't accept large bills, particularly if you're expecting change back from your purchases. You'll see signs in some places that state they only accept $20's or smaller and that that is the largest denomination in their own cash safes.
It's important to factor in other sources of income when calculating your emergency funds such as investments, side hustles, inheritance, etc. This will allow you more wiggle room if you experience unplanned but necessary expenses like home repairs or medical bills. Additionally, your lifestyle plays a role in setting realistic goals for your emergency fund. Consider how long you'd need funds if your job suddenly vanished, and plan accordingly.
These funds aren't designed to cover long-term needs but do need to be sufficient to cover some significant expenses that may unexpectedly arise.
Is it possible to hold onto too much cash?
Yes, it's possible to hold onto too much cash. An emergency fund is important in case of unexpected expenses and other financial setbacks, but it's important not to keep too much cash. This can cause you to miss out on potential gains from investments or other forms of growth. We all understand that there are diminishing returns for holding larger amounts of liquid assets without investing them.
It's also a good idea to pay attention to interest rates for savings accounts and adjust your strategy accordingly if the rate changes significantly. You'll know the right amount for you! You can make deposits into your cash stash and your emergency savings as needs change or you use some of the funds as planned.
Should I save cash for retirement savings?
Obviously, whatever you have extra cash for is up to you! As mentioned, a good rule of thumb is to have at least 3-6 months of emergency money put away. However, retirement is different. It's hard to know what income level you'll need when you retire compared to what you made and used when you were working. Retirement funds are important, but how much of that is physical cash is up to you! Just remember, these funds are designed for emergencies.
Should I pay off my credit card balance?
The answer is always yes! You save money down the road by paying your credit cards off. One of the easiest ways to save cash is to ensure you have those credit cars paid off. Credit card debt can be hard to manage, but stay focused on keeping your debt low. How to Deal with Inflation as a Prepper
Final Word
Now, you can have excess cash or a cash stash and feel more secure financially. Some people love the idea of having their money in a high-yield savings account. Just keep in mind that when an emergency hits, it may be very hard to find your debit cards and take money out of the ATM. Plus, some banks and ATMs will only allow you to take out a small amount. So, there's nothing wrong with keeping a rainy day fund at home, stashed safely away!
If you have some additional ideas, I'd love to hear them so I can share what you know and have experienced with my many readers. May God Bless this world, Linda