How To Dehydrate Mango With Zero Chemicals
Do you know how to dehydrate Mango? It's really easy and it makes for a very healthy snack! If you can find Mango already peeled, ready to eat and they are on sale just dehydrate them! This saves you money in the long run because you have some go to healthy snacks for the park or at your home. I have seen those expensive packages of dried fruit on the store shelves. If you are lucky you can buy some without chemicals or preservatives. Let's make our own dehydrated snacks….
This is how they look before they are dehydrated. Please try and slice them in uniformly sized slices or chunks so they will dry at the same time.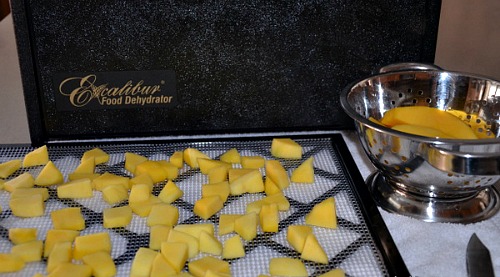 Here are the dehydrated Mango pieces, pliable but not brittle and ready to eat or store in mason jars. I use mason jars to remove the air with my FoodSaver appliance. This is how they look after they are finished.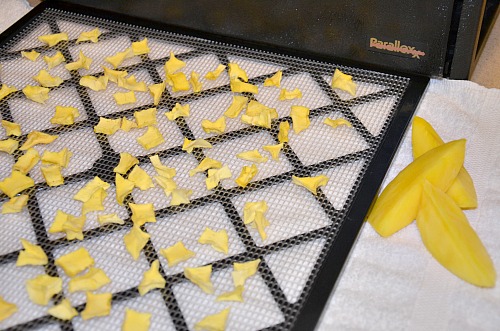 How To Dehydrate Mango
Ingredients:
Mango, washed, peeled and sliced or cut into bite size pieces
Instructions:
Place the pieces of Mango onto your dehydrating racks. Space them so they are not touching each other. I set my Excalibur Dehydrator at 135 degrees and these took about 7 hours. Please check your own dehydrator to see the correct temperature for your machine.
The time to dehydrate will always depend on the humidity in the room. I stopped drying them when they were still a little pliable, but not brittle. I store them in mason jars using a FoodSaver to remove the air.
Information about Mango:
I've heard some great things about mangos that I'd like to share with you in hopes the info will prompt you to give this delicious food a try, if you don't eat it now, and to eat more if it is one of your current fruit choices.
Because Mangos have a high concentration of vitamin A they are great in helping keep your skin, eyes, and bones more healthy. They are also high in potassium which has been shown to help keep blood pressure at lower levels. They also have less sodium than other fruits, so people on a low sodium diet are recommended to eat more Mangos.
As we age we tend to become more concerned with our brains staying strong. Mangos are known to have high levels of vitamin B-6 which has been shown to help memory and concentration. The heart has also been shown to benefit from the fiber-rich nature of Mangos since we all need lots of dietary fiber to keep things "regular".  Cancers of various kinds are leaders in affecting health and life expectancy. Mangos' contents help the body to fight free radicals and promote general cell health.
Please be prepared with my book "Prepare Your Family For Survival"