How To Dehydrate Cherries
I decided to show the world how to dehydrate cherries today! I remember when my daughters were young we would all pit the cherries with this two-finger deal. You could only do one cherry at a time. We bottled dozens of quart bottles of cherries years ago. To be honest with you, I never liked them, I really didn't. We picked the cherries for free so of course, I was on it, to bottle them. Yes, we bottled them for years until we no longer got them for free. The bumper years we bottled more jars than we could count. The only thing I needed to buy were new canning lids/seals and sugar.
Well, I have been on the look out for a better cherry pitter. I didn't want one that only did one cherry at a time. I am so past that one cherry at a time pitter game. I Googled, I searched reviews and other blogs for the perfect cherry pitter. Let me say this, this cherry pitter is so much better than the one cherry at a time gizmo. But occasionally a cherry that is extra large gets stuck in the hopper.
But I can "punch" 8-10 cherries with very few cherries getting stuck. I will never go back to the old style pitter. In order to dehydrate cherries, I needed a really good cherry pitter. I found it here: Cherry Pitter by Lehmans (.com). They have a video showing how it works. I made a video as well for you: Cherry Pitter Demo by Food Storage Moms. You can also buy it on Amazon: Leifheit 37200 Cherrymat Cherrystone Remover
I use an Excalibur dehydrator so I am going to give you the instructions that are in my dehydrator book. Always check your own manual, and of course the drying time will always vary according to the humidity in the room. Here is the one I use: Excalibur 3926TB Food Dehydrator, Black
. I prefer the dehydrators with a timer because I can set the temperature and the hours to dehydrate as needed. I can always add a few hours after returning home from errands as needed.
You can also dehydrate your cherries in the oven or on screens outside covered with cheesecloth. I have used a dehydrator for 40+ years so I do not know how to use an oven to dehydrate things. My first dehydrator was a HUGE 24 inch square gold harvest gem. It was a beauty, trust me.
How To Dehydrate Cherries:
1. wash, remove stems and pits.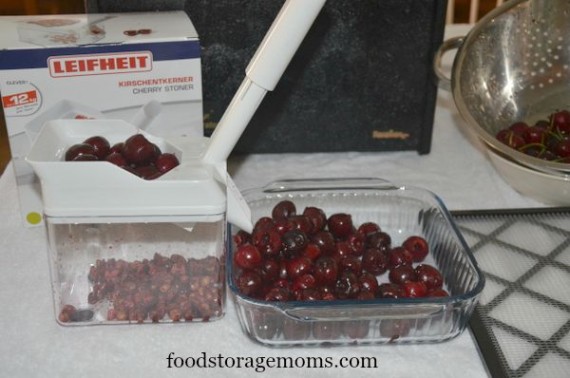 2. cut the cherries in half and place them meat or skin side down on the dehydrator racks.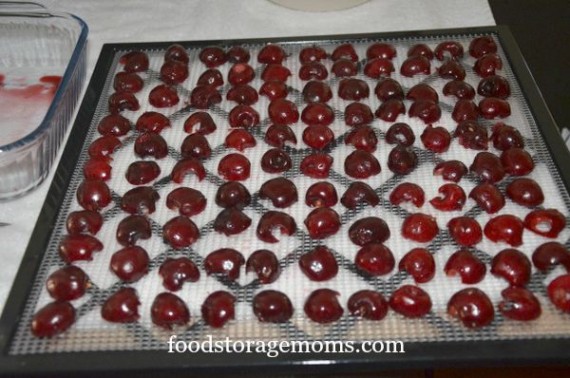 3. What's really nice about dehydrating our own healthy fruit snacks is we know what's in the jar because we dried them ourselves.
Temperature To Dehydrate Cherries:
According to my Excalibur dehydrator the instructions say to do the following:
1. Start dehydrating the cherries at 145 degrees for two hours. Then lower the temperature to 135 degrees and dehydrate until the cherries are leathery. Watch the cherries towards the end to prevent them from over drying. You will notice I placed my cherries meat side down because that's how I like mine. The book said to place them skin side down.
These took almost eight hours to dry. Remember the times will vary depending on the humidity in the room where you are drying your fruit or vegetables. Dried cherries become similar to raisins after drying. They are great for snacks, spinach salads or added to muffins or cookies.
2. I store mine in pint jars because we eat them so quickly.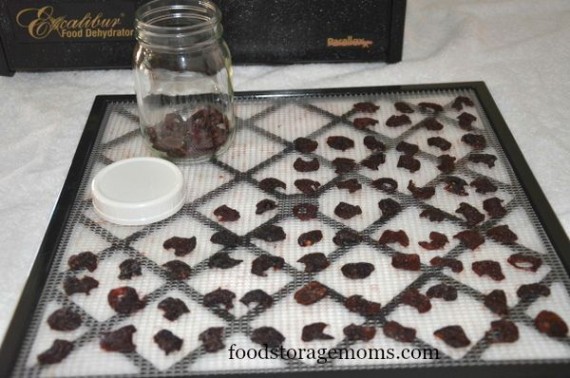 Once you start dehydrating food you will be hooked, I promise. I don't know about you but I can only freeze so many things in my freezer. I want some food that sits safely on my pantry shelves. Life is good when you know what you are eating.
Cherry Health Benefits:
Not only do these sweet cherries taste delicious, they are very good for us too! Here are just a few of the health benefits:
1. they are high in Vitamin C
2. high in antioxidants
3. they help reduce the risk of gout-check with your doctor to see how much is safe for you to eat
4. natural melatonin-helps you sleep better
5. helps reduce arthritis inflammation
6. lowers our risk of strokes
I guess this is why we keep hearing that we should eat more fruits and vegetables to stay healthy. Let's stay healthy by preserving our own food. Let's be prepared for the unexpected. Blessings…