How to Deal with Inflation as a Prepper
Are you wondering how to deal with inflation as a prepper? Due to higher demand and the escalating prices of most everyday goods, our dollar isn't stretching nearly as far as it once did. Yet prices continue to go up! As a result, the average American family is taking a huge hit in every aspect of their way of life.
We're spending more but walking out with far less on a single trip to the grocery store. What once filled up our gas tanks is now barely getting the needle to half full. Even eating out at a fast-food restaurant with your family these days will cost you a small fortune. Does this sound familiar to you?
My number one suggestion but be to cook from scratch, but that's a given.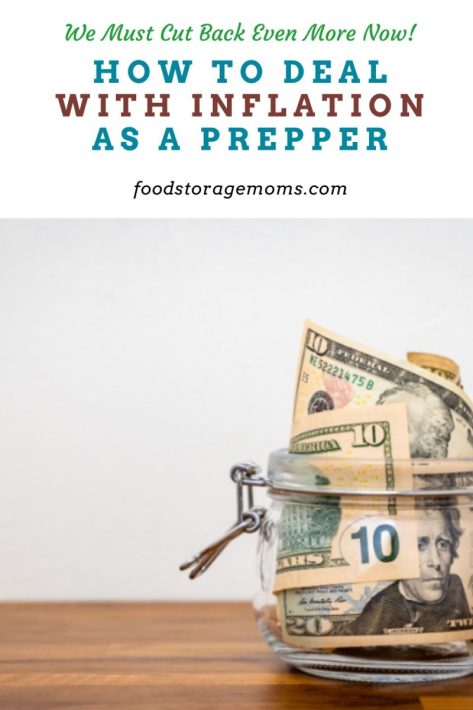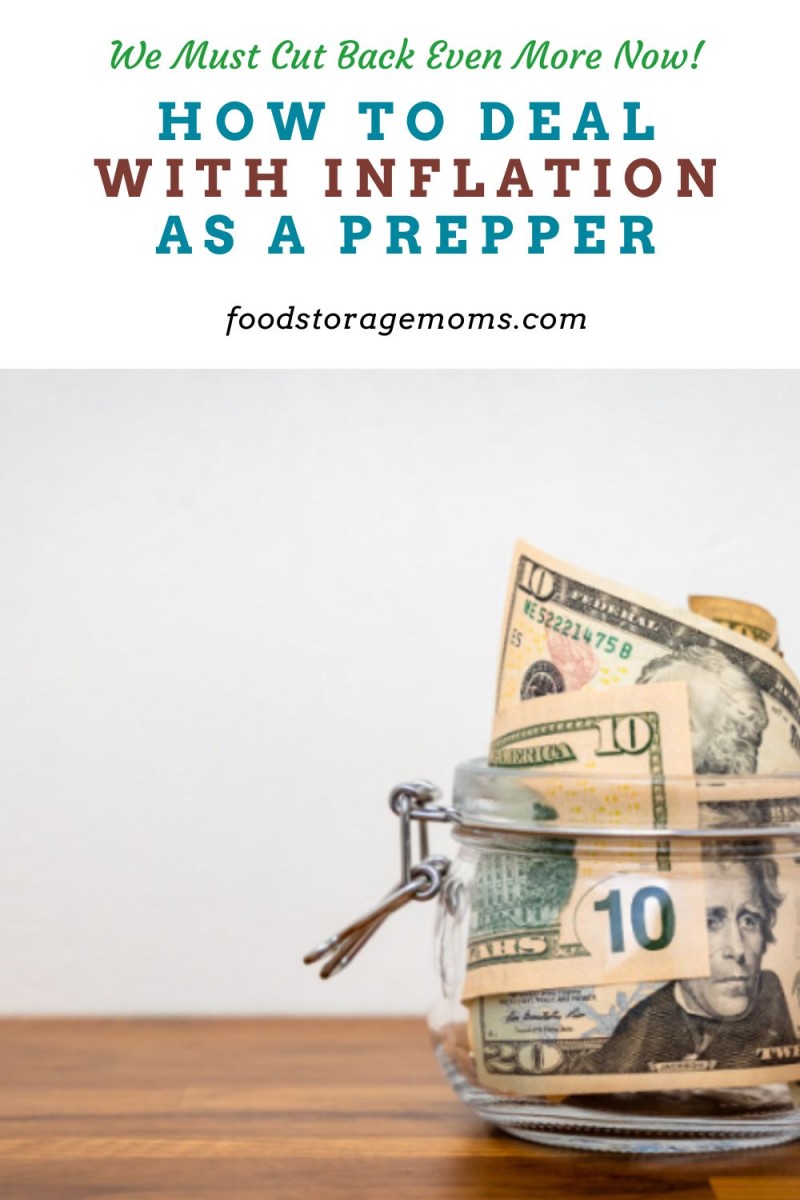 How to Deal with Inflation as a Prepper
How in the world is someone supposed to still find room in their budget to prep for emergencies and disasters when their finances are already so tight? Fortunately, I've got a few simple hacks we'll share that may help you out big time! Not only will these tips continue to help you strive at being prepared for emergencies, but also help improve your everyday financial standing. When we're living during the midst of inflation it's important to look for ways to reduce expenses and possibly increase income. We should generally take a cautious approach to our spending. Here's more on how to deal with inflation as a prepper. How To Prepare For Hyperinflation
Find Ways to Cut Back on Your Expenses
We've all been directly affected by inflation for some time now, and without a doubt, it's changing the way we live. If you've been searching for ways to reduce some of your expenses, one of the first places to start is to take a closer look at your bills. Figure out what you can live without and try to reduce or negotiate as many items as you can.
Maybe years ago you shopped around for the lowest insurance but those prices have started to creep back up. Instead of continuing to pay those prices, it may be time for you to start hunting for a better deal again. Listed below are several examples of common bills that can be cut or reduced through negotiating or looking for other options. Cutting back on your expenses is an effective step in the preparedness journey.
Recurring Expenses
Streaming services – determine if you need any or all the ones you currently use. They are less expensive than movie theater visits, but you might not consistently use all the services you pay for.
Food – you may be able to buy cheaper cuts of meat, items on sale, buy in bulk, look for case lot opportunities, and use coupons whenever possible.
Magazines – evaluate the subscriptions you look forward to reading and consider canceling the others. Call the publisher of those you want to continue and see if they are running any promotions. Sometimes you can get an extended term for a little more than the standard term price.
Pet – subscriptions for things like special treats. Yes, we all love our pets, but just like us, maybe cutting back on some things is prudent.
Memberships – many of us love the time at the gym. It's important to stay in shape and get some exercise. Truth be told, we often don't use them as much as we'd planned when we signed up. Check out the cost of a city-owned fitness center, they are often less expensive. They also may offer a family membership at a discount. If weather permits and you simply use the indoor track, consider a track at the local park or school.
Do you have credit card debt right now?
Credit card interest – other than the car title or pay-day loans you see advertised, credit cards are the most expensive way to borrow money. Try to pay off the balance every month if possible. Large balances should be paid off as quickly as possible and then limit their use. They are a necessary evil in today's financial and travel marketplaces, but planning ahead and paying cash can save plenty in the long run.
Techy Issues
Internet – we all rely on the Internet for so many things, whether for school, entertainment, staying in touch, and even making purchases. There are lots of Internet providers these days, so do some research and find the most cost-effective option. Check reviews and discuss with family and friends to see what their experience with steady uptime has been. You don't want a cheaper alternative if the service is slow or has downtime on a frequent basis.
Phone – it seems like we all spend a lot of time using our phones for so many things. They used to simply be communication devices. Now we use GPS, texting, Internet access, social media updates, and much more. Try to use wi-fi whenever possible if you tend to use up your data, or look for unlimited data if the cost makes sense. Don't feel like you need the latest and greatest, be willing to hang in there with your current phone version. Also, look for family plans where multiple people share the plan and consider having all those with access pay their share.
Insurance and Banking
Home Insurance – make sure your insurance is kept up to date regarding the increasing value of your home. Nothing worse than having a significant claim and finding your insurance coverage is based on old values. Consider increasing the deductibles if the quote will save you a considerable premium amount. Also, check to make sure you're getting the best deal by having all your insured assets with the same company. Most companies let you qualify for a multiple coverage discount.
Car Insurance – insurance companies are becoming very competitive. Check around for those that may specialize in age-based coverage. Others offer safe driving discounts and allow for higher deductibles. Look for those that don't have a history of signing you up at one price, then increase the cost when the coverage is due for renewal. Also, as kids age and/or move out, make sure they are dropped when appropriate.
Refinance your mortgages – rates have gone up significantly in the past 12- 18 months, so this may not be prudent for you. But, if you have significant credit card or second mortgage exposure, refinancing the base home mortgage could make financial sense. This is especially true if you plan to keep the home for an extended period. Refinancing saves you from having to possibly come up with a large down payment if you decide to move.
Be More Self-Sufficient
Start eating more depression meals: rice and beans anyone!? If you have a good inventory in storage, now may be the time to put those items to use so you aren't making frequent trips to the store. Many tend to make impulse buys when in the store, so reduce those trips when possible.
Start making your own laundry detergent – being more self-sufficient can be fun and educational, besides saving money.
Buy foods that have a long shelf life – with higher prices, now may not be the time to beef up your storage stash. But when you decide it's time, have a good plan about the volume and types that fit your family best.
Meal Planning
You may have just started realizing that if food prices continue this way, it's going to totally deplete our savings account! Do you realize how much food you and I waste over a year period of time? It's estimated that the average American family tosses out roughly $1,600 of produce in a single year. That's ridiculous!
Think about what you could be doing with that money if it were still in your pocket. I think meal planning is the best way to go when doing your grocery shopping. Make a menu for the week, and then stick to your meal planning list when you visit the store. This helps you cut back on wasted food and you'll spend far less upfront because you aren't putting impulse items in your grocery cart. And if possible, I'd encourage you to shop alone and leave the little ones at home with a spouse. 25 Insanely Smart Ways To Save Money Cooking
It does make sense to buy those things the family likes to eat. Have a family meeting and discuss the week's menu and how it will best satisfy the most family members. Many of the supply chain issues have been resolved, so although we are still seen some empty shelves, hopefully, those items you want will be stocked.
Try to cut back on those meals away from home. We do need to get out of the house from time to time for a couple's date, a special occasion, and when we get pinched for time. Just don't make it a habit to eat lots of meals from the drive-thru or at sit-down restaurants.
Plant a Garden
Plan on planting a garden this year. With a little space and some planning, you can grow your own food and save a ton. You also have the benefit of knowing how it was grown, and what chemicals might have been used as fertilizers and pesticides. Better yet, learn how to compost and use natural insect killers to help protect your family's health. If done right, you'll be surprised at the yields you'll see at harvest time. It's also a great family learning tool as you spend more time together.
Take Advantage of Coupons and Cashback Apps
Are you the type of person who feels bad about holding up a line because of all the coupons you've presented to the cashier? Don't be! There's nothing to be embarrassed about, especially when it comes to saving your family money.
Don't hesitate to hunt down coupons or download cashback apps so that you can begin reaping the rewards of "no money out of pocket" purchases. Taking advantage of coupons and cashback opportunities may not seem like much, but it adds up over time, especially when you're able to score free items. Steer clear of items with reported food shortage issues since they'll always cost more.
That being said, don't let yourself get too carried away with spending just because you have a coupon. The consumer price index is always changing, so make sure you stay up to date on all of that and look for things that haven't gone up in price. Right now is not the time to buy a lot of fresh eggs, if you can find them. There are things that have shown stable pricing even in an inflationary environment.
Mark loves his morning breakfast with cereal and bananas. He comes home with a wide smile after spending $.59 a pound for the bananas, the same price he's paid for years. He also brought home some blueberries he found for $10.00 for a five-pack.
Stock Up During Sales
When it comes to stocking up for emergencies, take advantage of sales and promotions when possible. This includes non-perishable food items at the grocery store, along with every prepping supply that you can think of. While this may not seem like this is an essential step in prepping, there are so many great items on the market for preppers nowadays. These may be specifically designed for emergency situations that you can't afford to pass them up during a sale.
Always shop around for the best price and try to purchase items in bulk when you can. This will save you money in the long run because you'll have enough supplies on hand that will last well beyond any short-term emergency situation. Just be sure that you keep track of expiration dates so they don't go to waste! I've got a great monthly series outlined below that you can use as a buying guide each year since I try to update the information as each year comes around.
Shop Used
Are you still searching for more discounts and ways to battle inflation and do more food storage? You can save a bunch of money on buying gently-used clothing, furniture, and other home goods instead of purchasing brand new all the time. Many people don't know about the great deals you can find at thrift stores, flea markets, and consignment shops. You can sometimes score big at garage sales and estate sales as well.
This is especially true for preppers since there are so many prepping gadgets, camping gear, and other items that you just don't need to purchase new. Even if you need to purchase some new pieces, you may be able to find them at a discount if you shop used. You have more purchasing power when buying used. This is one of my favorite ways to deal with inflation as a prepper. Prepping Items You Can Find at Thrift Stores
Family Time Doesn't Need to Cost a Thing
While it's good to have family time and entertainment often, you may also want to consider looking for cheaper, or even free ways to spend time together. Instead of going to play miniature golf or seeing a movie, you could take your kids to a state park and have a picnic.
A day at the beach, geocaching, or visiting a free museum are a few other areas where inflation can't get its hands on your hard-earned money. At the end of the day, your best survival skill is quality time with your family, so make sure you invest in that quality time! How To Get Your Family Prepared For Survival
Final Word
Inflation as a prepared person may seem like it's unavoidable in today's world. There are still ways for us to reduce our expenses and prepare for any emergency situation should one ever arise. With the right knowledge, planning, and budgeting, you can do this. Follow these tips to be sure that you and your family will have everything they need without breaking the bank.
So if you're feeling the pinch, start putting these tips into action today and get ready to face any potential emergencies with confidence. Take a look at your assets, don't panic, and use these tips to help you get ahead of what's going on in the world. Can you think of any other ways that can help you deal with inflation as a prepper? I'd love to hear your thoughts! May God Bless this world, Linda
Copyright Images: Cash in a Jar AdobeStock_413122234 By TimmyTimTim