Prepping Items You Can Find at Thrift Stores
Maybe you've been interested in stocking up on supplies in order to be prepared if a disaster were to come your way, but you feel as though it's something that you can't afford. You're absolutely right to question what's needed and whether you can afford them.
Depending on what you feel you need to add to your preparedness inventory, prepping costs can add up, but that doesn't mean that you should give up on your efforts.
Related: Prepping Items You Should Buy Used
Believe it or not, you can head to your local thrift shop and probably find several of those items that you're looking for while paying only a fraction of the amount you expected.
We'll discuss some prepping items that you should be able to find at your local thrift store, estate sales, garage sales, yard sales, or flea market. Hopefully, you can find what you want and not spend a lot of money while you're at it.
You should be able to find a local thrift store by searching on the Internet. I think most communities have a Goodwill Store, one sponsored by the Salvation Army, or one called Deseret Industries that's sponsored by the Church of Jesus Christ of Latter-day Saints, In many communities, local churches will have their version.
Finding prepping items at the thrift store isn't something new, it's been around for ages. If you haven't purchased my survival book, here it is: "Prepare Your Family For Survival" by Linda Loosli. I thank you from the bottom of my heart if you have purchased it. I hope you find it helpful as you go through the preparation journey and search for emergency and other survival items and related ideas.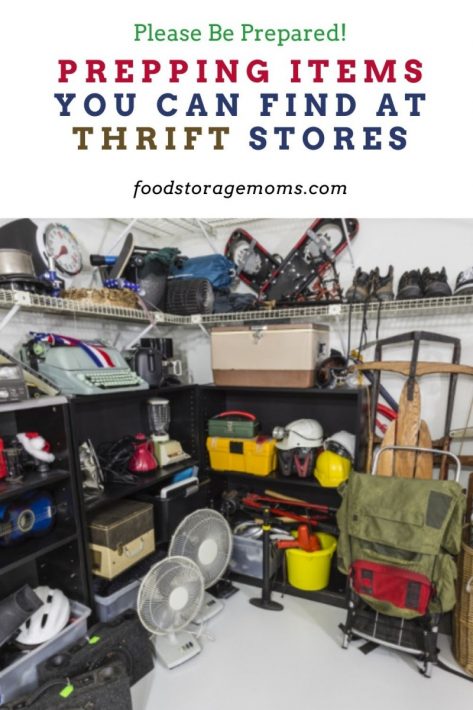 Camping Gear
You've struck gold if you stumble across camping gear that's barely been used. Many of you already know that tents and camp stoves aren't cheap when you buy them brand new, but at a thrift shop, you'll feel like you're pretty darn lucky! Keep your eyes open for tarps, duffle bags, lanterns, and outdoor tools like axes.
Medical Equipment
What happens if you're having to get around on foot, but are dealing with an excruciatingly painful sprained ankle? You certainly won't be going anywhere too far. You may score big on medical equipment or supplies that can come in handy the next time you visit a thrift store or a local flea market.
Don't hesitate to pick up a set of crutches, a cane, a walker, or even a wheelchair if you're at that stage of life when you may be more prone to need them. Another item to consider is a first aid kit. Yes, it may need to have some items replaced or updated, but that effort is certainly cheaper than a brand-new kit.
Backpacks
It's a no-brainer why you'll be needing several of these. If you can't find any decent ones at your thrift shop, there's sure to be a good supply of them at your local flea market. If you're trying to put together a bug-out bag, the larger backpacks or overnight packs can prove useful.
Tools
You're going to need a number of tools to get the job done after a disaster strikes. Do some hunting for screwdrivers, hammers, wrenches, and other handy tools while you're there. As you walk the aisles and survey the various racks and bins, they might also have some used power tools like circular saws, drills, jig saws, and more. If the tools come in a case, look to make sure all the accessories are included.
Woodcutting Tools
You may even get lucky and run across an ax handle or an old chainsaw that just needs a tune-up. You'll need these to cut wood to create a shelter, build a fire for warmth and cooking, and to clear the roads and yards covered with debris after a severe storm.
Knives
Knives will be extremely important, especially if you wake up one day living in a post-apocalyptic world. Make sure that you have a handful of them in case one breaks or becomes too dull. While you're at it, look for other utensils like regular kitchen knives, forks, and spoons.
Sharp knives are also a critical weapon if you're put in a situation where you have to defend yourself or family members.
Flashlights
Flashlights are an item that you shouldn't have too much difficulty tracking down at your thrift store. They're super cheap, and if you visit at the right time, you may even come across one or two heavy-duty ones as well. If you locate flashlights that happen to be solar-powered, you've really hit a bonanza! I love my solar flashlights and I keep them on my window sills all the time so they stay charged up.
Radios
Following a disaster, it's extremely important to know what is going on all around you. If you find a small portable radio, don't let that deal slip by. Like the solar flashlights mentioned above, if you happen to find one that can be powered by cranking it, all the better.
Having extra batteries for lights and radios is ok, but can be a hassle when it comes to finding them in an emergency. I still inventory a bunch of batteries, just in case.
Cookware
Take a look in their cookware and housewares section and see if they have a cast-iron skillet that you can purchase. Though you'll be paying a little more for that than on other items like pots and pans, they're versatile and can last forever.
Pay close attention to other cookware essentials that can be used over a fire pit like griddles, grills, and hot dog cooking rods and tongs.
Kitchen Tools
Can-openers are an important item that every prepper should have. They may even have a meat grinder or food dehydrators and sealers that you'll be needing. Consider both electric openers and manually operated ones since you might not have power.
Although not a tool, look out for canning jars and other canning equipment. A canning jar can come in all sorts of sizes, but the fact they're used doesn't diminish their usability.
Sewing Supplies
Sewing supplies can come in handy for a number of different uses. You'll need them not only to repair clothing but possibly for suturing a wound or to use for fishing. You may thank yourself later for gathering extra needles and thread, as well as zippers and buttons. Emergency Laceration Kit
Rain Gear
On those wet and rainy days when you're required to be outside, you'll need rain gear such as boots and ponchos to keep dry. Just be sure to steer clear of heavy trees and fences that can tear or snag your gear.
Winter Gear
Another group of items that you can find there are hats, gloves, and winter jackets. They even have snow pants on rare occasions. The best time to start looking is during the summer when they'll be at their cheapest.
Emergencies often happen during the cold seasons of the year. Stock up on blankets (see below), sleeping bags, an extra pair of jeans or two, ear mufflers, and other cold-weather items. Having extra towels is also a wise move.
Hunting and Fishing Gear
When you're able to track down camouflage clothing, it's usually something that's barely been worn, especially when a hunter decides that they no longer want to use it. You'll pay only a small fraction of what you would if you were to buy them at a place like the Bass Pro Shop or Dick's.
You can even track down old fishing rods, reels, tackle boxes, and many other types of fishing gear. Depending on your local regulations, buying hunting weapons may not be an option, but they could have bows and arrows available in their sports equipment section.
Gardening Supplies
On occasion, you may find rakes, shovels, and even manual tillers that can be used in your self-sustaining vegetable garden.
Boots
Boots can be very expensive, especially considering how often you find yourself wearing them. But you're going to need them if you're ever left out in a winter snowstorm.
If you find a pair when you're visiting, double-check to make sure that the soles have held up and that there aren't any cracks or holes. You don't want water getting in there and making your feet miserable. If they happen to be somewhat water-repellent or waterproof, all the better.
Blankets
After the power has gone out and it happens in the dead of winter, you'll wish you had several more blankets. After all, you can never have too many.
Not only can they be used to keep your family warm, but you can wrap up supplies with them and tear them up and use them as bandages if you absolutely need to. In case you missed this post, 6 Reasons To Store Blankets
Books, Playing Cards, Puzzles, Toys, and Board Games
Don't be left without any entertainment and fun after the power's gone out. Thrift shops are loaded with this type of stuff, and you'll only be paying pennies on the dollar for them.
Why buy from a Thrift Store?
Thrift stores often have "slightly used" items that could still have years of usage available. Unless you think you need the latest version, using old standby brands and variations can save you tons on your budget.
Some are actually non-profits and could possibly offer a tax deduction if you happen to be cleaning out a closet or two and making donations at a donation center. We all have garages that could use good organization and clean as spring approaches.
There also are thrift stores that will pick up items if you have a large quantity or if they are big and bulky. You just need to call ahead and schedule a time.
Many also are helping the community by offering some job training for the less fortunate as part of their missions to make a difference.
Final Word
Just because these items are on my list of prepping items that you can find at your local thrift store, does not guarantee that all of these items will be there. It may require you to be patient and visit often in order for you to find what you are looking for.
While you're there, think about how you could use these different types of items for emergency purposes. What are some neat prepping items that you've already stumbled upon that you'd be willing to share? I'd love to hear from you.
I hope you're able to find some of these prepping items at a thrift store near you. May God Bless this world, Linda.
Copyright Images: Thrift Store AdobeStock_48826431 by trekandphoto