9 Prepping Tips for Outdoor Survival
Here are 9 prepping tips for outdoor survival that everyone should know about. If you and your family were ever put through the wringer and forced to survive outdoors for a period of time, would you be able to do it? I'd be willing to bet that your answer would be no or not sure. Even if you spend a lot of time camping outdoors each year, it's a lot different when you have to do so for a longer period of time. In case you missed this post, Survival Food And Emergency Food Storage
So what happens if you face an emergency situation and you have to leave the comfort of your home?  Surviving the outdoors requires certain skills, prepping, and knowledge in order to make that happen. Being caught without them could prove deadly for you or your family members.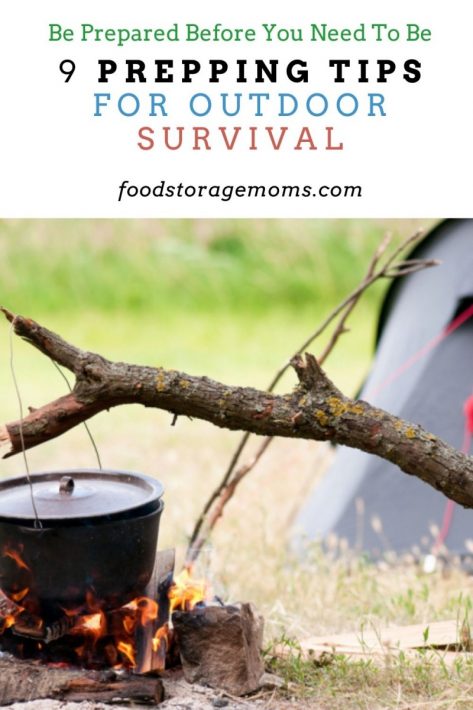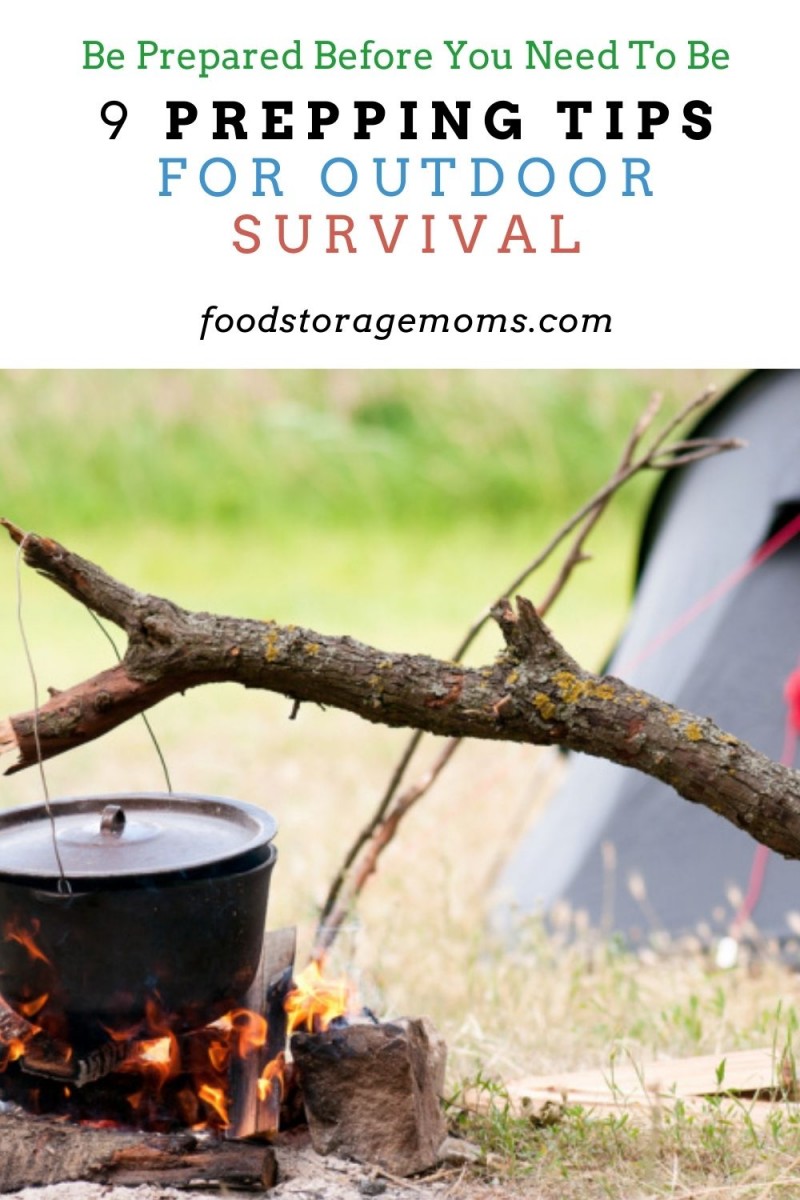 1. Pack a Survival/First Aid Kit
Without a survival kit and first-aid, you're going to have a rough time just trying to make it to day two. You're going to need fresh drinking water, so a portable water filter or water purifying tablets are a must. You can even bring your own water.
It won't be long before that your stomach starts rumbling and grumbling about your situation. Be sure to pack enough light-weight non-perishable food items like protein bars and beef sticks for energy.
Other survival essentials include several flashlights with extra batteries, a hand-crank radio, compass, map, knife, tools, sleeping bags, camping tent, extra clothing, lighter, matches, and a whistle. Also very important to have is a first-aid kit for bandaging wounds to hold you over. I love these Flashlights (batteries) and these Goal Zero Flashlights.
Everyone's survival kit will look a little bit different, so be sure to gather the appropriate supplies based on your family's needs. This is one of those prepping tips for outdoor survival that you really need!
2. Be Aware of any Hazards
You also need to know the area and the surrounding layout of the land that you hope to survive in. That way you can be aware of any hazards that you could run into, whether it's a potential flood area, or if there may be wild animals that you need to watch out for. Preparing for weather conditions expected during different times of the year is also important.
3. Never Head Out Without Telling Someone
In most cases, people that find themselves alone and in trouble in the wilderness didn't think that they would be wandering off too far or gone so long that they needed to let anyone know. Don't make that mistake.
While it's more likely that you'll be fine, there's always the chance you could fall and break your leg or come face to face with a dangerous wild animal or other unexpected situation. Take the extra time to leave a note or have a set of walkie-talkies to stay connected. Or better yet, take someone with you who is well versed at living in a remote setting.
4. Trash Bags are Not Only for Waste
If you're already an experienced prepper, then you know just how critical a simple item like trash bags are. While they serve the main purpose of eliminating waste and garbage, they can also be used for transporting some of your supplies.
Trash bags can be used as a poncho to keep dry or as a covering for your emergency shelter to escape the sun and the rain. They can also be used to rainproof your food and other possessions that you don't want getting wet.
5. Stay Warm and Dry
It's already going to be a challenge for most people to survive the outdoors, but things can quickly go from bad to worse if all of your clothing and gear get wet. Trust me, it's a miserable feeling when your socks and shoes get soaked and your sopping-wet clothing becomes stuck to your skin.
That's why I'd encourage you to gather rain jackets and boots, or at the very least, rain ponchos for everyone in your group. You also have to find a place where you can seek shelter to escape the elements. If it's cold outside, you can use a space blanket to add more insulation to your shelter to keep warm.
6. Avoid Stagnant Water
Try not to drink water that is just sitting there stagnant, because it's possibly full of bacteria, parasites, and animal feces. That doesn't mean cool running water is completely germ-free, but it is sure to contain fewer traces of contaminants than water that has nowhere to go. You'll still need to boil your water or add iodine to destroy any remaining bacteria and contaminants.
7. Knowing Which Berries to Avoid
Hopefully not, but there may come a point that your food supply is dangerously low and you have to rely on the resources that are available around you. You may have to rely on eating berries from plants and bushes to sustain you in the meantime, but this can be dangerous if you don't know which ones are poisonous.
There is a way to test whether a berry is safe to eat or not. If you're in doubt, rub the berry on your skin and wait for an hour or two. If there's no reaction after a few hours, go ahead and rub it against your lips and wait for a couple more hours.
Again, if there's no reaction, lick it and then wait some more. Next, take only a few of them and eat. If after several hours you don't experience nausea, vomiting, or diarrhea symptoms, it should be safe for you to eat a serving of them.
8. Building a Fire
In order to stay warm and be able to cook your food, you're going to need to be able to build a fire. If you don't know how to make a proper fire, here's how. Start off small by gathering tiny dry sticks, leaves, pine needles, and thistle for kindling.
Next, find larger sticks and pieces of wood that can be used for a longer burning duration. Grab a large piece of wood that you can use to block the wind so you have an easier time getting your fire started and make a sort of nest out of the tinder.
Take your kindling and build a tipi so that there's space for oxygen to get in. Light the tinder and then put it underneath your tipi while using your breath by blowing to spread the flame. Then slowly add larger pieces to progressively make the fire bigger.
9. Stay Positive
Your attitude also plays a key role in whether you'll make it out of a dangerous situation alive. Try to stay positive and continue working with the resources that you have all around you.
Feelings can be a dangerous thing, especially when you're feeling hopeless, so you need to keep determined and stick to your plan in order to survive.
9 Prepping Tips for Outdoor Survival
Final Word
These are 9 prepping tips for outdoor survival that everyone should know about. Without them, your situation most likely will not turn out to have a happy ending, so spread the word. If you're an experienced prepper, what are some other prepping tips for outdoor survival that you would share? May God Bless this world, Linda.
Copyright Images: Pot on Fire Deposit photos_6491412_s-2019