Best Prepper Gear: Big Items to Save For
As the holidays approach, you could ask friends and family to help you get some of the things you need. Even if they can't buy the item for you, maybe they could give you cash to help you save for the best prepper gear! But, even if you can't get a little help over the holidays, these items are definitely worth saving up for.
Best Prepper Gear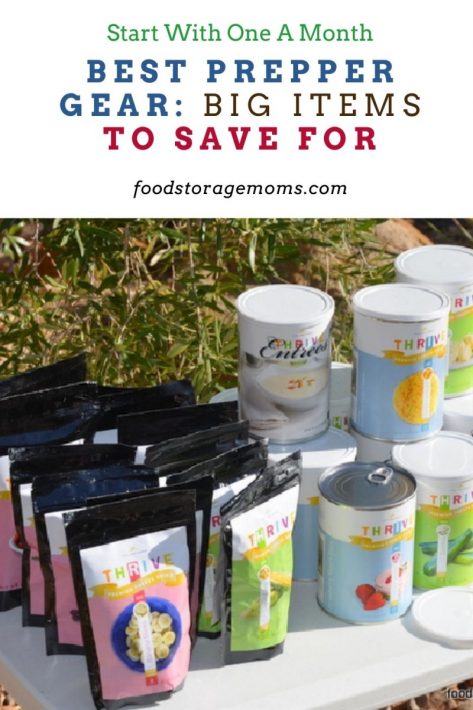 As a prepper, we tend to buy a little at a time when it comes to food, water, hygiene products, and other needs. However, there are some bigger items we should consider saving up for as well! Here is the best prepper gear to save for:
#1 One Year Supply of Long-Term Survival Food
You may be stocking up on food, but food that can be stored for 25-years gives you peace of mind. When storing food with expiration dates, we have to rotate and continue what we are doing to have the total inventory we need.
If you can get the long term food storage at the price you target, you have your emergency supply in a strong position, and can still gradually add more. A one year supply of food that lasts 25-years can be quite pricey though.
The food shown above is what I put in a Zippered Sweater Bag to go with my 72-hour Kits. I keep my food in the house to protect it from the heat in my garage. Some of the packages that I have in my stash I found out that Thrive life no longer sells. The Thrive Life cans are the pantry size cans they sell.
#2 Water Filter System
Clean water is a necessity for survival! This Big Berkey Countertop Water Filter System is something I would recommend. What I love about this is it's electricity-free, meaning I can use it even if I don't have power.
#3 Food Dehydrator
Along with canning what you grow in your garden, you should also consider dehydrating some of it. Dehydrated foods make great snacks throughout the day. And, having your own dehydrator is much cheaper than buying dehydrated foods from the store. The Excalibur 9-Tray Dehydrator is one item to put on your wish list!
Related: How to Dehydrate Food with a Dehydrator
#4 Solar Generator
As long as there's sun, you can have power! Seriously, you never know when you could be without electricity. Backup generators are always a great idea! I want a solar-powered one, just in case.
This Yeti Portable Power Station along with these panels is a great investment. Additionally, I would suggest not only having a portable station, but one specifically for your home. This WindyNation 200 Solar Kit is another one to save up for. 
My friend, Matt, who I have a lot of respect for suggested these two gas/propane generators.
I'm looking to purchase a Champion after the first of the year. It's a dual fuel propane/gas with ease.
Propane is much safer and easier to store. I've had a Briggs and Stratton generator for years that has even survived a rollover crash where it tore off the motor mounts. It's tough and reliable.
#5 Wood Burning Stove
When I was younger, this is how we heated our home. Now, most of us use a natural gas furnace to heat our home, but what happens if the gas runs out? Or, if we have no electricity to run our furnace fan? This Ashley Hearth Wood Stove can heat up to 1,200 square feet.
#6 Crossbow Best Prepper Gear
Guns are great for hunting, but they are also kind of loud. If you are looking for a quieter and more discreet way to do your hunting, this Barnett Whitetail Hunter is at the top of any preppers list.
#7 Ferro Rod
Ok, this one really isn't that expensive. It's actually pretty cheap, but I had to put it in here because we may not think of it. If you don't have matches or a lighter, it can be very difficult to start a fire for purifying water or cooking your food. This Ferro Rod fire starter is a very useful tool to have.
#8 Best Prepper Gear Sun Oven
I love my Sun oven. In fact, I love it so much, I wrote a post: 101 Reasons Why I Recommend a Sun Oven.
In my post, I have recommended the All American Sun Oven.
You can cook basically anything you would cook in your kitchen oven in a Sun Oven. And, if you get one now, you can start saving on your utility bills.
#9 Butane Stove
We need an indoor cooking source as well as an outdoor cooking source. Check out my post: Alternative Cooking with Butane Stove to learn how useful it is. Snatch it up on Amazon. Don't forget to get extra Butane fuel.
#10 Chainsaw
If you are thinking about having a wood burning stove, you may want to also invest in a chainsaw. It's a great way to get your firewood. I would recommend getting a good stockpile of firewood so it can dry out before any SHTF scenario.
#11 Bread Maker
Another great device is a bread maker. You will need electricity for this device, but you can start saving money by making your own bread at home.
#12 Wheat Grinder
If you have all the right tools, you can grow your own wheat and make your own bread. This Country Living Hand Grain Mill is great for off-grid living. My favorite is the NutriMill Wheat Grinder.
Best Prepper Gear for Christmas
Even if you can't get the bigger items, you can always use more smaller items. If you are looking for other items to get for friends or family, or you need a guide to send your friends and family, check out some of my other posts:
Best Prepper Gear: Big Items to Save For
Final Word
When it comes to the big items, they aren't necessarily a necessity. However, they do make life easier especially if SHTF. Additionally, many of the bigger priced items can actually make your utility bills lower throughout the year.
A wood stove cuts down on electricity or gas bills, sun ovens cut down on your gas bill if you have a gas stove in the kitchen, and if you use a solar generator you can cut the cost of your electricity.
What I love about these items is that I don't have to wait until disasters hit to use them. I can use them in my life now.
What would you add to this list? What is something you are saving up for right now?
Share it with me in the comments below! Before you buy big-ticket items, make sure you have what you need in food and water! Water and food are critical to our survival. May God Bless this world, Linda