Christmas Gifts-Most Important Things People Need
We may all have different ideas concerning this statement: Christmas gifts-most important things people need. By now you hopefully know I am not a doomsday prepper. Remember the term prepper means, in my opinion, someone who is prepared for the unexpected things that may happen in life. It could be a job loss, major health issues, loss of income, natural disasters, like hurricanes, tornadoes or flooding, etc. No, I will not skin a squirrel and eat it. Nope, it's not going to happen. I will be a vegetarian and eat beans with the vegetables I grow and preserve from my garden to get some needed protein. In most cases, I am hearing money is tight, very tight.
So, I want to suggest some Christmas gifts today that can be used for years to come. I would love to know that my family members will be okay in the event we lose power, water or the roads are closed due to flooding or whatever. So, let's get started with some very useful ideas that would make great gifts to help you be prepared for most anything in life.
Christmas Gifts-Most Important Things
Knowledge
We need to have the knowledge to know what to do and how to plan for the unexpected things that may happen in our lives. One step at a time. My book will walk you through most everything you need to know to survive. Knowledge is king in my book, the more we know how to take care of ourselves the better we will be prepared for the unknown. You will have no fear if you are prepared…you really will feel so much better about things.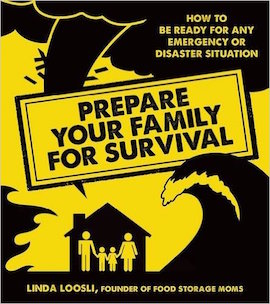 This is a great statement about my book I am quoting from Amazon: Prepare Your Family for Survival: How to Be Ready for Any Emergency or Disaster Situation
"Parents care about keeping their families safe, hydrated, fed, and healthy on a daily basis; yet, every year families face unforeseen situations that threaten those necessities. It could be a natural disaster like a hurricane or blizzard or a man-made emergency situation like a power outage or food shortage. Is your family prepared? In Prepare Your Family for Survival, readers learn the basics of water and food storage? Wwhere to start and what to work toward for serious preparation?as well as 72-hour kits and evacuation plans. Readers also get helpful guides to follow once their family is in an emergency, like how to stay clean with a limited water supply, how to cook with emergency cooking devices, and how to survive in the dark."
My book is available at Amazon, Barnes and Noble, Book-A-Million, Indie Bound, The Book Depository, iTunes, Google Play, Target, Walmart, and many more. If you have the knowledge you CAN survive, I promise. I recommend buying the paperback book so in case we lose power you have the book available in your hands to review and survive. The Kindle version would be great to read if you are sitting in a doctor's office waiting, you can review and sharpen your skills to be prepared for the unexpected.
Water
Please remember your neighbors, family members and friends that are living alone. They still want water stored, food storage and some conversations. I received an email once that a reader asked me "what can my mom store in her nursing home, care center or whatever?" So yes, even our elderly friends or family members in care centers still worry about having food storage or water on the shelves in their rooms. They want that security of knowing they have some food and water in their rooms should an emergency or disaster happened. Grab a 24-pack of water the next time you go to the supermarket for your elderly neighbor, or take it to the nursing home if you know that person would love to have a case of water stashed in their closet. They would love the fact that someone cares about them, I promise.
Please remember those college students who are working jobs to pay their way through school. They need water stored in their apartment in case of a disaster or unforeseen emergency. Gift cards are great, but they can't drink them if they have a disaster where they live. If you can deliver a case or two and ask them to keep it under their bed for emergencies for six months and then rotate it. You can sleep at night knowing they have water when they may need it the most.
Food
Here's the deal about food storage for your elderly neighbors, if you have some living in your area. I have gone to some luncheons in my neighborhood and there are a lot of people that do not have the means to put an extra case or two of food in their pantries. If you can afford to take a sack full of canned goods that the elderly singles or couples could just open with a can opener, trust me they will be so happy. I know a lot of people that getting older and do not have the strength to go grocery shopping. Offer to take an elderly couple to the store and pick up the tab, only if your budget allows. This would be an awesome gift and a blessing to those receiving the food. Oh, and if you make bread, that is icing on the cake, so to speak, if you give them a warm loaf from the oven.
Now, let's talk about college students living in apartments. First of all, they are learning to budget, which is a good thing. But if you really want to give a great Christmas gift to a college student give them food items they can open and heat to eat. Gift cards are great, but not after a disaster or unforeseen emergency. The students need food, not gift cards that may be useless for days if not weeks if a disaster were to hit.
Flashlights
Get a flashlight for everyone in your family. Preferably one that does not need batteries like this one: Goal Zero Torch 250 Flashlight with Integrated Solar Panel
72 Hour Kits
Here are the PRINTABLE links to my suggestions for your 72 hours kits: Adult 72-Hour Kit Child 72-Hour Kit Pet 72-Hour Kit
If you can't afford to buy a backpack and the stuff to put in them get a box and start filling it as your budget allows. Something is better than nothing, just start.