Prepping Items You Should Buy Used
Today, it's all about prepping items you should buy used. Can you remember the moment that you made the decision to become more of a prepper? I bet it wasn't long after that, where you sat down and wrote out a list of all the items that you would need in order to survive any emergency.
In case you haven't purchased my book, "Prepare Your Family For Survival" by Linda Loosli. If You have, I thank you from the bottom of my heart. The book helps to outline many of the prepping supply items you need to consider purchasing.
Before you knew it, the costs for those supplies became astronomical, and to make matters worse, you may have had a spouse that wasn't entirely on board with your way of thinking. Yikes! In case you missed this post, Thrift Store Items To Stock Up On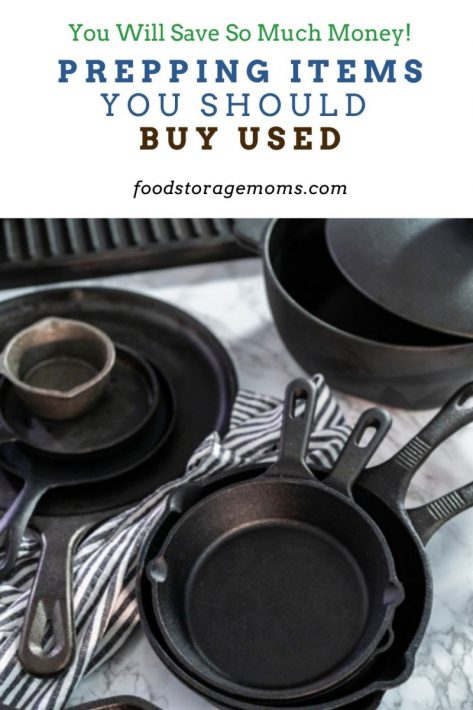 Prepping Items You Should Buy Used
It is true that prepping costs can become fairly costly in a hurry. But if you go about it the right way, you can do it for a fraction of that amount. Have you considered buying some of those supplies used?
It may come across as a surprise to many of you, but buying brand new is not always best, especially for the purpose that you'll be needing those items, and that's to become better prepared. 
If you're lucky, you'll only need to use your prepping supplies once, maybe a few times at most. Or hopefully, never at all. Buying something brand new that just sits there over the years without use doesn't make a whole lot of sense.
These are prepping items that you should consider buying used to help lessen the financial burden.
Prepping Items You Should Buy Used
Flashlights and Lanterns
Used flashlights are something that you will definitely need for any type of emergency, and fortunately, they're not very hard to find. Pick one up for each of your family members while you're there and don't forget extra batteries.
Lanterns, on the other hand, are a little more difficult to come across, so if you see a battery-powered or oil lantern, pick it up.
Portable Radio
To stay connected with what's going on in the world around you, be sure that you aren't left without a portable radio. You'll need updates on the weather, or if they urge your area to evacuate at some point. An older one will work just as well as one that's brand new, so it's an easy decision. For this one too, don't forget batteries.
Another communication item you should consider buying used is a 2-way radio. This is to stay in touch with your family members in case one of you were to become separated.
Camping Gear
You can even track down camping gear that's been lightly used which will certainly come in handy not only on camping trips but if you're ever forced to evacuate your home. Garage sales are one of those opportunities where you never know what you will find. 
Rain Gear
The next time you head into a thrift store or visit a garage sale if you come across rain gear that's marked down dirt cheap, don't hesitate to grab them. It's pretty common to be able to find rain jackets and ponchos at these places, but the trick is finding them in the right size, which may require patience and several visits.
You can even find rain boots for super cheap and you'll be needing them. Just be sure that there are no cracks or tears in the soles and that they're watertight inside and out. There's nothing worse than having cold wet feet and a pair of rain boots that didn't do their job.
Winter Gear
When you're in need of hats, gloves, jackets, scarves, and snow pants, you don't necessarily have to buy them brand new and spend a lot more money. I'd recommend hunting for winter gear during the spring and summer months when stores will have these items marked at their cheapest in order to rotate through their merchandise inventory.
Just be sure to wash these items before your family uses them because many thrift shops don't wash clothing before reselling them.    
Hunting Gear
There may come a time when you need to blend in with your surroundings. Camouflage hunting gear can cost you well over a hundred dollars when buying brand new.
If you keep your eyes peeled and looking all about, you may come across treasures like this that have been only worn a couple of times, and end up paying a whole lot less. 
Backpacks
Backpacks are important for obvious reasons, but paying full price for a name brand is just silly. They work when you're on a hike, or you're needing to carry several prepping items along with you when you're on the go. 
Tools
Tools are especially an item that you never need to pay top dollar for. Trust me, I've been to plenty of garage and yard sales that have tools piled high and waiting for a new home. They're sure to have hammers, screwdrivers, wrenches, knives, and even screws and nails that you may need to build things like a shelter. 
Cooking Ware
What cooking ware do you plan on cooking with when you're forced out of your home? Stores like Goodwill, Deseret Industries, and The Salvation Army are great places to track down cooking ware to serve that purpose, and for very little.
Don't worry if those pots and pans are a little banged up, as long as they hold together while cooking your food.
Another cooking item to hunt for is a cast-iron skillet. If you do in fact find one, you've struck gold! If you see any cast iron Dutch ovens especially one with a lid that has a lip, buy it.
Barrels and Buckets
Many preppers rely on rainwater as one of the many water sources that they have available to them. For that, you'll be needing buckets and a barrel or two that you can use to store your rainwater.
Again, why is this something that would have to be brand new? Just be careful when buying one, we need to know what was stored in it. Just FYI!
Gardening Supplies
Plan on doing a little gardening and raising crops if SHTF? You can find cheap gardening tools, whether you're looking for a shovel, hoe, rake, or even a manual tiller that can get your vegetables started.
Prepping Items You Should Buy Used
Final Word
I can understand when you expect to pay more for an item that you use every day, but prepping items don't meet that criterion. There's nothing wrong with being frugal with your money, especially when it comes to prepping.
You have to be patient and willing to wait for the best deals. It may also require you to take several trips to various stores and garage sales to find what you're looking for. Make it an adventure and enjoy the journey as you acquire your prepping gear. May God Bless this world, Linda. 
Copyright Images: Cast Iron Pans Deposit photos_288370492_s-2019