How War Drastically Affects Us All
The war in eastern Europe drastically affects us all. It's hard to live in a world where war is constantly breaking out and people are displaced or dying. We have to be prepared for war, both mentally and physically.
How War Drastically Affects Us All
War can take a toll on our mental health, as we witness the horrible things that happen to those directly involved. We also have to be physically fit if at an age and circumstance to be called up to fight in the war. Prepping for war is something that everyone should do, as it could one day save your life. Here are several ways that can affect you even if you aren't fighting in it.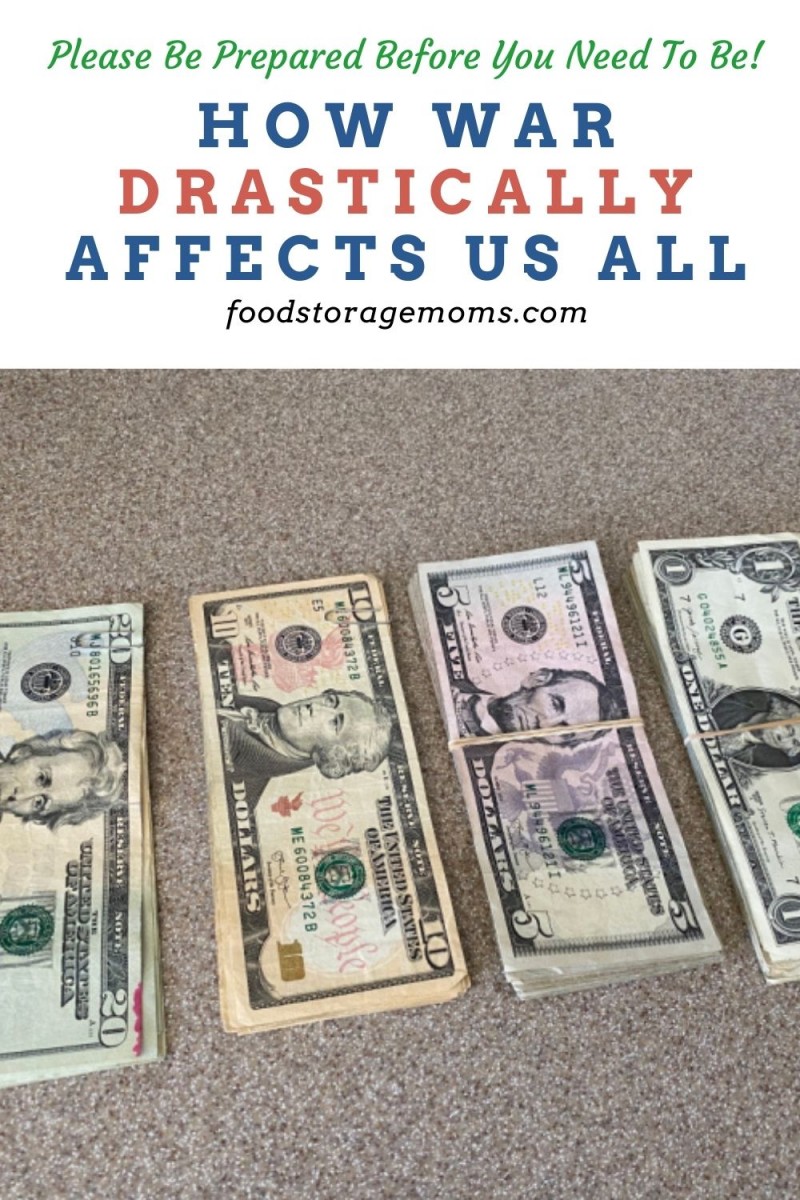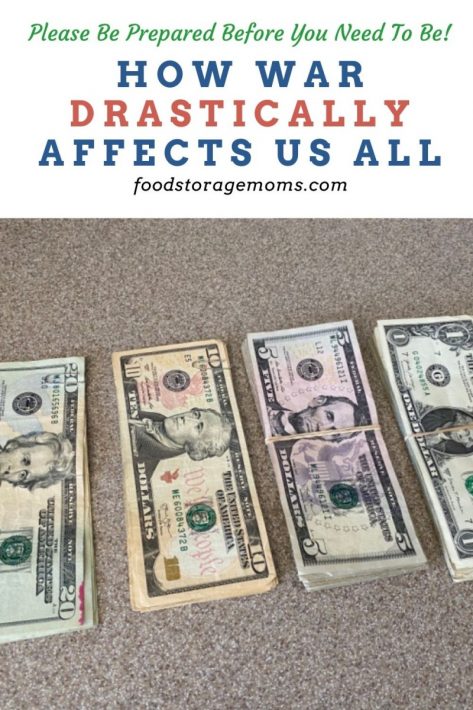 Economically
War can have a huge economic toll on large populations, even those not located close to the conflict itself. When a country is at war, they have to spend a lot of money on weapons, manpower, supplies, and other things. This can lead to inflation and higher taxes. People who are against the war may also suffer, as their businesses may be boycotted. Here are a few ways the economy has been affected by war:
Food shortages: One of the main ways war affects us is through food shortages. When a country is at war, they often block off supplies to their enemies. This can lead to shortages of food and other necessities for those who normally rely on the country to provide products. We may also see an increase in the prices of goods due to inflation as the demand exceeds the available supplies.
Oil inflation: Oil is another big one. When a country is at war, they often block off supplies of oil to their enemies. This can lead to inflation in the prices of oil needed by those adjoining countries that have relied on the oil for years.
No travel:  During war times, travel is often restricted. This means that people can't go on vacations and businesses can't ship their goods. This can have a huge impact on the economy.
Mentally
War can take a mental toll on people. Some may suffer from post-traumatic stress disorder (PTSD), depression, anxiety, and other mental disorders. They may also have trouble sleeping, flashbacks, and nightmares. It's important to get help if you are suffering from any of these conditions.
We can suffer just by watching what is happening to others, but it directly affects those who are on the front lines and then come home and try to get back to a level of normalcy.
Physically
You don't just have to be mentally prepared for war; you also have to be physically prepared, particularly if combat is your vocation. This means being in good shape and being able to handle a weapon. If you are injured in war, you may also have to deal with physical scars.
It is also important to try and stay as healthy as possible if indirectly affected, such as having to uproot your family and travel elsewhere to live.
Changes Our Beliefs
War can also change our beliefs. For example, if we see someone die in war, we may start to believe that life is not worth living. We may also become more cynical and distrusting of people. Some former believers tend to question God and how he may influence their future.
Environmentally
War can also have an impact on the environment. When bombs are dropped, they can cause pollution and destruction. This can lead to changes in the living conditions and the ecology of an area.
How is the US Affected by The Ukraine War?
The United States has not been affected by the war in Ukraine as much as other countries have. However, the war has increased tensions between the US and Russia. It has also led to an increase in defense spending by the US and had an economic impact. Here's how we are affected:
Gas prices:  The war in Ukraine has caused gas prices to rise as Russia has blocked off supplies to Europe.
Stock market: The war in Ukraine has also caused the stock market to fluctuate widely. It is fluctuating because of the tensions between the US and Russia, as well as the economic impact of the war and uncertainties that go with it.
Tensions with Russia:  The war in Ukraine has led to increased tensions between the US and Russia. This is because Russia is supporting the rebels in Ukraine, while the US is supporting the Ukrainian government.
Global economy:  The war in Ukraine has also had an impact on the global economy. This is because of the gas prices, stock market, food shortages from what has been called the "breadbasket of Europe," and tensions between the US and Russia.
Defense spending: The war has led to an increase in defense spending by the US. The US is funding the Ukrainian government and is also sending military aid to Ukraine. It puts pressure on US citizens since taxes may go up, but the additional money in the currency supply available can cause additional inflation.
Inflation in the US: The war has also caused inflation in the US. This is because of the gas price increases, higher food costs, and other economic forces at work.
Food Shortages 2022
Currently, we are already seeing several food shortages right here in the states. And, there are several food shortages coming soon if they aren't already, here. Here's a list of foods you should stock when you can:
Baby formula- Recalls on formula are making it tough to find.
Meat- The chicken shortage as well as supply chain issues are causing a meat shortage.
Dairy- Due to a chicken shortage and the Bird flu, there is also an egg shortage.
Fruits and Vegetables- Imports from Mexico have been suspended which will directly affect the supply of avocados.
Canned goods- Due to an aluminum shortage, there is also a canned goods shortage.
Imported goods- We have stopped importing some things from other countries.
Besides the war causing inflation, there are labor shortages and supply-chain issues from food manufacturers to the grocery stores. In essence, there just aren't enough people to make the goods, move the goods, and sell the goods.
How Can We Prepare for the Effects of The Ukraine War?
There are a few things we can do to prepare for the war:
Get a Gas Card
This will help you save money on gas. A gas card is a type of credit card that gives you discounts on gas. When the price of gas goes up, any discount is appreciated. However, make sure that you pay the card off each month, so you are not paying interest on the gas you got a discount on.
Keep a Stock of Food
If there is a food shortage, it's important to have a stock of food. This way, you will have something to eat if the prices of food go up, or there isn't any food on the shelves. Check out my posts below if you need help getting started:
Be Prepared Mentally and Physically
Mentally, war can be very tough. It's important to be prepared for it by getting help from a mental health professional if you are feeling depressed or have anxiety. You should also be physically prepared by being in good shape and knowing how to use a weapon, if the need arises.
Build an emergency fund
This will help you if you lose your job, have an accident, get sick, or have to deal with other financial problems.
Have a plan
Talk to your family about what they would do if war broke out close to home. This will help you be prepared and have a plan. Have a plan for what you will do if war breaks out. This includes having a place to go, food and water, and supplies.
Be informed
Stay up to date on the latest news about possible war closer to home. This will help you be prepared for what is happening.
Invest in gold
Gold is a good investment because it has been shown to hold its value even if the economy collapses. And, as inflation increases, so does the value of gold. Your paper money loses value when inflation is high.
Have a bug-out bag
A bug-out bag is a bag that has everything you need to survive for 72 hours. It should have food, water, and supplies. This will help you if you have to evacuate quickly. Make sure to use my Comprehensive Bug-Out Bag Checklist.
Have cash on hand
If the war causes the stock market to crash, it's important to have cash on hand. This way, you will be able to buy food and supplies. In addition to the stock market crashing, there may be issues with card readers, so using a card to pay for things may not be available.
Final Word
We can't predict the future, but we can prepare for it. If you are already seeing the effects of the Ukraine war, or are worried about the war, use the tips above to help you prepare. If war does break out, you will be glad you did. Remember, war drastically affects us all no matter where we live.
How has the war in Ukraine affected you? Let me know in the comments below. May God Bless this world, Linda