Shortages: Are They Similar to the Great Depression?
The Great Depression took a huge toll on this country nearly a century ago. Fear had its grip on families, while millions of men and women were left without work. To make matters worse, there was a scarcity of food and other shortages as well. Shortages: are they similar to the Great Depression?
The recent pandemic has brought about struggles and shortages on a similar scale today. Most of America was shut down for several weeks just a few short months ago. With so many Americans out of work, it created a domino effect of shortages that initiated several challenges in the way you and I live.
Shortages: Are They Similar to the Great Depression?
At first, we were only noticing shortages when we headed to the grocery store, but as time went on and Covid-19 continued to keep people out of work, more and more shortages began to pop up. Here's more on some of those shortages that we've experienced and their similarity to the Great Depression shortages.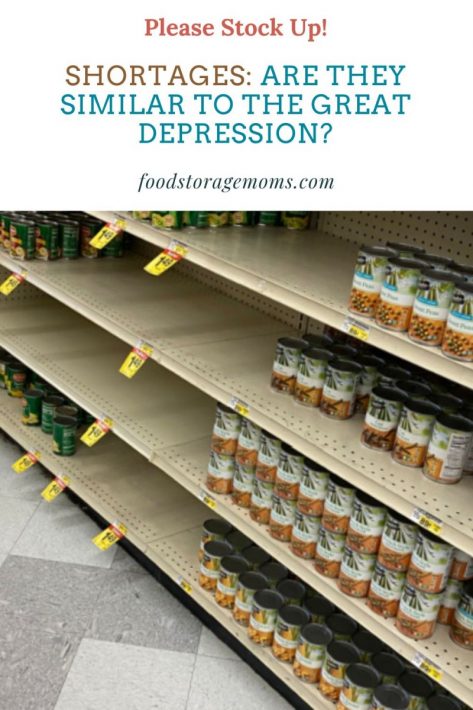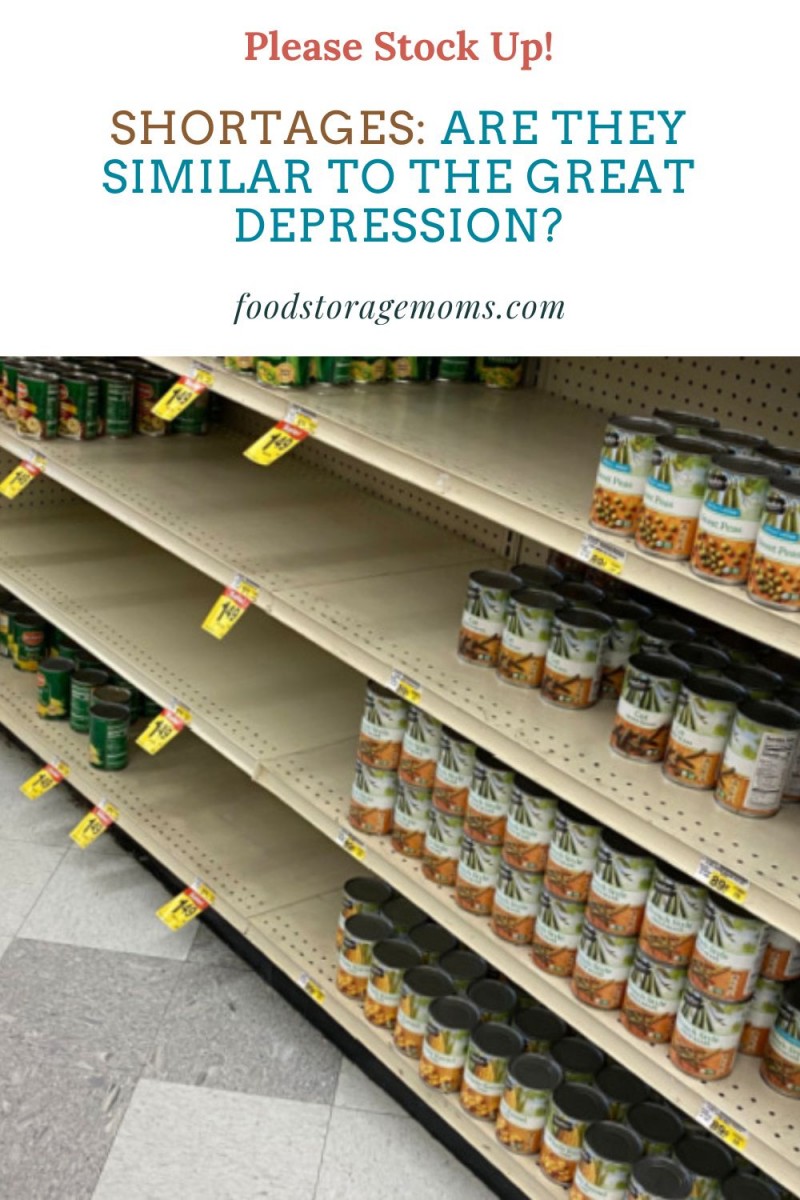 The Toilet Paper Scare
One of the first shortages that we all encountered was toilet paper. Really? I'm still shaking my head on this one. But it's true. Toilet paper was virtually nowhere to be found due to the high demand for it. You couldn't even purchase any online with Amazon, as they too were out of stock.
By the end of March, toilet paper sales dropped through the floor because there simply wasn't any to be found. What little the stores did have, customers were being limited to only one pack per family. Many people who didn't beat the toilet paper shopping frenzy had to learn new ways to keep clean.
Empty Grocery Store Shelves
About the same time toilet paper was disappearing from the grocery store shelves, several other shortages began to pop up as well. Paper towels, hand sanitizer, cleaning products, detergents, eggs, milk, peanut butter, and canned foods, all began to make their exit not long after.
Even bottled water was sold out. Where I live, the bread aisle was completely wiped out and out of stock for close to a week, and took a number of weeks before you could find your favorite specialty bread. Thank goodness I make my own bread. If you need some FREE no-fail bread recipes here they are: How To Make My No-Fail Homemade Bread
Meat Packaging Industry
No, there wasn't a shortage of livestock, from beef, pork, or chicken during the worst parts of the pandemic, but there certainly weren't enough workers to keep the meat market rolling. At one point, 40% of the pork industry was at a standstill.
Even with stricter safety measures in place at three of the United States' largest meat processing plants, the infection was spreading rapidly (and continues to) amongst its workforce. This forced several plants to close down, and led to empty shelves in every grocery store's meat department throughout the country, along with a skyrocket in meat pricing.
Grocery stores had to start limiting certain meat products in the quantity they could buy.   
Things are starting to return to normal, but you may still notice that meat departments are still rather light on the products available as we continue to move throughout the grilling season. With the second wave of corona cases that are currently happening throughout the country, experts were wary about whether the meat factories would close back down once again. So, far, that's not the case. Let's keep our fingers crossed.
Coin Shortage
The coin shortage didn't become a huge concern until after businesses started opening back up and having to take coinage from their banks. The only problem was, that the federal reserve was incredibly low at the time due to limited available staff to run the machinery.
At first, you may not have thought anything of it when that first business asked you to use exact cash and coin or encouraged you to use a debit/credit card, but more and more, this situation was starting to pop up everywhere.
With every small and big business that was shut down throughout our nation, along with Americans not being able to go out and make purchases as they did before, our economy came to a screeching halt.
Money (especially coins) was not circulating as it should, while fewer workers at the U.S Mint were allowed to continue producing money (due to COVID restrictions), which only made things worse. In case you missed my post, Coin Shortage: What You Should Know
Lumber Production
Construction has also taken its toll because of the shortages of lumber that we are experiencing. This has made it more difficult to find cabinets, doors, and windows to keep building projects moving as smoothly as before. Again, this is not because of there not being enough lumber, but rather a shortage of workers (due to Covid-19 restrictions) to keep tree harvesting and production rolling.
Drugs and Prescriptions
There has also been a growing drug and prescription shortage over the past several months due to slower manufacturing. This is especially true for drugs that treat bacterial infections. Ventilators and anesthetics were also impossible to come by.
The prescription drugs known as Chloroquine and Hydroxychloroquine are experiencing shortages. You've undoubtedly heard about them in the news not too long ago. Many doctors had found them to be effective in treating Covid-19 symptoms and prescribed them to their patients. There were also doctors questioning the effectiveness of the drugs. The debate continues.
The FDA began cautioning against this and before too long, both of them were cut back for use in the United States. Hmmm…this one seems rather odd and doesn't sit well with me.  I understand the pharmacists were actually questioning why the patients needed it even though so many people are already using it and still using it.
Appliances
Yes, even appliances have been harder to come by as well. This is especially true if you're looking to buy a refrigerator or stand-alone freezer. In the past few months, more and more people were buying them to keep a larger supply of food at home and not being able to take as many food shopping trips outside.
As of right now, if you're looking to order one of these, there's at least an 8 to 10-week waiting period because of the manufacturers' short supply. I saw shortages of dehydrators, pressure canners, water bath canners, and of course canning bottles and lids. If you're lucky you may see some on the grocery store shelves. Or you can order them online where there may be some price gouging.
Final Word
These are just a few of the major shortages that we've been dealing with over the past several months. They may not entirely line up with the shortages that our grandparents were faced with during the Great Depression, but there was still an eerie feeling as you'd walk up and down the grocery store aisle and see so many empty shelves for all kinds of products.
What other shortages have you come across lately that have been related to Covid-19? What do you think of shortages: are they similar to the Great Depression? Please keep prepping, we must! May God bless this world, Linda