8 Places Preppers Store their Survival Supplies

Do you have your survival supplies stored properly? A wise prepper would never place all of their eggs in a single basket, and that's especially true when it comes to where they store all of their survival supplies.
You may have all the right survival gear to make it through any major disaster known to man, but if you're away at the office, on vacation, have to evacuate from your home, or the flood waters are rising faster than expected, what have you done to prepare for emergencies and the related emergency supplies you may need to survive?
That's why you need to be ready for as many contingencies as possible, no matter where you might be when the emergency comes into play. These are 8 places where every prepper should store their survival supplies.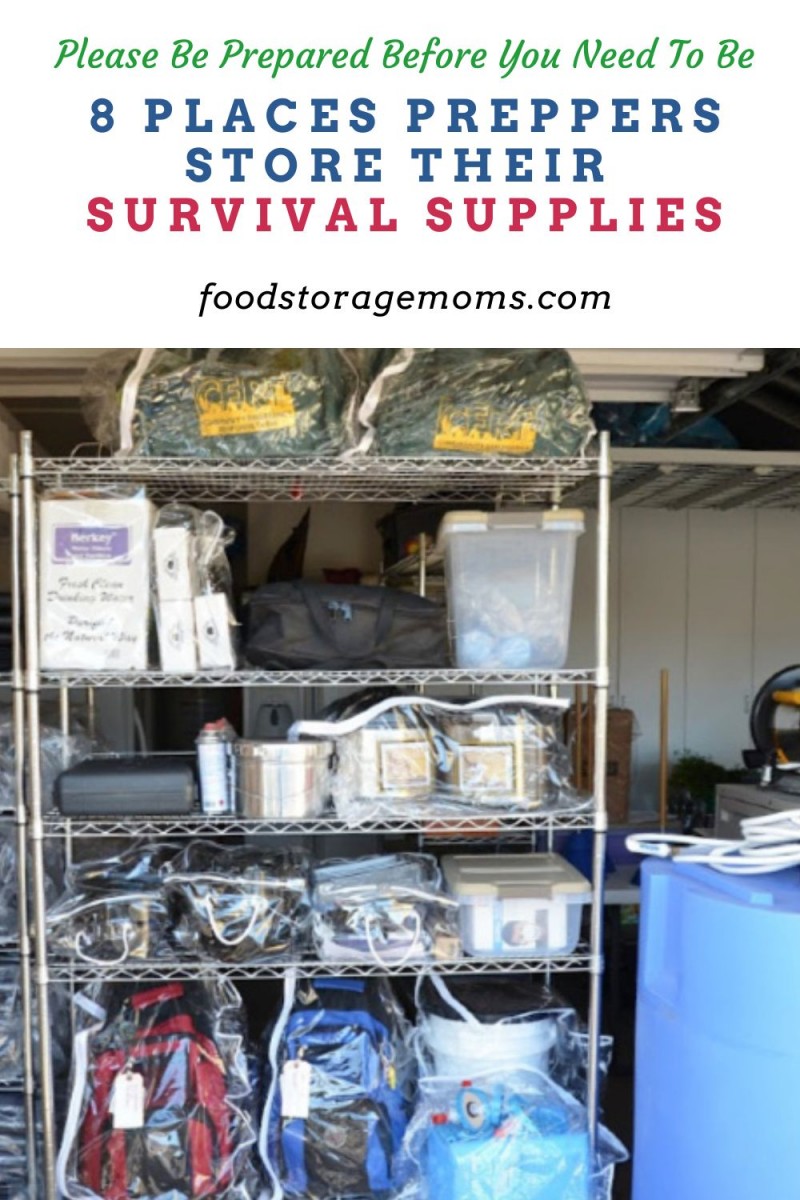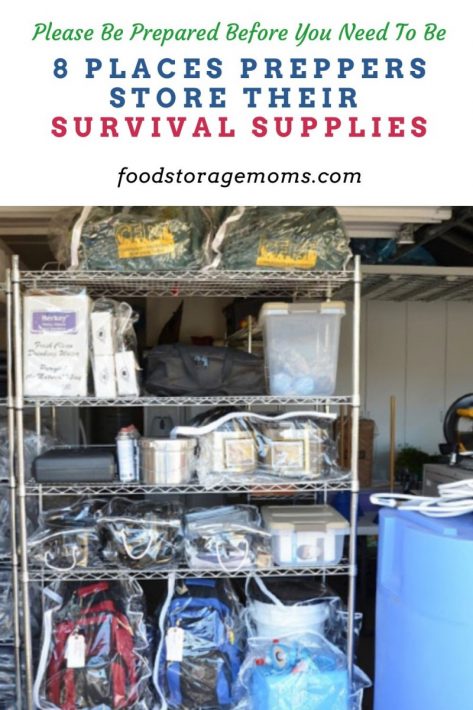 8 Places Preppers Store their Survival Supplies
1. Basement
Your basement is one of the best places to store your emergency supplies, as it's protected from natural disasters like tornadoes, earthquakes, and snowstorms. Just remember not to store food and supplies on the floor of your basement and keep them as high up on the shelves as you can.
That way they aren't as risk prone to become compromised or damaged by contaminated waters if flooding takes place.
But if the flooding is severe enough, it won't matter because you won't be able to reach your supplies anyway. That's one of the major drawbacks to storing all your supplies belowground.
If your area is subject to possible flooding, consider looking into some water-resistant containers to store the supplies. At least the more expensive supplies deserve some protection from water damage, so take stock and figure out what should be given a priority, and then acquire the necessary containers. Yes, there's some expense, but it certainly should be significantly less than replacing those more costly items.

2. Root Cellar
There are plenty of homes out there that don't have a basement to store things in. However, if you have a root cellar, that's a valuable option. A root cellar is a subterranean room that's used to store vegetables and fruits.
The temperature and humidity in a root cellar are perfect for preserving food. You can also use a root cellar to store other survival supplies like water, medical supplies, and tools.
Just make sure that the root cellar is properly ventilated so that you can breathe effectively when you go down there. And if you have a gas-powered generator, make sure it's well away from the root cellar so that the fumes don't build up and cause an explosion.
I'd strongly suggest you have some type of shelving installed if there's room. Also, consider putting down some tarps or other covering on the floor so items you have to place there aren't as susceptible to moisture. Again, if you are prone to floods in your area, this may not be the best place for the storage of valuable supplies. Containers as discussed above may help protect some of your supplies.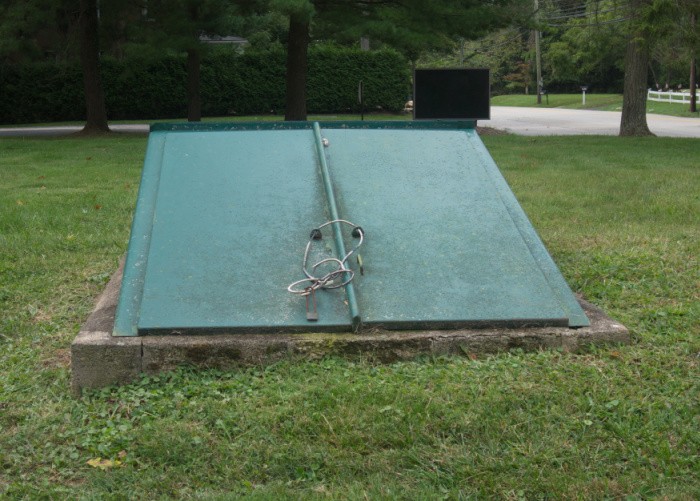 3. Garage
Your garage is another convenient location to store your survival supplies. It has ample space and can temporarily house your emergency supplies until you have a better location for them. In addition, many garages have an attached carport which makes it easy to load and unload supplies when necessary.
Having a wide garage door opening certainly helps with the logistics of moving your supplies in and out. If you have room, it also provides a place to either install shelving or provide space for shelves on wheels. In our last home, we had a three-car garage with plenty of space for shelving. We opted to buy those nice shelving racks on wheels so we could move them if needed.
However, your garage could also be susceptible to flooding, so be sure to store any perishables or electronics on high shelves. They usually aren't insulated well, so cold and hot weather can have a negative impact on your food and supplies. And lastly, they can be easier to rob if someone wants in your garage badly enough.
We had a neighbor close off a section of his garage and had it sheetrocked with heating and air added to protect what he was storing. Then he added heavy-duty shelving, it was awesome.

4. Attic or an Upper-Level Room
For those of you that live anywhere close to where flooding or hurricanes are somewhat likely, storing your non-perishable foods and survival supplies in the attic or an upper-level room may be your best bet. That way the waters don't contaminate food and damage your essential supplies, or even worse, wash them all away.
Just keep in mind that attics can get incredibly hot during the summer months in most areas, and that can significantly lessen the life of your food supply. So be sure to rotate out your supply often if you decide to go this route.
You may have to reinforce the flooring as well so you can walk on the trusses if that's even possible. If you feel it's to your advantage and can justify the cost, you may be able to add some heating and air ducts to your current system so your supplies to store safely.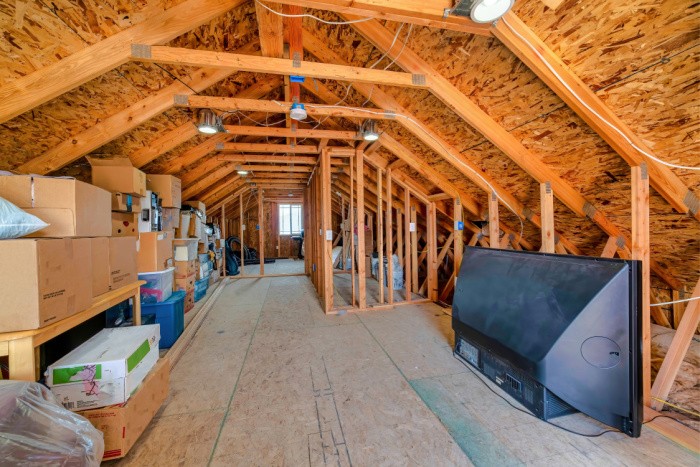 5. Pantries
Your kitchen or basement pantry can be used for more than just storing food. In addition to non-perishable food items, you can also store essential survival supplies like first-aid kits, flashlights, batteries, bug-out bags, solar ovens, and more. You may want to keep some supplies in airtight containers so they're protected from moisture and pests.

6. Storage Unit
If you don't have a basement or garage, then a storage unit could prove to be the next best option. You can find storage units of all sizes to accommodate your needs and many of them even offer climate-controlled options to protect your supplies from extreme temperatures.
The downside is that you'll have to pay monthly fees, but it could be worth it for the peace of mind knowing your survival supplies are reasonably close. We have a bunch of our supplies in storage right now but plan to move them into our new home once it's constructed. This is a temporary solution, but we have a lot of valuable supplies we want to be protected.

7. Car or Trailer
What would you do if your family had to evacuate your home in the middle of the night? And if the devastation from the emergency was widespread enough, where would you turn for help?
You won't be able to depend on nearby friends and family because they'll be in the same boat. That's why I believe that having a fair amount of survival supplies hidden away in your trunk would be a pretty darn good idea.
Keep a few basics like water, food, a first-aid kit, a camping tent, warm clothes, and blankets in your trunk at all times just in case you get stranded or have to evacuate at a moment's notice. Having snacks and entertainment for the kids would also be wise on your part. Just be sure to rotate out your food every few months so that they aren't spoiled from the heat.
Some of you might have a small travel trailer you can store supplies in. They are subject to the elements of heat and cold, and could possibly be broken into, but it can support your needs for extra storage space or a way to get your supplies from one place to another if you have to evacuate.
8. Bug-Out Location
Heaven forbid, but there may come a day where your home is decimated by severe weather in a matter of seconds or is no longer deemed as a safe place to stay based on the amount of damage it sustained. This could happen in a number of different ways, including in most major disasters
Situations like these would not give you the ample time that your family needs to grab enough food, water, and supplies to hold you over for an extended period of time.
If this were to happen, you're going to want to have a bug-out location where you can go and be safe. This is usually a second home, makeshift shelter, or some type of property in a rural area that's away from any major city. And of course, you're going to want to have a considerable amount of survival supplies stored there as well.
The cost for such a location could prove to be prohibitive for many of us, but it is an option to at least consider.
Just FYI, I will not be bugging out unless my entire home is destroyed. I highly recommend Ray's book, "Bugging In" by Raymond Dean White
Why Do I Need To Consider the Rule of Threes for Survival?
While we've been discussing the places to put your prepper supplies, it's important to also think about what you need personally when it comes to survival. Preppers are aware of the Rule of Threes as follows:
You can survive three minutes without breathable air: you need to make sure you don't put yourself in a situation where you are unable to breathe. If necessary, seek high ground to avoid a major flood or just water in your basement from a broken water main.
You can survive three hours in a harsh environment (extreme heat or cold): having shelter is critical, but in the worst-case scenario, extra clothes to stay warm, and water and shade, even from a wide-brimmed hat, during those hot days.
You can survive three days without drinkable water: it's really hard to picture going three full days without a drink. I've always said that water is the most important survival "supply" you can have. Make sure to store water and have ways to filter or treat it if it becomes necessary.
You can survive three weeks without food: there's a lot of talk about intermittent fasting, but the idea of going a number of weeks without food is really scary to me. You not only have to have food stored away, but it needs to be food that won't go bad in the short term, and it needs to be food your family will eat.
Final Word
Now that you know some of the best places where preppers store their survival supplies, it's time for you to start gathering your own supplies and get prepared for anything that may come your way. This article may have been hard for some of you to swallow, but trust me, it's better to be safe than sorry. Can you think of any other places to store emergency supplies that I may not have mentioned? I'd love to hear from you! May God Bless this world, Linda
Copyright Images: Root Cellar AdobeStock_378640635 by Monica, Interior Attic AdobeStock_402937396 by Jason