Disaster Supplies: 11 Items You May Need After A Disaster
Preppers, as we all know, are always preparing for the worst-case scenario. And while many of us like to think that we'll never actually need our survival gear, it's important to be prepared nonetheless. In the event of a natural disaster or other emergency situation, there are certain disaster supplies you'll need when recovering from a disaster.
How Long Does It Take For Help To Arrive?
When a disaster strikes, it can take some time for help to arrive. That's why it's important to have a plan and supplies in place ahead of time. Knowing what to do and having the supplies you need can make a big difference when seconds count.
But how long does it normally take for help to arrive after a disaster? It really depends on the type of disaster and the location. For example, if you're in a remote area or the disaster is widespread, it could take days or even weeks for help to arrive. In other cases, help may only be minutes away.
The best thing to do is to be prepared for any possibility. Have a plan in place and make sure you have enough supplies to last for at least three days. This will give you the best chance of weathering any storm.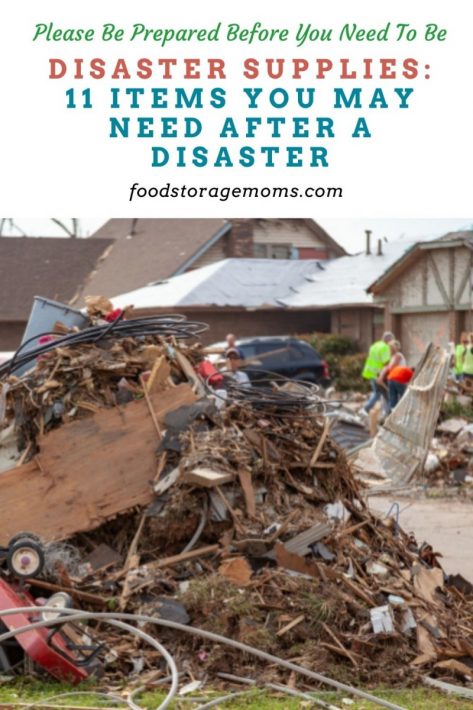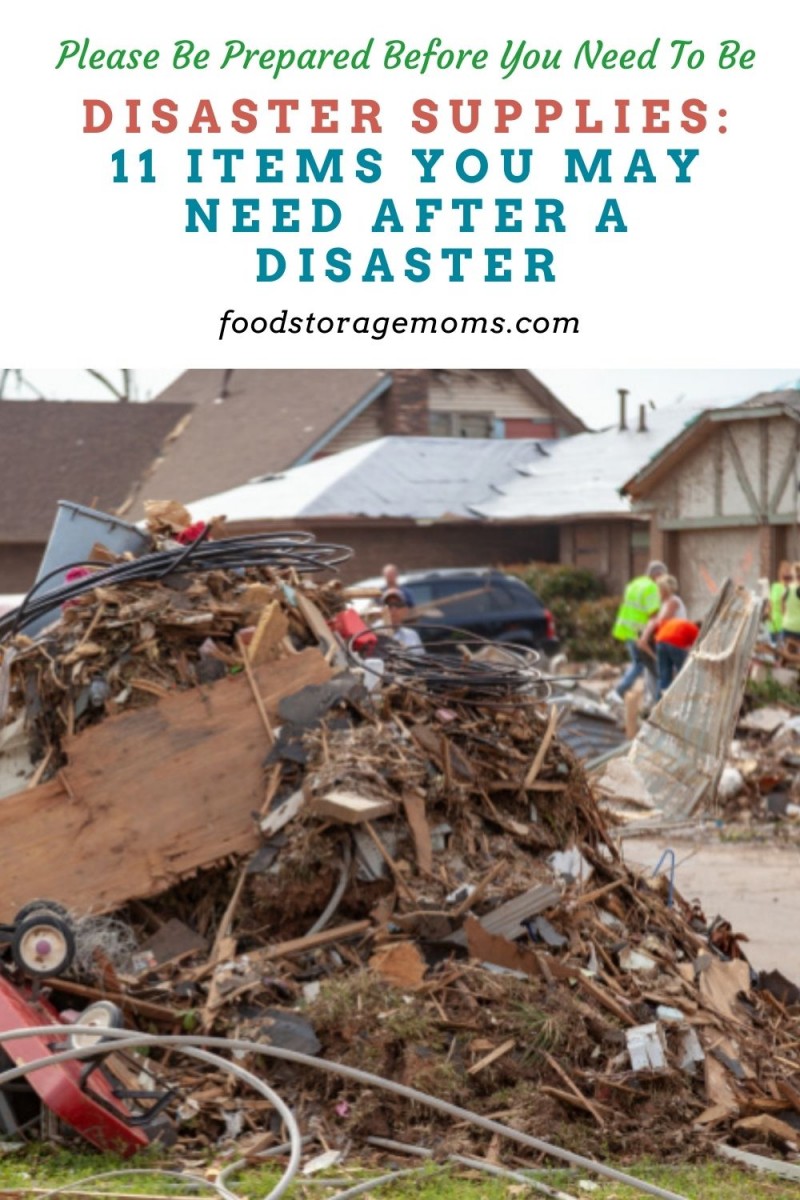 Recovering From Disaster
The best way to get your life back after a natural disaster is by taking these simple steps. This section offers some general advice on what you should do if the unthinkable happened and it's time for an emergency response in order to make things go as smoothly as possible. This also includes ensuring decision-making and mental well-being remain a high priority throughout this process.
Health and Safety
Disaster response concerns are always the largest when it comes to your immediate family. The needs of your loved ones should be the first thing on our minds after any type of disaster, not just because they are close by, but also for their general safety during such an event as well!
Administer first aid and seek medical attention for any injured person following a disaster.
Check for injuries. If you see someone who has been injured, don't move them unless it is necessary to save their life or prevent further injury. Make sure that they are stable in all respects before attempting help so as to avoid causing more damage on top of what's already there!
Make sure it's safe to return home. We all know how difficult it is to return home after a disaster. You may be anxious and excited about seeing your property, but don't go back without checking with local officials first, particularly if you were directed to evacuate!
Check Your Environment
Be aware of safety issues that could have been created by the disaster. Here are a few things to look out for:
Contamination includes water, gas leaks, sewage, or chemicals that could have contaminated buildings or other property.
Broken glass
Damaged electrical wiring
Slippery floors
Structural damage to buildings
Loose power lines
Contact Emergency Response Personnel
Contact your local emergency management agency if you have property damage following a disaster. Local officials are usually the best option for immediate needs such as food and shelter, but it is important that we contact them quickly so they can respond with appropriate resources in case of an extreme situation!
Please keep in mind, this may prove to be your last choice because we can't expect the government to rescue us in every situation. Obviously, if the disaster is really bad, we won't be able to contact anyone. We must be self-sufficient, if at all possible.
File an Insurance Claim
If you have insurance, and you should have if you own property and have a mortgage, contact your agent immediately so they can file a claim on your behalf. Make sure to document all damages. Before cleaning up take photos and make a detailed list of the damage. As the cleanup and repair move forward, document every itemized expense for post-damage repair or cleaned items as they occur.
11 Disaster Supplies You May Need After A Disaster
Now that we've gone over some basics of what to do after a disaster, let's get into what items you may need. This list is not all-inclusive, but it should give you a good idea of what to expect and how to be prepared.
1. Portable Sinks
If you don't have running water, a portable sink can be a lifesaver. You can use it to wash your hands, dishes, and more. I have a few similar to these: Wash and Drain Dish Tub.
2. Emergency Toilet
I recommend making one of your own emergency toilets. In case you missed this post, How To Make Emergency Toilets, please check it out. Some people don't have the tools or ability to make an emergency toilet, so I recommend this Emergency Toilet. Be sure to have a good shovel to dig a hole to dispose of the bags. The holes should be at least 3 feet deep and several hundred feet away from any water source. If that isn't feasible, save them for later disposal as safely as possible.
3. Emergency Washing Machine
You can make your own wash tubs with washboards, but this unit is awesome! It's called a Lavario Washer (currently unavailable). I actually bought two, one for washing and one for rinsing, but one would work. You can also make these, Emergency Washing Machines.
4. Solar Lights
Solar lights are great for lighting up a dark room or area at night if the power is out. If you have yard lights those will work, but if not, get a few of these Solar Lights.
5. Flashlights
You can never have too many flashlights. My favorite flashlights are Olight Flashlights (Matt's suggestion) and Solar Flashlights. Make sure you at least have enough flashlights for every person in your home to have one. Without using solar flashlights you'll need extra batteries. Check you inventory often, and replace those old batteries, particularly if they are showing any corrosion.
6. Paper Goods
Please stock Paper Towels, Toilet Paper, Paper Plates, Paper Cups, and Plastic Silverware. Sam's Club or Costco would be the cheapest place to buy these in large quantities. The dollar stores usually stock some paper products as well. You don't want to use up your fuel to heat water to wash all of your dishes.
7. Cooking Stove with Fuel
I always recommend a Butane Stove with Fuel as an option, but we need more than one option, my friends. Why Do We Need Different Emergency Cooking Stoves? We need different cooking options depending upon the emergency situation. Click the link above to learn more about different options to consider and possibly prepare for.
8. Charcoal Briquettes with a Dutch Oven
You can always boil water, or cook a meal in a Dutch Oven. If you have a fire pit or hole dug, you can survive by cooking outside, weather permitting. Please store your charcoal briquettes in buckets with Gamma Lids which are airtight. If you store charcoal briquettes without the lighter fluid added they will last indefinitely. Learn How to Store Charcoal For Cooking Emergencies, here! This is a post I wrote back in 2014, but it shows how to secure the Gamma lids on 5-gallon buckets.
9. First Aid Kits
If it's overwhelming to stock your own first aid kit, this is one I recommend, Surviveware Comprehensive Premium First Aid Kit Emergency. However, a first aid kit should be stocked based on what your family needs. So, be sure to add to that first aid kit if you need to. Additionally, you may want to make your own First Aid Kit Buckets.
10. Water
I recommend storing 4 gallons of water per person per day. WaterBricks are awesome and so are 5-Gallon Jugs. I use a product called Water Preserver (not available right now) instead of bleach, it's a personal preference. I only rotate out the water in my containers every 5-7 years once I've treated the containers with the Water Preserver product. If you use unscented bleach to treat the water in your containers, that water must be rotated every six months.
11. Food
Please only stock what you will eat. You should start with a visit to your local grocery store to buy canned goods, and let each family member choose the food they would eat for 7-14 days, three meals a day. I have several posts on food storage, but I feel an urgency that my readers need to stock up now.
Where Do I Store Disaster Supplies?
Disaster can strike at any time, leaving you without power, water, or even a place to call home. That's why it's important to be prepared with a Disaster Supplies Kit. But once you've gathered all the essential items like flashlights, batteries, first aid kits, etc., where do you store them? Here are a few tips:
Choose a location that is easily accessible, both for you and your family members, and for any emergency responders who may need to get to your supplies.
Make sure the location is safe from flooding or other weather damage.
If possible, choose a location that is already equipped with shelves or other storage solutions. This will make it easier to organize and find your supplies in the event of an emergency.
Remember to restock your Disaster Supplies Kit on a regular basis. This way, you'll always be prepared for whatever disaster may come your way.
Always have a bug-out bag for each member of your family in a vehicle, by the front door, garage, shed, or somewhere else outside of the house in case of a fire or disaster where you must leave your home.
Final Word
I hope this list helps you get started on stocking up for a disaster. Please remember to also have cash on hand, since the ATMs will most likely not be working if the power is out. I also recommend having a plan for where you will go and how you will get there if you need to evacuate. You should have alternative routes and destinations since you don't know how large the affected area might be and how best to get around. Be sure to test and practice evacuation plans with all family members.
Please let me know in the comments below if there is anything you would add to this list. May God Bless this world, Linda
Copyright Images: Tornado Debris AdobeStock_236218418 by jsnewtonian