Emergency Preparedness and First Aid Kit Buckets
You can make several "dollar stores" first aid kit buckets on the cheap, one item at a time. I have written a lot of articles about first-aid kits over the past few years. Here's the deal, you can buy almost everything at your local dollar store, except for certain bandages, to fill a 5-gallon bucket for supplies.
I would highly recommend buying a good brand of "BandAids" because at the dollar store, we don't know how old they may be and they may not stick as needed on a cut or deep wound. Of course, some things will typically not go bad to the point we can't use them, like gauze, scissors, etc. I'm going to show you a few first aid kits I have designed over the years and hopefully, they will fit almost every budget.
I actually got this idea from a reader, it was one of those cartwheel moments when I told her, "Oh my gosh, AWESOME idea!" She had been given some 3-gallon buckets and started slowly filling them with first aid supplies. I told her I could see a post coming using her idea! Thank you, Janet, for the 3-gallon bucket idea! I decided to get 5-gallon buckets because I have a perfect spot to store them.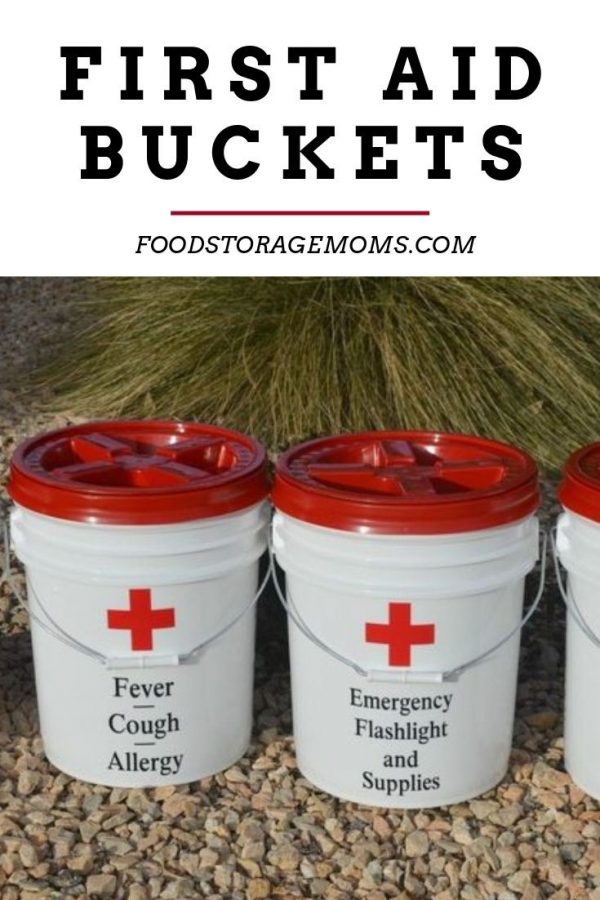 I'm so color-coded, as you probably know by now. I decided on white buckets with red Gamma lids and I bought lettering for the American Red Cross similar symbol in red with black lettering to indicate a few items in the buckets. Gamma Seal Lid, Red, 3 Pack – New! – Boxed! – 5 Gallon Bucket Lids (Fits 3.5, 5, 6, & 7 Gal.) Storage Container Lid
and 5-gallon food-grade buckets can be found pretty inexpensive in your local grocery stores.
I started writing what I would put in each bucket and it got out of control, so I narrowed the selection to the statements above on the white buckets. You could easily use a permanent magic marker in red and black and do the same thing. I speak at several classes throughout Utah so I needed to have them look a bit more professional, so I purchased vinyl lettering at a local store in town.
DIY Dollar Store First Aid Kit Buckets: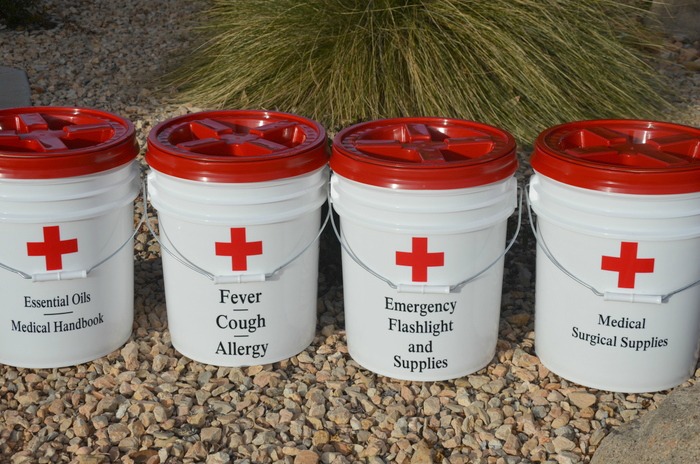 Here are a few items you may want to add to your containers. I have a PRINTABLE: First Aid Kit by Food Storage Moms
First-aid supplies:
Remember, just pick up a few items every time you visit a dollar store in your neighborhood. Pick up good BandAids at your local pharmacy or grocery store.
B-12 Vitamins
Ziplock Bags
Zantac (Acid Reducer)
Vicks VapoRub
Tylenol
Tweezers
Tucks Pads-Which Hazel
Toothbrushes/Toothpaste
Tick Remover
Surgical Face Masks (N-95), all sizes
Sunscreen
Stethoscope-I would buy a good one at your local medical supply store.
Soap
Splints
Splinter Removal Kit
Sleep-Aid Medicine
Silver Cough Lozenges-my favorite ones: Original All Natural Silver Lozenges – Soothing Honey with Lemon: The Perfect Cough Drop for Cough, Throat & Mouth Health and Immune Support – Contains 30ppm Silver Solution in Each Drop
Silver Liquid-I recommend this one: 30ppm, Triple Strength pH Balanced Colloidal Solution – Daily Colloidal Silver Supplement for Immune Health – 16oz Bottle of Silver Water
Silver Gel-I use this one: Extra Strength Silver Gel – 35ppm Silver Gel Activated for Maximum Strength: Great for First Aid/Emergency Gel, Skin Irritations, Wounds, Facial Cleanser, Immune Protection. Therapeutic Grade. (1)
Scissors
Rolled Gauze
Quick clot
Pregnancy Test
Peroxide
Pepto-Bismol Chewables
Petroleum Jelly
Orajel
Beth: my oncologist also recommends Merthiolate for surface antiseptic as it never expires.
Neosporin
Nail Clippers
Nystatin and Triamcinolone Acetonide
Non-stick Sterile Pads
New Skin Liquid Bandage
Nasal Spray (Afrin)
Nasal Decongestant PE
Multi-Task Knife
Molefoam/Moleskin
Mouthwash
Monistat (Yeast Infections)
Motrin
Mucinex Dm
Mucinex
Menstrual Pads and Tampons
Lotion or Body Cream
Lip balm/ ChapStick
Hydrocortisone
Mylar Blankets
Ibuprofen
Hemorrhoid Ointment/Suppositories
Heat packs-Heating pads
Hand sanitizer
Gauze Pads (sterile and non-sterile)
Gloves (non-latex)
Floss
Flashlights w/batteries
First-Aid Shears
First-Aid Book
Eye Patches
Essential Oils Book
Epsom Salt
Elastic Gauze Bandage Rolls
Ear Plugs
Ear-Loop Masks (N-95), all sizes-I get these on Amazon 3M 1860 N95 RESPIRATOR AND SURGICAL MASK Box of 20
Duct Tape
Dressings for open wounds
Dramamine (motion sickness)
Cotton Swabs
Cotton Balls
Condoms
Contacts/Contact Cases/ Extra Glasses/Saline
Cold Medicine/Cough Syrup
Castor Oil
Calamine Lotion
Burn Gel
Bug Spray – 100% Deet
Boudreaux's Butt Paste
Birth Control
Betadine/iodine swabs
Benadryl, Liquid, and Chewable
Bee Sting Kit
Band-Aids/Butterfly, Several Sizes
Bandage Scissors
Aspirin/Advil
Apple Cider
Alcohol: 90-100% proof
Aleve (Naproxen)
Anti-Itch Cream
Anti-Diarrhea
Antifungal Ointment
Anti-Bacterial Wipes
Allergy Medicine
Ace Wraps: 3-inch & 4-inch
PRID – Homeopathic drawing salve. PRID Salve
Hydrogen Peroxide
Single-edge razors, especially if bandages are needed, thank you, Peter
Pixey Sticks, honey, and EmergenC thank you, Peter
White labels approx. 5-1/2 by 8-1/2 white or clear for labeling the buckets, thank you, Peter
Vitamins:
B-complex vitamins
Calcium
D-3 Vitamins
Magnesium
Mature Complete Multivitamin
Omega 3 Fish Oil
Vitamin C
Essential Oils
Plano fishing tackle box that works great:
I filled this Plano fishing tackle box Plano Large 6-Tray Tackle Box
with as many products as possible as listed in the PRINTABLE list above.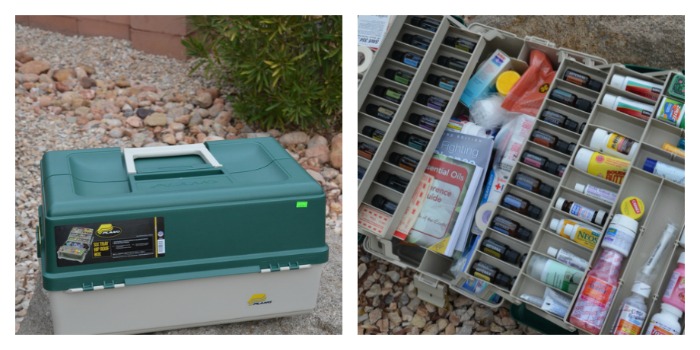 My Large First Aid Kit:
I filled this awesome STANLEY FAT MAX with as many of the items as I could from the PRINTABLE list shown above.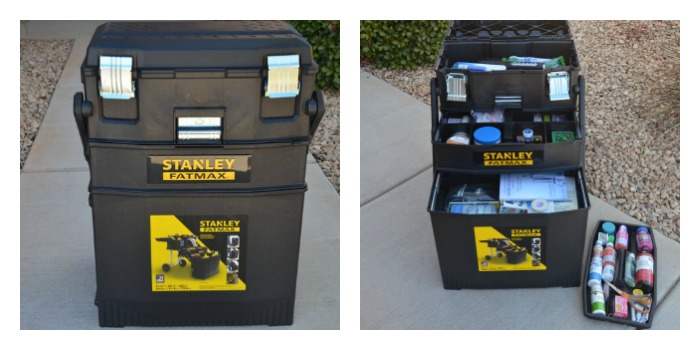 Please get a good emergency medical handbook:
The Survival Medicine Handbook: A Guide for When Help is Not on the Way
Essential Oils Pocket Reference
Final Word
May God bless you to be diligent in being prepared for the unexpected. Please make some dollar-store first aid kit buckets with friends and family. You'll be glad you did, I promise. Linda
https://www.facebook.com/silverdoctor/videos/vb.1108062966034088/405995253517439/?type=2&theater