Build Your Own Great Depression Pantry
Can you use some help to build your Great Depression pantry? Just imagine living off a limited supply of food for a long period of time like our parents, grandparents, or great grandparents had to experience through the "Great Depression?" At times, simply having buttered bread and beans was what they considered a whole meal.
I'm updating this post because I feel an urgency to let you know what I saw again at the grocery store today. Empty shelves, rows, and rows of empty shelves. One box of pasta, no beans, and no rice. Even the OTC medications were more scarce than usual. Please stock whatever you can. Hopefully, you are stocked, or have a plan in place to do so soo. We all should know what to do.
Thankfully, we can cook from scratch, if we've learned how. This will help us stretch our grocery budget. We have prepared for this, do not panic, I'm just letting you know what I am seeing here in Utah. Please let me know how your shelves look.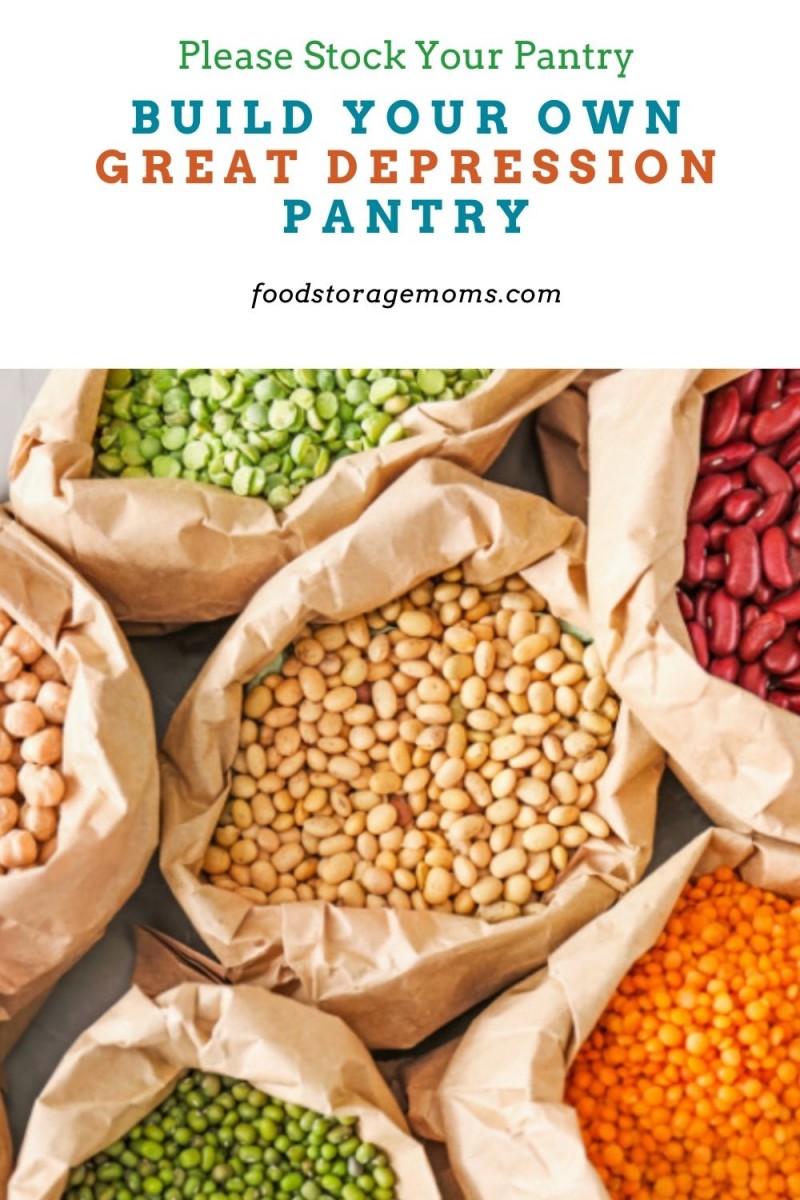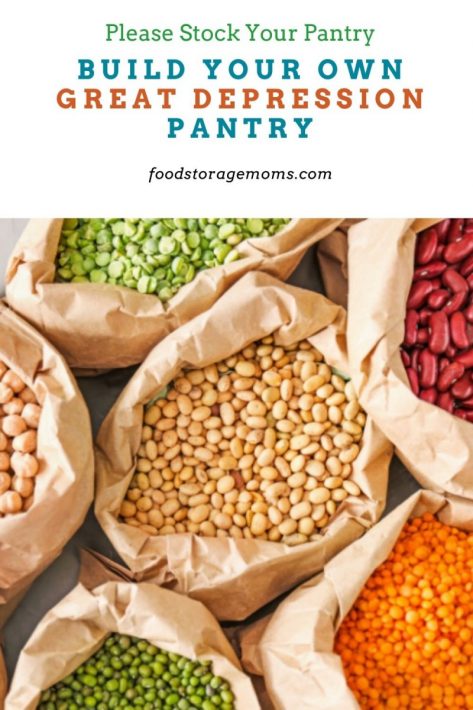 How to Build Your Own Great Depression Pantry
Heaven forbid that something as drastic as the Great Depression would ever happen again in our lifetime, but it's never a bad idea to be prepared. There are a number of cheap foods and solutions that can expand your meal options while costing little. Take a look at some of these less expensive foods that you should stuff into your pantry. Build up your inventory now. Prices have been going up, and they are expected to continue in that direction for a while.
#1. Ramen Noodles
Pantry food doesn't come any cheaper than stocking up on ramen noodles. Each pack costs on average around 13 cents. Ramen noodles may not be the healthiest or most filling item in your pantry, but you can buy it in several flavors and mix it in beans or vegetables to add the nutrients we all need to stay healthy. 
I don't really think you can go wrong when it comes to stocking up on Ramen. Sure, it may not be the best thing to make from a nutrition standpoint, but remember when depression or disasters hit, it's all about survival.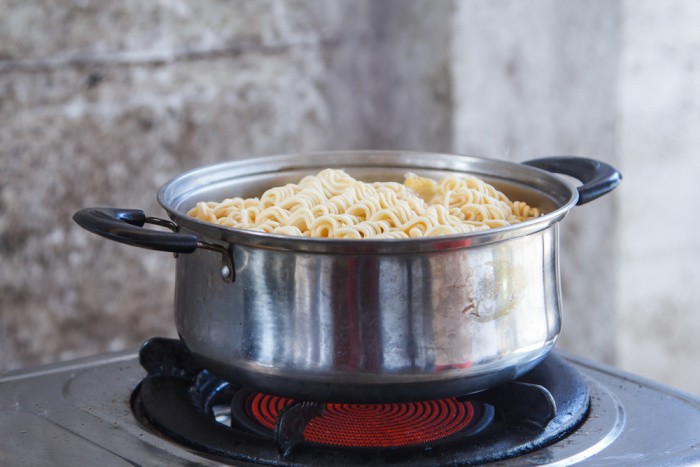 #2. Rice
Rice is another cheap food that you can buy in bulk to help make your limited meal options stretch further. I consider rice to be a true staple in any pantry storage plan. White rice doesn't contain as many nutrients as brown rice, but it is still a valuable item that can be used in so many recipes as we plan meals.
We suggest using brown rice whenever possible but keep in mind that brown rice has a very short shelf-life (six months in the pantry and 12 months in the refrigerator or freezer). Plan your rice inventory based on family size and how many meals you see using this product.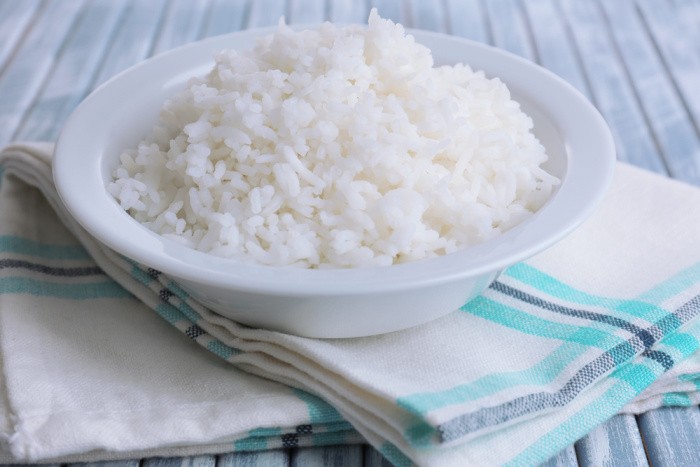 #3. Boxed Pasta
It doesn't get much cheaper than the boxed kinds of pasta we see at the store when you want an easy meal solution. In most cases, you can find a box of pasta for under $1. There are also so many styles of noodles that you can change up to keep your children from getting bored with eating spaghetti noodles so often.
Every time I go to the store, I stock up on some sort of boxed pasta. You really can't go wrong with having any and every kind of boxed pasta on hand.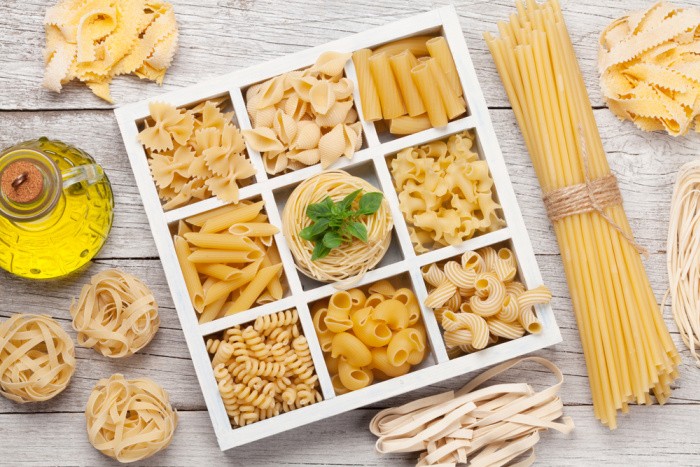 #4. Dried Beans in Bulk
Do you have a family of carnivores who want to eat meat with every meal? During a depression, meat might be too expensive or hard to come by. Dried beans in bulk are a great substitute. Beans are not only full of protein but they can also be added to all kinds of dishes and recipes, making meals more filling.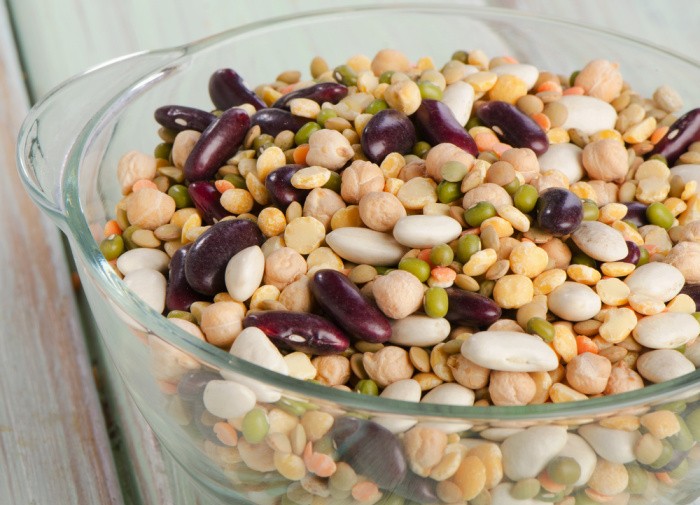 #5. Canned Meat/Fish
Like I just mentioned, meat may be harder to come by for your family to afford after an economic crash. Having a stockpile of canned meats and canned fish beforehand will help solve this.
Not only is it far cheaper in many cases, but it has a somewhat longer shelf life. Having a decent supply of canned meats such as chicken, beef, tuna, and salmon should satisfy your family's craving.
#6. Peanut Butter
Peanut butter is another cheap food that is filled with protein. Plus, if you have kids, there's no way you'll survive without it! I've tried a can of peanut butter powder, it's okay, but I only bought one can. Enough said.
#7. Oats
What about a cheap breakfast solution? Oats are an option that's cheap and have a long shelf life. Oats aren't only good for making oatmeal, but also for stretching out your ground beef and making delicious granola snacks. Consider adding some oats to your next casserole to provide larger portions and see how your family feels about the flavor and texture with them added.
If I find oats on sale or marked down, I always buy them. Plus, most people forget all of the yummy things you can make with oats.
#8. Barley
Barley is another great source of fiber, calcium, and vitamins, while beneficial to your digestive system. It also contains fewer calories than oatmeal. Add fruits, cinnamon, and nuts to it and you have a healthy and delicious breakfast. Barley can be made into other meal options such as soup and stews.
Let's not forget about how filling barley can be too! I always enjoyed eating barley as a kid, and it's a great food to have on hand in your pantry!
#9. Bagged Popcorn
As far as cheap snack items go, bagged popcorn is at the top of the list, and for as little as a few pennies per serving.
You can also eat popcorn as a snack or for a meal. It's sustainable and so delicious! It's one of my favorites for stocking up my pantry.
If you feel the need to add some butter, the snack might not be as healthy and keep in mind, butter may not be readily available during tough times.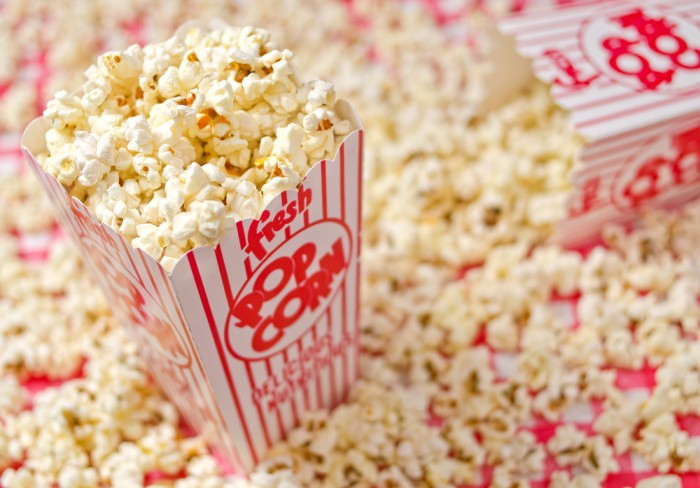 #10. Raisins
Raisins are another snack that's reasonably priced that you should have in your pantry. This dried fruit contains fiber, vitamins, and other minerals and helps with your digestive system.
Raisins are pretty cheap if you buy them in bulk. Plus, if your kids are in the mood for something sweet, you can point them towards raisins for their next treat.
#11. Dried Fruit
Raisins are not the only dried fruit that stores well in a pantry. Dried banana chips, pineapple chunks, apricots, or figs are a few other fruits that contain a lot of vitamins and nutrients. When a great depression comes through, you won't believe how valuable dried fruit will be.
#12. Nuts
You are probably thinking, "nuts aren't a cheap snack item." While nuts are one of the pricier protein snacks on this list, they're very filling and can be stored for a long period of time.
Before emergencies hit, stock up on many varieties of roasted nuts. Please store them in the freezer to keep them fresh or they may go rancid pretty quickly.
#13. Applesauce
Applesauce is another snack/dessert pantry item that has a somewhat longer shelf life. It's another snack that works great on your digestive system. Apple butter is also a good one to stock up on.
#14. Spices/Sauces
Don't go stingy on the spices in your pantry. Always have a healthy supply of your favorite rubs and seasonings. Kosher Salt, ground peppercorn, and cinnamon are a few that you simply can't go without.
They're cheap and will make your simple meals taste that much better. Cocoa is another one I have to have stocked. Just think of cookies, cakes, and hot chocolate that would all taste great when it feels like the world around us is crumbling.
#15. BBQ Sauce
BBQ sauce is another food item that lasts for a very long time, depending on the brand, while being a cheap flavor enhancer for your meals. In the summertime, you will have a hard time swallowing grilled foods without this addition to your pantry.
#16. Honey
You can do so many things with honey. It's a sweetener that's a great substitute for sugar that you can add to your oatmeal, tea, and a number of other foods. It lasts indefinitely, but please store it in mason jars, if possible. If it crystallizes, you can set the jars outside to soften and melt in the heat. from the sun.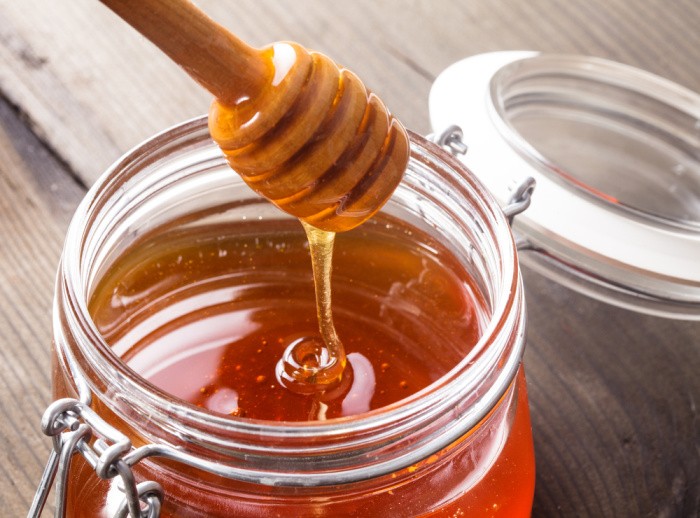 #17. Instant Mashed Potatoes
While you might enjoy homemade mashed potatoes, you might have to stick to a cheaper solution for a while. Instant mashed potatoes last for a short period of time, but you can rotate them and fill the belly when needed. We recently found the brand pictured below available in a number of local stores for about $1.00 per package. Note that they come in a variety of flavors.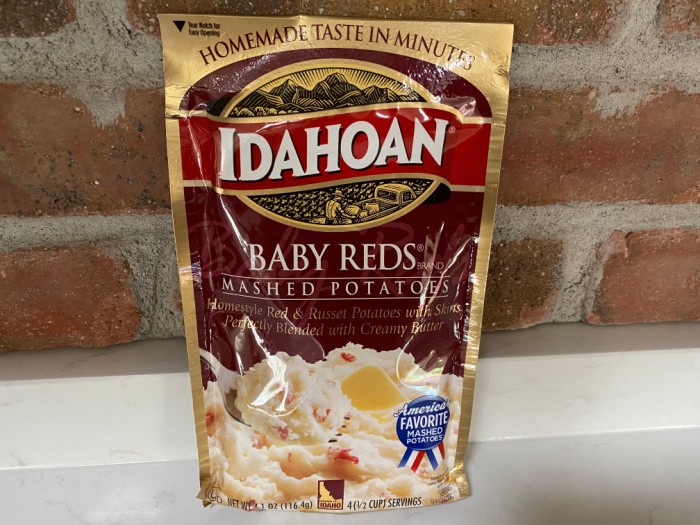 #18. Canned Fruits and Vegetables
Have a significant supply of canned fruits and vegetables stashed in your pantry, just in case! They'll provide the essential nutrients your family needs at a great value.
#19. Flour
You're going to want to have a good supply of flour during hard times. You can make all kinds of meals and baked goods from scratch, while at a fraction of the price than buying the foods already processed. You will be able to make delicious homemade flour tortillas. Let's not forget you can also make your own bread! Flour doesn't last a long time in storage. Be sure to check the expiration dates on the bags, and plan to rotate at least once a year.
#20. Vegetable Oil/Coconut Oil
Don't forget to have vegetable oil or some coconut oil tucked away if depression were to ever hit again. It will return you to normalcy by giving you more meal options during this time.
Our ancestors didn't really have time to prepare as we do! Make sure you stock up your great depression pantry with vegetable oil and/or coconut oil.
#21. Creamed Soups
Stocking up on canned soups that contain meat and beans will be a filling meal, often for as little as a dollar. Another good idea is to have extra cans of creamed soups that will work great for a number of recipes. Save money later by stocking up now. These are excellent to have in your great depression pantry stockpile. Most stores seem to have case lot sales in the fall months. That's a great time to stock up.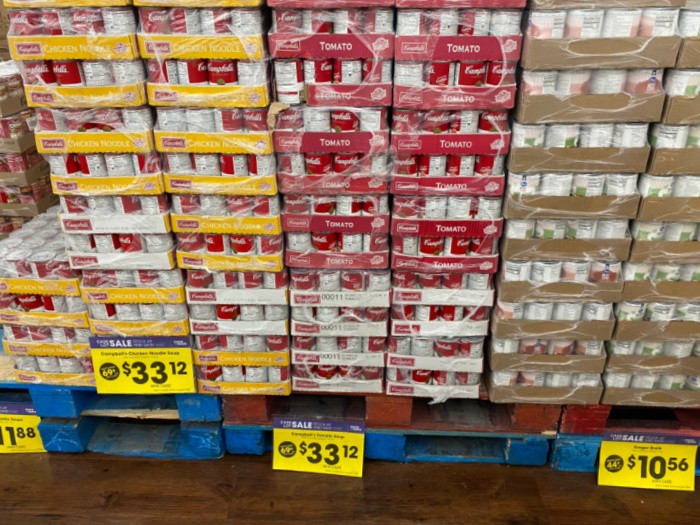 #22. Chicken/Beef Broth
Another cheap way to add flavor to your meals is with broth, stock, or bouillon cubes. It won't hurt to have a supply of beef, chicken, and vegetable broth. This food is perfect for a depression era. I buy these all the time: Organic Broth
Final Word
It's never a bad idea to stock up and create a "Great Depression" food pantry. These are a number of cheap food ideas that can get your family through hard times. I hope this post has planted a mental "seed" that will prompt you to get going with a healthy pantry inventory if you haven't started already.
If you've ever had to live off a limited budget for a long period of time, what foods did your family turn to? What's in your Great Depression Pantry? May God bless this world, Linda
Copyright Images: Snack Ramen Depositphotos_48105919_S, White Rice Depositphotos_41767785_S, Pasta Depositphotos_375421210_S, Beans, Depositphotos_37168727_S, Honey Depositphotos_13672748_S, Popcorn Depositphotos_23948801_S, Nuts Depositphotos_4494406_S, Beans and Legumes AdobeStock_272949721 Pixel-Shot