The Best Slow Cooker Apple Butter Ever
This is the best slow cooker apple butter ever, I promise. It's really hard to find really good apple butter at our local grocery stores. This recipe can be made with or without the cinnamon red hots.
Apples are being picked and delivered right now to grocery stores where I live. The best ones come from Washington State, in my humble opinion. But maybe that's because I live in Utah and those are the best tasting ones we can buy here.
I remember growing up and making apple butter with my mother from the surplus apples we were given. Of course, back then we didn't have a slow cooker, but the results are the same. It's just easier to make it now with a slow cooker because you can prep the ingredients and set it and forget it.
The house smells heavenly, by the way, with those apples simmering in the slow cooker. I remember making apple pie filling with my daughters and I can't find that recipe. The house would smell so good with the combination of apples and cinnamon cooking on the stove.
The Best Slow Cooker Apple Butter Ever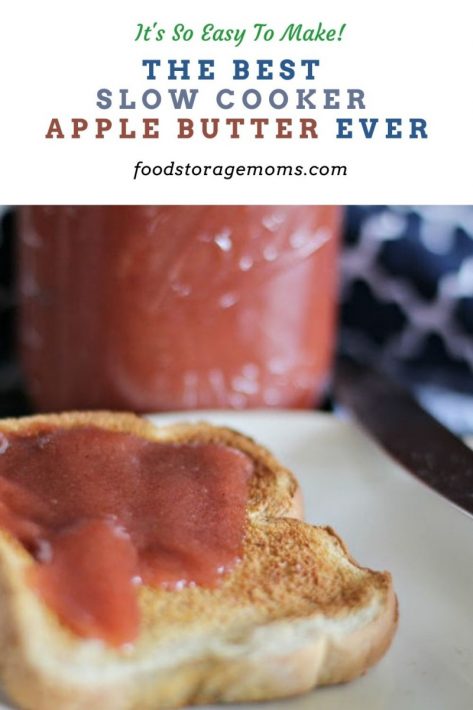 Step One
The first step is to grab your slow cooker. You can peel, core, and slice or chop your apples. I like to use an apple peeler. Of course, you can use a good knife to prep the apples as well.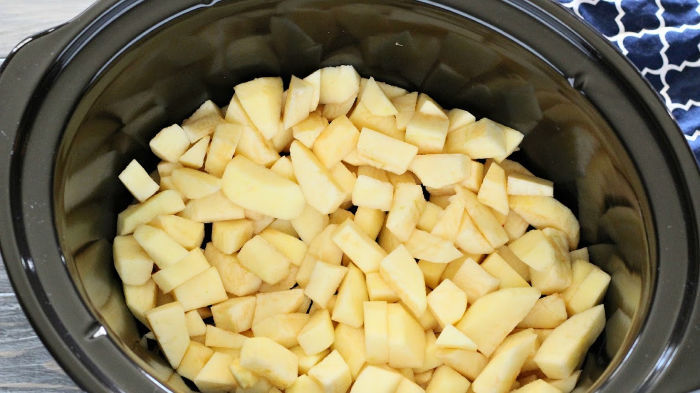 Step Two
Now you cover the apples in sugar, cinnamon, cloves, salt, and red hots. Now, the red hots are optional, but they give the apple butter a little twist. And the finished product looks beautiful in jars to give as gifts.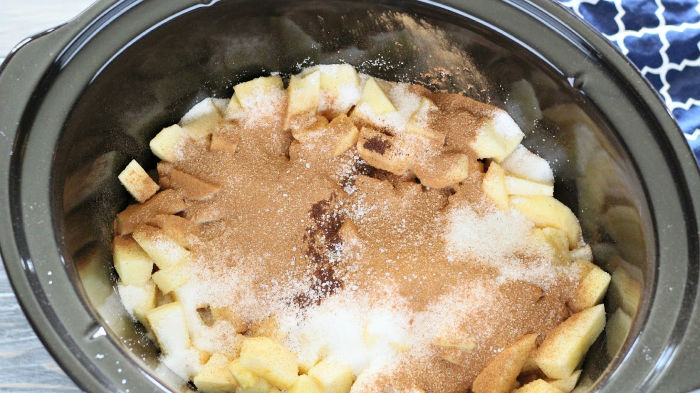 Step Three
Cover and cook on high for one hour.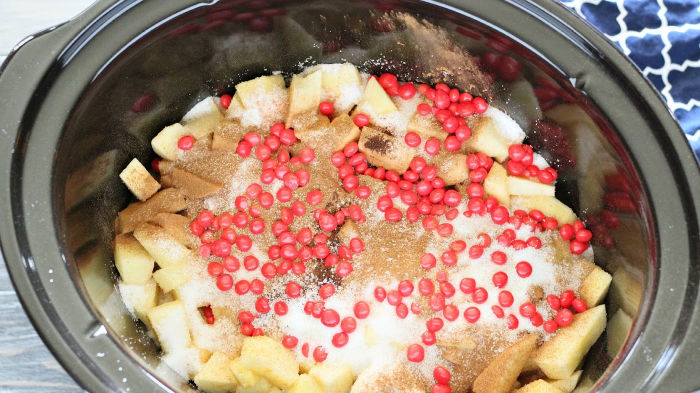 Step Four
Continue cooking on low for three to four hours. Your house will smell amazing!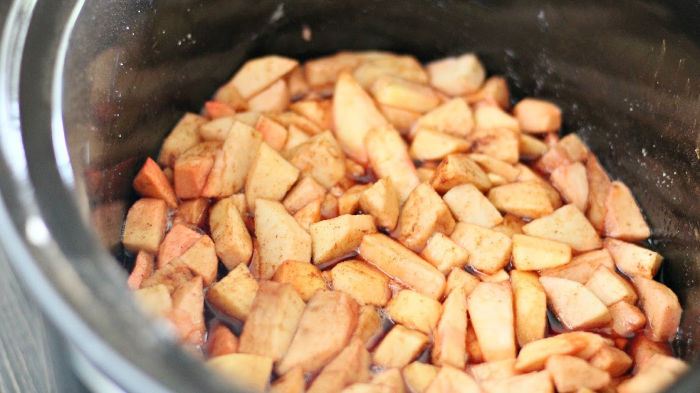 Step Five
Cool slightly, and run the apples through a blender until smooth. Now place the mixture back into the slow cooker and continue cooking through the day. You want it to cook down and thicken up.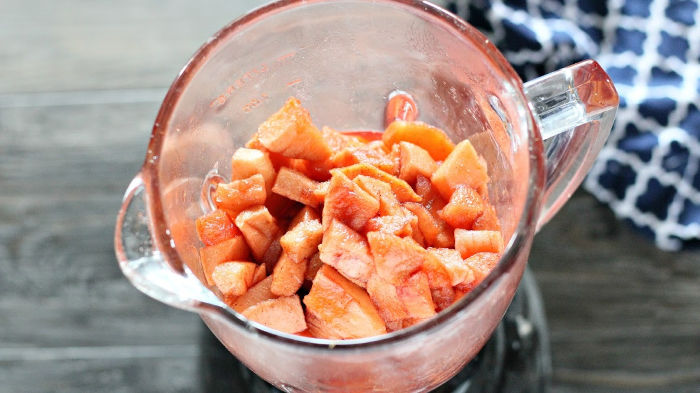 Step Six
Remove the excess liquid and place the remaining apple butter in mason jars. This batch will make about 6-8 pints depending on how many apples you start with.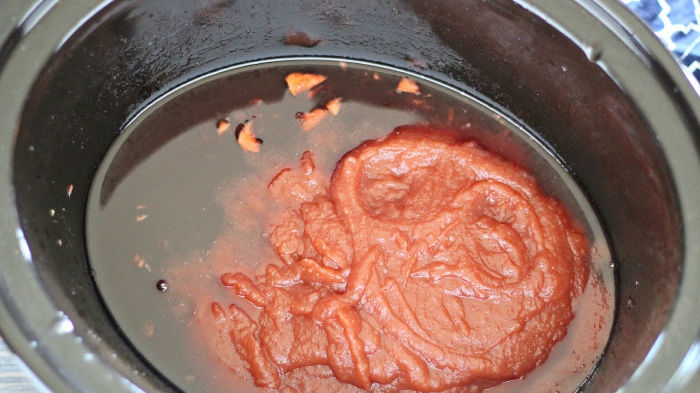 When cool, place the jars in the refrigerator to store them.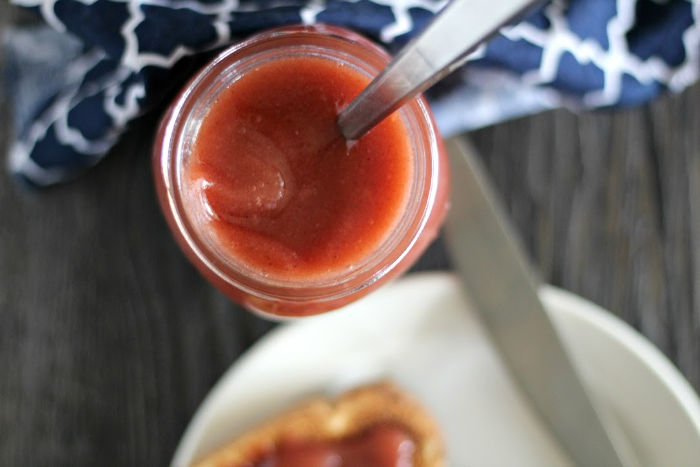 Is your mouth watering yet? Oh my gosh, this is so easy to make and your neighbors will love it! I say bring on the apples, now.
It's perfect to spread on your freshly toasted bread.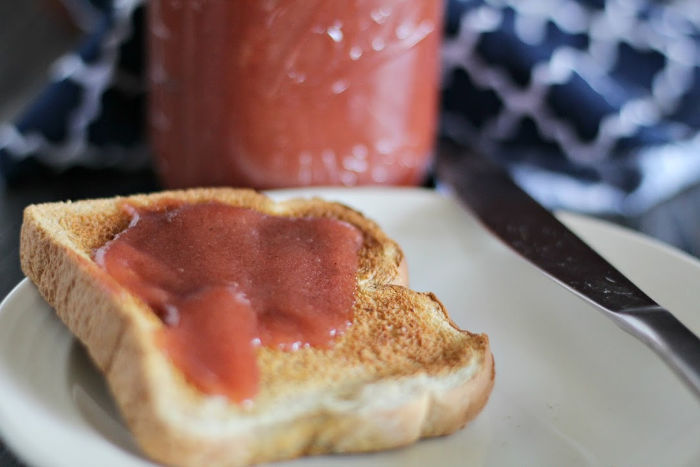 Slow Cooker Apple Butter Recipe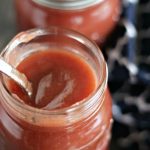 Apple Butter in a Slow Cooker by FSM
Ingredients
12

cored, peeled, and chopped apples (fill the slow cooker)

4

cups

sugar

4

teaspoons

cinnamon

1/2

teaspoon

cloves

1/4

teaspoon

salt

1/4

cup

cinnamon red hots
Instructions
Start by filling your slow cooker with your apples. Cover in sugar, cinnamon, cloves, salt, and red hots. Cook on high for 1 hour. Lower heat and continue cooking for an additional 3 to 4 hours. Run through a blender until smooth. Place back in the slow cooker and cook for the remainder of the day (total cooking time about 9 hours). In the evening fill mason jars and seal. Keep in mind it will thicken as it cools. It will keep safely about two weeks in the refrigerator.

Which Apples Make The Best Apple Butter?
Jonathan
Winesap
Stayman
Golden Delicious
Macintosh
Gala
Or any other tasty soft apple. The softer the apple the quicker it will cook down to make apple butter
Where Did Apple Butter Originate?
Apple butter has an interesting history. This great way to eat apples actually originated in Europe and was brought to America by the colonists. Since there wasn't any way to keep the apples grown by farmers and monastery residents fresh, these people experimented and developed a "preserve" process that has been used for centuries. Now we have fruit and vegetable canning as the approach to keep the aging apples safe to eat.
Is This Recipe Safe To Can?
No, it is not. I'm a Master Canner, Preserver and I know this recipe is not safe to can. If you want to bottle some jars please look at the recipe in the USDA Complete Guide To Home Canning chapter 2, page 6.
What's The Difference Between Apple Butter and Applesauce?
They are both cooked with a little white sugar, brown sugar, and some spices, but apple butter is cooked down so it becomes a thick, and caramelized spread.
Does Apple Butter Contain Butter?
No, it does not. It's like Peanut Butter, it doesn't have butter, either. The term butter refers to the thick spreadable mixture. It's as simple as that.
Can You Freeze This Recipe?
Yes, you can, just remember to leave enough room in the jar for the mixture to expand in the freezer.
Final Word
I really hope you try making this slow cooker apple butter. Here's the deal, we need to prep, but we need to try new recipes whenever we can. Let me know if you've made homemade apple butter, I love to hear from you. We need to store water, food, emergency preps and know how to cook from scratch.
I'm sure most of you know how to cook from scratch, but there are a lot of people who don't have a clue. We need to teach others and we need to now. Please keep prepping, we must. May God bless this world, Linda