Quick And Easy Chicken Salad With Grapes
This is my quick and easy chicken salad with grapes that I have made for years, and that I serve on a croissant or bed of lettuce. I can use my freeze dried chicken, canned chicken, shredded cooked chicken, and I can use my freeze-dried red grapes as well.
I can use Mayonnaise or Miracle Whip. When I met my husband, Miracle Whip became my favorite sandwich spread. This recipe is so easy, and pretty healthy, except for the Mayonnaise or Miracle Whip that is added. You could substitute yogurt if desired for the Mayo/Miracle Whip. It's so hot here in So. Utah and this chilled chicken salad hits the spot with our 100 + degree weather.
This is a great chicken salad to take to family reunions or serve to friends who stop in to visit at the last minute. You can substitute so many things like craisins or raisins for the grapes. This chicken salad is great on my homemade bread. I just bought some croissants to make this for lunch today. You can stretch the recipe using more celery, apples or grapes. Love it!
I'm going to remind you about thermal cookers for cooking and keeping food cold without any power. Here's the deal, these are perfect for taking lunch to a family reunion because you can keep your chicken salad cold for 6-8 hours.
All you need to do is put the inner stainless steel pan with your salad in the refrigerator the night before you go to the park or family reunion location. The next morning, before you hop in the car with the family to leave for your outing, grab the outer thermal cooker container and quickly place the inner pan inside the outer pan with the lid and lock the outer lid in place.
I would highly recommend the larger thermal cooker because you can use it for larger quantities of food. My friend, Kendra took popsicles to the park in a thermal cooker. Yep, they did not melt. Hooray for thermal cookers, or coolers I call them! This is what you will typically get if you buy a thermal cooker:
the outer thermal cooker
the thermal cooker lid that locks
one large stainless steel pan (that fits inside the outer thermal cooker)
one smaller stainless steel pan that fits inside the large stainless steel pan
one stainless steel lid for the inside pan(s)
This is one of the thermal cookers I have: Saratoga Jacks 7L Thermal Cooker Deluxe by Saratoga Jacks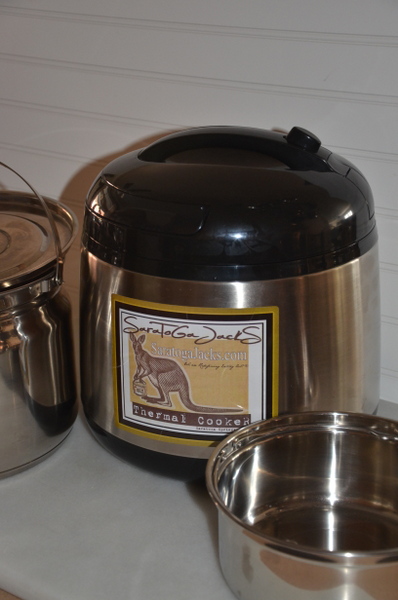 Chicken Salad by Food Storage Moms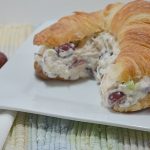 Classic Chicken Salad by Food Storage Moms
Ingredients
3

cups

cooked shredded chicken

1

cup

Mayo or Miracle Whip

1

cup

chopped apple

½

cup

chopped celery

1

tablespoon

dehydrated green onion

not reconstituted or three fresh green onions chopped

1

cup

sliced red grapes or 1 cup freeze dried red grapes

not reconstituted

1/2

teaspoon

dill weed

salt and pepper to taste
Instructions
Mix everything together in a medium bowl. Serve on a bed of lettuce or in a roll/croissant.
Recipes Using Shredded Chicken