How To Store Your Batteries
We really struggle at our house to keep a supply of batteries that are ready to go to work when needed. When Mark and I visit stores like Home Depot and Costco, we see racks with battery packages showing that if bought in bulk you often can save money.
Our challenge is knowing how to store batteries so we can take advantage of the bulk sales yet keep those batteries as fresh as possible.
I figured that if we are trying to make battery storage a simple task, others probably are faced with the same dilemma. I decided I would do some research and learn as much as possible so I could share the information in this post.
I could expand my research and try to cover things like car, boat, and camper batteries, but decided I'd focus on those small batteries we use in our flashlights, smoke alarms, clocks, calculators, and more.
Mark and I currently live in Southern Utah where it is very hot and dry. It seems like we go through batteries more often than when we lived up north where it's cooler. Maybe it's just me since from my reading higher humidity levels tend to be one of the culprits to shorter battery life.
Let's get started in our efforts to learn how to store batteries. The order of information really isn't as important as the content, so I hope you can easily follow along.
In case you missed this post: 100 Items That Will Disappear After An Emergency
How To Store Your Batteries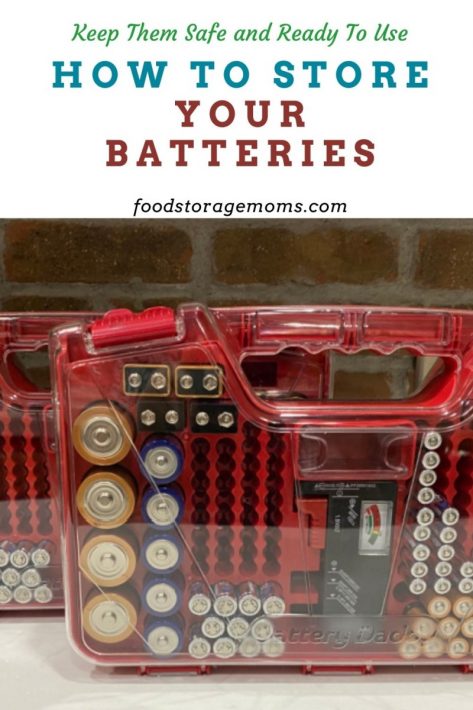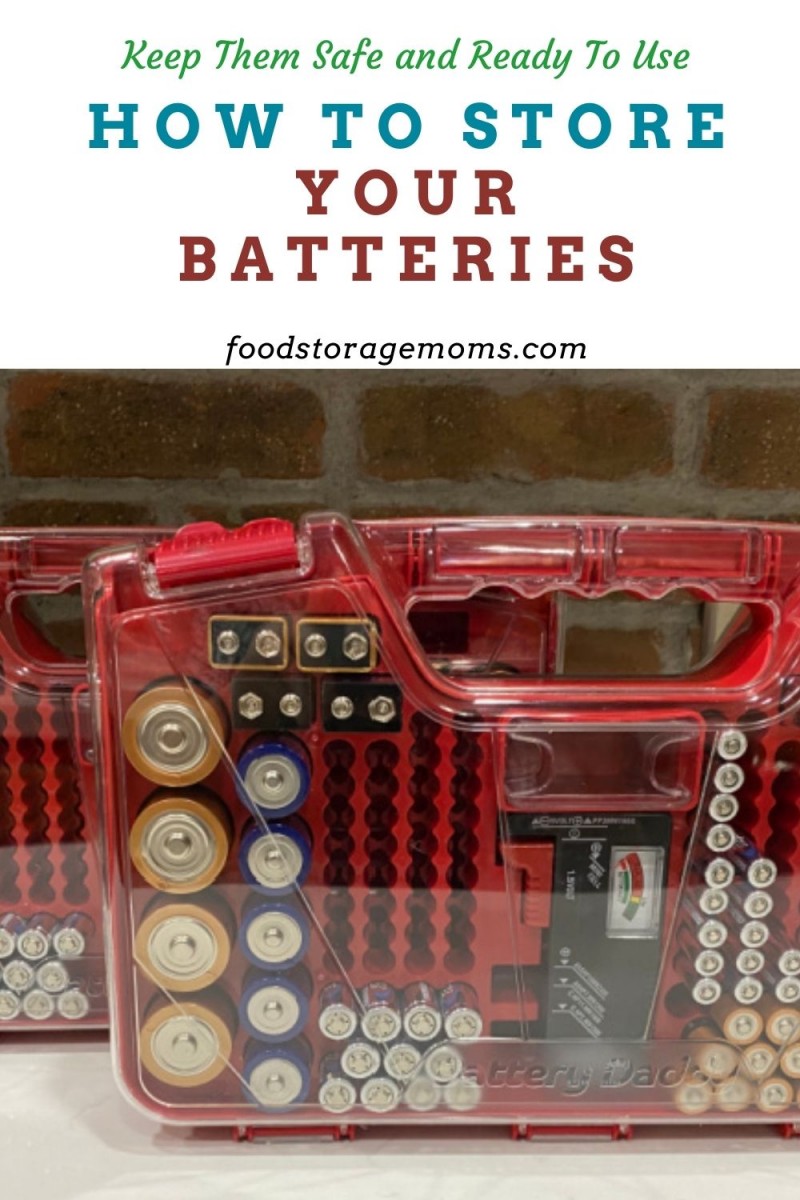 Try to Keep the Batteries You Buy in the Original Sealed Package
Batteries typically come in those "hard to open" packages that usually require scissors to open. They are sealed that way so moisture (humidity) can't access the batteries until it's time to use them. Once opened they MAY begin to lose some charge, but generally, that's a fairly slow process, unless the humidity level is high.
Another reason to keep them in that original packaging is to maintain the integrity of new vs old batteries you may have around. What you don't want to do is mix older ones with those you've just opened.
As a backup plan when you didn't save the original package, be sure to place them in a plastic container. If you have good-quality containers, they should be somewhat airtight. Plastic is preferred to metal containers since the metal can possibly interact with the batteries and cause a discharge.
When you put them in the plastic container place them side by side with the positive conductor end toward the edge of the container. You may want to put tape on the ends of the next row or consider separating the rows with a small piece of cardboard so the ends don't touch.
I opted to buy this Battery Storage Unit
Topaz, mentioned she likes this wall hanging Battery Storage Unit
Batteries Should be Stored by Type, Manufacturer, and Age
As we all know, household batteries come in many shapes and sizes with designations of AAA, AA, A, C, D, etc. Of course, the AAA batteries are smaller and are used in devices with a minimal power requirement, and so on up the line.
Storing batteries by their type/size is the best choice. It is also suggested that you don't mix and match manufacturers since they MAY tend to interact with each other for some reason.
I read that if you have limited storage container space be sure to separate the batteries in the container by placing type and manufacturer carefully in a plastic bag or use the cardboard separators mentioned earlier.
As mentioned above, don't mix your used or older batteries with those that are new. There is nothing more frustrating than taking the time to change out a worn-out battery with the one you think is new and fully charged, just to have it fail in a short timeframe and have to change it again.
That is particularly true when changing out smoke alarm batteries that require you to get a ladder out of the garage to accomplish the task.
Try to Keep the Storage Temperature at "Room Temperature" or Lower
There is an old wife's tale or myth that putting batteries in the refrigerator or freezer for storage will either bring them back to life or significantly extend their life. That really isn't the case. It is best for long-term storage to try and keep the batteries in a place that you find comfortable.
When stored at a temperature of about 77°F/25°C (which I find to be a bit too warm for me), they will lose very little charge. A temperature of 34°F/1°C to 60°F/15°C MAY show a very minor benefit when it comes to storage life, but the risk from moisture/water damage is too high.
I read that some manufactures could suggest putting the batteries in the freezer, but that is certainly the exception. There is also the issue of having to allow the battery to warm up before use or it likely won't work properly.
Humidity Control is Critical
Having lived in the western states most of my life I haven't had to deal with humid environments. I do remember Mark and me visiting Sanibel Island off the west coast of Florida with family one Thanksgiving.
We'd been to Florida on trips before and really hadn't been bothered much, other than a trip in late September to Disney World. Boy that 90°F/32°C and 95% humidity was brutal! Anyway, after the Sanibel Island trip, we never could get the musty smell from our luggage.
Most batteries don't like humidity. For some reason, Alkaline batteries seem to do better than others if the humidity is moderate, but most will last longer and perform better in drier environments. Also, it's suggested to keep batteries up off the ground.
Keep the Stored Batteries Away from Metal of All Kinds
Besides water, metal conducts electricity better than most any material. Your batteries could begin losing their charge if stored anywhere in which they can come in contact with metal. That includes metal containers, any container with other metal items like coins or wire, etc.
As mentioned before, store the batteries in plastic containers, don't let the positive and negative ends touch each other, and consider separating them with a piece of cardboard or masking tape.
What are Some Safety Considerations When Storing Batteries?
There are various safety issues when it comes to storing and using household batteries as follows:
If the device using the batteries is going to be taken out of service for any long-term period, remove the battery. When not in use, often batteries will begin to leak and could cause significant damage to the device.
That also goes for batteries that have lost their charge and stopped working. Immediately take them out and dispose of them properly.
Don't allow devices and the batteries they use to be subject to very warm or hot environments. That includes your laptop being left in your car or on a window sill for extended periods.
The heat can damage the battery and related devices which could prove to be very expensive to replace. Batteries have actually been known to explode if kept hot for very long, not a pleasant or safe situation, ever.
Be sure to keep your children away from batteries. Not only are the contents of the batteries themselves unsafe, but the small coin-shaped batteries could cause the little ones to choke if taken into the mouth.
You may be tempted to try and re-charge regular batteries, it won't work and could prove dangerous. Also, if they are rechargeable, but sure to use the charging unit that is designed for that size and type of battery.
Most small batteries can generally be disposed of in your trash. You should check to see what local regulations dictate and then follow the rules.
If told to recycle, be sure to ask if there are size exemptions, and where the batteries should be taken if recycling is a requirement.
Final Word
Hey, we all use battery-powered devices every day. There may even be some we use but don't realize a battery drives its use. Learning how to store batteries has certainly helped me, and I hope you found the information useful.
Let's all work together to make the world more efficient and safe. May God bless this world. Linda