Why Store Shortages are Not More Widespread
There are many grocery stores that still have shortages. The question is, however, why are these store shortages not widespread? Why are some grocery stores experiencing shortages where others are not?
During March, stores ran out of 13% of their items, on average. Today, about 10% of items continue to be out of stock compared to 5-7% before the pandemic. 
So, today, we are going to look into why this is happening and what to do!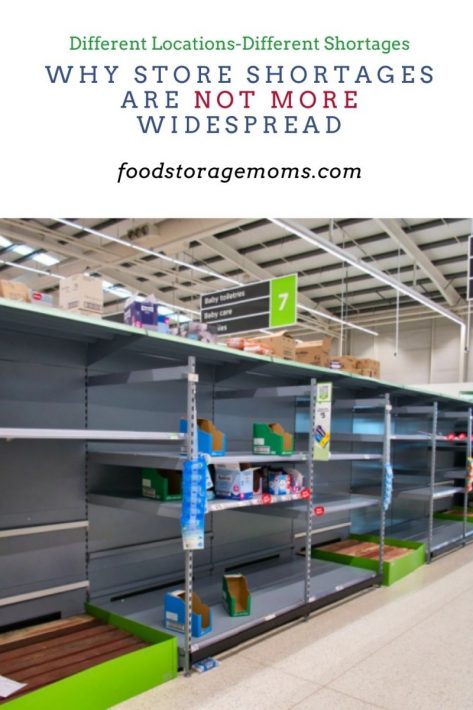 Why Store Shortages are Not More Widespread
Economic specialists have said that the March "shopping spree" accounts for less than half of the shortages. So, what's going on?
#1 Price Gouging Laws
When a State of Emergency was declared, price controls kicked in. This means that states were not allowed to increase prices for things like toilet paper and groceries. However, people panic. When prices are cheap and people panic, why not hoard the toilet paper? Basically, this discouraged domestic suppliers from increasing the quantity supplied.
The result, shortages! It isn't widespread because not every city or town has panicking citizens. Additionally, if they don't increase prices for demand, then there will truly be a shortage if everyone buys it all up. Instead of putting it all on the shelves at the lower price, stores keep some of it back so they don't run out. 
#2 Emergency Declarations Have Been Extended
Because states are in control of their own state of emergencies, many of the state of emergencies have been extended. Thus, if you live in an area where the declarations have not been extended, you may not see as many shortages. Basically, the Federal Defense Production Act controls prices of things during the emergency declarations, so the market is prevented from prices clearing the market. As they wait on these prices to clear the market, it can take 4-months to receive that freezer you ordered.
#3 People Focus on Certain Items
Depending on where you live, you may have a need for certain products in the store that people in other places don't. For example, if you live in a small country town, you may not go out a lot anyway and don't have a need for tons of hand sanitizer. However, if you live in a larger city, you may need more hand sanitizer.
What is happening is that supermarkets and food companies have based their model on offering a variety of items (typically 40,000 items). When consumers are not buying variety and only buying a certain sliver of products such as toilet paper, canned goods, and baking items, the supply chains for those items become overwhelmed. 
Basically, any time you have to change something out for a new product, that costs time. So instead of 10 flavors of something, manufacturers are dropping to 5 to get things on the shelves.
#4 Some Places are Fully Open
Many of our food is shipped in bulk to restaurants. When COVID hit, the restaurants were shut down. That means more people were buying from the store. The reason we don't see widespread shortages across the country now is because some places have completely opened their economy where others have not.
For example, if a city or town is open, people feel safe, they are going out to eat more and not going to the grocery store as often. If a city or town is still closed and COVID is still a threat, people are staying home and continuing to buy from the grocery store. Basically, some places have been able to restock stores as people begin to eat out again and other places have not been able to restock. 
#5 Different Suppliers
Not all regular retail or grocery stores receive their products from the same supplier. In Florida, they have their own oranges so they may not run out of oranges. But in Utah, we have to have oranges shipped in, so the stores may run out of oranges. Basically, if the store you are going to is buying from a supplier that may still have things shut down where they are, then they will have shortages on those items.
However, if you live in a place that has a supplier in town, you may not experience a shortage of that item. Shortages are not widespread because it depends on where the stores are getting their products. You may have a shortage of flour in your area where another city may have shortages of beans.
How to Prep with Store Shortages
From what I have read and understand, there are products we can buy, but they may not be shipped to the stores where we live. Because of this, products online are flying out of stock as well. So, what can you do to prep if you are experiencing shortages where you live? 
Shop Nearby Cities and Towns
My friend has not seen as many shortages of meat at her local grocery store in Indiana. They aren't horrible, but prices have gone up as well. She travels to a meat market in Michigan to get her meat. It's about a 30-minute drive from where she lives.
If you are seeing shortages of things you need where you live, try traveling to another city or even the next state door. I would suggest calling the stores before driving there to ensure the items you are looking for are, in fact, in stock. 
Ask for Shipment Days
The best time to snatch up the items you are looking for is right when the items hit the shelves. This is typically shipment days. Ask your local stores when they get shipments. Go to each store when they receive the shipment for the week to snatch up the items you need. 
Shop Early to Avoid Store Shortages
Because of the shortages, as well as COVID restrictions, it is important to shop early in the morning. My friend who travels to Michigan says that if she doesn't get there when the store opens, she is unable to get into the store. This is because other people have the same idea to travel to get what they need.
They only allow 20 customers in the tiny market at a time. This means that you must be there early to get your meat. She goes 15-minutes before the store opens so she is first in line.
Order it Anyway
Even if it says you won't get something for 3-weeks, order it anyway. The bottom line is that if you need it now, you are going to need it in 3-weeks too. So, if things are out of stock and not available online for several weeks or months, go ahead and place your order. We are preppers, so even if we find it somewhere else, what we ordered can be stored away and rotated. 
Do Some Research
Be on top of the shortages. Find out what is in stock, what is going out of stock, and plan accordingly. If you want to do a little more research, check out some of my other posts on shortages, below:
Final Word
According to the USDA, there are no nationwide shortages of food. However, inventory of certain foods at your local grocery store might be limited or temporarily out of stock. Food production, as well as manufacturing, are widely dispersed throughout the U.S. So, there are no wide-spread disruptions reported in the supply chain, but that doesn't mean you won't experience shortages locally.
Remember, this is why we prepare. Keep preparing! Stock what you can, go to other locations, and keep prepping. We never know when there could be a nationwide shortage, so it is important to always be prepared! May God bless this world, Linda
Copyright Images: Panic Buying Deposit photos_384293126_s-2019