Is There a Corn Shortage? Iowa Derecho Damage
Up to 10 million acres of farmland have been damaged or destroyed in Iowa. This means that 43% of Iowa's corn and soybean crops have been damaged or destroyed. Below, we are going to talk about how this happened, if there is a corn shortage, and what to do about it. 
What Caused the Crop Damage/Corn Shortage?
There was a powerful storm system that reared its ugly head across the midwest earlier this week (August 2020). It killed two people and caused widespread damage to millions of acres of crops in Iowa. The storm was called a derecho. The derecho traveled from southeast South Dakota all the way to Ohio which is a path of 770 miles, and did so in just 14 hours. 

What is a Derecho?
A derecho is a system of widespread, long-lived wind storms. It is also associated with a band of rapidly moving showers or thunderstorms. When the derecho reached Des Moines, wind gusts were clocked at more than 100 mph. Thus, causing devastation across farmlands.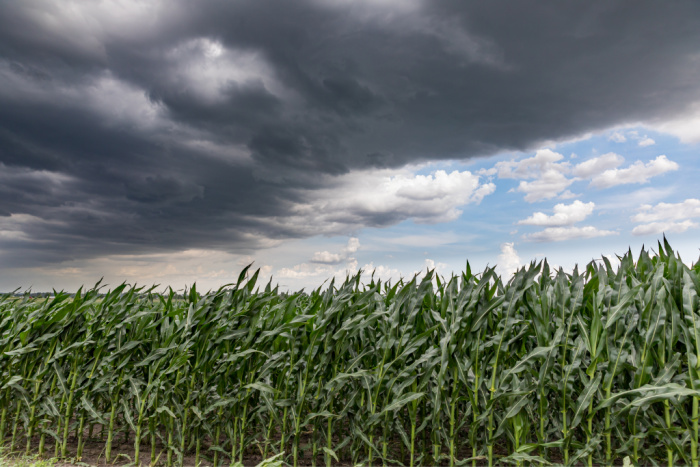 How Much Corn Does Iowa Supply?
Iowa supplies a lot of the corn we rely on. In fact, Iowa ranks as number 1 in producing corn, soybeans, hogs, eggs, ethanol, and dry distillers grain solubles. Iowa has about 87,000 farms in the state and produces more corn than some countries. No state grows more corn than Iowa. 
Why Does Iowa Lead in Corn Supply?
Wondering why Iowa produces so much of our corn supply? Iowa has some of the most fertile topsoil on the planet. The soil in Iowa is perfect for growing corn, and thus, that is where most of it is grown. Not to mention, Iowa has some of the world's finest farmers. 
What Kind of Corn Does Iowa Supply?
Iowa plants and harvests "Field corn." Field corn is different from the sweet delicious corn on the cob you find at the grocery store. 99% of the corn grown in Iowa is field corn. Only 1% is the sweet corn that we eat.
Why Do We Need Field Corn?
While the corn grown in Iowa is field corn, it actually has a lot of different uses. 
A small percentage of field corn is processed and used for things like corn cereal, corn starch, corn oil, and corn syrup for human consumption. 
Field corn is primarily used for livestock feed, ethanol production, and manufactured goods. 
Iowa leads the nation in ethanol production. 39% of the corn grown in Iowa goes to create 30% of all American ethanol. 
21% of Iowa corn goes directly into feeding livestock. 
12% of Iowa corn went into corn processing and was used in the wet mill industry for food. 
9% of Iowa's corn was exported. 
Is there a Corn Shortage?
Not only did we see the devastation in Iowa, but U.S. corn planting was at its slowest pace in 40-years! There are 18 major corn-producing states in our nation. Of those states, all contemplated planting or not planting this spring. This is due to the weather we have been seeing in the midwest. An unseasonable spring delayed the start of the planting seasons. 
As of right now, we have already had a few setbacks the last couple years with crops. So, we were already running on a shorter supply. The way a corn shortage works is that this year's harvest would affect us for next year.
So, currently, we do not have a complete shortage, however, with 43% of crops being destroyed or damaged a month before harvest in Iowa, we are sure to see a corn shortage coming soon. 
What Will a Corn Shortage Look Like?
To put this into perspective, there are 4,000 grocery store items that use corn in them, including things like shampoo, toothpaste, chewing gum, marshmallows, crayons, and paper. Yes, that's 4,000 items! 
Not only is corn used in 4,000 grocery store items, but this is how we feed our livestock. Without the right amount of corn to make feed, meat farmers will not be able to feed their animals.
So, what could this look like?
Meat shortages: Less corn for feed means fewer animals being fed and less being butchered and sold in the grocery stores. 
Empty Shelves: Food shortages across the board will be coming. This is going to be anything and everything that contains corn. 
Ethanol shortage. Iowa leads the way in ethanol production, which means things that use ethanol will be in short supply. Ethanol is used in personal care products, household products, food additives, fuel, medicines, and alcoholic beverages. 
Alcoholic Beverage shortage: Did you read that right? Many types of alcohol use ethanol! That means we may need to start making our own moonshine (lol). 
Increased prices: Obviously, when things are in short supply, you will see prices climb. It's called supply and demand. 
What Items Should We Stock Now Before the Corn Shortage?
Since it hasn't been too long since Iowa had this devastation, there is still some time before we will see everything transpire. So, you need to head to the store NOW! You need to stock up on pretty much EVERYTHING! So many things are made with corn. Here are some of the things I would suggest you start with now:
Meat: If you have a deep freezer, fill it up, if you are a family that eats much meat. 
Popcorn: Some of us like our little snacks and popcorn will be in short supply. 
Canned corn, frozen corn, fresh corn: Any corn you can find you may want to grab. 
Shampoo and conditioner: Uses citric acid which is derived from corn.
Yogurt: Uses high fructose corn syrup. 
Diapers: Corn starch is used to soak up moisture in diapers. 
Envelopes: Corn is used in making the glue for the envelopes. 
Cornbread: This is a no brainer. 
Windex: This window cleaner uses 5 different ingredients that are derived from corn. 
Corn Flakes: Another no brainer. 
Paper and cardboard: Corn starch is used in making paper. 
Crayons and chalk: These use corn starch.
Pet food: Most pet food is made with some kind of corn as an ingredient. 
Deodorant: This is made with corn starch because of its absorbent nature. 
Hand Sanitizer: As if this wasn't already on short supply…It's made from ethanol. 
Toothpaste: Sorbitol is an ingredient in toothpaste that is derived from corn. 
Cornstarch: No brainer here.
Cereals: Made with cornstarch.
Snack Foods: Made with corn starch.
Salad Dressing: Made with corn starch.
Peanut Butter: Made with corn starch.
Grits: Made with corn starch.
Taco Shells: Made from corn.
Other Flour Products: All have some kind of corn as an ingredient.
Alcoholic beverages: Most alcoholic beverages contain ethanol made from corn. 
If you are running low on anything, now is the time to head to the store and start stocking up. Get what you think you will need and use.
Corn Shortage Final Thoughts
2020 has been a year to be thankful for being prepared. From COVID, to food shortages due to unemployment issues, and now a corn shortage. The as the 2020 year progresses, the more I feel thankful for all the stocks I have. If you are running low on anything, it's time to head to the store now! Remember, we prepare for the worst and hope for the best. May God bless you!
Copyright Images: Corn In An Apple Basket Deposit photos_3300000_s-2019, Corn Field Thunderstorm Wind Damage AdobeStock_330125353 by JJ Gouin