How To Prepare For Hyperinflation
Have you seen a recent trend of rising prices that don't seem to show any signs of going down? Right now, we are experiencing inflation, and I think many of us are a little concerned about the possibility of hyperinflation, so let's discuss how to prepare for hyperinflation!
What is Hyperinflation?
Hyperinflation is used to describe rapid, excessive, and out-of-control price increases in the economy. While it is rare, once it begins, it can spiral out of control. The price for basic goods, such as food and fuel, will rapidly rise and become scarce commodities.
Hyperinflation is when prices rise by 50% or more per month. This means that if you are seeing gas prices at $4 a gallon, they will become $6 a gallon, then $9, and up each month.
Difference Between Inflation and Hyperinflation
Some Inflation happens all the time and is a pretty normal thing in the economy. According to Investopedia, inflation is the measure of the pace of rising prices for goods and services. Normal inflation is measured in terms of monthly price increases.
In the United States, the one-way inflation is measured is by the Consumer Price Index. Typically, there is an inflation of around 2% annually for certain things, and that is "normal" based on various historical measures.
In fact, some inflation is a good thing because that is a sign of a healthy, growing economy. 
In contrast to inflation, hyperinflation is a rapid increase within 30-days. Hyperinflation is when those prices rapidly rise, typically by more than 50% in a month. It is typically measured in terms of exponential daily increases.
This means goods and services will increase in price 5-10% per day! Hyperinflation can have devastating effects on society, including starvation, homelessness, and the scarcity of goods we all need.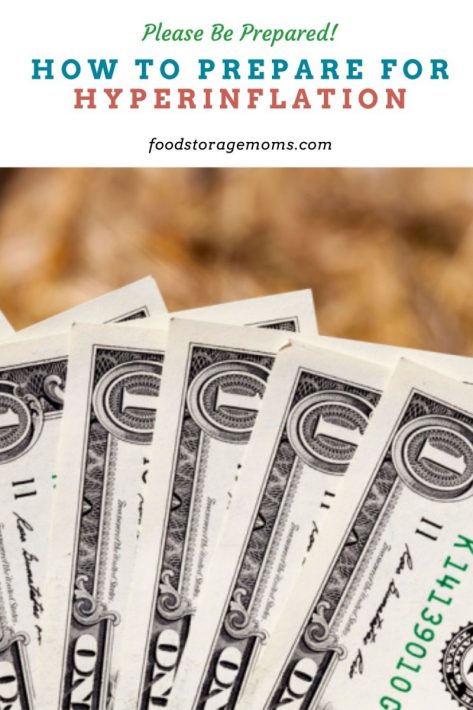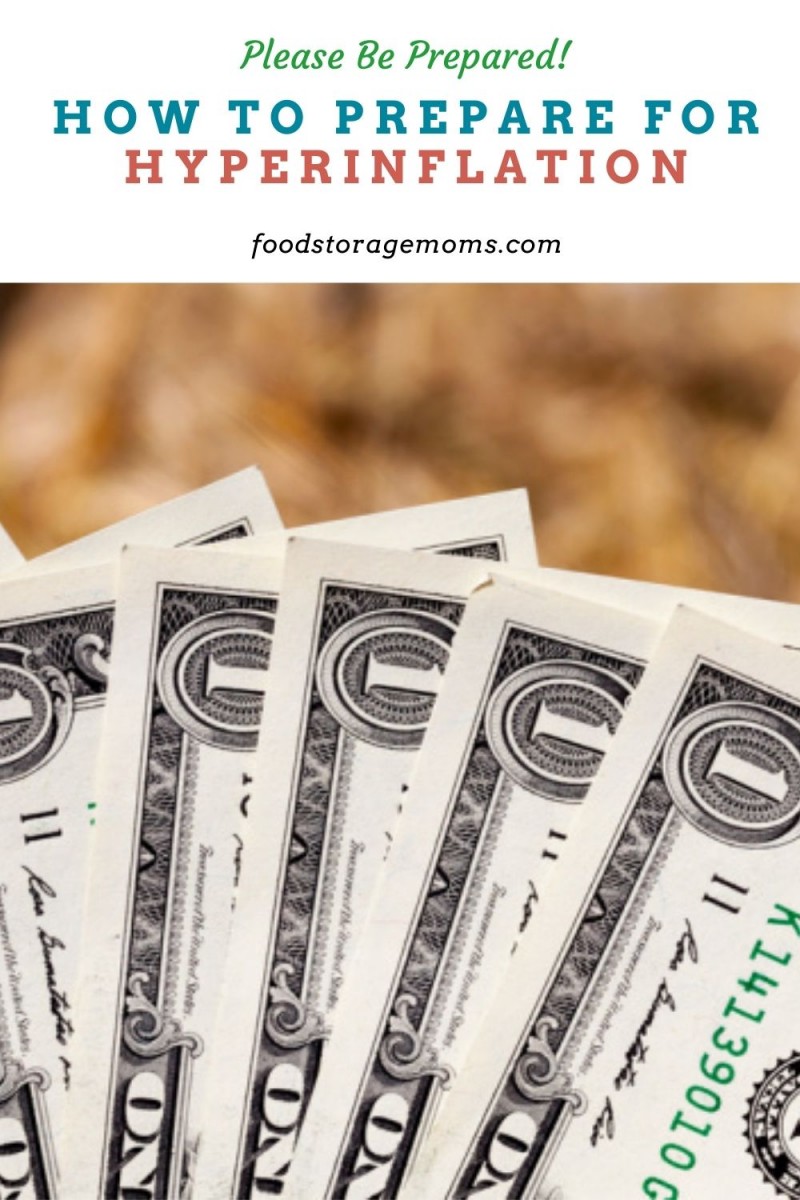 What Causes Hyperinflation
Hyperinflation typically occurs during times of war and economic turmoil in the production economy, in conjunction with the central bank/treasury printing an excessive amount of money to cover government-related expenses. Other causes of hyperinflation include:
Economic Recession
Economic Depression
Loss of confidence in the national currency
Are We Seeing Signs of Hyperinflation?
Price increases shocked many economists in 2021 as prices for goods and services rose at the fastest pace in nearly 40-years! Everything from rent to the price for a used car climbed higher as the economy recovered from the pandemic and the effects of supply chain disruptions, but is this inflation actually hyperinflation?
Right now, we are seeing a 6-7% price increase on goods and services as evaluated on an annual basis, so we haven't hit the definition of hyperinflation…yet! However, that doesn't mean we aren't still hurting from that 6-7% increase in pricing of items we use all the time.
Typically inflation is only about a 2% increase, so we may feel like it's hyperinflation as it hits home on our pocketbooks. So, there's no better time to learn how to prepare for hyperinflation than now.
How to Prepare for Hyperinflation
With all that being said, economists don't know how high prices will go, and it doesn't seem to be slowing down. We could sit around and play the blame game, but we would be wasting precious time.
With prices increasing faster than we have seen in 40-years, it's crucial to know how to prepare for hyperinflation before it happens. 
Pay Off Debt Quickly
This financial step should be your number one priority! Pay off your debt as quickly as possible, especially debt with an adjustable interest rate. During hyperinflation, unsecured credit card companies can charge you ridiculously higher interest rates than what you previously had been paying.
And, maybe even more than you can afford. Get rid of it, now!
If that is a difficult step to take, put a plan in place to pay extra on those cards. The minimum monthly payment expected just won't cut it since it is designed to take an extended period to pay off the debt.
Try cutting corners in some of your spending habits, and consider taking some of the funds set aside for savings and applying them to your credit cards.
Refinance
If you own a home, now is the perfect time to refinance it for a lower interest rate. Interest rates are at an all-time low, which means refinancing can possibly get you a lower interest rate on your mortgage, and the related reduction in that monthly mortgage payment.
That means you'll pay less every month on your mortgage which can be life-saving during hyperinflation. 
Be aware that the Federal Reserve has recently announced they will be trying to implement measures to slow down the current inflationary trends.
The most effective way they have to do that is to increase short-term interest rates. You can expect to see three or four rate increases during 2022. So, time is of the essence since it takes some time to process a mortgage refinance.
Save, Save, Save
Cut back on going out to eat, Starbucks visits, or even shopping for clothes and shoes. If you don't absolutely need to make the purchase, don't. You will need every penny if prices increase significantly.
Unless you have credit cards that need to be paid off, as mentioned above, try putting money in short-term CDs or savings accounts paying as high an interest rate as possible.
You may want to consider setting a target of having at least enough money saved that you could survive 3-months without an income. 

Don't Buy New
One way to save money is to buy used things. Don't pay full retail price on new items, if possible. Instead, purchase gently used items that will cost you much less.
Garage sales, resale shops, eBay, Market place, and Free or for sale groups on Facebook are all great ways to buy used items at a fraction of the price.
Due to shortages of certain items, like used cars and trucks, even used products are seeing a significant increase in prices. Really think about your NEEDS, particularly on large higher-priced goods.
It is hoped that once the current supply chain bottlenecks are worked out, we'll start seeing the price of goods and services come down. I certainly hope so!
One step to consider would be to sell items you aren't using very much or really aren't needed on a daily basis. That could include the second or third car parked in the garage or driveway. We decided to sell our second car a few years ago.
Sure, it was an adjustment at first, but with some planning and effective scheduling, we've gotten along fine. Of course, we are both retired, so it works for us and possibly wouldn't for dual-income families, or families with kids involved in lots of activities. 
Stock Up On Food and Water
As a prepper, I recommend stocking up on non-perishable food for any situation, not just hyperinflation. To help save money in the future, you should stock up on non-perishable foods, bottled water, and meat. If you aren't sure what to stock up on, check out my recommendations below:
Stock Up on Household Items
Not only will food prices increase during hyperinflation, but so will the price of common household items like dish soap, laundry detergent, and hygiene products. Make a list of Essential Items Every Household Needs, and start stocking up before prices climb higher.
Become More Self Sufficient
Food and water may be harder to get your hands on, especially if we start seeing hyperinflation. That's hard news to swallow when you have mouths to feed. If you can, consider using a portion of your property as a food source.
You don't have to have a lot of land or live in the country to be self-sufficient. You can do small things like grow a garden, raise meat rabbits, or have a few herbal remedies on hand to help provide more food and financial security. 
Stock Medicine and First Aid Supplies
You don't want to forget about medicines like Tylenol, cough suppressants, allergy medication, and vitamins. Here are 35 OTC Medications You Should Store. In addition to OTC medications, you should also make sure you have a good first aid kit.
Bandaids and Neosporin are not enough! You need a variety of supplies for different injuries. If you aren't sure what you need, check out my First Aid Kit Checklist, here. 
Consider a Side Job
You never know when you could lose your job, and during hyperinflation, that would be devastating. Even if your job is pretty secure, you may want to consider an additional source of income to make sure you have enough money coming in as prices increase.
Having another income source is always a good idea, and could save you from the worst possible situation. Consider things like freelance gigs, babysitting, pet sitting, or becoming a handyman on TaskRabbit.
Final Word
Based on the news I'm hearing, economists don't see hyperinflation coming. Regular inflation in itself can be devastating to those already struggling or living paycheck to paycheck.
We may not see a 50% increase in prices, but even a 10% jump is difficult to deal with for some families. So, I would recommend stocking up and preparing now because prices may not level out for a while, and any increase can put a strain on you and your family! Remember, luck favors the prepared!
What are you doing to prepare for inflation or hyperinflation? I'd love to know in the comments, below! May God Bless this world, Linda
Copyright Images: Dollar Bill Depositphotos_10569349_S, US Dollar Bills Depositphotos_379337548_S