How To Make Heat In A Can For Hunting or Survival
This is a great way to make heat in a can for hunting or survival. My awesome friends, Wally and Danielle, knew I would LOVE this idea! Wally and Danielle are avid hunters and preserve the meat acquired through the hunt. They know how to cook any game meat so many different ways. They are amazing hunters. I wrote this article several years ago, but deer hunting season is coming up and if you know a game hunter, please pass this information on to them.
They wanted to show me what they use when they go hunting to keep their hands warm. They said the hand warmers do not compare to how great this little heat can works. I picked up a few quart-size empty paint cans with lids and went to work making some heat cans.
All you need is 70-90% rubbing alcohol and a roll of toilet paper. Add some matches and we are good to go! Please note, I will not add the alcohol until I intend to use the can immediately. In other words, do not store these cans with alcohol, they may become combustible, under certain conditions.
The only supplies you need are toilet paper rolls, one-quart paint cans, come 70-90%  rubbing alcohol and a match. You can buy these cans at your local paint store pretty cheap, or order them online: Empty Quart Paint Cans with Lids (2 Pack) High-Quality Empty Paint Cans Value Pack
.
Make sure you get the paint cans with lids because that's how you extinguish the flame. We know you are storing and toilet paper so that's an easy one: Georgia-Pacific Envision 19880/01 White 2-Ply Embossed Bathroom Tissue, 4.05″ Length x 4″ Width (Case of 80 Rolls)
Heat For Approximately Eight Hours:
One quart with a roll of toilet paper (remove the inner cardboard) will burn for approximately eight hours, depending on the size of the toilet paper roll. Yes, eight hours!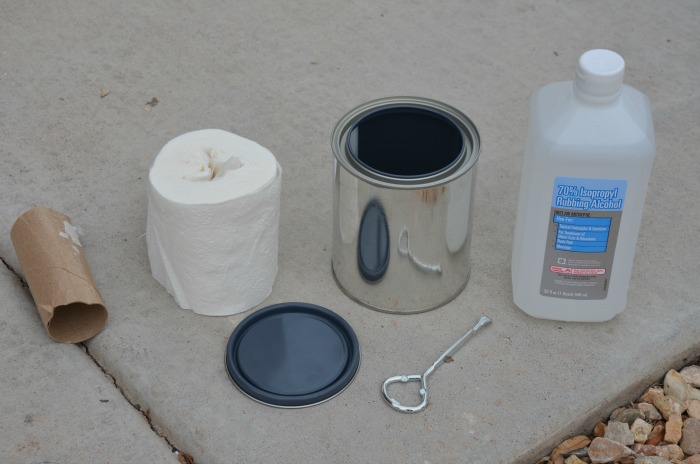 Heat In A Can Ingredients:
Here are the ingredients needed to make your emergency heat in a can. A bottle of 70-90% rubbing alcohol, a paint can with a lid, a roll of toilet paper and a can opener. Warner 10000 Paint Can and Bottle Opener (2 Pack)
You just roll the toilet paper roll between your hand and the cardboard center can easily be removed. You could tape a package of waterproof matches to the lid and you are good to go. Coghlan's 940BP Waterproof Matches – 4 Pack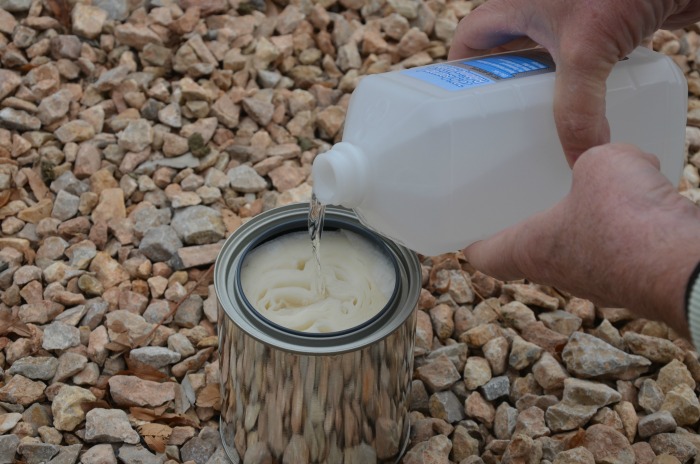 Here we placed the toilet paper roll which fits perfectly in the quart can, by the way. We added enough of the alcohol to saturate the toilet paper.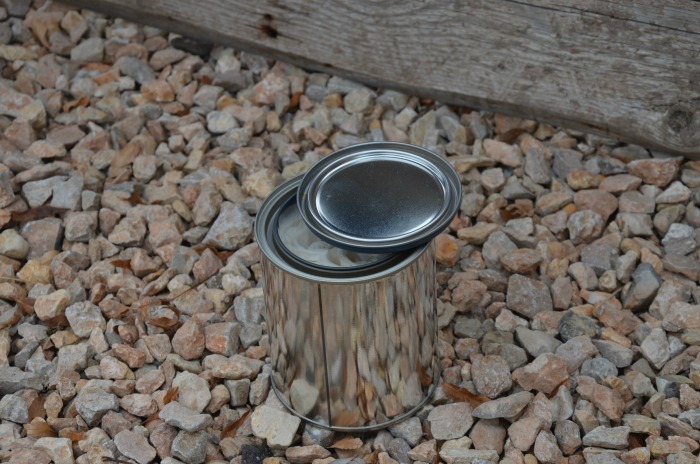 Use The Lid To Extinguish The Flame
You can use the lid to safely extinguish the flame when you are done and then reuse the can later by adding more toilet paper and alcohol. This would be a great item for a car emergency kit, but I would not recommend using it in the car because of carbon monoxide issues and other safety concerns.
If we were stranded and had limited gas in the car to keep the car warm, this would be great to at least keep our hands warm outside the car until help arrived.
Comments from readers:
Ranger Rick:
I teach this in my Survival / Emergency Preparedness classes and they work great. I also have added a 1-gallon paint can, everything stores inside of the 1 gallon can nicely. I take a can opener/church key and poke some holes in the side and bottom of the 1 gallon can for heat and air to circulate and you have a great little stove. Make sure the holes on the side of the 1 gallon can are near the bottom of the can.
Great info Linda. I have made these up and passed out for Gifts. These will keep you alive if you get stuck in the backcountry in cold weather.