What Happens When Your Prepping Supplies are Gone?
Have you ever thought about what happens when all your prepping supplies are gone? We prepare for specific disasters, and a lot of us have about a year's worth of preps, if not more. But, what happens when we get to a point where something lasts longer than a year or our prep supplies are damaged or destroyed and we can't get more preps? This is definitely something we should think about because the truth is, we never know what will happen!
What Happens When Your Prepping Supplies are Gone?
Most of us prep for natural disasters, power grid failure, or long-term problems we may foresee. I prep for all of those reasons, but I am fully aware that a situation could last longer than the supply of preps I have. That's why I think it is important to also prep for what you will do if you run out of food, water, or other supplies! Below, I am going to talk about things you need to know how to do when your prepping supplies are gone.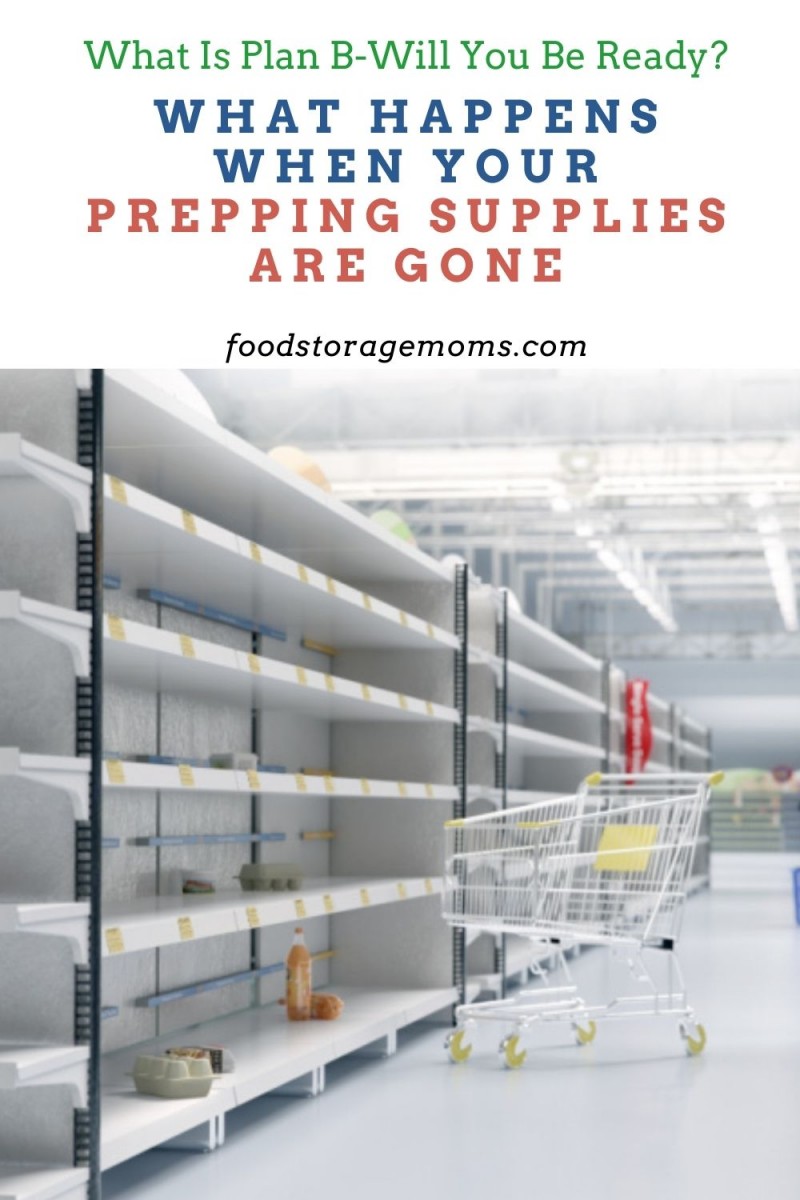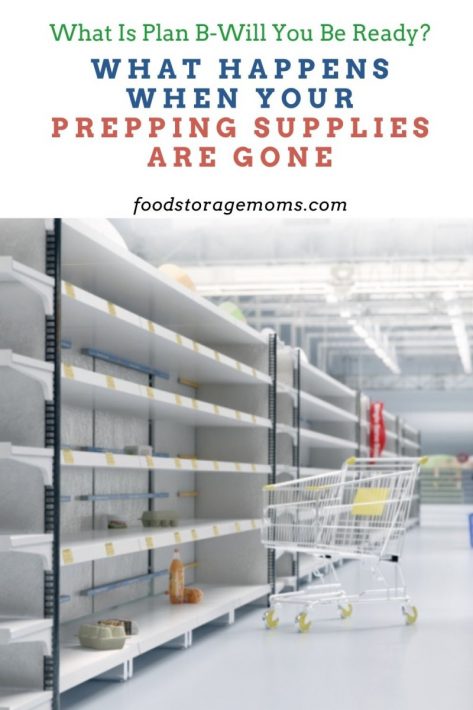 Know How to Grow Your Own Food
You can prep all day long, but the truth is, if we get to a point where we can no longer buy things from the store, we have to know how to take care of ourselves as best we can. First, learn how to grow your food from seeds! In fact, you NEED to start stocking seeds, and continue stocking them with each new harvest.
Buy seeds from SeedsNow
Now is the perfect time to start learning how to grow your own food. If you aren't sure where to begin, check out some of my other posts below!
Along with growing your own food, I would suggest growing your own medicinal plants as well! Keep in mind that if you can't get food and water from the store, you won't be able to get medications either. Here are a couple of posts to check out:
Learn to Dehydrate and Water Bath and Pressure Can Food
Janet reminded me about preserving our own food. Please save your money for a dehydrator and watch for used canning supplies. I'm talking about a Water Bath Canner, Pressure Canner, and a Dehydrator. Please plant a garden and learn to preserve your bounty. Please purchase one of these books NOW, if you do not have one. Ball Canning Guide or the USDA Canning Guide. I have the USDA canning guide from my Master Canner and Preserving class. PLEASE NOTE: If you have a glass top stove please do not purchase the All American Pressure Canner. It's really heavy and may crack your stovetop. Before I purchased my All American pressure canner, I replaced my stove with a gas stove. I used a Presto Pressure Canner for 40 years, they work great.
Learn How to Find Water and Sanitize It
The two things you absolutely need for survival are food and water. You can only live 3 to 6 days without water. We can stock gallons of water all we want, but if we run out, we have to know where to get more water and how to make sure it is safe for drinking.
Next, familiarize yourself with where you can get water when you run out by reading my post "How to Find Other Water Sources in an Emergency."
To learn more about how to make your water safe, read my post "How to Make Your Water Safe for Drinking."
Know How to Keep Yourself Sheltered
Shelter isn't just for sleeping. Along with your shelter, you need to know how to stay cool in the summer and warm in the winter! Obviously, if you have run out of supplies, this means you don't really have a way of heating the inside of your home or cooling it, especially if the electricity is out.
Stay Warm
You can literally freeze to death and several people recently did in Texas when the power went out. Such a sad situation. When it comes to not having power to heat your shelter, I would suggest having a woodstove for your home and knowing how to use it! Additionally, read my post "9 Ways to Stay Warm Without Electricity," for ideas on how to keep warm.
Stay Cool
Likewise, you can end up with heat exhaustion or heat stroke which can be life-threatening when it gets very hot. The key to summer is making sure you have found a water source and stocked water for the summer in your home. In addition, here are "10 Ways to Stay Cool Without Electricity."
Check out some of my shelter posts below for ideas:
Be Able to Cook Over an Open Fire
If you run out of prepping supplies, you are going to need to improvise. This means you will have to use what the Earth gave us to start a fire, such as sticks, twigs, grass, and fallen trees. You may also need to know how to use an AXE and a HAND SAW to cut it up. If you aren't sure how to cook with an open fire, check out my post, "Open Fire Cooking 101."
Learn How to Hunt
Most states have wildlife that is available for hunting. That may include deer, elk, ducks, turkeys, geese, and other birds and animals. The states require you to get a hunting license or permit and they have hunting "seasons" with limited permits so the wildlife isn't depleted or hunted when they are the most vulnerable. The states also have guidelines as to the sex, size, or variety available to be hunted since some species are protected.
You shouldn't expect to just grab your gun and head out. In many states they have areas or regions set aside for hunting the various types of wildlife. You also need to take hunter safety classes to get your permit, and those classes and permits might have limitations based on age. You also need to plan out places to base camp if staying overnight, food, water, and shelter are important. You also need proper clothing, not only to stay warm, but also as a safety feature with bright colors if deer hunting so you won't be shot at, or camouflage so the wildlife won't be as prone to see you.
The proper type of gun is critical, and be aware, right now ammunition is hard to find. Mark used to say hunting was fun, until you actually shot something. Once you are successful in shooting the prey, you now need to dress it out, transport it to your car or truck, and then haul it home for proper butchering. You may not be able to find a local butcher available during an emergency, so learning how to do it yourself could prove critical.
The care of the meat and how to cook it is pretty specific to the type of bird or animal you've shot. Cooking venison (deer meat with its "gamy" flavor) is different than cooking up elk which is very similar to regular beef. Take some classes so you're well versed in prepare the meat in a way your family will enjoy.
Take up Fishing
We have two really nice reservoirs within a 15-minute drive from our home. Quail Creek is fairly deep and supports a variety of trout. Sand Hollow is larger but more shallow. It is considered to have some of the best bass fishing west of the Mississippi. Mark and his buddies have spent some wonderful days on the water at Sand Hollow. He talks about his fond memories of time spent not only catching the bass, but also his cherished friendships.
Just like with hunting, states require licenses or permits to catch fish. They also establish "limits" so you don't overfish any local fisheries. Personally, I'm not very fond of fish. I don't mind the flavor too much, I'm just nervous about the bones I've bit into in the past. I've told Mark to catch and release the fish he catches, but in an emergency situation you can bet I'd be happy to see those "lunkers" in a frying pan. Mark has had a fishing license since he was young when he hit the lakes, rivers, and streams here in Utah. Hopefully you have some water sources close by your home that could provide some meals for your family.
Just like hunting, you'll need proper fishing gear, like poles, line, and the proper bait or lures to catch the varieties of fish nearby. You may want to consult a local sporting goods store and talk with their fishing gurus about local fishing options and what you'll need to be successful. Plan to spend some time on the water learning the nuances of fishing for different species. Always plan ahead and make sure you are dressed for the season and weather you'll experience. Be particularly careful if you take your kids. They love to be around water, but water can be deadly if not treated with respect and caution.
Please be aware if the winds start coming, get off the lake ASAP. It's a good idea to check the weather before taking your boat out if you have one.
Make Your Own Stuff
Food, water, and shelter are a must, but you also have to think about the fact that you may need new clothes, shoes, etc. I think it's really important to know how to sew and make clothing. You can also make other things such as reusable toilet paper. Shoes are going to be a hard one. There really isn't an easy way to make your own shoes. My suggestion would be to stock up on a variety of boots and shoes of various sizes (if you have kids). However, if you would like to learn how, you can check out, "How to Make Shoes," by WikiHow.
What Happens When Your Prepping Supplies are Gone?
Final Word
The key here is to know how to be self-reliant. What Happens When Your Prepping Supplies are Gone? You want to know how to find, grow, and cook your own food. Make sure you know how to find and sanitize drinking water. And, know how to make your shelter survivable no matter what the temperature is outside. Obviously, if you run out of prepping supplies, it won't be a matter of being comfortable, but a matter of surviving. Do you know how to survive? Let me know in the comments below. May God Bless this world!
Copyright Images: Empty Grocery Store AdobeStock_326009297 by Corona Borealis