7 Tips for Sustainable Gardening
For those of you who are thinking about gardening for the first time, these are 7 tips for your sustainable garden. It may be hard to think about sustainable gardening, especially with the cold weather outside, but when you break it down, it's actually simple. I wanted to share some of my favorite tips for sustainable gardening. The right tips can help you gain the best garden possible! Please stock up on garden seeds, this is where I buy mine: SeedsNow
What is Sustainable Gardening?
There might be some of you who aren't quite sure what a sustainable garden actually is, so let me break it down for you. Sustainable gardening is where you are using only natural resources and biodegradable materials, instead of chemicals and other pesticides that are known to cause harm to the environment. You may be thinking, "big deal, this doesn't affect me." Actually, it really does.
Just like with all other areas in life, the choices that we make can have a huge impact on those around us. Yes, even when it comes to gardening. If we're not careful, we could be causing more problems than actual good, especially for your garden's soil, plants, insects, birds, animals, air, water, even your neighbors. I highly recommend these for seedlings: CowPots and Organic Seedling Soil, this way you plant your seeds and place the CowPots in your garden when the temperatures are right.
There are other reasons as well. A sustainable garden not only provides you with an eco-friendlier solution but also allows you to grow organic foods that are richer in nutrients and have a better taste. In case you missed this post, What to Plant in a Victory Garden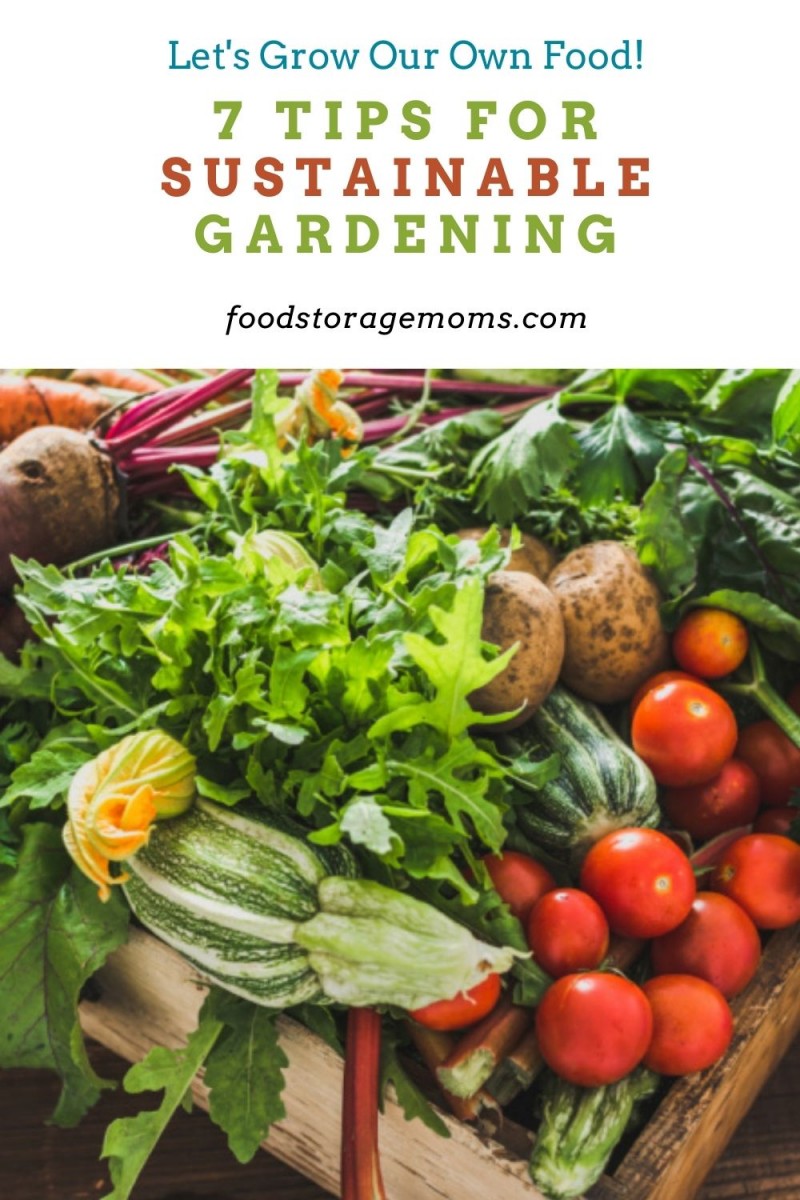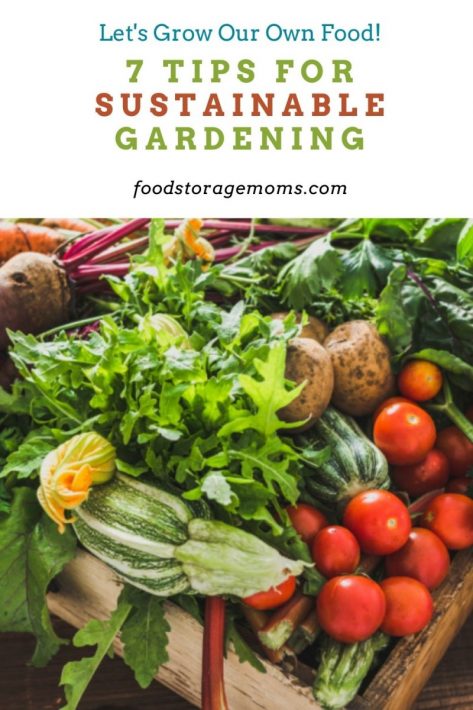 1. Planning Your Garden's Layout
Before you start digging your first hole, take the time to observe your backyard. By careful planning, you'll save money and keep your garden greener by conserving its many resources. To do this, find out where your backyard receives the most sunlight and plant flowers and plants that require a lot of sunshine.
There are also plants that do better in shaded areas, so find out where that is in your yard and plant accordingly. You may wish to sow flowers and plants that crave lots and lots of water? For this, you'll want to plant them in the moist areas of your garden so that they will flourish.
2. Avoid Chemicals at All Costs
When you're concerned about creating a healthier environment for all life around your garden, you should make it your number one priority never to use harmful chemicals. Ever. I know that those pests and weeds can be extremely obnoxious, but spraying your garden with pesticides and toxic fertilizers is far more harmful. It will pollute your garden's soil and may even find its way into drinking water resources.
I live in the desert and it's so hard to keep the pests away. I started making my own "bug spray" using 3-5 tablespoons of dish soap (I have Dawn Liquid) and 4 cups of water. Aphids are the worst where I live so I make a stronger solution for those pesky bugs. I mix it in a spray bottle and spray them when I see the insects. You can also just buy a bottle of Natria Insecticidal Soap to use as needed when you see pests.
3. Consider Planting Native Plants and More Perennials
When it comes to choosing the right plants for your garden, I'd strongly encourage you to choose ones that are native to your area. That way they are able to thrive as they grow and sustain themselves in a climate that they are most suitable for. In other words, native plants require less watering and less effort on your part. It's also nice to know that you will be providing both food and shelter for the conservation of your area's birds and helpful insects population.
Many gardeners like to plant more annuals versus perennials because they tend to look nicer for a better part of the growing season than perennials do. Yet planting more perennials in your garden will keep you from digging up your soil year after year so that you aren't weakening the soil structure as quickly.
4. Compost and Recycle
Composting happens to be a critical component for sustainable gardens because it's an excellent fertilizer that's completely organic. Grass clippings from mowing the yard, dead leaves, and flower heads are all excellent natural materials that work as a fertilizer and food for your soil. Recycling food scraps from your kitchen is another great way to add nutrients to your garden while reducing waste. 
Related: Use These 7 Top Household Items as a Fertilizer
5. Cover Your Garden's Soil with Mulch
Laying mulch in your garden is another bit of advice that you should consider and can be done as soon as you've planted something. Mulching helps to create a healthier garden in a number of different ways. These are just a few of the benefits:
Keeps soil from drying out
Helps prevent erosion
Helps to prevent your garden's soil from compacting
Puts nutrients back into the soil
Helps to keep weeds away
6. Conserve Water
When it comes to sustainable gardening, it's all about using the resources that are available to you, including water. One of the best ways of doing this is by getting yourself a rain barrel so that you're able to harvest rainwater. Some gardeners even go a step further by putting buckets in the shower with them that they can use for watering their plants later. As I mentioned earlier, laying mulch is another great way to keep your garden's soil moist.
Conserving water not only minimizes cost and reliance on your city's water supply, but it reduces erosion and helps you put more moisture back into your garden without wasting nearly as much.
7. Collect the Seeds
After your plants and flowers have fully matured, they'll produce seeds that you'll want to collect. Once gathered, be sure to put them in a cool and dry place that you'll remember. This will keep you from spending money on new seeds and you'll be ready to plant them in time for the spring each year. Please stock up on garden seeds, this is where I buy mine: SeedsNow
Garden Gloves
These are my favorite garden gloves: DIGZ Garden Gloves They come in different sizes, that's what I love the most. These are the best rose bush gloves: DIGZ Rose Bush Garden Gloves I have to get the large size for my hands. These are awesome!
Please Check Out What To Plant Each Month:
Final Word
You'll be well underway by using these tips when you're first getting started with your very own sustainable garden. You'll have a garden that's not only beautiful in appearance, but one that's friendly to the environment as well. What are some tips for sustainable gardening that you'd like to pass on? We must learn to grow our own food. It's particularly critical if we don't have a Farmer's Marker close by. Next time, make sure you check out these dos and don'ts for gardening your first year. May God Bless this world, Linda
Copyright Images: Gardening AdobeStock_218039462 by Alicja neumiler